TABLE OF CONTENTS
A.

 GS1 Related


GEOGRAPHY
1. World's second oldest rock is from Odisha


B.

 GS2 Related


INTERNATIONAL RELATIONS
1. Iran Nuclear Deal
2. Effect on India after USA withdrawal from Iran Nuclear Deal


C.

 GS3 Related


ENVIRONMENT
1. Clean Ganga Mission funds Underutilized
2. Dirty socks, algae behind Taj Mahal discolouration


D.

 GS4 Related




E. 

Editorials


INTERNATIONAL RELATIONS
1. Détente, exploded


F. 

Prelims Fact


G. UPSC Prelims Practice Questions
H. UPSC Mains Practice Questions 

1. World's second oldest rock is from Odisha
In news
A rock sample recovered nearly eight years ago from Champua in Odisha's Kendujhar district has put India at the forefront of geological research in the world
Previous Instance
The only instance of zircon older than this discovery was the one found in Jack Hill, Western Australia, which was 4,400 million years old and is the oldest known rock sample.
But the zircon, in this case, was from metamorphosed sedimentary rock, unlike the Singhbhum one, which was formed from magma.
Challenges
The isotopic analysis was a big challenge.
The machine used is called Sensitive High-Resolution Ion Microprobe (SHRIMP) was not available in India.
Then China's scientist helped in analysis on a collaboration basis
Result
The analyses confirmed the presence of two zircon grains that were 4,240 million and 4,030 million years old.
Significance
Scientists have found in the rock a grain of magmatic zircon (a mineral that contains traces of radioactive isotopes) that is an estimated 4,240 million years old
This will help to study the earth's early years.
Their study will add valuable information about the presence of water in the first few hundred million years of the Earth's history. It will also give us clues to when plate tectonics began
Category: INTERNATIONAL RELATIONS
1. Iran Nuclear Deal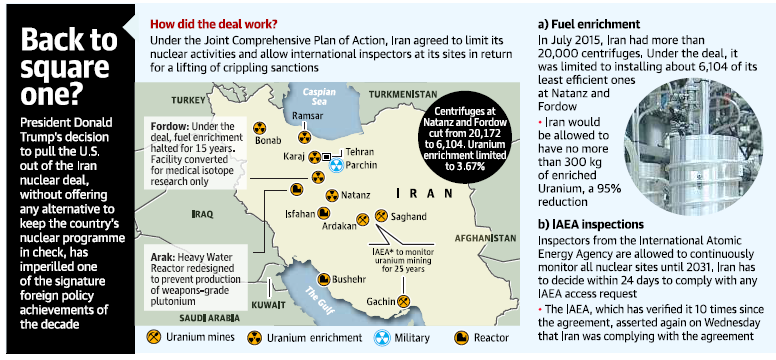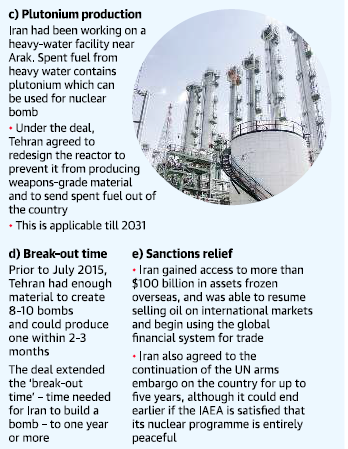 The agreement, signed in 2015 by Iran with the five permanent members of the UN Security Council, Germany and the EU, curtailed its nuclear programme in return for withdrawing economic sanctions.
It was reached after 18 months of painful negotiations.
Under the deal, most of Iran's enriched uranium was shipped out of the country, a heavy water facility was rendered inoperable and the operational nuclear facilities were brought under international inspection.
Three years later, unfortunately, it's the U.S., which had initiated talks with Iran under the previous administration, that has acted in bad faith.
Why was this decision taken?
This was done to comfort Washington's closest allies in West Asia — Israel and Saudi Arabia
This will bring Iran in the global economic mainstream
They fear that if Iran's economic profile rises, it will embolden it to increase its regional presence, posing a strategic threat to the interests of the U.S.-Saudi-Israel axis.
Concern
Now, by pulling out of the deal he has manufactured a crisis in an already tumultuous region.
What about its future?
The U.S. action doesn't necessarily trigger an immediate collapse of the agreement. For now, Europe, Russia and China remain committed to it.
Iran has responded cautiously, with the Foreign Minister saying he will engage diplomatically with the remaining signatories.
But the challenges will emerge, not only for Europe but also for other nations with strong trade ties with Iran, including India, once American sanctions are in place. The U.S. stands isolated in its decision.
But the question is whether Europe and other powers will stick together to respect the mandate of an international agreement, or buckle under American pressure. If they do cave in, West Asia will be a lot more dangerous.
2. Effect on India after USA withdrawal from Iran Nuclear Deal
Oil Prices: The impact on world oil prices will be the immediately visible impact of the U.S. decision. Iran is presently India's third biggest supplier (after Iraq and Saudi Arabia), and any increase in prices will hit both inflation levels as well as the Indian rupee, which breached ₹67 to the U.S. dollar this week.

In the past week alone, crude prices have crossed $70/bbl (barrel) level, touching a four-year high.

Chabahar: India's moves over the last few years to develop berths at the Shahid Beheshti port in Chabahar was a key part of its plans to circumvent Pakistan's blocks on trade with Afghanistan, and the new U.S. sanctions could slow or even bring those plans to a halt depending on how strictly they are implemented.

India has already committed about $85 million to Chabahar development with plans for a total of $500 million on the port, while a railway line to Afghanistan could cost as much as $1.6 billion.
a much tougher line on Iran and any further restrictions they place will make India's Chabahar plans more expensive and even unviable.

INSTC: Beyond Chabahar, India has been a founder of the International North South Transport Corridor (INSTC) since it was ratified in 2002.

It starts from Iran and aims to cut right across Central Asia to Russia over a 7,200-km multi-mode network, cutting down transportation and time taken by trade by about 30%.
Plans for INSTC sped up after the JCPOA was signed in 2015 and sanctions on Iran were lifted.
New U.S. sanctions will affect these plans immediately, especially if any of the countries along the route or banking and insurance companies dealing with the INSTC plan also decide to adhere to U.S. restrictions on trade with Iran.

Shanghai Cooperation Organisation: India joined the SCO along with Pakistan last year, and both will be formally admitted in June 2018

This year, Chinese officials say they will consider inducting Iran into the 8-member Eurasian security organisation.
If the proposal is accepted by the SCO, which is led by China and Russia, India will become a member of a bloc that will be seen as anti-American and will run counter to some of the government's other initiatives, for eg. the Indo-Pacific quadrilateral with the U.S., Australia and Japan.
The move may also rile other adversaries of Iran, like Saudi Arabia, UAE and Israel, with whom the Modi government has strengthened ties in an effort to balance its West Asia policy.

Rules-based order: India has long been a proponent of a "rules-based order" that depends on multilateral consensus and an adherence to commitments made by countries on the international stage.

By walking out of the JCPOA that was signed by the Obama administration, the S. government has overturned the precept that such international agreements are made by "States" not just with prevailing governments or regimes.
This could also impact all agreements India is negotiating both bilaterally and multilaterally with the U.S., and the government will have to choose its future course factoring in the new U.S. behavior, especially after Mr. Trump withdrew from the U.N. Climate Change treaty (Paris Accord),
the Trans-Pacific Partnership with East Asian trading partners.
In the case of the Paris Accord for example, India chose to stick to its commitments on reducing its carbon footprint, despite the fact that the Trump administration had dispensed with the funding commitments that were made by the previous Obama administration in order to convince India to sign on to the climate change agreements ahead of time.
New Delhi will have to consider a new understanding of its ties with Washington in this context, and some of this understanding may be built during the first "2+2" dialogue between Foreign and Defence Ministers of both countries to be scheduled in the next few weeks in Washington.
1. Clean Ganga Mission funds Underutilized
In news
Only about a fifth of Rs.20,000 crore allotted for the National Clean Ganga Mission (NCGM) have been utilised till March 2018.
That is roughly the same proportion of the sanctioned money utilised in 2017.
Details
About half the money, or Rs.2,814 crore, had been spent on establishing sewage infrastructure.
Only 24 of the 65 'entry-level' projects — meant for cleaning the ghats and establishing new ones and cleaning the riverfront and the river surface — had been completed.
About 12,000 MLD of sewage is emptied into the Ganga across 11 States, from Uttarakhand to West Bengal.
At present, the capacity for sewage treatment is just 4,000 MLD; of this, 1,000 MLD is functional.
Facts
Coursing 2,500 km, the Ganga is the longest river within India's borders.
Its basin constitutes 26% of the country's land mass (8,61,404 sq. km.) and supports 43% of its population.
Even as the basin spreads across 11 States, five States are located along the river's main stem: Uttarakhand, Uttar Pradesh, Jharkhand, Bihar and West Bengal.
Issue Area
Much of the river's pollution load — chemical effluents, sewage, dead bodies, and excreta — comes from these States.
Though the industrial pollution, volume-wise, accounts for about 20%, its toxic and non-biodegradable nature has a disproportionate impact.
The industrial pollutants largely emanate from tanneries in Kanpur and distilleries, paper mills and sugar mills in the Kosi, Ramganga and Kali river catchments.
The municipal sewage, at a billion litres a day, accounts for 80% of the pollution load.
2. Dirty socks, algae behind Taj Mahal discolouration
In news
Unwashed socks worn by visitors and rampant algae seem to turn the Taj Mahal from its natural white to yellow, brown and green, the Archaeological Survey of India (ASI) said to Supreme Court
It was not possible to distribute socks to all visitors. Many went wearing their own socks.
SC
Not convinced with argument it asked the ASI how algae managed to reach the top parts of the mausoleum where patches of discolouration were seen.
The court said the problem was not with algae but the fact that the ASI was unwilling to accept that they were not doing enough to conserve the monument.
Reasons
The dumping of waste in the Yamuna led to the stagnation of the river and the consequent "explosive breeding" of the insect, which is a "biological indicator of water quality and localised water pollution."
Nothing here for today!!!
Category: INTERNATIONAL RELATIONS
1. Détente, exploded
Context:
President Donald Trump's decision to withdraw the US from the Joint Comprehensive Plan of Action (JCPOA) with Iran is likely to set off a period of uncertainty in West Asian geopolitics, and a churn in the global order.
What's in news?
Trump's decision to withdraw from Iran deal diminishes US stature, can unsettle region. Delhi can play a mitigating role
The Congress-led bid was ill-advised and misconceived in the first place.
The withdrawal, first and foremost, has severely limited Washington's options with regard to Tehran.
In essence, if Iran too withdraws from the pact it signed during the tenure of the Barack Obama administration, it may well return to its uranium enrichment programme, a precursor to acquiring nuclear weapons.
As Obama put it, without the JCPOA, the US must either live with a nuclear Iran or go to war to prevent it. Trump's move also betrays a lack of understanding of the new, emerging world order.
Rather than isolate Iran diplomatically, Trump's decision may end up diminishing the US's stature as a global leader.
Past vs Present
Unlike in the Cold War era or at certain points in its aftermath, the West is not currently united behind America.
The UK, France, Germany and Canada have said they will continue to support and be part of the JCPOA.
In addition, emerging and resurgent powers — China and Russia — have condemned the US's withdrawal and the decision to impose sanctions on Iran.
Trump's aggressive posture has received vociferous support from Israel and Saudi Arabia — two countries competing with Iran in West Asia, both militarily and ideologically.
Iran President Hassan Rouhani has said he will canvass support for the deal before returning to the country's nuclear programme.
As a moderate in Iran's political landscape, Rouhani risked considerable political capital in pushing the deal through.
It is clear that western powers other than the US are keen to encourage that strand in West Asia, which will certainly be under siege in Iran if sanctions are reimposed — the deteriorating economic condition was one of the reasons for countrywide protests in January.
India's Role
New Delhi, for its part, enjoys cordial relations with all the actors involved:
The Chabahar port is a joint venture between India, Afghanistan and Iran;
India is a major defence procurer from Israel and enjoys deep ties with Saudi Arabia.
New Delhi must, of course, balance its relations with the US, Saudi Arabia and Israel on the one hand and Iran on the other, keeping its own strategic interests in mind.
But as an emerging global power in its own right, India can also use its influence and strategic weight with the actors in West Asia to help move towards a détente in the region.
Nothing here for today!!!
G. Practice Questions for UPSC Prelims Exam
Question 1. Consider the following statements about Van Dhan Yojana:
It aims at mainstreaming tribal community by promoting primary level value addition to Non Timber Minor Forest Produce (MFP) at grassroots level.
It will be implemented through Ministry of Tribal Affairs at Central Level and TRIFED as nodal agency at National Level.
Select the correct answer using the codes given:
1 only
2 only
1 and 2 only
None of the above
See
Question 2. Consider the following statements about POSHAN Abhiyaan:
It targets to reduce level of under-nutrition and other related problems by ensuring convergence of various nutrition-related schemes.
It also targets stunting, under-nutrition, anaemia (among young children, women and adolescent girls) and low birth rate.
Which of the above statement(s) is/are correct?
1 only
2 only
Both 1 and 2
None of the above
See
Question 3. Consider the following statements:
The NITI Aayog has signed Statement of Intent (SoI) with search engine giant Google to work together to foster growth for India's nascent artificial intelligence (AI) and machine learning (ML) ecosystem.
Under the aegis of this program, Google will train and incubate Indian AI startups in accelerator program.
Which of the above statement(s) is/are correct?
1 only
2 only
Both 1 and 2
None of the above
See
Question 4. Consider the following statements:
DTAA is a tax treaty signed between countries (or any two/multiple countries) so that taxpayers do not pay double taxes on their income earned from source country as well as their residence country.
The need for DTAA arises out of imbalance in tax collection on global income of individuals.
Which of the above statement(s) is/are correct?
1 only
2 only
Both 1 and 2
None of the above
See
H. UPSC Mains Practice Questions
Why is the Taj Mahal turning yellow? What are the steps taken by the Govt and how can we prevent further degradation?

The USA withdrawal from Iran Nuclear Deal will effect India on multiple fronts. Explain. Also, comment on how China's role increases from this withdrawal.
Also, check previous Daily News Analysis
"Proper Current Affairs preparation is the key to success in the UPSC- Civil Services Examination. We have now launched a comprehensive 'Current Affairs Webinar'. Limited seats available. Click here to Know More."
Enroll for India's Largest All-India Test Series