TABLE OF CONTENTS
A.

 GS1 Related




B.

 GS2 Related


GOVERNANCE
1. Solar microgrids light up remote Jharkhand villages
2. PMO seeks change in UPSC allocation
3. Crucial J&K tunnel getting ready


C.

 GS3 Related


ECONOMY
1. Foreign investors cold to residency scheme
2. India mulls tariff hike on U.S. products to hit back on steel, aluminium duties
SCIENCE AND TECHNOLOGY
1. India gears up for AI-driven wars


D.

 GS4 Related




E. 

Editorials


ECONOMY
1. Time to discard both dual as well as statutory audits
INTERNATIONAL RELATIONS
1. Making sense of the Wuhan reset
GOVERNANCE
1. Steering reform in clogged courts


F. 

Prelims Fact


G. UPSC Prelims Practice Questions
H. UPSC Mains Practice Questions 

Nothing here for today!!!
1. Solar microgrids light up remote Jharkhand villages
By government definition, a village is electrified if 10% of its homes have a power connection.
This means that while all its villages are officially electrified, 42% of Jharkhand households — the highest in the country — do not have power, yet.
Now, the State government is mulling a new policy, encouraging solar microgrids, even in villages that are already connected to the traditional grid.
The Case of Birgaon
Birgaon is proof of change. This tiny tribal hamlet — home to about 100 people in 20 households — lies in the hilly Gumla District of Jharkhand.
It is one of the 249 remote villages which got solar microgrids last year, thanks to a Rs.110-crore project by the Jharkhand Renewable Energy Agency (JREDA), as part of the Centre's Deendayal Upadhyay Gram Jyoti Yojana. Private solar provider Azure Power won the bid to build and maintain microgrids in 11 villages in Gumla and Hazaribagh districts.
The 20 photovoltaic panels glint in the scorching sun, out of place amid the old mud houses of Birgaon. Power lines snake out of a shed which stores the batteries and inverter.
A few street lights dot the common areas of the village, while each home has three LED bulbs and two power sockets. For most of the 25 children at the local primary school the arrival of electricity means they can occasionally watch films on the village's only television. With free power, villagers save Rs.200 to Rs.300 per month otherwise spent on kerosene. They are willing to pay the nominal tariff of Rs.30 per month.
These kinds of villages will be almost impossible to reach with regular transmission lines. Microgrids are the only way.
People want quality, 24/7 power. If a microgrid can provide that, they are willing to pay. In a pilot project, 10 villages are paying up to Rs.10 per unit for solar microgrids that power small enterprises: rice hullers, oil extractors, wheat mills and poultry farms.
2. PMO seeks change in UPSC allocation
The Centre is considering a major change in the allocation of services to successful candidates of the civil services examination.
The Prime Minister's Office (PMO) has asked the department concerned to examine if the services can be allocated after the completion of the foundation course.
The duration of the foundation course for officers of almost all the services is three months. At present, service allocation to the candidates selected on the basis of the civil services examination, conducted by the Union Public Service Commission (UPSC), is made well before the commencement of the foundation course.
The PMO has desired to examine if service allocation/cadre allocation to probationers selected can be made after the foundation course, as per the communication sent by the Personnel Ministry to different cadre-controlling authorities.
Seeks feedback
The departments have been asked to examine the feasibility of giving due weightage to the performance in the foundation course, and making service allocation as well as cadre allocation to all-India services officers based on the combined score obtained in the exam and the foundation course.
The Indian Administrative Service (IAS) and Indian Police Service (IPS) are all-India services.
The departments have been asked to give their feedback on the proposal to allocate other Central services such as the Indian Revenue Service and Indian Telecommunications Services.
3. Crucial J&K tunnel getting ready
Excavation work inside the 8.5-km Banihal-Qazigund tunnel along the Jammu-Srinagar National Highway was completed on Sunday with its twin tubes likely to be operational by next year, a senior official of the National Highways Authority of India.
The double-tube excavation work inside the Banihal-Qazigund four-lane tunnel has been completed after seven years.
The existing Jawahar tunnel, under the Banihal pass, is at an elevation of 2,194 metres making it prone to avalanches, which have led to closure and bottlenecks on the 265-km all-weather highway linking Kashmir to the rest of the country.
The new Banihal-Qazigund tunnel's elevation is 1,790 metres, 400 metres below the Jawahar tunnel. This makes it less prone to avalanches.
Work on the Rs.2,100-crore project started in June 2011 and on completion, the tunnel would reduce the distance between Banihal and Qazigund by 16 km. The project is likely to be completed by next year.
State-of-the-art systems
The tunnel has two parallel tubes, one for each direction. Each tube will be seven metres (23 ft) wide with two lanes. One of the tubes was completed in February this year. The tubes are interconnected by passages at every 500 metres for maintenance and emergency evacuation.
The tunnel will have forced ventilation for extracting smoke and stale air and for infusing fresh air. It will have state-of-the-art monitoring and control systems for security.It is expected that commuters using the tunnel will have to pay a toll.
1. Foreign investors cold to residency scheme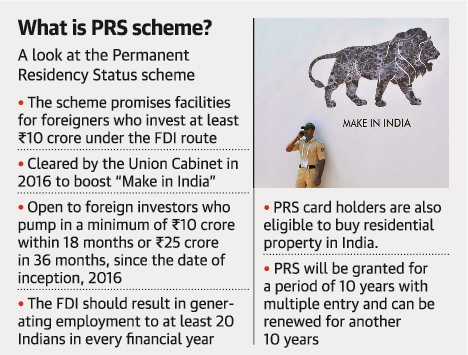 Two years after it was launched by the Union government, the Permanent Residency Status (PRS) scheme providing a host of facilities for foreigners who invest at least Rs.10 crore under the Foreign Direct Investment (FDI) route is yet to find a single applicant.
A senior Home Ministry official said no foreigner had applied, but cautioned that the lack of applicants should not be seen as no foreign investment.
Except for Pakistani citizens or third-country nationals of Pakistani origin, the scheme is open for citizens of every country.
Most European Union countries, the U.S., Canada and others offer permanent residency to foreign investors.
The U.S. offers the EB-5 visa programme where foreigners could apply for permanent residency if they created employment opportunities for 10 people with a minimum investment of Rs.5 crore.
An official said this was not a citizenship that was being offered to foreigners and was subject to review every 10 years.
The Union Cabinet had cleared the PRS in 2016 to boost its Make in India policy. The scheme is open for foreign investors who invest a minimum of ₹10 crore within 18 months or Rs.25 crore in 36 months.
The foreign investment should result in generating employment to at least 20 resident Indians in every financial year. PRS will be granted for a period of 10 years with multiple entry and can be renewed for another 10 years. There will be no requirement of registration with the Foreigners Regional Registration Office (FRRO).
The PRS card holders are also eligible to buy residential property in India. Among foreign countries, the maximum investment proposals in critical sectors such as telecom and defence that was cleared by Home Ministry in 2017, were from China, the U.K., the U.S. and Mauritius.
Security clearance
The Ministry gave security clearance to more than 1,071 proposals in 11 critical sectors like defence, telecommunications, information and broadcasting.
Over 90% of the FDI proposals have come through the automatic route, an official said. Among the foreign countries, the U.S., China (including Hong Kong), Mauritius and the U.K. have received the green signal for the most number of projects at 10 each, followed by Germany at six, Bangladesh at three and Italy, Israel, Netherlands and Switzerland at two each.
2. India mulls tariff hike on U.S. products to hit back on steel, aluminium duties
In a retaliatory move, India has told the WTO that it proposes to raise duties by up to 100% on 20 products such as almonds, apple and specific motorcycles imported from the U.S. from next month if Washington does not roll back high tariffs on certain steel and aluminium items. Additional duty proposed to be hiked on these items ranges from 5% to 100%.
India hereby notifies the Council for Trade in Goods of its decision to suspend concessions or other obligations that are substantially equivalent to the amount of trade affected by the measures imposed by the United States. It said that the proposed suspension of concessions would be in the form of "an increase in tariffs on selected products originating in the U.S.
It also said that India reserves its right to further suspend substantially equivalent concessions and other obligations based on the measures of the U.S.
Plea to U.S.
India had earlier urged the U.S. to exempt it from the decision to raise import duties on certain steel and aluminium products.
The country had proposed this move under the WTO's Agreement on Safeguards. On March 9, U.S. President Donald Trump imposed heavy tariffs on imported steel and aluminium items, a move that had sparked fears of a global trade war.
Trump signed two proclamations that levied a 25% tariff on steel and a 10% tariff on aluminium imported from all countries except Canada and Mexico.
Category: SCIENCE AND TECHNOLOGY
1. India gears up for AI-driven wars
In an ambitious defence project, the government has started work on incorporating artificial intelligence (AI) to enhance the operational preparedness of the armed forces in a significant way, which would include equipping them with unmanned tanks, vessels, aerial vehicles and robotic weaponry.
The move, part of a broader policy initiative to prepare the Army, the Navy and the Air Force for next-generation warfare, comes amid rising Chinese investments in AI — an area of computer science devoted to creating intelligent machines — for its military.
Task force at work
The government had decided to introduce AI in all the three forces as it would be a big area considering the requirements of future warfare. A high-powered task force headed by Tata Sons chairman N. Chandrasekaran was finalising the specifics and framework of the project, which would be implemented in a partnership model between the armed forces and the private sector.
Boosting capabilities
Like many other world powers, India had also started work on the application of AI to boost the capabilities of its armed forces adding that unmanned aerial vehicles, naval vessels, tanks and automatic robotic rifles as weapon systems would have an extensive use in future wars.
Military sources said the application of AI in border surveillance could significantly ease the pressure on armed forces personnel guarding the sensitive frontiers with China and Pakistan.
China has been pouring billions of dollars into AI research and machine learning. The U.S., Britain, France and the European Union are also investing significantly in AI.
The U.S. has been carrying out successful operations targeting terrorist hideouts in Afghanistan and northwest Pakistan using drones which operate with the help of artificial intelligence.
Kumar said the recommendations of the task force were likely to come in by June and then the government would take the project forward. The state-run Defence Research and Development Organisation (DRDO) would be a major player in the project.
Nothing here for today!!!
1. Time to discard both dual as well as statutory audits
The effectiveness of the statutory audit has been in question for decades but nothing worthwhile has been done to stem the rot.
Dual audit, the audit by two separate audit firms as a remedy to improve the credibility of statutory audit, is worse than the disease.
The independence of auditors or directors cannot be inculcated but it should be encouraged. Honesty cannot be mandated but must be built into the system.
Mandatory rotation of an audit firm itself, and not just the partner, is a powerful weapon. If an auditor closes his eyes to the management's wrongdoings, he is seldom caught and this is one factor that encourages dishonesty, as brought to the fore in the case frauds perpetrated at Punjab National Bank.
The statutory audit is, inter alia, to assure minority shareholders that the statement of accounts reflects a true and fair view.
Statutory auditors are de facto appointed by the same management that appoints the internal auditors, since the management controls sufficient portion of shareholding to make such appointments. The statutory audit is planned and executed after a significant time gap, thereby affecting its efficacy and usefulness.
Two alternatives
There are two alternatives. The first would be to discard the statutory audit. This may sound too revolutionary an idea but it is the best solution to the problem. Instead, we have to put in place other checks and balances, as follows:
Shift the total responsibility for true and fair view of accounts and relevant disclosures to the Board, the CFO, Chief Internal Auditor and the Company Secretary, jointly and severally.
Widen and deepen disclosure mandates by including disclosures of internal budget estimates versus actuals with explanations for any variation.
Privatise tax assessments and the Registrar of Companies by handing over clearly defined functions to qualified professionals, with government holding overall control.
Evolve a system for the Department of Company Affairs to order a complete and total audit of accounts of any company by a CA firm to be appointed by it after receiving the annual reports from companies, by selecting, say about 10 % of the companies in a year using a computerised random sampling method. Making companies to close accounts every half year and hold HGMs is a step in right direction.
Make mandatory provisions in the Companies Act for Right to Information for shareholders and lenders regarding companies accounting and audit information and records, including inspection, survey or seizure by government authorities.
Make it difficult to remove a CFO or Chief Internal Auditor (CIA) or a Company Secretary (CS) by making their resignation or removal subject to scrutiny or enquiry by the Department of Company Affairs. Their emoluments need to be protected.
Prescribe stringent punishment to all board members, CFO, CIA, CS for irregularities, fraud and violations of laws relating to accounts. Make the ICAI responsible for developing a suitable grading system for CA firms and for redefining the disciplinary action mechanism with stringent minimum credible punishment for erring members in employment and in practice.
The grading system is essential as, under the present Companies Act, a CA qualified yesterday and a CA qualified a decade ago are treated at par for audit of even giant enterprises.
Grading CA firms and prescribing audits of companies, based on the grade of a firm vis-a-vis net worth and other parameters, strengthens the audit system.
Mandatory rotation
The other alternative is to adopt all the measures outlined above and to continue with the existing statutory audit with a mandatory rotation of audit firms at least once in three years and not to reappoint the same firm at least for the subsequent 10 years.
The statutory auditors of a company shall be prohibited from accepting any other assignment from the same entity or its sister and associated concerns.
Limiting the number of companies that can be audited within the same group by the same audit firm, would also be welcome. These steps would act as a disincentive for auditors to collude with the auditee.
Category: INTERNATIONAL RELATIONS
1. Making sense of the Wuhan reset
On the cards was a possible reset of ties between India and China in the wake of the 'informal summit' in Wuhan (April 27-28) between Prime Minister Narendra Modi and Chinese President Xi Jinping.
The choice by China of Wuhan, a city situated in the middle reaches of the Yangtze is symbolic of China's resilience and economic might today.
It was possibly chosen by Mr. Xi to showcase China's progress since Mr. Modi (as Chief Minister of Gujarat) had last paid a visit to the region.
As Mr. Xi proceeds towards his next goal, 'Made in China 2025', he may also have wanted to demonstrate the wide gulf that seems to separate his programme from Mr. Modi's own struggles to make a success of India's 'Make in India' programme.
The visit to the museum and the boat ride on the lake, in turn, were possibly intended to demonstrate the extent of China's soft power.
Trust-building exercise
An 'informal summit' is different from a regular summit. India clearly viewed this 'informal summit' as a trust-building exercise, hoping to quietly sort out problems that existed between the two countries, including the vexed border issue.
Absence of any formal joint communiqué that is sacrosanct for any summit also enables each side to spell out its own impressions of any outcomes. India has already used this to project that India and China are on the same page in dealing with global problems. It cannot be certain though that China sees the world through this same prism.
Modi used the occasion to convey his ideas on what was needed to be achieved, viz. a shared vision, a shared thought process, a shared resolve, a strong relationship and better communication, between the two countries.
He further emphasised the importance of a global leadership role for both nations — two major powers linked by history across more than two millennia.
He provided his vision of the Five Principles defining the relationship: Soch (thought), Sampark (contact), Sahyog (cooperation), Sankalp (determination) and Sapne (dreams).
Enumerating the main takeaways, in the absence of a joint communiqué, is not easy. One outcome was to have more such summits, alongside an agreement between the leaders for provision of greater 'strategic communications' at the highest level.
Another was the opportunity it provided to give 'strategic guidance' to the respective militaries to build trust and understanding for 'prudent management of differences with mutual sensitivity'.
A third was the agreement between India and China to work together jointly on an economic project in Afghanistan, with details to be worked out through diplomatic channels.
Both sides also reiterated the need to cooperate on counter-terrorism, and to strengthen the dialogue mechanism to deal with contentious issues and concerns. Both have agreed on the importance of maintaining peace and tranquillity in all areas of the India-China border.
The claim by the Indian side that the two countries today have 'wider and overlapping regional and global interests' meriting sharper 'strategic communications' is, however, subject to interpretation.
On the border issue, the summit appears to have reinforced the validity of the April 2005 Document on 'Political Parameters and Guiding Principles for the Settlement of the Boundary Question', which was signed in the presence of then Prime Minister Manmohan Singh and the then Chinese Premier Wen Jiabao.
This document happens to be one of the very few that implicitly acknowledges India's claims to certain 'disputed' areas in the Arunachal sector of the India-China border. Ever since signing on to the 'Political Parameters and Guiding Principles' in 2005, China has been trying to reinterpret the contents of the document.
If the informal summit, as claimed by the Indian side, has endorsed adherence to the letter and spirit of the 2005 Agreement, it marks an important milestone in the settlement of the border issue.
The wisdom of holding an informal summit when other, and possibly better, avenues of diplomacy are available is debatable. India's preference for an informal summit so as to be able to discuss contentious issues with China away from media glare and publicity — and the many trappings of diplomacy — is understandable. China's acquiescence in this form of diplomacy is less understood.
At best, China could have hoped to extract some concessions from India as the price for agreeing to an informal summit, viz. putting curbs on the Dalai Lama's activities in India or backing away from the U.S. policy of containment of China in Asia.
A pivotal moment
China is today at a pivotal moment in its history, having embarked on preparations for a pole position in the global sweepstakes. The U.S. and the West are not ready to openly confront China, despite U.S. President Donald Trump's rhetoric.
China currently has a vital role to play in the maintenance of peace in the Korean Peninsula, and in ensuring that the forthcoming Trump-Kim Jong-un talks are not jeopardised.
The China-Russia equation today is much stronger than previously. China may be feared in East and South Asia, but no country here has the capacity to challenge China. It has established new equations in West Asia, including with Iran. In the South Asian neighbourhood, China is positioning itself as an alternative to India.
One must, hence, look for reasons elsewhere as to why China is adopting a less than belligerent attitude towards India. It appears that China is positioning itself for bigger things and to play bigger roles.
This period is thus a defining one for China. Behind the rubric of a looming trade war between the U.S. and China — which is, without doubt, one of China's major concerns — is China's unstated struggle to redefine the rules governing economic and power relations worldwide.
At a time when the U.S. is busy lining up the vast majority of Western democracies to checkmate China's advance, the latter is equally anxious to build support in its favour in Asia and elsewhere to counter the U.S.
The India-China reset talks must, therefore, be seen in this wider perspective and context. It cannot be seen in isolation. At about the same time, on the India-China reset talks, Chinese Prime Minister Li Keqiang was in Tokyo to meet his Japanese counterpart Shinzo Abe as part of a major two-stage initiative.
The Li-Abe meeting has reportedly helped remove many of the cobwebs in China-Japan trade and strategic relations. Leaders of China, Japan and South Korea also met in Japan at about the same time to devise measures that were needed to move ahead with the Regional Comprehensive Economic Partnership (India is a part of the RCEP, but a reinvigorated RCEP, alongside a China-Japan reset does not augur well for India).
No concessions
It should not, therefore, be surprising that in spite of China's acquiescence in an informal summit, the report card from Wuhan does not add up to much in real terms. No manifest concessions appear to have been made by China. The Doklam issue (which was not discussed at the summit) remains unresolved, with China still in the driving seat.
There are no indications that China has softened its attitude vis-à-vis India's position in Arunachal Pradesh, or that it will refrain from accusing India of further transgressions here. China's penetration of India's neighbourhood is set to continue, with special emphasis on countries such as Nepal and the Maldives.
China again has not conceded anything with reference to the China-Pakistan Economic Corridor. India may believe that it has demonstrated good faith by putting certain curbs on the Dalai Lama's activities, but this is hardly likely to satisfy China's concerns about his role.
Meanwhile, India should be concerned about Beijing's defence budget for 2018. This is being increased by 8.1% over that of the previous year, and is in keeping with the decision of the Chinese 19th Party Congress (October 2017) to build a world class military.
Li is on record that China would now focus on building strong naval and air defences, bolstered by the infusion of high technology. This can only further encourage China to expand its activities in the Indian Ocean region.
1. Steering reform in clogged courts
The spotlight was on the Bombay High Court in early May when one of its judges sat well past midnight hearing cases before the month-long summer break kicked in. While this was a rare occasion in the court's 156-year history, the incident highlights the systemic issues common to courts in India.
Ad hoc measures such as what the judge did, though laudable and well-meaning, hardly resolve these issues. Instead, they can only be addressed through a transformation of court processes.
Two areas of concern
While there is general acceptance that the Indian judicial system suffers from case delay and the use of antiquated methods, the discourse on judicial reform remains focussed on areas such as appointments and vacancies.
It is time that organisational barriers and court processes that also contribute to case delay are studied. We focus on two areas that greatly affect court efficiency: case listing practices and court infrastructure.
The need to scientifically determine how many cases should be listed per day cannot be stressed enough. It is not uncommon to see over 100 matters listed before a judge in a day. When a judge is pressed for time, not only does the quality of adjudication suffer but it also means that several cases will inevitably go unheard.
Matters listed towards the end (usually cases near the final stage of hearing) tend to be left over at disproportionate rates and often end up getting stuck in the system.
The consequences are manifold, affecting judges, lawyers, registry staff and, ultimately, case disposal. The uncertainty around which cases will come up for hearing means neither judges nor lawyers can plan their preparation.
This situation compels lawyers to waste time waiting in court and enables them to cite the simultaneous listing of multiple cases as an excuse for adjournments. Registry staff must manage the massive task of re-listing leftover matters in an already bulging docket, instead of streamlining case flow.
The second issue is infrastructure: from inadequate support staff for judges to the dearth of basic courtroom facilities. Without research and secretarial support, judges are unable to perform their functions in a timely manner.
For instance, in a private interview, a judge said that even though he managed to hear close to 70 cases in a day, it took two days for the stenographers to finish typing the orders. A 2016 report published by the Supreme Court showed that existing infrastructure could accommodate only 15,540 judicial officers against the all-India sanctioned strength of 20,558. The lack of infrastructure also raises serious concerns about access to justice.
A recent Vidhi study on district courts in the National Capital Region found that even basic needs such as drinking water, usable washrooms, seating and canteen facilities are often not available in court complexes.
Solutions for such challenges will require a fundamental shift in how courts are administered.
Looking at modernisation
Courts must become more open to applying management principles to optimise case movement and judicial time. In this, external support agencies competent in strategic thinking should be allowed to work with judicial officers to understand and help the institution function better.
This is already a widely-adopted practice in executive departments across the country. Courts have partially realised this need and created dedicated posts for court managers (MBA graduates) to help improve court operations. But more often than not, court managers are not utilised to their full potential, with their duties restricted to organising court events and running errands.
Way Forward
Judicial policymakers will also have to expand their reliance on empirical data and courtroom technology. On the former, there appears to be little quantitative evidence available to back judicial policies, from how long cases at various stages actually stay in the case pipeline to audits of judicial infrastructure.
Recording and analysing appropriate court-related data is thus the first step in addressing any problem that plagues courts — from arriving at reasonable case listing limits to improving infrastructure.
Second, court processes must be modernised, and the role of technology is critical. Courts have taken various initiatives over the years to digitise case records and filing; the case information system (CIS) 2.0 is currently being implemented across the country.
But as a judge rightly pointed out, using technology in courts cannot remain limited to digitising records alone but must affect how cases actually move through the system. Initiatives such as CIS must be supplemented with file-tracking and knowledge management systems, to help courts achieve an optimal level of functioning.
For courts in India to dispense speedy justice, there must be a change in leadership thought and the willingness to seek help where it is evidently required.
Nothing here for today!!!
G. Practice Questions for UPSC Prelims Exam
Question 1. Consider the following statements about Deendayal Upadhyaya Gram 
Jyoti Yojana (DUGJY):
It focuses on feeder separation for rural households and agricultural purpose.
It also seeks to strengthen Micro grid and off grid distribution network of rural electrification.
Which of the following statements are correct?
1 only
2 only
Both 1 and 2
None of the above
See
Question 2. Consider the following statements:
Permanent residency refers to a person's visa status, i.e. the person is allowed to reside indefinitely within a country of which he or she is not a citizen.
To avail PRS in India, the foreign investor will have to invest a minimum of Rs.10 crore to be brought within 18 months or Rs.25 crore to be brought within 36 months.
Which of the following statements are correct?
1 only
2 only
Both 1 and 2
None of the above
See
Question 3. Consider the following statements about Agreement on Safeguards:
Safeguard measures are defined as "emergency" actions with respect to increased imports of particular products, where such imports have caused or threaten to cause serious injury to the importing Member's domestic industry.
Such measures, which in broad terms take the form of suspension of concessions or obligations, can consist of quantitative import restrictions or of duty increases to higher than bound rates.
Which of the following statements are correct?
1 only
2 only
Both 1 and 2
None of the above
See
Question 4. Consider the following statements about Pakal Dul Dam and Hydro Project:
Regional Comprehensive Economic Partnership (RCEP) is a proposed free trade agreement (FTA) between the ten member states of the Association of Southeast Asian Nations (ASEAN) and the six states with which include India, China, Australia, Japan, South Korea and New Zealand.
RCEP would create the world's largest trading bloc.
Which of the following statements are correct?
1 only
2 only
Both 1 and 2
None of the above
See
H. UPSC Mains Practice Questions
 General Studies II
Discuss the concerns of India in the wake of geo-political and economic growth of China.

Critically analyze the systemic issues faced by the Judiciary across India.
Also, check previous Daily News Analysis
"Proper Current Affairs preparation is the key to success in the UPSC- Civil Services Examination. We have now launched a comprehensive 'Current Affairs Webinar'. Limited seats available. Click here to Know More."
Enroll for India's Largest All-India Test Series