TABLE OF CONTENTS
A.

 GS1 Related




B.

 GS2 Related


INTERNATIONAL RELATIONS
1. China backs Pakistan for a closer relationship with India
2. A sculpture in honour of Indian soldiers
GOVERNANCE
1. Water ATMs for drinking water
2. Clean Air Campaign: ₹83 lakh fine slapped on polluters in Delhi
HEALTH ISSUES
1. Health insurance policies: Post-policy health conditions must be covered
2. Zika outbreak in India
3. Male rats exposed to RFR (radio frequency radiation)


C.

 GS3 Related


ECONOMY
1. Infographics: Coal is still a strong source of fuel
SCIENCE AND TECHNOLOGY
1. The AI bot: ClaRAN
ENVIRONMENT AND ECOLOGY
1. Plastic bottle into aerogels
2. Marine sanctuary in Antarctica


D.

 GS4 Related




E. 

Editorials


SOCIAL ISSUES
1. The killings in Assam
ECONOMY
1. Challenge to the Reserve Bank of India's reserve(s)
GOVERNANCE
1. The ghosts of past laws: Section 66A of the Information Technology (IT) Act, 2000


F. 

Tidbits




G. 

Prelims Fact


H. UPSC Prelims Practice Questions
I. UPSC Mains Practice Questions 

Nothing here for today!!!
Category: INTERNATIONAL RELATIONS
1. China backs Pakistan for a closer relationship with India
China backed Pakistan for trying to resolve "outstanding issues" with India through dialogue, and appeared to support Islamabad on two other key topics — the expansion of the Nuclear Suppliers Group (NSG) and counterterrorism.
Background: Nuclear Suppliers Group (NSG)
Nuclear Suppliers Group (NSG) is a group of nuclear supplier countries that seek to prevent nuclear proliferation by controlling the export of materials, equipment, and technology that can be used to manufacture nuclear weapons.
NSG was formed with the objective of averting the proliferation of nuclear weapons and preventing acts of nuclear terrorism.
NSG consists of 48 members which include the five nuclear weapon states US, UK, France, China, and Russia. It is not a formal organization, and its guidelines are not binding. Decisions, including on membership, are made by consensus
China stated that it appreciated Pakistan's quest for peace through dialogue, cooperation and negotiation, on the basis of mutual respect and equality, and supports Pakistan's efforts for improvement of Pakistan-India relations and for settlement of outstanding disputes between the two countries.
Pakistan supported active participation of China at the platform of the South Asian Association for Regional Cooperation (SAARC).
BACKGROUND: SAARC
The South Asian Association for Regional Cooperation (SAARC) is regional intergovernmental organization and geopolitical union in South Asia.
Its member states include Afghanistan, Bangladesh, Bhutan, India, Nepal, the Maldives, Pakistan and Sri Lanka.  SAARC was founded in Dhaka in 1985. Its secretariat is based in Kathmandu.
The organization promotesthe development of economic and regional integration. It launched the South Asian Free Trade Area in 2006.
SAARC maintains permanent diplomatic relations at the United Nation as an observer and has developed links with multilateral entities.
Though China is an observer at SAARC, New Delhi is unlikely to countenance a more active Beijing role in the South Asian grouping.
The statement also veered closer to Pakistan's position on counterterrorism and NSG, whose subtext was apparent — a UN designation of Masood Azhar, head of the Pakistan-based Jaish-e-Mohammad as an international terrorist, and India's entry into an expanded NSG.
The two countries also said they were not yet ready to join a global counter-terror treaty, pointing out that a "consensus" should be forged on the text of the Comprehensive Convention on International Terrorism (CCIT) first.
Background: Comprehensive Convention on International Terrorism (CCIT)
CCIT is a proposed treaty which provides a legal framework which makes it binding on all signatories to deny funds and safe havens to terrorist groups.
It is proposed first by India in 1996.
Despite India's efforts to push a global intergovernmental convention to tackle terrorism, the conclusion and ratification of the CCIT remains deadlocked, mainly due to opposition from three main blocs – the US, the Organization of Islamic Countries (OIC), and the Latin American countries.
CCIT provides a legal framework which makes it binding on all signatories to deny funds and safe havens to terrorist groups.
It included the following major objectives:

To have a universal definition of terrorism that all 193-members of the UNGA will adopt into their own criminal law
To ban all terror groups and shut down terror camps
To prosecute all terrorists under special laws
To make cross-border terrorism an extraditable offence worldwide.

The above objectives clearly indicate how India, which has been a victim of cross-border terrorism, took cognizance of the threat it poses to international peace and security long before the major world powers. New Delhi has condemned terrorism in its all forms and stressed that it requires a holistic approach and collective action to tackle it.
All three have objections over the "definition of terrorism" (the most divisive of the issues) and seek exclusions to safeguard their strategic interests.
For example, the OIC wants exclusion of national liberation movements, especially in the context of Israel-Palestinian conflict. The US wanted the draft to exclude acts committed by military forces of states during peacetime.
2. A sculpture in honour of Indian soldiers
A sculpture in honour of Indian soldiers who fought during the First World War was unveiled in the town of Smethwick in the West Midlands region of England.
Guru Nanak Gurdwara Smethwick had commissioned the Lions of the Great War monument, which depicts a turbaned Sikh soldier, to honour the sacrifices made by millions of South Asian service personnel of all faiths who fought for Britain in the world wars and other conflicts as part of the British Indian Army.
The 10-foot bronze statue was unveiled in Smethwick High Street to commemorate the 100th anniversary of the end of the First World War in November 1918, also referred to as the Great War.
The monument was part of a collaboration between the gurdwara and the local Sandwell Council.
1. Water ATMs for drinking water
What is a Water ATM?
A water ATMis an automated water vending machine that dispenses pure drinking water.
It can be installed in urban and rural localities which do not have access to clean and pure drinking water.
A water vending machine works like any regular bank ATM, the only difference being that it provides water instead of money.
What are the benefits of a Water ATM?
A water ATM machine brings several advantages for the citizens:
It dispenses safe and pure water 24/7 round the year. People can purchase water on the 'pay per use' basis as and when they want.
It can be installed in – schools, hospitals, bus/railway stations or community meeting places.
It saves the time and efforts that people spend on travelling or standing in queues to fetch safe and pure drinking water. They don't have to skip schools or work.
People learn to use water prudently as they have to pay for it; even it is a nominal cost.
It reduces the dependence of citizens on packaged drinking water, which otherwise is an expensive option,  especially for those living in rural areas.
Indian scenario
With 82 crore people who still do not have access to piped water and 70% of water in the country contaminated by pollutants, the government is increasingly starting to accept small water enterprises — such as water ATMs and community purification plants — as an alternative solution to the safe drinking water challenge.
Studies on Water ATMs
A new report by Safe Water Network (SWN) says the government needs to spend ₹44,000 crore on 2.2 lakh small water enterprises to provide safe drinking water to about 37 crore people, mostly in urban slums where piped water infrastructure is difficult to build, and in rural areas with contaminated water sources.
While such enterprises cost only a fraction of piped water infrastructure, policy changes and at least a doubling of tariffs are needed to help them bridge the safe water gap, says the report released this week.
A recent report by the Comptroller and Auditor General of India (CAG) pointed out that only 18% of the rural population has access to potable piped water, failing to meet the 2017 target of 50%.
India is ranked at 120 out of 122 countries on the Water Quality Index, said Niti Aayog, adding that 70% of the country's water supply is contaminated.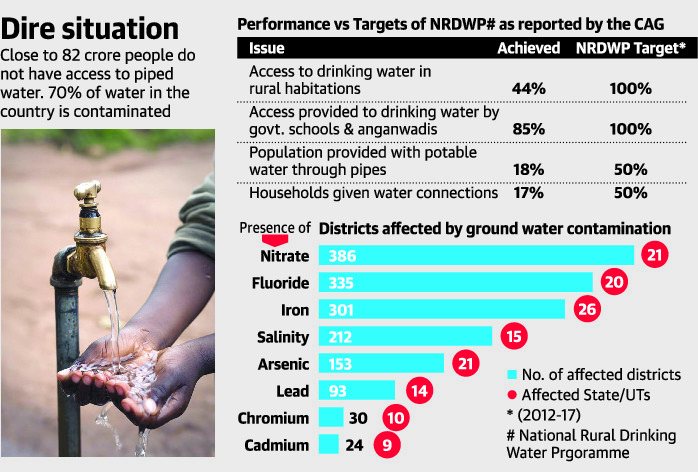 Community Purification Plants
The community purification plants treat water locally. The water ATM is a dispensation system, which can be automatic with a coin or smart card, or manual.
Community water purification plants have grown from less than 12,000 in 2014 to almost 50,000 in 2018, according to the SWN, as they have been incorporated into government planning.
Background: National Rural Drinking Water Programmed (NRDWP)
The aim and objective of National Rural Drinking Water Programme (NRDWP) is to provide every rural person with adequate safe water for drinking, cooking and other basic domestic needs on a sustainable basis, with a minimum water quality standard, which should be conveniently accessible at all times and in all situations. Achieving this aim and objective is a continuous process.
The purpose of continuation and restructuring is to make it outcome-based, competitive and better monitored with an increased focus on sustainability of schemes to ensure good quality service delivery to the rural population.
NRDWP will be continued co-terminus with 14th Finance Commission cycle till March 2020.
It will enable the country to reach the goal of increasing coverage of sustainable Piped Water Supply. A sum of Rs. 23,050 crore has been approved for the programme.
Its focus will be on piped water supply, increase level of service delivery, thrust on coverage of water quality affected habitations, coverage of Open Defecation Free (ODF) declared villages, Integrated Action Plan (IAP) districts, Border Out Posts (BOP) with piped water supply and Institutional set up for proper O&M of water supply assets, etc.
The restructuring will make programme flexible, result-oriented, competitive, and with piped water supply will enable the Ministry towards to reach the goal of increasing coverage of sustainable Piped Water Supply.
The NWQSM aims to cover all rural population in Arsenic/Fluoride affected habitations with clean drinking water on a sustainable basis by March 2021.
States have been given more flexibility in utilization of NRDWP funds by reducing the number of components under the programme.
As per the Integrated Management Information System (IMIS) of the Ministry of Drinking Water and Sanitation, about 77% of rural habitations in India have achieved a fully covered (FC) status (40 liters per capita per day) and 56% of the rural population have access to tap water through public stand posts within which 16.7% have household connections.
To reach the government's Har Ghar Jal target of 100% piped water by 2030, almost ₹5 lakh crore of infrastructure investment will be required, says government data.
SWN estimates that if the government is willing to spend less than 10% of that amount on small water enterprises, it could provide safe drinking water at a fraction of the cost.
2. Clean Air Campaign: ₹83 lakh fine slapped on polluters in Delhi
A penalty of over ₹83 lakh was imposed on violators on Sunday by the teams deployed to monitor implementation of measures to combat pollution in Delhi -NCR under the 'Clean Air Campaign', the Central Pollution Control Board said.
The highest number of complaints were related to illegal construction and demolition activities.
An aggressive ten-day-long 'Clean Air Campaign' from November 1 to 10 has been launched by Union Environment Minister Harsh Vardhan to monitor and report polluting activities as well as to ensure quick action.
These teams are visiting different parts of Delhi and adjacent towns of Faridabad, Gurugram, Ghaziabad and Noida.
Based on 368 complaints, a total fine of ₹83,55,000 was imposed just on Sunday by 52 teams in the national capital, said the Central Pollution Control Board. (CPCB)
A total of 52 complaints were received through social media and e-mail while 316 complaints were received through the 'Sameer app' that has been developed by the CPCB.
Around 43 teams visited sites of 248 complaints in Delhi while two teams attended to 11 complaints in Gurgaon.
1. Health insurance policies: Post-policy health conditions must be covered
There should not be any permanent exclusions in policy wordings for any specific disease, panel tells insurance regulator.
All health conditions arising after the inception of a health insurance policy should be covered and cannot be permanently excluded, a committee has recommended to the insurance regulator.
This is among the key recommendations of a committee appointed to look into standardisation of exclusions under health insurance policies.
The panel has submitted its report to the Insurance Regulatory and Development Authority of India.
Background: Insurance Regulatory and Development Authority of India
The Insurance Regulatory and Development Authority of India (IRDAI) is an autonomous, statutory body tasked with regulating and promoting the insurance and re-insurance industries in India.
It was constituted by the Insurance Regulatory and Development Authority Act, 1999, an Act of Parliament passed by the Government of India.
The agency's headquarters are in Hyderabad, Telangana, where it moved from Delhiin 2001.
IRDAI is a 10-member body including the chairman, five full-time and four part-time members appointed by the government of India.
It has said that all health conditions acquired after policy inception, other than those that are not covered under the policy contract (such as infertility and maternity), should be covered under the policy and cannot be permanently excluded.
Thus, exclusion of diseases contracted after taking the policy such as Alzheimer's, Parkinson's, AIDs/HIV infection, morbid obesity, etc., cannot be permitted, the panel recommended.
Exclusions for specific disease conditions are incorporated as permanent exclusions in the policy wordings. This result in many claims becoming not payable for diseases being contracted even after the policy has been incepted.
Specific cases were highlighted where claims were repudiated when the policy has been in force for 6-7 years for conditions such as Parkinson's, Alzheimer's, etc.
The working group, as part of its methodology, met various stakeholders of the health insurance industry including representatives of health insurers, general insurers, life insurers, insurance brokers, third-party administrators, agents, Ministry officials, NGOs, consumer activists, medical experts and reinsurers, and collected their views.
In addition, the working group also studied the practices in other countries as well as Indian laws, regulations and regulatory guidelines that could have an impact on health insurance products.
The recommendations of the working group are largely based on the interactions with stakeholders and are in the context of the prevailing laws and regulations.
The panel recommended that there should not be any permanent exclusions in the policy wordings for any specific disease condition(s), whether they are degenerative, physiological, or chronic in nature.
It has initially recommended a list of 17 conditions (including epilepsy, heart ailment congenital, heart disease and valvular heart disease, chronic liver diseases, loss of hearing, HIV & AIDS, Alzheimer's, Parkinson's) for which insurers can incorporate permanent exclusions if they are pre-existing at the time of underwriting.
As developments in healthcare were dynamic, there was a need to regularly review the list of permanent exclusions allowed at the time of underwriting, the report said.
Insurers must be allowed to incorporate permanent exclusions with due consent of the proposer, which will allow a wider section of the population who have serious pre-existing diseases including persons with disabilities to be insured under health insurance.
The permanent exclusion would be specific for conditions which are listed, and this list may be reviewed on a yearly basis by the committee that may be set up by the regulator.
India battles the first-ever significant zika virus outbreak in the country, with more than 150 cases reported from Rajasthan in the last few weeks.
Strains of the virus have also been found in the States of Gujarat and Tamil Nadu.
Zika is an infection caused by mosquito bite and there is no vaccine available yet.
What is zika fever?
It's a disease caused by Zika virus that's transmitted primarily through the bite of several species of Aedes mosquitoes.
Aedes is a genus of mosquitoes originally found in tropical and subtropical zones, but now found on all continents except Antarctica. Zika belongs to a family of flaviviruses.
Besides Zika, the falvivirus genus includes the West Nile virus, dengue virus, tick-borne encephalitis virus, and yellow fever virus.
What are the symptoms?
Symptoms of Zika are similar to other illnesses spread through mosquito bites, such as dengue and chikungunya.
The majority of people infected with Zika virus are asymptomatic or show mild symptoms.
The symptoms include fever, rash, conjunctivitis, muscle and joint pain, and headache. They usually last for two to seven days.
When was zika virus first discovered?
Zika virus was first discovered in monkeys in Uganda in 1947. It was later identified in humans in 1952 in Uganda and the United Republic of Tanzania, according to the World Health Organisation (WHO).
The first recorded outbreak of Zika virus disease was reported from the Island of Yap (Federated States of Micronesia) in 2007, where the virus affected more than a hundred people. A major outbreak was recorded in French Polynesia (a set of islands in the South Pacific Ocean, an overseas territory of France) in 2013. It affected more than 30,000 people.
The next larger outbreak was reported from Brazil in 2015. Outbreaks and evidence of transmission soon appeared throughout the Americas, Africa and Asia.
A total of 86 countries have reported Zika infection, according to the WHO.
In India, the first confirmed Zika case occurred in 2016 in Gujarat.
Why is it dangerous?
Zika virus disease is dangerous because it has been linked to deadlier conditions such as Guillain-Barré Syndrome and microcephaly.
Zika infection may trigger Guillain-Barré Syndrome, a rare neurological disorder in which the body's immune system attacks the nerves, sometimes resulting in paralysis.
And a zika infection during pregnancy can cause microcephaly and other congenital abnormalities in the developing foetus and newborn.
How does it spread?
Zika virus is primarily transmitted by the bite of an infected mosquito from the Aedes genus, mainly Aedes aegypti. Aedes mosquitoes usually bite during the day.
Zika virus is also transmitted from mother to the foetus during pregnancy, through sexual contact, transfusion of blood, and organ transplantation.
What should you do to prevent a zika infection?
There is no vaccine to prevent Zika. The best way to prevent Zika virus infection is to protect yourself from mosquito bites.
Sleep under mosquito nets
Wear clothes that cover as much of the body as possible
Use physical barriers such as window screens to prevent mosquitoes from entering the house
Apply mosquito repellents
Aedes mosquitoes breed in small pools of water.
Eliminate such breeding sites – close water storage containers, remove stagnant water, and clean up trash and used tyres.
3. Male rats exposed to RFR (radio frequency radiation)
A recent U.S. study claiming that radio-frequency radiation emitted by cell phones causes cancer in rats does not apply to humans, according to experts.
There is clear evidence that male rats exposed to high levels of radio frequency radiation (RFR) like that used in cell phones developed cancerous heart tumours, the study had concluded.
The $30 million study by the U.S. National Toxicology Program (NTP) that took 10 years to complete also showed some evidence of tumours in the brain and adrenal gland of exposed male rats.
Following the report, some NGOs and scientists propose that the WHO's Inter Agency for Research on Cancer (IARC) must upgrade the present Group 2B (possible human carcinogen) classification of RF radiation to Group1 (human carcinogen).
But specialist agencies have asserted that the finding does not apply to humans.
The International Commission on Non Ionizing Radiation Protection (ICNIRP), the panel whose recommendations are followed by majority of nations and agencies such as the WHO, published a note categorically stating the study does not provide any actionable input to change the currently existing safety guidelines for RFR.
It may be mentioned here that India's safety guidelines for RFR are only 10% of the ICNIRP values.
The U.S. Federal Communication's Commission, the standard setting body in this field follows the advice of the U.S. Food and Drug Administration's (FDA) Center for Devices and Radiological Health.
FDA has strongly criticised the conclusions of the USNTP study and restated that the current safety guidelines are adequately safe and there is no need to revise them.
1. Infographics: Coal is still a strong source of fuel
Category: SCIENCE AND TECHNOLOGY
An artificial intelligence (AI) programme used to recognise faces on Facebook can also identify galaxies in deep space.
The AI bot named ClaRAN scans images taken by radio telescopes, said researchers from the International Centre for Radio Astronomy Research (ICRAR) in Australia.
Its job is to spot radio galaxies – galaxies that emit powerful radio jets from supermassive black holes at their centres.
Black holes are found at the centre of most, if not all, galaxies.
These supermassive black holes occasionally burp out jets that can be seen with a radio telescope.
Over time, the jets can stretch a long way from their host galaxies, making it difficult for traditional computer programmes to figure out where the galaxy is.
ClaRAN grew out of an open source version of Microsoft and Facebook's object detection software.
Wong said the programme was completely overhauled and trained to recognise galaxies instead of people.
If ClaRAN reduces the number of sources that require visual classification down to one per cent, this means more time for our citizen scientists to spend looking at new types of galaxies.
A highly-accurate catalogue produced by Radio Galaxy Zoo volunteers was used to train ClaRAN how to spot where the jets originate.
ClaRAN is an example of a new paradigm called 'programming 2.0'
All you do is set up a huge neural network, give it a tonne of data, and let it figure out how to adjust its internal connections in order to generate the expected outcome.
Category: ENVIRONMENT AND ECOLOGY
1. Plastic bottle into aerogels
Plastic waste is toxic and non-biodegradable. Such waste often ends up in oceans and landfills, affecting marine life and causing problems such as groundwater contamination and land scarcity.
Scientists have developed a way to convert plastic bottle waste into flexible and durable aerogels that could be used for heat and sound insulation in buildings, oil spill cleaning, and as a lightweight lining for firefighter coats and masks.
Globally, the annual consumption of plastic bottles has been rising steadily, and it is expected to exceed half a trillion tonnes per year by 2021.
Plastic bottle waste is one of the most common type of plastic waste and has detrimental effects on the environment.
Plastic bottles are commonly made from polyethylene terephthalate (PET), which is the most recycled plastic in the world.
Our team has developed a simple, cost-effective and green method to convert plastic bottle waste into PET aerogels for many exciting uses.
One plastic bottle can be recycled to produce an A4-sized PET aerogel sheet. The fabrication technology is also easily scalable for mass production. In this way, we can help cut down the harmful environmental damage caused by plastic waste.
The PET aerogels developed are soft, flexible, durable, extremely light and easy to handle.
2. Marine sanctuary in Antarctica
A plan to create the world's largest marine sanctuary in Antarctic waters was shot down when a key conservation summit failed to reach a consensus, with decrying a lack of scientific foresight.
Member states of the organisation tasked with overseeing the sustainable exploitation of the Southern Ocean failed at an annual meeting to agree over the a 1.8 million sq km maritime protection zone.
The proposed sanctuary — some five times the size of Germany — would ban fishing in a vast area in the Weddell sea, protecting key species including seals, penguins and whales.
Consensus is needed from all 24 members of the Commission for the Conservation of Antarctic Marine Living Resources (CCAMLR) and the European Union.
Convention on the Conservation of Antarctic Marine Living Resources
The Convention on the Conservation of Antarctic Marine Living Resources, also Commission for the Conservation of Antarctic Marine Living Resources, and CCAMLR, is part of the Antarctic Treaty System.
The Convention was opened for signature on 1 August 1980 and entered into force on 7 April 1982 by the Commission for the Conservation of Antarctic Marine Living Resources, headquartered in Tasmania, Australia.
The goal is to preserve marine life and environmental integrity in and near Antarctica.
It was established in large part to concerns that an increase in krill catches in the Southern Ocean could have a serious impact on populations of other marine life which are dependent upon krill for food.
In 1989, CCAMLR set up the Ecosystem Monitoring Program (CEMP) to further monitor the effects of fishing and harvesting of species in the area.
In July 2013, the CCAMLR held a meeting in Bremerhaven in Germany, to decide whether to turn the Ross Sea into an MPA (Marine Protected Area).
The deal failed due to Russia voting against it, citing uncertainty about whether the commission had the authority to establish a marine protected area.
On 28 October 2016 at its annual meeting in Hobart, a Ross Sea marine park was finally declared by the CCAMLR, under an agreement signed by 24 countries and the European Union. It protects over 1.5 million square kilometres of sea, and is the world's largest.
But environmental groups say Russia and China — whose concerns over compliance issues and fishing rights have proved key stumbling blocks in the past — along with Norway, played a part in rejecting the plan.
This was a historic opportunity to create the largest protected area on the earth in the Antarctic: safeguarding wildlife, tackling climate change and improving the health of our global oceans.
Significance of Antarctica
Antarctica is home to penguins, seals, toothfish, whales and huge numbers of krill, a staple food for many species.
They are considered critical for scientists to study how marine ecosystems function and to understand the impacts of climate change on the ocean.
Plans were set out in 2009 to establish a series of marine protected area (MPAs) in the Southern Ocean allowing marine life to migrate between areas for breeding and foraging, but it has been slow going.
Nothing here for today!!!
What is the context?
The gunning down of five Bengali men in Bisonimukh-Kherbari, near Tinsukia in Upper Assam, on November 1.
It is not an isolated act of violence or even another of the periodic eruptions against non-Assamese people in the State.
The killings symptomise and deepen the fault lines between the Assamese and Bengali communities because of the ongoing exercise to update the National Register of Citizens as well as the Centre's plan to secure parliamentary passage for the Citizenship (Amendment) Bill, 2016.
More about National Register of Citizens
What is the issue with Citizenship (Amendment) Bill, 2016?
According to the Citizenship Act, 1955, illegal migrants are prohibited from acquiring Indian citizenship. An illegal immigrant is identified as one who either enters the country without valid travel documents (like passport and visa).
The category also includes those people who have valid travel documents but stay beyond the permitted time period.
On the other hand, the Foreigners Act, 1946, and the Passport (Entry into India) Act, 1920, put forth the provision that illegal migrants can be imprisoned or deported.
These acts empower the central government to regulate the entry, exit and residence of foreigners within the territory of India.
What The Citizenship Amendment Bill, 2016, Says?
The Citizenship Amendment Bill, 2016, grants residence and citizenship to illegal migrants belonging to the Hindu, Sikh, Buddhist, Jain, Parsi, Christian or other religious communities coming from neigbouring countries (mostly from Afghanistan, Bangladesh or Pakistan)
According to the bill, those migrants who arrived in India deported who arrived in India on or before December 31, 2014, cannot be deported or imprisoned.
The proposed bill also makes the required changes so that these people can be made eligible for citizenship. It also specifies that the minimum number years of residency in India to apply for citizenship should be lessened from at 11 to six years for such people.
Interestingly, the bill's provisions do not seem to extend to illegal Muslim migrants, as of now. Neither does it talk about other minority communities in the neighbouring countries, such as Jews, Bahais, etc.
What is the reason for the divide in Assam?
At the heart of the schism is the fate of those eventually left out by the updated NRC. Four million didn't make it to the final draft published in July, and while the final numbers will be known only when the elaborate process of claims, objections and verification draws to a close, there are certain known knowns at this point already.
How is politics influence the people?
The 'illegal' Muslim immigrant, unfortunately, has few speaking on her behalf. But her Hindu counterpart is the battleground, with ethnic Assamese nativist groups advocating an even-handed approach while the ruling BJP governments in Delhi and Dispur are keen to cast the protective cover of the Citizenship Bill on grounds of persecution in her country of origin.
Groups claiming to represent Assamese and Bengali interests have observed shutdowns and counter-shutdowns.
And while a party with a core ethnic Assamese kernel such as the Asom Gana Parishad could unequivocally oppose absorbing 'illegal' Bengali Hindu immigrants, those with a broader vote base have had to hedge through innovative strategies.
These include speaking in different voices (the Congress in the Assamese-dominated Brahmaputra and Bengali-dominated Barak valleys) or arguing that the burden of absorption is not only Assam's to bear (the BJP). The politics ensuing over this has left the State polarised.
The shrill rhetoric has spilled over to civil society, with calls for a separate State emanating from the Barak valley, and stray instances of Bengali speakers being harassed in Lower Assam towns, including Guwahati.
Thursday's tragedy should serve as a grim warning to the powers that be of potentially darker times ahead if the surcharged rhetoric is left unchecked.
While the ULFA (Independent) denies responsibility, investigations thus far suggest it was the group's handiwork. It had earlier claimed responsibility for a low-intensity bomb blast in Guwahati on October 13, saying it was a warning to those who support the Citizenship Bill.
Meanwhile, on Thursday too, the Supreme Court Bench that is monitoring the NRC exercise signalled an accommodative stance by agreeing to allow the use of five more documents by those left out of the NRC final draft.
That spirit of accommodation, towards long-time residents, of whatever religion or ethnicity, needs to permeate the political leadership and civil society in Assam now.
1. Challenge to the Reserve Bank of India's reserve(s)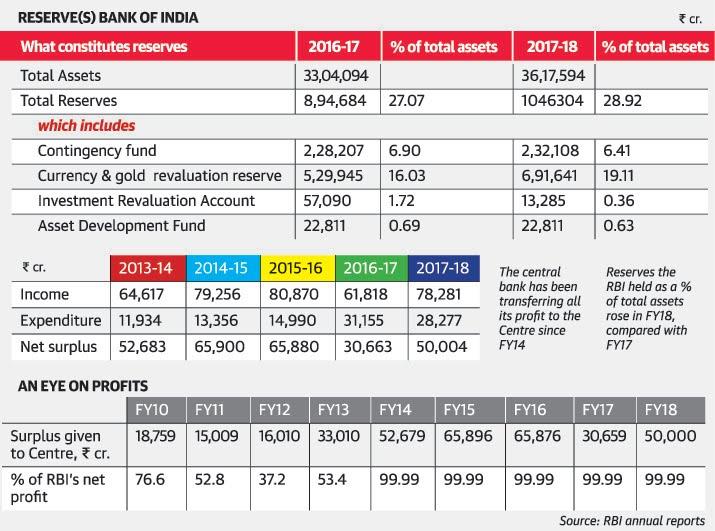 How are the reserves managed by RBI?
The relationship between note issue and its reserve backing is usually done on the basis of a reserve system by central banks across the world. The reserve system provides guidelines for the issue of new currencies.
In India, currencies are issued by the RBI with the backing of reserves comprised of gold and foreign exchange (foreign currencies).
For the issue of currencies, the RBI follows Minimum Reserve System at present. The Minimum Reserve System (MRS) is followed from 1956 onwards.
Under the Minimum Reserve System, the RBI has to keep a minimum reserve of Rs 200 crore comprising of gold coin and gold bullion and foreign currencies.
Out of the total Rs 200 crores, Rs115 crore should be in the form of gold coins or gold bullion. The purpose of shifting to MRS was to expand money supply to meet the needs of increasing transactions in the economy.
The minimum reserve is a token of confidence and doesn't have any practical connection with amount new currencies issued by the RBI.
Under the Minimum Reserve System, RBI can issue unlimited amount of currency by keeping the reserve. But RBI follows some principle or rule for issuing new currencies based upon economic growth and transaction needs of the people.
For every year, RBI makes a money supply expansion target based on the expected economic growth. Higher the economic growth, higher will be the expansion of newly issued money by the RBI.
This strategy helps RBI to contain inflation as well as enabling people to meet their transaction needs.
Similarly, the RBI secures assets while issuing new currency into the economy. These assets are foreign currencies or government bonds.
Every unit of new currency is a liability of the RBI. To match this liability, there should be equal volume of assets as well.
The procured foreign currency and government bonds constitute to the assets of the RBI whereas the newly issued currency is its liability.
Foreign currencies purchased by the RBI are kept at Banking Department whereas the reserves used for issuing new currency (under MRS) is kept at Issue Department.
What is the present issue?
The Centre wants a cut of the burgeoning reserves of the RBI. The central bank says it is an emergency buffer not meant to be shared.
There are many issues on which the Reserve Bank of India (RBI) and the Centre disagree but the most significant one is over the treatment of the sizeable reserves in the central bank's balance sheet.
If the reserves are mouth-watering for the Centre, they're a source of security for the RBI and not up for bargaining.
Why Central government wants control over reserves?
The outlay for recapitalisation of banks is continuing to grow.
After coughing up over ₹2.11 lakh crore over the last year, the government finds itself in the unenviable position of having to cough up even more as the skeletons keep tumbling out of bank lockers.
Second, the Centre is still smarting from the return of all the cancelled notes in the demonetisation exercise.
Remember, it was banking on a large part of the notes not returning which would have accrued to its account.
Third, throw in the fact that it's an election year when it would like to push up spending to create a feel-good factor with voters, and the picture is complete.
Why does the RBI wants to have control over reserves?
As of June 30, 2018, the RBI had ₹10.46 lakh crore in reserves, bulk of it under two heads — currency and gold revaluation reserve (₹6.91 lakh crore) and contingency reserve (₹2.32 lakh crore).
The currency and gold revaluation reserve (CGRA) accounts for 19.11% of total assets and the contingency reserve for another 6.41%.
Back in 2004, a committee under Usha Thorat, then Deputy Governor, examined the question of what should be the ideal size of RBIs reserves.
It suggested that the CGRA should be 12.26% of total assets while the contingency reserve should be 5.5%, totalling 17.76% in all. But the RBI Board did not accept the recommendation and preferred to continue with the level set by an earlier committee in 1997.
That committee, under V. Subrahmanyam, had set a contingency reserves level of 12% of total assets.
The reserves are built through transfers from the annual surpluses in the profit and loss account of RBI.
The balance surplus after transfer to reserves is given to the Centre as dividend.
In 2013-14, then governor, Raghuram Rajan, decided to transfer the entire surplus in the RBI's profit and loss account to the Centre without appropriation to reserves.
He was acting on the recommendation of another committee under Y.H. Malegam which said the existing reserves were in excess of the needed buffer and hence no transfers from the profits were necessary.
What were the reserves then?
The CGRA was 21.81% of total assets and the contingency reserve was 8.44%. The corresponding numbers now (2017-18) are 19.11% and 6.41% respectively.
By imputation, it can therefore be concluded that the buffer is now inadequate going by the Malegam Committee's recommendation.
What's the object of these reserves?
They are fourfold.
The CGRA is meant to cover a situation where the rupee appreciates against one or more of the currencies in the basket — and the basket has several currencies ranging from the dollar to the euro and the yen — or if there is a decline in the rupee value of gold.
The level of CGRA now covers about a quarter of the total currency reserves of the RBI.
The contingency reserve is meant to cover depreciation in the value of the RBI's holdings of government bonds– domestic and foreign– if yields rise and their prices fall.
The reserve is also meant to cover expenses from extraordinary events such as demonetisation (you could argue that like the tsunami, an exercise like demonetisation hits the country once in several generations), money market operations and currency printing expenses in a year of insufficient income.
Most important of all, the contingency reserve supports the mother of all guarantees — the central bank's role as the lender of the last resort.
The reserve is also a cover for the deposit insurance fund given that the Deposit Insurance and the Credit Guarantee Corporation (DICGC) is a wholly-owned subsidiary of the RBI.
The RBI's position, therefore, is that it would be imprudent to consider sharing any part of the reserve with the Centre. The Centre's view is that the technocrats in RBI are too conservative and the money belongs to it.
The reserves have been built from higher seigniorage income (the difference between the value of new notes printed by the RBI and the costs of printing and distribution) and interest paid by the Centre to the central bank on the latter's holdings of government securities.
A committee is in order
When in doubt, set up a committee. Such a committee should have representatives from government, the central bank, academicians and the market.
The committee should go into all aspects of the RBI's balance sheet, suggest a safe buffer in reserves and set out a fair method of sharing the reserves, if at all they should be.
In his book Advice & Dissent — My life in public service, former Governor Y.V. Reddy narrates the story of the Subramanyam Committee and its recommendation.
When he took the issue to then Finance Secretary Montek Singh Ahluwalia, the latter just asked him one question: "If you were in the Finance Ministry in my position, would you agree to this proposal?" When Dr. Reddy nodded, Mr. Ahluwalia immediately gave him the go-ahead.
Reddy quotes this to show the mutual trust and level of respect that the two had for each other.
1. The ghosts of past laws: Section 66A of the Information Technology (IT) Act, 2000
Background
In 2015, the Supreme Court struck down Section 66A of the Information Technology (IT) Act, 2000, as unconstitutional. That decision, Shreya Singhal v. Union of India, was heaped with praise by domestic and foreign media alike.
Application of this section continues unabated
The police in Muzaffarnagar, Uttar Pradesh, had arrested and detained 18-year-old Zakir Ali Tyagi in October 2017 under Section 66A — for posting some comments on Facebook.
Media outlets have reported other instances where Section 66A has been invoked by the police. The question now strikes at principles of enforcement of laws, what is the point of that landmark decision if the police still jail persons under unconstitutional laws?
Similar instances in the past
The SC had declared section 303 of IPC as unconstitutional (in whole or in part) in 1983 by striking down Section 303 of the Indian Penal Code in Mithu v. State of Punjab.

303, IPC prescribed mandatory capital punishment for life convicts who commit murder
Sec 303 was struck down as violative of Articles 14 & 21 in Mithu Singh [1983] on 3 grounds i.e.

disproportionate sentencing,
creating a separate class for life convicts without intelligible differentia & rational nexus and
curbing judicial discretion

But in 2012, years after Section 303 had been struck down, the Rajasthan High Court had to intervene to save a person from being hanged for being convicted under that offence.
Why is the issue persisting even after SC Judgments?
Supreme Court's work and its report are placed in public forum today. It also questions the states (Governments) and other litigants about the progress of implementation, compliance with its orders (an example being orders in mob lynching petitions).
While this monitoring function is one that the court can perform while a litigation is pending, it cannot do so after finally deciding a case, even after directions for compliance are issued.
Instead, it needs help from the legislature and executive to ensure its final decisions are enforced.

This was one of the reasons why Alexander Hamilton famously labelled the judiciary as "the least dangerous branch".

So, the primary reason for poor enforcement of judicial declarations of unconstitutionality is signal failures between different branches of government.
This ultimately means non-compliance which undermines the work of courts and there exists no official method for sharing information about such decisions.
Changes to be made
For any bureaucratic structure to survive, it needs working communication channels for sharing information from higher level of hierarchy to lower channels of the field. The same analogy applies to judiciary.

The probability of decisions taken at the highest echelons of a system being faithfully applied at the lowest rungs greatly depends on how efficiently word gets to the ground.
So the court needs to work on passing information about its decisions to the lower courts which requires support from the system

So, the Parliament has to remove the provision declared unconstitutional by the courts, amend laws and remove them for statute books.

This is why both Sections 66A and 303 are still a part of both the official version of statutes published on India Code and commercially published copies.
And while the commercially published versions at least put an asterisk to mention the court decision, no such information is provided in the official India Code version.

Another way of notifying the officers about unconstitutionality of laws is through Notifications and circulars issued by relevant Ministries.

These notifications are another official method to share information about judgments declaring a provision unconstitutional.
But as nothing mandates issuance of these notifications, there is no means to ensure that they are issued. This needs to be deliberated.

Similar thing happens in Judiciary too.

There was no formal system on information sharing in the hierarchical set-up of the Indian judiciary.
However, there were some High Courts and district judges for specific districts that did issue circulars bringing important decisions to the notice of other members in the judiciary. This needs modifications.
Conclusion
So until this basic flaw within the system is addressed, certain persons will remain exposed to denial of their right to life and personal liberty in the worst possible way imaginable.
They will suffer the indignity of lawless arrest and detention, for no reason other their poverty and ignorance, and inability to demand their rights.
Nothing here for today!!!
Nothing here for today!!!
H. Practice Questions for UPSC Prelims Exam
Question 1. Consider the following statements about NSG:
Nuclear Suppliers Group (NSG) is a group of nuclear supplier countries that seek to prevent nuclear proliferation by controlling the export of materials, equipment, and technology that can be used to manufacture nuclear weapons.

It is a formal organization, and its guidelines are binding.
Which of the above statements are correct?
1 only
2 only
Both 1 and 2
None of the above
See
Question 2. Consider the following statements about South Asian Association for Regional 
Cooperation (SAARC):
Its member states include Afghanistan, Bangladesh, Bhutan, India, Nepal, the Maldives, Pakistan and Sri Lanka.
SAARC maintains permanent diplomatic relations at the United Nation as an observer.
Which of the above is/are correct?
1 only
2 only
Both 1 and 2
Neither 1 and 2
See
Question 3. Consider the following statements:
CCIT is a proposed treaty which provides a legal framework which makes it binding on all signatories to deny funds and safe havens to terrorist groups.
CCIT provides a legal framework which makes it binding on all signatories to deny funds and safe havens to terrorist groups.
Which of the above is/are correct?
1 only
2 only
Both 1 and 2
Neither 1 and 2
See
I. Practice Questions for UPSC Mains Exam
Reserves are an important part of financial health of the system. Discuss the recent controversy over the need for control over these reserves between RBI and Central government.
The recent killings in Assam bring back the days of political divide over immigration. Critically examine.
Also, check previous Daily News Analysis
"Proper Current Affairs preparation is the key to success in the UPSC- Civil Services Examination. We have now launched a comprehensive 'Current Affairs Webinar'. Limited seats available. Click here to Know More."
Enroll for India's Largest All-India Test Series