TABLE OF CONTENTS
A.

 GS1 Related


SOCIAL ISSUES
1. 25 Dalits convert to Buddhism in U.P.


B.

 GS2 Related


POLITY AND GOVERNANCE
1. Not possible to use biometrics to identify bodies, says UIDAI
2. 'Have to outsmart those spreading fake news'


C.

 GS3 Related


ECONOMY
1. Deny MSP to stubble burners: NGT


D.

 GS4 Related




E. 

Editorials


INTERNAL SECURITY
1. Dangerous tactics (Left Wing Extremism)


F. 

Tidbits


1. May Day meant only for workers, not govt. officials: Deb


G. 

Prelims Fact


1. IIP growth falters as inflation eases
H. UPSC Prelims Practice Questions
I. UPSC Mains Practice Questions 

1. 25 Dalits convert to Buddhism in U.P.
Context
Twenty-five Dalits converted to Buddhism in a ceremony in Shamli district on Monday. Dalit leader Devidas Jayant, who also converted, said they took the step due to discrimination and atrocities against the community.
Related Concept – Crimes against SC/ST
Social Boycott – Khap panchayat – caste panchayat often acts as an arena for perpetuating atrocities against Dalits by ostracizing them from the society
Caste Conflicts – Many scholars like Surinder.S.Jodhka have attributed the increased atrocities to the tensions caused between upper castes and Dalits due to the perceived upward mobility of Dalits. But Dalits were at the receiving end of almost all these atrocities.
Cow Vigilantism – the lawlessness happening under the name of Cow protection; Since Dalits are concentrated in the occupation of leather making from hides of the cow, they are invariably targeted by vigilantes.
Honour Killing – Dalits are almost always at the receiving end of the violence; Bhagwan Dass v. Delhi deemed honour killings in the "rarest of rare" category of crimes that deserve the death penalty.
Category: POLITY AND GOVERNANCE
1. Not possible to use biometrics to identify bodies, says UIDAI
Context
The Unique Identification Authority of India (UIDAI) told the Delhi High Court on Monday that it was technically not possible to match the fingerprints of an unidentified body with the biometrics of 120 crore people stored in its database.
The UIDAI submitted that matching of biometrics, including fingerprints and iris, is done on a 1:1 basis and Aadhaar number is required for it.
The UIDAI counsel said that for matching biometrics, it required prints of all the fingers, iris scan and if they go by only one thumbprint scanning, there are chances that it would match with multiple persons.
Background
The court was hearing a petition filed by social activist Amit Sahni seeking a direction to the Centre and the UIDAI to utilise Aadhaar biometrics to identify unidentified bodies.
Sahni, an advocate, submitted that it was possible to use Aadhaar biometrics to identify the dead, and even missing persons were traced through Aadhaar.
A Bench of Chief Justice Rajendra Menon and Justice V.K. Rao asked the UIDAI to bring on record the details explaining the system as to why it was not possible to match the fingerprints in such cases with the Aadhaar database.
What is Aadhaar?
Aadhaar is a 12 digit unique-identity number issued to all Indian residents based on their biometric and demographic data.
The data is collected by the Unique Identification Authority of India (UIDAI), a statutory authority established by the Government of India, under the Ministry of Electronics and Information Technology, under the provisions of the Aadhaar (Targeted Delivery of Financial and other Subsidies, benefits and services) Act, 2016.
To obtain an Aadhaar number, an individual has to submit his, (i) biometric (photograph, fingerprint, iris scan) and (ii) demographic (name, date of birth, address) information. The Unique Identification Authority (UID) may specify other biometric and demographic information to be collected by regulations.
At the time of enrolment, the individual will be informed of, (i) the manner in which the information will be used, (ii) the nature of recipients with whom the information will be shared, and (iii) the right to access this information. After verification of information provided by a person, an Aadhaar number will be issued to him.
To verify the identity of a person receiving a subsidy or a service, the government may require them to have an Aadhaar number. If a person does not have an Aadhaar number, government will require them to apply for it, and in the meanwhile, provide an alternative means of identification.  Any public or private entity can accept the Aadhaar number as a proof of identity of the Aadhaar number holder, for any purpose.  Aadhaar number cannot be a proof of citizenship or domicile.
2. 'Have to outsmart those spreading fake news'
Context
CEO and co-founder of Twitter, Jack Dorsey on Monday said there was no perfect solution to deal with the problem of "fake news" and "misinformation" on social media in the context of the upcoming general election.
Calling it a multi-variable problem, Mr. Dorsey said: "We need to be 10 steps ahead of those trying to spread misinformation and need to ensure that people reading misinformation do not take action based on the information.
Twitter can step in to ensure that a reported tweet that is spreading misinformation is contained and does not spread more than the impressions it has already reached."
He likened the problem to that of security and said that even the best lock can be broken and the challenge was to keep building better locks.
"The platform aims to engage more young people in India to contribute to public debate and work with like-minded partners that share the same objective of encouraging civic engagement among the youth," said managing director of Twitter Maya Hari.
How can we tackle the issue of fake news?
The government must take the initiative to make all sections of the population aware of the realities of this information war and evolve a consensus to fight this war. It must also take strict action
News being spread using chatbots and other automated pieces of software should automatically be selected for special screening. Ordinary consumers of news can play a big role by, first, waking up to the reality that all they read on WhatsApp and Twitter is not the gospel truth, and then, by refusing to pass on what they cannot independently verify with other sources.
Websites that mimic well-known, credible media outlets in their name should be exposed with the vigour with which jokes are shared on social media.
An ombudsman deals with the credibility of news sources, it gains the privilege to ensure facts are reported
Government should have independent agency to verify the data being circulated in social and other media. The agency should be tasked with presenting real facts and figures.
Government should have mechanism for immediately issuing of notice against sites/people/agencies involved in spreading fake news.
There should be a provision of effective balances and check of filtering fake posts before it getting viral.
Social media websites should be made accountable of such activities so that it becomes their responsibility to have better controlling restricting the spread of fake news.
Government should take active measures for promoting awareness among people about fake news and their consequences.
Government should enlist penal provisions to perpetrators of fake news if it causes violence or deaths.
Government should make mandatory for Print and Electronic media to have internal mechanism for verifying incidents, facts and figures.
Public should verify the accuracy and of reliability of any news or data either from government or any independent agency specifically involved in such task.
Public should not blindly trust any sensitive news and should not forward it to others.
Public should inform concerned department about any fake post as soon as they come across. They should act as active vigilant for maintaining peace and harmony in society.
NGO's and other civil society groups can play important role in spreading awareness about the ill effects of fake news.
1. Deny MSP to stubble burners: NGT
Context
Stating that State governments had failed to curb stubble burning, the National Green Tribunal (NGT) on Monday summoned the Chief Secretaries of Delhi, Punjab, Haryana and Uttar Pradesh.
"We do not see any difficulty why such economic incentives and disincentives should not be duly planned or executed. We make it clear that the existing Minimum Support Price (MSP) Scheme must be so interpreted as to enable the States concerned to wholly or partly deny the benefit of MSP to those who continue to burn the crop residue" the Bench said.
What is Stubble burning?
Stubble burning refers to the use of a controlled fire to clear the crop residue that remains in the paddock after harvest and could more accurately be called 'crop residue burning.
It is mainly carried out in Haryana and Punjab.
Open burning of husk produces harmful smoke that causes pollution. Open burning of husk is of incomplete combustion in nature. Hence large amount of toxic pollutants are emitted in the atmosphere. Pollutants contain harmful gases like Methane, Carbon Monoxide (CO), Volatile organic compound (VOC) and carcinogenic polycyclic aromatic hydrocarbons.
What is combine harvesting?
Combines are machines that harvest, thresh i.e separate the grain, and also clean the separated grain, all at once.
The problem, however, is that the machine doesn't cut close enough to the ground, leaving stubble behind that the farmer has no use for.
There is pressure on the farmer to sow the next crop in time for it to achieve a full yield. The quickest and cheapest solution, therefore, is to clear the field by burning the stubble.
  Why do Farmers Burn?
Cost Factor: The straw management equipment is costly and process is time consuming. Also, the cost of stubble management is not taken into account while determining the minimum support price (MSP).
Increasing mechanization of agriculture: Stubble problem was not as severe when paddy was harvested manually because the farmers use to cut it as close to the ground as possible. Due to mechanization the crop residue that remains in the field is of larger quantity. Labour costs are very high now
Those who want fodder have to get the stubble removed manually or use specialised machines to do the job. But that is costly.
Time Factor: Delay in sowing means yield decline, this leaves very little time to clear the farm for sowing.
Unlike wheat stalks that are used as animal fodder, the paddy straw has high silica content that animals can't digest.
Since farmers need to sow wheat within a fortnight of harvesting paddy, they burn the straw to save time, labour and money.
National Green Tribunal
The National Green Tribunal has been established in 2010 under the National Green Tribunal Act 2010.
It draws inspiration from India's constitutional provision of Article 21, which assures the citizens of India the right to a healthy environment.
It aims for effective and expeditious disposal of cases relating to environmental protection and conservation of forests and other natural resources including enforcement of any legal right relating to the environment and giving relief and compensation for damages to persons and property and for matters connected therewith or incidental thereto.
It has Original Jurisdiction on matters of "substantial question relating to environment" and & "damage to the environment due to specific activity" (such as pollution).
Principles of Justice adopted by NGT
The NGT is not bound by the procedure laid down under the Code of Civil Procedure, 1908, but shall be guided by principles of natural justice.
NGT is also not bound by the rules of evidence as enshrined in the Indian Evidence Act, 1872. Thus, it will be relatively easier for conservation groups to present facts and issues before the NGT, including pointing out technical flaws in a project, or proposing alternatives that could minimize environmental damage but which have not been considered.
While passing Orders/decisions/awards, the NGT will apply the principles of sustainable development, the precautionary principle and the polluter pays principles.
Nothing here for today!!!
1. Dangerous tactics (Left Wing Extremism)
Larger Background:
Naxalism was once called by the government as the biggest internal security threat faced by the country.
Dynamics of Maoist Insurgency:
Some sections of the society, especially the younger generation, have romantic illusions about the Maoists, arising out of an incomplete understanding of their ideology. However, the central theme of Maoist ideology is violence.
The Maoist insurgency doctrine glorifies violence as the primary means to overwhelm the existing socio-economic and political structures.
The Peoples Liberation Guerilla Army (PLGA), the armed wing of CPI (Maoist), has been created with this purpose in mind.
In the first stage of the insurgency, the PLGA resorts to guerrilla warfare, which primarily aims at creating a vacuum at the grass-roots level of the existing governance structures. This is achieved by killing lower-level government officials, police-personnel of the local police stations, the workers of mainstream political parties and the peoples representatives of the Panchayati Raj system. After creating a political and governance vacuum, they coerce the local population to join the movement. A strident propaganda is also carried out against the purported and real inadequacies of the existing state structure.
In areas under Maoist domination, the absence of governance becomes a self- fulfilling prophecy since the delivery systems are extinguished through killings and intimidation. This is the first step in the strategy of the Maoists to seek to control the countryside. In the meanwhile, many Front Organisations are created to facilitate mass-mobilisation in semi-urban and urban areas through ostensibly democratic means. Most of the Front Organisations are led by well-educated intellectuals with firm belief in the Maoist insurgency doctrine. These ideologues function as masks to cover the violent nature of the CPI (Maoist) ideology. They also form propaganda/disinformation machinery of the party.
They stridently take up issues like 'displacement of tribals', 'corporate exploitation', 'human rights violations' by security forces etc. and often make fantastic claims in this regard which get reported even by the mainstream media.
The Front Organisations also skilfully use state structures and legal processes to further the Maoist agenda and weaken the enforcement regime.
The important functions of these Organisations include recruitment of 'professional revolutionaries', raising funds for the insurgency, creating urban shelters for underground cadres, providing legal assistance to arrested cadres and mass- mobilisation by agitating over issues of relevance/ convenience.
The Front Organisations aim to provide short-term democratic subterfuge to cover-up the totalitarian and oppressive nature of the Maoist ideology. The CPI (Maoist) also have a strategic game-plan to create a 'United Front' with all like-minded insurgent/terrorist outfits in India. It needs to be remembered that many of these outfits are supported by external forces inimical to India and the CPI (Maoist) consider such alliances as strategic assets.
In a nutshell, the CPI (Maoist), the main LWE outfit in India, aims to overthrow the existing democratic state structure with violence as their primary weapon, and mass mobilization and strategic united fronts as complementary components and plans to usher in so-called 'New Democratic Revolution' in India.
Approach taken by the Government of India:
The Government's approach is to deal with Left Wing Extremism in a holistic manner, in the areas of security, development, ensuring rights and entitlements of local communities, improvement in governance and public perception management.
In dealing with this decades-old problem, it has been felt appropriate, after various high-level deliberations and interactions with the State Governments concerned, that an integrated approach aimed at the relatively more affected areas would deliver results.
With this in view, a detailed analysis of the spread and trends in respect of Left Wing Extremist violence has been made and 90 districts in eleven States have been taken up for special attention with regard to planning, implementation and monitoring various interventions.
However, 'Police' and 'Public Order' being State subjects, action on maintenance of law and order lies primarily in the domain of the State Governments.
The Central Government closely monitors the situation and supplements and coordinates their efforts in several ways. These include providing Central Armed Police Forces (CAPFs); sanction of India Reserve (IR) battalions, setting up of Counter Insurgency and Anti Terrorism (CIAT) schools; modernisation and upgradation of the State Police and their Intelligence apparatus; reimbursement of security-related expenditure under the Security Related Expenditure (SRE) Scheme; providing helicopters for anti-LWE operations, assistance in training of State Police through the Ministry of Defence, the Central Police Organisations and the Bureau of Police Research and Development; sharing of Intelligence; facilitating inter-State coordination; assistance in community policing and civic action programmes etc.
The underlying philosophy is to enhance the capacity of the State Governments to tackle the Maoist menace in a concerted manner.
In essence, it is the belief of the Government of India that through a holistic approach focussing on development and security-related interventions, the LWE problem can be successfully tackled.
However, it is clear that the Left Wing Extremists do not want root causes like underdevelopment to be addressed in a meaningful manner since they resort to targeting school buildings, roads, railways, bridges, health infrastructure, communication facilities etc in a major way.
They wish to keep the population in their areas of influence marginalized to perpetuate their outdated ideology. Consequently, the process of development has been set back by decades in many parts of the country under Left Wing Extremists influence.
This needs to be recognised by the civil society and the media to build pressure on the Left Wing Extremists to eschew violence, join the mainstream and recognise the fact that the socio-economic and political dynamics and aspirations of 21st Century India are far removed from the Maoist world-view.
Further, an ideology based on violence and annihilation is doomed to fail in a democracy which offers legitimate forums of grievance redressal.
Some Recent Initiatives:
The Union Ministry of Home Affairs (MHA) has been implementing the 'National Policy and Action Plan' since 2015 to combat Left Wing Extremism (LWE). This envisages a multi-pronged strategy involving security and development related measures.
The significant features of the new policy were zero tolerance towards violence coupled with a big push to developmental activities so that benefits of development reached the poor and vulnerable in the affected areas.
According to the Ministry of Home Affairs (MHA), Maoist influence has been gradually shrinking. In figures released in April, 2018, the MHA, which recently redrew the red corridor, brought down the number of districts affected with Naxal violence from 106 to 90, spread across 11 states.
The Government has adopted a multi-pronged strategy. This primarily includes development and security aspects of affected districts. Projects related to development include infrastructure, roads, cellphone connectivity, bridges and schools.
As per MHA data, 2,329 mobile towers were installed in Maoist-affected areas in the first phase of the project aimed at improving cellphone connectivity, with the maximum number of towers being installed in Jharkhand (816), followed by Chhattisgarh (519). In the second phase, the government plans to install another 4,072 mobile towers.
Security Related Expenditure (SRE) Scheme:

This Scheme has been extended by the Government on 27.09.2017 as a sub scheme of the Umbrella Scheme Modernization of Police Forces for a period of 03 years till 2020.
Under the Security Related Expenditure (SRE) Scheme, the central Govt. reimburses to the State Governments of 11 LWE affected States Security Related Expenditure of 90 districts relating to training and operational needs of security forces, ex-gratia payment to the family of civilians/security forces killed in LWE violence, compensation to Left Wing Extremist cadres who surrendered in accordance with the surrender and rehabilitation policy of the concerned State Government, community policing, Security related infrastructure for village defence committees and publicity materials. There is a substantial increase in annual outlay and new items such as compensation for Security force personnel incapacitated during anti LWE operations and compensation for the property damage have been included for the first time in this scheme. The SRE Schemes aim at strengthening of the capacity of the LWE affected States to fight the LWE problem.
What is meant by the red corridor region?
The red corridor region is demarcated by the union government to notify the districts which are affected by Left Wing Extremism (LWE).
It is spanning across 106 districts in 10 States, namely Bihar, Jharkhand, Andhra Pradesh, Maharashtra, Odisha, Telangana, West Bengal, Madhya Pradesh, Uttar Pradesh and Chhattisgarh
In more specific terms, a recent report of MoHA classifies the red corridor region with respect to the severity of the Naxal influence.
The three main categories are –
Severely affected – Chhattisgarh, Jharkhand, Odisha and Bihar
Partially affected – West Bengal, Maharashtra and Andhra Pradesh
Slightly affected – Uttar Pradesh and Madhya Pradesh
A total of 44 districts have been removed from the list and eight new districts which could be slightly or partially affected has been added to the list.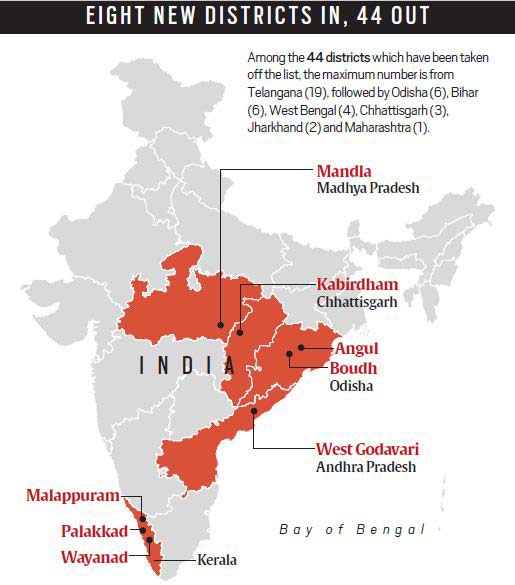 A Brief look at actions taken by government to counter Left Wing Extremism (LWE)?
The National Policy & Action Plan constituted by the MoHA had been introduced to reduce the concentration of Naxal affected districts.
All expenses incurred by the affected areas were covered under the Security Related Expenditure (SRE) Scheme.
This provides funds for projects related to development such as infrastructure, transportation, communication, bridges and schools.
Under which mobile towers, boarding schools and roads were installed in LWE affected areas.
Government also aims for a multi-pronged strategy which primarily includes development and security aspects of affected districts.
Editorial Analysis:
Recently, there has been an increase in attacks by Maoists, indicating that their ability to strike remains strong.
Last week, for example, in two attacks in Chhattisgarh, five persons were killed in a blast in Dantewada district, and one BSF sub-inspector was killed in Kanker district.
Some experts believe that, the government's strategy of using military force while earmarking funds for infrastructure and welfare programmes in the districts most affected by left-wing extremism has weakened the Maoists.
It is important to note that Paramilitary and police actions have resulted in the death of senior leaders, including Cherukuri Rajkumar ('Azad') and Mallojula Koteswara Rao ('Kishenji').
Further, welfare measures, even if they have been implemented haphazardly, have enabled outreach into tribal areas where the state was hitherto absent.
It is these actions that have forced the Maoists to retreat further into the forest areas of central and south-central India to use them as bases to launch attacks, seeking to invite state repression on tribal people and to get recruits.
It is also important to note that the change of guard in the CPI (Maoist) leadership also suggests that it has moved towards further militarisation to secure its guerrilla forces' influence. General secretary Nambala Kesava Rao ('Basavraj'), who has replaced Muppala Lakshmana Rao ('Ganapathy'), is alleged to have led attacks on security forces and killings.
Concluding Remarks:
The CPI (Maoist) has sought to project itself as a revolutionary political movement led by peasants and tribals, seeking to rebuild after the failures of the earlier Naxalite movement.
After the merger of the People's War Group and the Maoist Communist Centre of India into the CPI (Maoist) in 2004, the outlawed party managed to consolidate its presence across a "Red Corridor" spanning central and north-central India, marked by rural deprivation.
Further, rather than focussing on socio-economic struggles to uplift peasants and tribals in this region, the Maoists relied on waging a military battle against the state with the intention of capturing power through violent means.
Experts believe that this was largely due to a gross and mindless misreading of the nature of the Indian state and its democratic institutions.
These actions have resulted in the militarisation of these areas, repression of tribal people both by state actions such as the creation of the Salwa Judum — disbanded by judicial order — and Maoist authoritarianism.
Lastly, it is believed that the change in leadership of the CPI (Maoist) and its recent actions suggest there is no end in sight to this insurgency in the near term.
What is "Salwa Judum"?
Salwa Judum refers to "Peace March" in Gondi language.
This was a militia mobilised and deployed as part of anti-insurgency operations in Chhattisgarh, India, aimed at countering Naxalite violence in the region.
The militia, consisting of local tribal youth, received support and training from the Chhattisgarh state government.
The State Government justified it by saying that it alone can't fight the naxals and needed social support from the same region and communities.
1. May Day meant only for workers, not govt. officials: Deb
Tripura Chief Minister Biplab Kumar Deb has dropped May Day from the list of holidays in the State as, according to him, "government employees do not need a holiday on International Labour Rights Day".
He claimed that his government has done justice by granting holiday on May 1 only to workers in industrial sector as the day is "meant for workers and labourers and no one else".
1. IIP growth falters as inflation eases
Context
Growth in industrial activity as measured by the Index of Industrial Production slowed marginally in September to 4.5% due to slowing growth in the manufacturing and capital goods sectors, official data released on Monday showed.
About Index of Industrial Production
IIP is compiled and published by Central Statistics Office(CSO); it is published every month
It covers 865 (Older series 682) items comprising – Manufacturing (809 items, Older series 620 items), Mining (55 items, Older Series 61 items) & Electricity (1 item).
The weights of the three sectors are – Manufacturing – 77.63%, Mining – 14.37%, and Electricity – 7.99%
Base year for IIP is 2011-2012 (Earlier 2004-05) i.e. it is calculated on the basis of their share of GDP at factor cost during 2011-12.
The eight Core Industries comprise nearly 40.27 % of the weight of items included in IIP. They are
Coal (10.33%)
Crude oil (8.98%)
Natural gas (6.88%)
Refinery products (28.04%)
Fertilisers (2.63%)
Steel (17.92%)
Cement (5.37%)
Electricity (19.85%)
H. Practice Questions for UPSC Prelims Exam
Question 1. Man causes soil erosion through
Use of improper ploughing methods
Leaving roots of crop in the field after harvest
Practicing trash farming
Use of heavy machines
Select the correct answer using the codes given below:
1, 2 and 3 only
1 and 4 only
1, 3 and 4 only
1, 2, 3 and 4 only
See
Question 2. Biofuels are fuels extracted from plants and crops and these have various advantages. 
These include
Increasing agricultural diversity
Reduced use of fertilizers
Renewable source of energy
Select the correct answer using the codes given below:
1 and 3 only
3 only
2 and 3 only
1, 2 and 3
See
Question 3. A balanced ecosystem is one in which the
Number of organisms at all levels is equal
Amount of biomass at all trophic levels are equal
Organisms are interdependent on each other
Select the correct answer using the codes given below:
1 and 2 only
2 only
3 only
None
See
I. Practice Questions for UPSC Mains Exam
Discuss the menace of fake news and challenges of countering it. (150 words)
There has been an uptick in attacks by Maoists, indicating that their ability to strike remains strong. In this context, analyse the challenges in dealing with Maoism. (200 words)
Also, check previous Daily News Analysis
"Proper Current Affairs preparation is the key to success in the UPSC- Civil Services Examination. We have now launched a comprehensive 'Current Affairs Webinar'. Limited seats available. Click here to Know More."
Enroll for India's Largest All-India Test Series