TABLE OF CONTENTS
A.

 GS1 Related


MODERN INDIAN HISTORY
1. Nagaland split over centenary celebrations of club that united warring tribes


B.

 GS2 Related


INTERNATIONAL RELATIONS
1. Sirisena suspends Parliament


C.

 GS3 Related


ENVIRONMENT
1. As Capital chokes, Centre talks prosecution


D.

 GS4 Related




E. 

Editorials


ECONOMY (INFRASTRUCTURE)
1. Railways must be tougher on trespassing (Rail Safety)
POLITY AND GOVERNANCE
1. The lowdown on Jammu & Kashmir crisis (Local body elections in Jammu and Kashmir)


F. 

Tidbits


1. Banni's bane


G. 

Prelims Fact


1. India home to two new gecko species


H. 

Sunday Revision


I. UPSC Prelims Practice Questions
J. UPSC Mains Practice Questions 

Category: MODERN INDIAN HISTORY
1. Nagaland split over centenary celebrations of club that united warring tribes
Context
Kohima, the only theatre of the Second World War in the Indian subcontinent, is gearing up for the centenary of an ethnic club moulded by events during the First World War in faraway France.
But the Nagaland capital is divided over who has the right to celebrate the special day of the club that unified disparate Naga tribes and laid the foundation of an armed movement for secession from India.
The stand-off is between the influential Naga Students' Federation (NSF) and members of the 100-year-old Naga Club. The NSF doubts the credibility of the members since the Naga Club of 1918 became dormant in 1982, while the latter say the students' body should not dictate terms just because it "took over" the club building in 1983.
The club building is not far from the landmark Kohima War Cemetery, an iconic reminder of a fierce battle in 1944 between the British-led Allied forces and the Japanese army alongside Subhas Chandra Bose's Indian National Army.
Background
The British government had during the First World War recruited 2,000 labourers and porters from some 15 Naga tribes and sent them to fight in France between 1914 and 1918.
Alienated from other British Indian troops on European soil, the Nagas developed a sense of unity.
Many of them returned, and under the leadership of R.S. Ruichumhao, formed the Naga Club along with some British officials in 1918. The club provided the foundation for the Naga nationalist movement.
In 1929, members of the club submitted a memorandum to the Simon Commission, proposing self-rule by the Nagas after the departure of the British from India.
The Naga Club was later overshadowed by the Naga Hills District Tribal Council formed in 1945, which metamorphosed into a political organisation called Naga National Council (NNC). Under the legendary Angami Zapu Phizo, the NNC waged a war of independence against the Indian Union in the 1950s.
Category: INTERNATIONAL RELATIONS
1. Sirisena suspends Parliament
Context
Sri Lanka's President Maithripala Sirisena on Saturday suspended Parliament, a day after he sacked Prime Minister Ranil Wickremesinghe and replaced him with former President Mahinda Rajapaksa, plunging the island nation into political turmoil.
Through an extraordinary gazette, President Sirisena said Parliament was prorogued until November 16.
The announcement came just as Prime Minister Ranil Wickremesinghe declared he had the majority in Parliament.
The Chinese Ambassador in Colombo met Mr. Rajapaksa and conveyed the wishes of his leadership and government, according to Mr. Rajapaksa's office.
India is yet to comment on the recent changes in the neighbouring nation.
Background
Relations between Sirisena and Wickremesinghe have soured since their parties suffered humiliating losses to Rajapaksa's party in February's local council elections.
The pair have disagreed over economic policy and day-to-day administration of the government. Last week, they reportedly clashed during a cabinet session over plans to lease a container terminal to neighbouring India.
Earlier this year, Sirisena reneged on a pledge not to run for re-election, sparking tensions with Wickremesinghe who is believed to have his own presidential ambitions.
Sirisena is also thought to be behind a failed attempt to impeach Wickremesinghe in April, when 122 legislators in the 225-member parliament voted to back the now-sacked prime minister.
The ruling coalition has been further strained in recent days by strong criticism from Sirisena and his allies that ministers from Wickremesinghe's party did not act properly in investigating an alleged assassination plot to kill the president and former Defence Secretary Gotabaya Rajapaksa, the new prime minister's younger brother.
Rajapaksa, who served as president from 2005 to 2015, put down the decades-old Tamil Tiger separatist struggle in May 2009 through a military assault that killed up to 40,000 ethnic Tamil civilians, according to rights groups. His government was also accused of corruption and murdering political opponents.
Sirisena had pledged accountability for war atrocities, but has faced international criticism for being slow to deliver on justice.
1. As Capital chokes, Centre talks prosecution
Context
Delhi's air quality continued to remain "very poor" for the fourth consecutive day on Saturday, with some parts of the city slipping into "severe" category.
The deteriorating situation, compounded by fears that it may deteriorate further next week due to localised emissions during festival and stubble burning, prompted Union Environment Minister Harsh Vardhan to announce that the government has decided to initiate criminal prosecution against agencies which do not comply with the directives to check air pollution.
The overall Air Quality Index of the Capital was recorded at 341 on Saturday. Punjabi Bagh, Mundka, Dwarka Sector 8, Rohini and Anand Vihar were among the most polluted areas in the city where the air quality was recorded in the "severe" category.
Nearly 20%-30% of the dip in Delhi's air quality on Friday and Saturday was due to crop burning in Punjab and Haryana, said CPCB officials. The board maintained that lack of wind height and local polluting factors were also contributing to the spiked pollution levels in the city.
National Air Quality Index
In an attempt to make air quality measurement easier to understand, the ministry of environment and forests launched a National Air Quality Index (AQI) . It will put out real time data about level of pollutant in the air and inform people about possible impacts on health.
The index classifies air quality simply as good, satisfactory, moderately polluted, poor, very poor, and severe. Each band is represented by a colour code to visually express the level of severity that people can grasp easily.
Eight pollutant have been taken into account to calculate AQI – Nitrogen oxide, Sulpher dioxide, PM2.5, PM 10, Ozone, Carbon monoxide, Ammonia, Lead,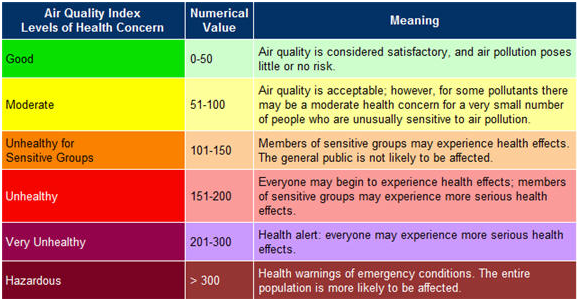 Related Concept – SAFAR
Ministry of Earth Sciences has recently unveiled state-of-the-art Air Quality and Weather Forecast System– SAFAR (System of Air Quality and Weather Forecasting) at Chandni Chowk in Delhi. It is first of its kind and most advanced system in India.
SAFAR was developed indigenously by Indian Institute of Tropical Meteorology (IITM), Pune and operationalized by India Meteorological Department (IMD).
It has been introduced for greater metropolitan cities of India to provide location-specific information on air quality in near real time and its forecast 1-3 days in advance for the first time in India.
It is integral part of India's first Air Quality Early Warning System operational in Delhi. It will monitor all weather parameters like temperature, rainfall, humidity, wind speed and wind direction.
Pollutants monitored: PM1, PM2.5, PM10, Ozone, CO, NOx (NO, NO2), SO2, BC, Methane (CH4), Non-methane hydrocarbons (NMHC), VOC's, Benzene, Mercury.
Monitored Meteorological Parameters: UV Radiation, Rainfall, Temperature, Humidity, Wind speed, Wind direction, solar radiation.
Nothing here for today!!!
Category: ECONOMY (INFRASTRUCTURE)
1. Railways must be tougher on trespassing (Rail Safety)
Larger Background:
Note to Students:
The recent tragic incident of around 60 people dying and over 70 getting injured after being run over by a train near Amritsar. has raised several question marks. Most notably from a UPSC point of view, one should look at this issue from the perspective of rail safety.
A Note on Safety Measures Taken in Indian Railways:
Improvement in Rail safety is a continuous process and constant endeavour is made to improve the same.

Safety Audits/inspections are undertaken at regular intervals on all railway infrastructures with a view to identify weak areas in asset maintenance, safety procedure and systemic defects and to provide ways and means to prevent accidents.

Besides, periodical safety drives are launched from time to time to indicate safety consciousness amongst staff and to streamline safety aspects including maintenance of assets.
Steps for improving Tracks:
Railway tracks are replaced through track renewal works which is an ongoing process.

Track renewal works are undertaken as and when stretch of track becomes due for renewal on the basis of criteria laid down in Indian Railway Permanent Way Manual on age cum condition basis viz. traffic carried in terms of gross million tonnes & incidence of rail fracture/failure, wear of rails, and maintainability of track as per standards etc.  

In case any stretch of track is not renewed in time due to various reasons including scarcity of funds, material etc. suitable speed restrictions, if required, are imposed to ensure safe running of trains. Additional funds are being provided through Rashtriya Rail Sanraksha Kosh (RRSK) and Mega Traffic Blocks are being arranged for executing these works.
III. Digital type of machines for Ultrasonic Flaw Detection (USFD):  
Testing of rails is being used which are more reliable.
This technology is being extensively used in Indian Railways to detect flaws in rails and weld failures in advance and take remedial steps to avert train accidents.
Electronic monitoring of track geometry is carried out with Track Recording Cars (TRC) and Portable Oscillation Monitoring Systems (OMS):
This is being done to detect track geometry defects for planning maintenance. Maintenance inputs are given to track and bridges as per requirement noticed during manual inspections, TRC & OMS runs and USFD testing to keep track in safe condition.
Steps for improving Signaling:
Electrical/Electronic Interlocking System

with centralized operation of points and signals are being provided to eliminate human failure and to replace old mechanical systems.

Complete Track Circuiting

of stations to enhance safety for verification of track occupancy by electrical means instead of human element has been completed at about 5889 stations upto 31.10.2017.

Axle Counter for Automatic clearance of Block Section (BPAC)

to ensure complete arrival of train before granting line clear and to reduce human element have been provided on 4935 block sections upto 31.10.2017.
New Safety Technology:
Train Protection & Warning System (TPWS) – Train Protection & Warning System (TPWS) mitigates safety risk of accidents/collisions due to loco pilot's error of Signal Passing at Danger or over speeding. It is a proven European train protection technology and deployed extensively on World Railways.
The News:
On October 19, at least 60 people died and over 70 were injured after being run over by a train near Amritsar. The tragedy struck as a group of Dasara revellers gathered on the rail track to watch the burning of a Ravana effigy and were hit by a train from Jalandhar to Amritsar.
Editorial Analysis:
Fixing Accountability:
Soon after this accident, debates started on who should be held accountable for the accident.




Was it the Railways? the local administration?  the event organisers? or the people themselves for trespassing? These are some of the questions which were asked.

Following the incident, Punjab Chief Minister Captain Amarinder Singh ordered a magisterial inquiry. The report of this magisterial inquiry is expected to be out by mid-November, 2018.

Experts cite that the Railways washed its hands of any responsibility.

The Railways said that the people on the track were trespassing.

Also, they assert that the Railways was not informed of any celebration near the track. In addition, the event was being held adjacent to the track on private property. Since the railway land was not being used, there was no need for a permit from it.

It is important to note that even as over 40 people on an average are killed every day owing to trespassing on rail tracks, there is no plan to tackle the issue.

Further, as per official statistics, nearly 50,000 people died on the track from 2015 to 2017. These deaths, the government has said, were largely because of trespassing, violating safety and cautionary instructions, avoiding overbridges, using mobile phones and other electronic gadgets while crossing the track.
The Issue of Unmanned Crossings:
It is important to note certain important statistics. For example, in April this year, 13 children were killed after a train rammed into a school van at an unmanned railway crossing at Kushinagar in Uttar Pradesh.

As per the available data, accidents at unmanned level crossings accounted for 16.23% of the total train accidents in 2016-17.

Further, Railway Minister Piyush Goyal recently said the Railways would be eliminating all unmanned level crossings on the broad gauge by December this year, ahead of the March 2020 deadline.

As of July this year, there were 2,869 unmanned level crossings on the broad gauge. In April 2017, this number stood at 7,000. While for the current financial year, the Railways has earmarked Rs. 73,000 crore for safety out of a total capital expenditure of Rs. 1.48 lakh crore, this mainly covers track renewals, bridge work, signalling, road safety at level crossings and technology upgrade.
Current Situation and Steps being Taken:
It is important to note that as far as trespassing is concerned, the measures are mainly limited to awareness campaigns.

Currently, a nationwide campaign has been launched against trespassing, after the Amritsar accident.

Further, as per the rules, trespassing on the railway premises, including the track, is a punishable offence under Section 147 of the Railways Act, 1989, with imprisonment up to six months and/or a fine of up to Rs. 1,000.

In 2017, a total of 1,73,112 people were prosecuted for trespassing by the Railways.

In the wake of this incident, a railway official had pointed out that as part of the awareness campaign,

regular announcements were being made at stations, urging passengers to use foot overbridges, and avoid crossing of the track.

Over and above this,

Railway Protection Force personnel are deployed on locations vulnerable to trespass.

The official added that the Railways also erected boundary walls or fences at identified locations that were liable to trespass.
In conclusion, one must note that the Railways is also working on how to use technology to deploy warning systems at unmanned level crossing gates.
For example, it is

testing a satellite-based system, in partnership with the Research Designs and Standards Organisation, Ministry of Railways, and the Space Applications Centre/Indian Space Research Organisation.

The trials are on at five level crossings.

Likewise, field trials are on for a radio frequency identification-based system to warn pedestrians against an approaching train.

If this radio frequency identification-based system is successful, these systems may be utilised to warn trespassers at various points of the track.
Category: POLITY AND GOVERNANCE
1. The lowdown on Jammu & Kashmir crisis (Local body elections in Jammu and Kashmir)
Note to Students:
This editorial coverage is takes into account the recent issue of local body elections in the State of Jammu and Kashmir. Students are advised to go through this article as it has a relevance from the perspective of the GS-2 Paper (Polity and Governance).
Here we have suitably signposted the Editorial Analysis into multiple headings.
"Larger Background": This particular section talks about the broader background of the issue, taking into consideration specific points that may have been featured in previous editions of The Hindu. The thought process behind including this section is to give a 'storyline' approach to an aspirant when he/she goes through this topic.
"Editorial Analysis": This particular section gives an insight towards the specific points covered in the specific editorial that is the subject of our study.
"The Way Forward/Concluding Remarks": This sections gives aspirants concluding points that are taken from the article in question as well as some forwarding looking points taken from other articles, as and when required.
The important aspect to note here is that the issue being discussed in the news assumes priority over just the article.
Larger Background:
The two main regional parties, the National Conference and the Peoples Democratic Party had given the call for a boycott to the local body elections in the state of Jammu and Kashmir.
Their immediate protest was over the legal challenge in the Supreme Court to Article 35(A) of the Constitution that accords special powers to the Jammu and Kashmir legislature to decide who are the "permanent residents" of the State and on whom special rights and privileges can be conferred.
Thus, it is important for students to have a background on what Article 35A of the Indian Constitution is about.

 
A Note on Article 35A
The Article 35A was inserted in the Indian Constitution by the Presidential Order of 1954.

The Article 35A yields special rights and immunities to the permanent residents of the Jammu and Kashmir from the rest of Indian citizen.

In the light of this article a non-permanent resident of Jammu and Kashmir cannot enjoy any Government facilities.

Article 35A is a provision incorporated in the Constitution giving the

Jammu and Kashmir

Legislature complete freedom to decide who all are 'permanent residents' of the State and confer on them special rights and privileges in public sector jobs, acquisition of property in the State, scholarships and other public aid and welfare.

The provision mandates that no act of the legislature coming under it can be challenged for violating the Constitution or any other law of the land.
How was Article 35A incorporated?
Article 35A was incorporated into the Constitution in 1954 by an order of the then President Rajendra Prasad on the advice of the Jawaharlal Nehru Cabinet.

The controversial Constitution (Application to Jammu and Kashmir) Order of 1954 followed the 1952 Delhi Agreement entered into between Nehru and the then Prime Minister of Jammu and Kashmir Sheikh Abdullah, which extended Indian citizenship to the 'State subjects' of Jammu and Kashmir.

The Presidential Order was issued under Article 370 (1) (d) of the Constitution. This provision allows the President to make certain "exceptions and modifications" to the Constitution for the benefit of 'State subjects' of Jammu and Kashmir.

Thus, Article 35A was added to the Constitution as a testimony of the special consideration the Indian government accorded to the 'permanent residents' of Jammu and Kashmir.
A Look at the Elections:
There has been a poor turnout in the Kashmir valley for local polls.
Just over a third of the electorate (35.1% provisionally) turned out to vote in the four-phase urban local body elections

Experts believe that this is a wake-up call to the Union government.

It is important to note that the turnout was not expected to be high.

The two main regional parties, the National Conference and the Peoples Democratic Party had given the call for a boycott.  
Their immediate protest was over the legal challenge in the Supreme Court to Article 35(A) of the Constitution that accords special powers to the Jammu and Kashmir legislature to decide who are the "permanent residents" of the State and on whom special rights and privileges can be conferred.
Given the boycott by these two parties and others, there was little political mobilisation in the Valley.
However, in Jammu, where both the Bharatiya Janata Party and the Congress have a strong base and where issues such as Article 35(A) don't have as much resonance, there was greater participation.
It is important to note that the absence of any viable political competition in the local body polls in the Valley will only undermine the institutions and the victors.

Unfortunately, with the collapse of the PDP-BJP coalition government in June this year, the absence of Kashmiri parties from the fray could heighten alienation at the street level.
A Deeper Insight:
Despite being local body polls, the negligible public participation in them is significant, especially since only four years ago, the State had witnessed the highest voter turnout in 27 years.

Last week saw only 35.1% turnout for the entire State, with Kashmiri participation dropping to a low single-digit percentage.

Some experts have blamed this result on pressure from militants.

However, it is worth noting that although militants often try to violently disrupt State elections, the boycott has rarely been as successful as this time.

Certain experts have maintained that we must recognise that this boycott was essentially a democratic expression of the people who are frustrated not just by the government but by the entire system. They further assert that to ignore their voice is almost certainly going to lead to disastrous consequences for the State's already-deteriorating security situation.
Delaying the Election?
Further, it is important to note that many experts have argued that the solution would have been to delay the elections.

However, this would have also meant denying the people of Jammu their democratic rights as they did want the elections and have participated in them enthusiastically.

Some experts believe that instead of solely focussing on stabilising the situation, the administration at the Centre also tried to derive maximum political gains from the situation.
The Dilemma the Centre Faces:
The dilemma that Prime Minister Narendra Modi is facing has been experienced by his predecessors as well.

Critics believe that as the head of the government, they felt it necessary to maintain stability in the State.

However, as leaders of large national parties, they also saw Jammu and Kashmir as a fertile political ground which could be used to expand the bases of their parties, even if it was at the cost of stability in the State.

They further assert that the trade-off between these two impulses has been always difficult to negotiate.

It is important to point out that there is nothing inherently wrong with any national party pursuing political gains within Jammu and Kashmir as they do in any other State.
Some people even argue that it is actually preferable if a sensitive State such as Jammu and Kashmir is ruled by a reliable national party than by regional actors.
Tracing the Roots of the Issue:
Experts believe that even the initial birth of the Kashmir insurgency in the late 1980s can be traced back to Indira Gandhi's decision to adopt a maximalist approach.

For example: In 1975, Mrs. Gandhi had established a historic accord with Sheikh Abdullah, making Kashmir's accession to India final.


Then in a statesman-like move, Indira Gandhi had asked the Congress Chief Minister in the State to step down for Abdullah to assume the position in a gesture of solidarity.

However, within two years, this desire to put national interest first had evaporated. Defeated in the 1977 general election, Mrs. Gandhi became desperate to regain political ground wherever she could find, which included Jammu and Kashmir.
Situation Post 1970's:
The situation changed from the late 1970s

.

From the late 1970s, the Congress in the State began a steady campaign against the Abdullah government, accusing it of maladministration and corruption.

This long-running feud weakened the legitimacy of both parties and as a consequence, created the space for extremism to grow.

Inspired by the 1979 Iranian revolution, Kashmiri fundamentalists had begun mobilising and the Abdullah-Congress fight allowed them to gain political traction.
Situation in the 1980's:
By the early 1980s, extremists in State politics were becoming prominent enough that even the Central Intelligence Agency took notice.

Cognisant of this fact, experts believe that Mrs. Gandhi should have taken a conciliatory approach with Abdullah.

Instead, she decided that emerging security risks made it all the more important to politically replace him with a Congress government.

For the next few years, the Congress continued to attack the Abdullah government, including in 1984, engineering a coup against Farooq Abdullah, Sheikh's successor.

However, by the mid-1980s, both sides had been discredited. The Congress was seen as abusing its power for political gains; Abdullah was seen as a weak leader because of his failed attempt to walk the tight-rope between fighting the government of India and still remaining pro-India.

The vacuum thus created was filled by extremist groups.

The Muslim United Front, an alliance of Islamic right-wing parties, expanded its vote share from a mere 6.4% in 1983 to 32% in 1987, in the Valley. Finally recognising this reality, in 1986 Rajiv Gandhi reached another accord with Abdullah which made both parties allies. However, by now it was too late. From a security standpoint it was necessary for the alliance to retain hold of the State; but in its weakened state, neither Abdullah nor the Congress could be sure that they would win the elections.
The Infamous 1987 State Elections:
The infamous 1987 State elections, were mired in allegations of widespread poll-rigging. Those who felt that the Abdullah-Congress alliance had "robbed" the elections became the first recruits of the incipient insurgency.

In an effort towards trying to reach for maximum goals, which was security gains and political mileage, the Congress ended up losing both.

Currently, the ruling party at the Centre, the BJP, finds itself in a similar position, where its political strategy is eroding the long-term security of the State.

Critics believe that, what compounds matters is that, unlike the Congress in the 1980s, the BJP is actually making political gains. They point out that they must desist from this temptation.

Sacrificing its short-term political gains, the BJP should look towards the long-term stability of the State by moderating its own political appetite.
Editorial Analysis:
Experts believe that the situation in Kashmir is volatile and drifting into a negative sphere on two counts. These are:
rising violence and

the shrinking space of regional mainstream parties after the four-phase urban local bodies elections on October 16.
It is further believed that the spiral of violence showed no sign of let-up even after Governor Satya Pal Malik was sworn in as the new head of the State on August 23, 2018.  

Experts add that there are many markers which the Governor has so far failed to stop the situation from deteriorating and ensure that all alienated sections, especially the Hurriyat, make a positive move.

Experts point out that there are more worrying trends for security agencies.

Srinagar, declared a militancy-free zone once, saw the return of house-to-house operations by security forces.

Four militants and a civilian were killed in a fortnight of heavy gunfights.

Further, the fear of large-scale street protests during and after the encounters forced the authorities to close all educational institutions and cancel examinations.
Reasons attributed towards heightened violence:
Some experts believe that the Centre's decision to hold urban local bodies elections in October acted as a force multiplier for violence.

They assert that even the mainstream regional parties, National Conference (NC) and Peoples Democratic Party (PDP), decided to boycott these polls, given the "anxiety and alienation" in Kashmir over a number of issues, including the questioning of special status in the Supreme Court.

It is important to also note that the regional parties described the civic bodies polls as "an imposition by the Centre."
It is also important to note that it's for the first time that urban local bodies polls were held with no regional party fielding any candidate. The new Governor failed to convince the parties to join the fray. Instead, he ticked them off, saying their "boycott was posturing for Assembly elections."
Concluding Remarks:
In conclusion, the poll results were disappointing and far below expectations.
From over 80% polling in the panchayat elections in 2011, the voter turnout came down to 35.1% in the entire State, while the Kashmir Valley and Srinagar saw 5% turnout, even lower than in 1996 when militancy was at its peak.
The reversal is discouraging as voter turnouts had increased significantly in this decade, growing ever since the mid-1990s.
Some experts also believe that the winning of the BJP candidates at 35 wards in the boycott-hit and volatile south Kashmir has only added to people's anxiety.
It is important to note that even between periods of intense protests, Assembly and parliamentary elections saw increased turnouts despite boycott calls by separatist groups.

This indicated a willing acceptance of the need to engage in electoral democracy to address civic concerns even if there were substantive differences and anger with the State and Central governments over issues such as security, human rights violations and the status of J&K.

However, the inability of the PDP-BJP government to come up with a coherent response to the unrest and protests that raged in 2016-17, and the subsequent imposition of Governor's Rule have only heightened matters.

Further, experts believe that the work of the Centre's interlocutor, Dineshwar Sharma, to carry forward a dialogue with various groups and individuals in the State has also not been enough to arrest misgivings in the Valley.

Finally, it has been suggested that the Centre must see the lack of participation in the polls in the Valley as a serious sign of alienation among the people and double down on ways to forge greater engagement.

Also, the decision to hold the civic polls has cast a shadow on upcoming elections in the State, including the panchayat polls to be held in November.

Finally, the State is also awaiting Assembly elections after the PDP-BJP government fell in August this year. Both the NC and the PDP are yet to show any interest in these polls. It strengthens the separatists' argument that boycott remains the only option for all parties till resolution of the Kashmir issue.
1. Banni's bane
Situated near the Great Rann of Kutch, Banni, the largest grassland of Asia, spread over 2,717 sq.km, is in the grip of a severe drought as winter sets in.
While the area is known for its scarce rainfall and semi-drought conditions, it is for the first time in 13 years that the Maldharis, the nomadic natives of Banni, are leaving their villages in droves as water gets scarce.
Banni, divided into eastern and western parts, is separated by National Highway 341, which leads to the India-Pakistan International Border. Even the bird sanctuary at Chari-dhand, which boasts migratory birds such as flamingo, is facing an acute water shortage.
G. Prelims Fact
1. India home to two new gecko species
The spot-necked day gecko and the Anaimudi day gecko, both very distinctly-patterned lizards found only in the higher reaches of the Agasthyamalai and Anamalai hill ranges in the Western Ghats, are the latest additions to India's reptile fauna.
Both these diurnal geckos are currently known only from single localities in high-elevation forests located at more than 1,200 metres above mean sea level in the Ghats. There is a possibility that these day geckos could be present in the surrounding hills but more detailed surveys would be required to confirm this.
While mountain ranges in general have a rather high diversity of such day geckos, the "accelerated environmental decline" that these regions face are a concern.
H. Sunday Revision
Diseases in News
Rabies
Rabies is viral disease that causes inflammation of brain (acute encephalitis) in warm-blooded animals.
It is zoonotic disease i.e. transmitted from one species to another, commonly by bite or scratch from infected animal such as dogs to humans.
The rabies virus infects central nervous system (CNS) and ultimately causes disease in brain and death.
Domestic dogs are most common reservoir of rabies virus.
Dog-mediated rabies accounts for more than 95% of human deaths.
Its symptoms include neurological problems and a fear of light and water.
Vaccination of pets helps to prevent and control rabies.
Zika Virus
Zika virus is the virus that causes the infection known as zika fever or zika virus disease.
The virus is a member of the Flaviviridae virus family and the genus Flavivirus.
It was named 'zika' because the virus was isolated for the first time in the Zika Forest which is in Uganda.
The zika virus is related to the yellow fever, dengue, West Nile and the Japanese encephalitis viruses.
The zika virus, because it is a Flavivirus, is icosahedral and enveloped. It has a single-stranded and non-segmented, positive-sense RNA genome. It belongs to the Spondweni sero group.
Swine Flu (H1N1)
Swine influenza, also called pig influenza, swine flu, hog flu and pig flu, is an infection caused by any one of several types of swine influenza viruses. Swine influenza virus (SIV) or swine-origin influenza virus (S-OIV) is any strain of the influenza family of viruses that is endemic in pigs.
Influenza A (H1N1) virus is the subtype of influenza A virus that is the most common cause of human influenza.
It is an orthomyxovirus that contains the glycoproteins haemagglutinin and neuraminidase. For this reason, they are described as H1N1, H1N2 etc. depending on the type of H or N antigens they express with metabolic synergy. Haemagglutinin causes red blood cells to clump together and binds the virus to the infected cell. Neuraminidase is a type of glycoside hydrolase enzyme which helps to move the virus particles through the infected cell and assist in budding from the host cells.
Some strains of H1N1 are endemic in humans and cause a small fraction of all influenza-like illness and a small fraction of all seasonal influenza. Other strains of H1N1 are endemic in pigs (swine influenza) and in birds (avian influenza).
 Avian Influenza (H5N1)
H5N1 is a type of influenza virus that causes a highly infectious, severe respiratory disease in birds called avian influenza (or "bird flu").
Human cases of H5N1 avian influenza occur occasionally, but it is difficult to transmit the infection from person to person.
When people do become infected, the mortality rate is about 60%
Almost all cases of H5N1 infection in people have been associated with close contact with infected live or dead birds, or H5N1-contaminated environments
The virus does not infect humans easily, and spread from person to person appears to be unusual
Anthrax
Anthrax is a disease caused by Bacillus anthracis, a germ that lives in soil.
It affects animals such as cattle, sheep, and goats more often than people. People can get anthrax from contact with infected animals, wool, meat, or hides.
Anthrax does not spread directly from one infected animal or person to another; it is spread by spores. These spores can be transported by clothing or shoes.
Respiratory infection in humans initially presents with cold or flu-like symptoms for several days, followed by pneumonia and severe (and often fatal) respiratory collapse.
Gastrointestinal (GI) infection in humans is most often caused by consuming anthrax-infected meat and is characterized by serious GI difficulty, vomiting of blood, severe diarrhea, acute inflammation of the intestinal tract, and loss of appetite.
Cutaneous anthrax, also known as Hide porter's disease, is the cutaneous (on the skin) manifestation of anthrax infection in humans. It presents as a boil-like skin lesion that eventually forms an ulcer with a black center (eschar).
Occupational exposure to infected animals or their products (such as skin, wool, and meat) is the usual pathway of exposure for humans. Workers who are exposed to dead animals and animal products are at the highest risk, especially in countries where anthrax is more common.
Anthrax can be contracted in laboratory accidents or by handling infected animals or their wool or hides.
Anthrax has been used in biological warfare by agents and by terrorists to intentionally infect.
The standard treatment for anthrax is a 60-day course of an antibiotic. Treatment is most effective when started as soon as possible.
Although some cases of anthrax respond to antibiotics, advanced inhalation anthrax may not.
By the later stages of the disease, the bacteria have often produced more toxins than drugs can eliminate.
I. Practice Questions for UPSC Prelims Exam
Question 1. Which of the following ministries organises the International Buddhist Conclave 
biennially?
Ministry of Culture
Ministry of Minority Affairs
Ministry of Tourism
Ministry of External Affairs
See
Question 2. Which of the following monumental locations have been accorded with Swacchh 
Iconic Place Tag?
Sri Ranganathaswamy Temple, Srirangam
The Taj Mahal, Agra
The Gateway of India, Mumbai
Meenakshi Sundareswarar Temple, Madurai
See
Question 3. Consider the following the statement is regarding Financial Action task Force:
It deals with developing policies to combat money laundering and terrorism financing also.
It is an inter‐governmental policy making body.
It monitors progress in implementing the FATF recommendations through a secretary chosen for this purpose.
Options:
1 and 2 only
2 and 3 only
1, 2 and 3 only
1 and 3 only
See
J. Practice Questions for UPSC Mains Exam
The farm loan waiver undermines honest credit culture and discipline. It endangers moral hazard and entails transfer from tax payers. Hence alternative to blanket waivers need to be explored and adapted. Critically examine the statement. (15 Marks; Max – 250 words)
The friendship between India and Japan has a long history rooted in spiritual affinity and strong cultural and civilizational ties. Write a note on the contemporary India – Japan relations.
Also, check previous Daily News Analysis
"Proper Current Affairs preparation is the key to success in the UPSC- Civil Services Examination. We have now launched a comprehensive 'Current Affairs Webinar'. Limited seats available. Click here to Know More."
Enroll for India's Largest All-India Test Series