Read the daily PIB update and stay up-to-date on current affairs for the UPSC exam
Tobacco Farming
Context:
The Department of Agriculture, Cooperation & Farmers Welfare (DAC&FW) had made budgetary allocations from  2015-16 onwards as Central share under Crop Diversification Programme (CDP), an ongoing sub-scheme of Rashtriya Krishi Vikas Yojana (RKVY) to encourage tobacco growing farmers to shift to alternative crops/cropping system in tobacco growing states.
About:
Under CDP, tobacco growing States have given flexibility to take suitable activities/interventions for replacing the tobacco to alternative crops/cropping system as per the cost norms approved under any Centrally Sponsored Scheme/State Scheme.
The States may also organize study tours/ exposure visits and campaigns etc. for highlighting harmful effects of tobacco and long term benefits of alternative crops under CDP.
In order to encourage tobacco growing farmers to shift to other crops, a National Seminar on Crop Diversification sponsored by DAC&FW was organized by the ICAR-Central Tobacco Research Institute (CTRI) at Rajahmundry to exchange information and experiences of various stakeholders on various issues relating to tobacco diversification.
The research work carried out by ICAR- CTRI, Rajahmundry revealed that a remunerative cropping system rather than a sole crop can be a viable alternative to sole tobacco crop. 
Alternative crops/cropping systems like maize, wheat, ragi, cotton, soybean, mustard, castor, groundnut, black gram, red gram, green gram, chilly, chickpea, potato, ginger, sugarcane, turmeric, moringa, oil palm etc. have been identified for the tobacco growing areas in different states.
---
Cabinet approves high level committee to implement Clause 6 of Assam Accord
Context:
The Union Cabinet approved the setting up of a High Level Committee for implementation of Clause 6 of the Assam Accord and measures envisaged in the Memorandum of Settlement, 2003 and other issues related to Bodo community.
About:
Clause 6 of the Assam Accord envisaged that appropriate constitutional, legislative and administrative safeguards, shall be provided to protect, preserve and promote the cultural, social, linguistic identity and heritage of the Assamese people.
The Composition and Terms of Reference of the Committee will be issued separately by the Ministry of Home Affairs. It is expected that the setting up of the Committee will pave the way for the implementation of the Assam Accord in letter and spirit and will help fulfil longstanding expectations of the Assamese people.
The Cabinet also approved the establishment of a Bodo Musuem-cum-language and cultural study center, modernization of existing All India Radio Station and Doordarshan Kendra at Kokrajhar and naming a Superfast Train passing through BTAD as ARONAI Express. Relevant Ministries will take the required actions to implement these decisions.
The Bodos are an ethnic and linguistic community centered on the Udalguri and Kokrajhar of Assam. They are largest of the 18 ethnic sub-groups within the Bodo -Kachari group.
Functions of the committee
The Committee shall examine the effectiveness of actions since 1985 to implement Clause 6 of the Assam Accord.  The Committee will hold discussions with all stakeholders and assess the required quantum of reservation of seats in Assam Legislative Assembly and local bodies for Assamese people.
The Committee will also assess the requirement of measures to be taken to protect Assamese and other indigenous languages of Assam, quantum of reservation in employment under Government of Assam and other measures to protect, preserve and promote cultural, social, linguistic identity and heritage of Assamese people.
---
Agricultural Project with FAO
Context:
The government has launched a Global Environment Facility (GEF) assisted project namely, "Green – Ag: Transforming Indian Agriculture for global environment benefits and the conservation of critical biodiversity and forest landscapes" in collaboration with the Food and Agriculture Organisation (FAO) in high-conservation-value landscapes of five States namely (i) Madhya Pradesh : Chambal Landscape, (ii) Mizoram: Dampa Landscape, (iii) Odisha: Similipal Landscape, (iv) Rajasthan: Desert National Park Landscape and v) Uttarakhand: Corbett-Rajaji Landscape.
About:
The project seeks to mainstream biodiversity, climate change and sustainable land management objectives and practices into Indian agriculture. The overall objective of the project is to catalyze transformative change of India's agricultural sector to support achievement of national and global environmental benefits and conservation of critical biodiversity and forest landscapes.
The project will support harmonization between India's agricultural and environmental sector priorities and investments so that the achievement of national and global environmental benefits can be fully realized without compromising India's ability to strengthen rural livelihoods and meet its food and nutrition security.
---
Bodoland
Who are bodos?
The Bodos, an ethno-linguistic group believed to be the earliest inhabitants of Assam, are one of the Indo-Mongoloid communities belonging to the Tibeto-Burman branch of the Sino-Tibetan family. At the zenith of their thriving civilisation, they ruled vast territories encompassing almost the entirety of northeast India, parts of Nepal, Bhutan, North Bengal and Bangladesh. The Bodos are recognized as a plains tribe in the Sixth Schedule of the Indian Constitution.
Their Demand
A separate state(Bodoland)(within the Indian Union) be created by carving out some area of eight districts of the current State of Assam, namely Kokrajhar, Dhubri, Bongaigaon, Barpeta, Nalbari, Kamrup, Darang and Sonitpur districts.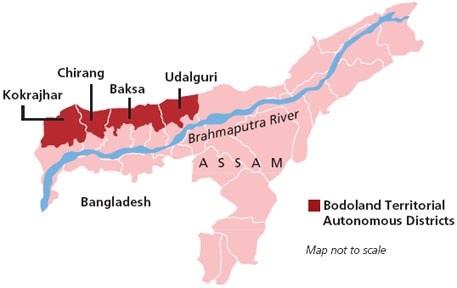 Bodo Accord
In 2003 – Bodo militants lay down the arms and want to join mainstream and they signed agreement with Government, known as "Bodo Accord".
A BTC(Bodoland Territorial Council)created under 6TH Schedule of the Constitution has been given legislative powers over 40 subjects.
BTAD(Bodoland Territorial Area District)created in 2003.
Problems in the Bodo Accord
The demand for a separate state is being justified on the basis of protecting the indigenous population of the BTAD which itself is contested.
The Bodos have portrayed themselves as the most rightful representatives of the BTAD. The BTC (Bodoland Territorial Council) is predominantly Bodo, as per the provisions of the Bodo Accord of 2003, but the BTAD areas do not have a homogenous demographic profile.
In fact, some villages of the BTAD are inhabited by a significantly larger number of non-Bodos than Bodos. Thus, the non-Bodo and Muslim communities feel under-represented at the BTC, and have recorded their displeasure at the inequity in distribution of resources and lack of administrative powers.
In addition is the territorial nature of the problem, which creates artificial boundaries in a naturally heterogeneous state and links ethnicity to land, leading to competing claims.
Conclusion
The message by government to these groups should be that negotiations over reasonable demands can be the only option.  State's cannot be created for politicians convenience. Any nexus between politicians and militants to gain political mileage should be rooted out, so militancy gets no leeway in the sensitive region.
 To ace UPSC current affairs section, read more PIB articles here.
Also see: