Read the daily PIB update and stay up-to-date on current affairs for the UPSC exam
GOVERNMENT LAUNCHES NATIONAL CLEAN AIR PROGRAMME (NCAP)
CONTEXT: Union Minister of Environment, Forest and Climate Change, launched a time-bound national level strategy for pan India implementation to tackle the increasing air pollution problem across the country in a comprehensive manner in the form of National Clean Air Programme (NCAP).
OBJECTIVE:
"Overall objective of the NCAP is comprehensive mitigation actions for prevention, control and abatement of air pollution besides augmenting the air quality monitoring network across the country and strengthening the awareness and capacity building activities."
WHAT IS THE CRUX OF NCAP?
Collaborative and participatory approach involving relevant Central Ministries, State Governments, local bodies and other Stakeholders with focus on all sources of pollution forms the crux of the Programme.
TARGET OF THE NCAP:
The tentative national level target of 20%–30% reduction of PM2.5 and PM10 concentration by 2024 is proposed under the NCAP taking 2017 as the base year for the comparison of concentration.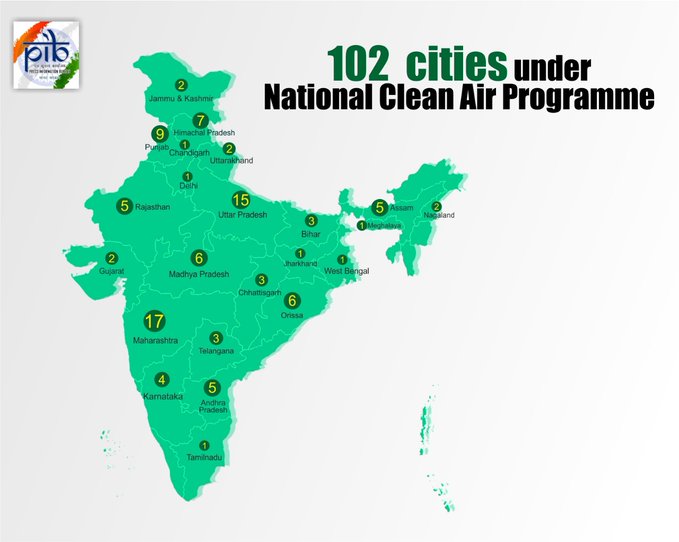 RELEVANCE AND FEATURES OF THE PROGRAMME:
Today cities occupy just 3% of the land, but contribute to 82% of GDP and responsible for 78% of Carbon dioxide emissions; cities though are engines of growth and equity but they have to be sustainable and it is in this context that NCAP being a very inclusive program holds special relevance.
City specific action plans are being formulated for 102 non-attainment cities identified for implementing mitigation actions under NCAP.
In addition, sectoral working groups, national level Project Monitoring Unit, Project Implementation Unit, state level project monitoring unit, city level review committee under the Municipal Commissioner and DM level Committee in the Districts are to be constituted under NCAP for effective implementation and success of the Programme.
---
INDUS FOOD 2019
CONTEXT: INDUS FOOD-II with the theme of 'World Food Supermarket' will be held at India Expo Mart, Greater Noida.
AIM:
The event is aimed at promoting India as a strong and reliable exporter of food and beverage products to the world. INDUS FOOD 2019 will promote value addition to India's agriculture exports and integrate Indian farmers and agricultural products with global value chains.
The event will lead to greater interaction of Indian exporters with global customers leading to enhanced product development and better price realization in international markets.
WHAT IS INDUS FOOD 2019?
INDUS FOOD is a global platform where top exporters from Food and Beverage Industry of India will be participating and buyers from across the world have been invited. 
It enables B2B engagements of buyers and suppliers, after careful business matchmaking, which takes care of precise business requirements of each participant, and enables him to pick and choose whom to meet.
WHO ORGANISED?
The event is organized jointly by Trade Promotion Council of India (TPCI) and Department of Commerce.
---
SIX STATES TO SIGN AGREEMENT FOR RENUKAJI MULTIPURPOSE DAM PROJECT
CONTEXT: An agreement for Renukaji Dam Multipurpose Project will be signed among six states- Uttar Pradesh, Haryana, Himachal Pradesh, Delhi, Rajasthan and Uttarakhand.
ABOUT RENUKAJI MULTI PURPOSE PROJECT:
Three storage projects are proposed to be constructed on the river Yamuna and two of its tributaries – Tons and Giri in the hilly regions of Uttarakhand and Himachal Pradesh of Upper Yamuna Basin. These include  Lakhwar project on river Yamuna in Uttarakhand, Kishau on river Tons in Uttarakhand and  Himachal Pradesh and  Renukaji on river Giri in Himachal Pradesh.
These three projects were identified as National Projects in 2008 under which 90% funding of the cost of irrigation & drinking water component will be provided by the Govt. of India as central assistance and the rest 10% cost of the irrigation and drinking water component will be borne by the beneficiary states.
IMPORTANCE:
After the construction of the said dam, the flow of river Giri will increase about 110% which will meet the drinking water needs of Delhi & other basin states up to some extent in lean period.
Stored water of Renukaji Dam will be used by UP, Haryana & NCT of Delhi from Hathnikund Barrage, by NCT of Delhi  from Wazirabad Barrage and by UP, Haryana and Rajasthan from Okhla Barrage. 
---
LAUNCH OF SINO-INDIAN DIGITAL COLLABORATION PLAZA
CONTEXT: The Sino-Indian Digital Collaboration Plaza (SIDCOP), an initiative to bring Indian IT companies and Chinese enterprises closer to each other on a single AI enabled platform was launched.
WHO ARE INVOLVED?
This is a partnership by National Association of Software and Services Companies (NASSCOM) with Municipal Governments of Guiyang and Dalian. A Joint Venture comprising of one Indian and Chinese company has been tasked with the running of the platform.
SIGNIFICANCE:
SIDCOP, which is a boundary-less marketplace offers this opportunity for Chinese enterprises in order to assist them in operational optimization and adopting industry best practices in business solutions. This platform could be useful to connect with top providers from India and help Chinese enterprises source the right solution providers for their projects.
---
REPORT OF THE COMMITTEE ON SECTION 126 OF THE REPRESENTATION OF THE PEOPLE ACT, 1951 SUBMITTED TO THE COMMISSION
CONTEXT: The Committee constituted under the chairmanship of Sr. Deputy Election Commissioner Sh. Umesh Sinha to review and suggest modifications and changes in the provisions of the Section 126 and other sections of the Representation of the People Act 1951, provisions of Model Code of Conduct and any other ECI instruction in this regard has submitted its report to the Commission.
WHAT IS SECTION 126 REPRESENTATION OF THE PEOPLE ACT 1951?
Section 126 of the Representation of the People, 1951, prohibits displaying any election matter by means, inter alia, of television or similar apparatus, during the period of 48 hours before the hour fixed for conclusion of poll in a constituency.
WHAT IS THE ISSUE RELATED TO SECTION 126?
       The task of maintaining campaign silence during last 48 hours before the conclusion of polling is becoming increasingly onerous in the light of the increasing influence of digital media. So, apart from the regulation by law and ECI instructions, the resolve, proactive support and sustained effort by all stake holders which include political parties, media, civil society organizations, academia and educational institutions, the youth and citizens at large, will remain necessary to contain the evil impact
THE COMMITTEE HAD THE FOLLOWING SCOPE OF WORK:
Study and examine the present provisions of the Section 126 and other related Sections of the Representation of the People Act, 1951 and identify difficulties/critical gaps to regulate the violation of the said provisions of the act, particularly during the prohibitory period of 48 hours before the completion of the poll, mentioned in section 126 and suggest necessary amendment/modification.
Examine the type, category or growth of communication technology or media platform in the country and difficulties in regulating these media platforms during multiphase election when prohibitory period of 48 hours are in force.
Impact of new media platforms and social media during the prohibitory period of 48 hours before the close of poll and its implication in view of the provisions of section 126.
Examine the present provisions of Model Code of Conduct (MCC) related to the above issues and suggest modification in this regard.
The Committee had detailed consultations with all major stakeholders including various political parties, nominees/ representatives of the Press Council of India (PCI), the News Broadcasters Association (NBA), the Internet and Mobile Association of India (IAMAI), the Ministry of Information and Broadcasting, the Ministry of Electronics and Information Technology (MeitY) as well as representatives of several intermediaries and technology companies including Facebook, WhatsApp, YouTube, Twitter, and Google. The Committee also had several rounds of discussions and consultations with the legal and other divisions within the ECI.
To ace UPSC current affairs section, read more PIB articles here.
Also see: