Read the daily PIB update and stay up-to-date on current affairs for the UPSC exam.
July 15th, 2019 PIB:-Download PDF Here
Compliance of Good Samaritan Guidelines
Context
Ministry of Road Transport and Highways has issued guidelines in pursuance of order of Hon'ble Supreme Court of India to protect the Good Samaritans in case of road accidents.
About Good Samaritan
A Good Samaritan is a bystander, who voluntarily comes forward to administer immediate assistance or emergency care to a person injured in an accident, or crash, or emergency medical condition, or emergency situation.
Significance of Good Samaritan law
In the last ten years, road crashes have killed over 13 lakh people in India. According to the Law Commission of India, 50% of these victims died of preventable injuries and could have been saved if they had received care on time.
How law came into force
On March 30, 2016, the Supreme Court of India gave "force of law" to the guidelines for the protection of Good Samaritans issued by the Ministry of Road Transport and Highways.
The purpose of a Good Samaritan law is to provide legal protection to bystanders who come to the aid and rescue of victims of road crashes.
How Good Samaritan is protected
A Good Samaritan will not be liable for any civil or criminal action for any injury or death of the victim
Good Samaritan who informs police or emergency service regarding an injured person not to be compelled to reveal his personal details
Disciplinary action against public officials who coerce Good Samaritan to reveal his personal details
Good Samaritans not to be forced to bear the initial cost of treatment: Ministry of Health and Family Welfare (MoHFW) to issue guidelines that no public or private hospital can demand payment for registration and admissions costs from the Good Samaritans
Hospitals cannot refuse treatment to a victim: Lack of response by a doctor in an emergency situation to be considered as a "Professional Misconduct" and disciplinary action shall be taken against such a doctor
The Good Samaritan can choose to be an eyewitness and cannot be compelled
Eye witness to be examined in a single occasion
Video conferencing may be used for examination of a Good Samaritan
---
Skill India Mission celebrates 4th Anniversary
Context
Skill India Mission celebrates 4th Anniversary on World Youth Skills Day: More than 1 crore youth join the skilling ecosystem every year
About Skill India
Skill India is a campaign launched by Prime Minister in 2015 which aims to train over 40 crore people in India in different skills by 2022.
It includes various initiatives of the government like "National Skill Development Mission", "National Policy for Skill Development and Entrepreneurship, 2015", "Pradhan Mantri Kaushal Vikas Yojana (PMKVY)" and the "Skill Loan scheme".
The National Skill Development Corporation India (NSDC) was setup as a one of its kind, Public Private Partnership Company with the primary mandate of catalysing the skills landscape in India.
PMKVY is the flagship scheme of the Ministry of Skill Development & Entrepreneurship.The objective is to enable a large number of Indian youth to take up industry-relevant skill training that will help them in securing a better livelihood.
PMKVY is applicable to any candidate of Indian nationality who is unemployed, school or college dropout, or as identified by the Sector Skill Council (SSC) for their respective job roles.
---
Lifespan of Scheduled Tribe People
Background
According to data from the national Census 2011 to estimate, by indirect methods, the life expectancy for the Scheduled Tribes (STs) and non-ST population in India is 63.9 years, as against 67 years for general population.
The reasons for shorter lifespan include gaps in various health and nutritional indicators, education level, poverty level, between ST and non-STs, traditional life styles,remoteness of habitations & dispersed population.
Steps taken by Government
Under National Health Mission (NHM), support is being provided to States for strengthening their healthcare system including for upgradation of existing and setting up new public health infrastructure based on requirements posed by the States/UTs.
All tribal districts whose composite health index is below the State average have been identified as High Priority Districts(HPDs) and receive more resources per capita under the NHM as compared to the rest of the districts in the State.
As per the budget announcement 2017-18, 1.5 lakh Health Sub Centres and Primary Health Centres are being transformed into Health and Wellness Centres (HWCs)
The Ayushman Bharat – Health and Wellness Centres (AB-HWCs) aim to provide an expanded range of services to include care for non – communicable diseases, palliative and rehabilitative care, Oral, Eye and ENT care, etc
Ministry of Tribal Affairs supplements the efforts of Central line Ministries as well as State Governments for addressing needs of education, health and nutrition, skill development, livelihood etc. of tribals/ tribal areasby way of critical gaps filling.
---
Khelo India Programme
Context
The Khelo India Scheme, with twelve verticals, is being implemented across the country from the year 2017-18 onwards.
About the program
The Talent Search and Development vertical of Khelo India scheme provides for grant of financial assistance of Rs.5.00 lakh per annum for a period of 8 years for selected sportspersons.
State/Union Territory (UT)-wise allocation or release of funds is not made under this vertical, which is implemented centrally by Sports Authority of India (SAI).
"Sports" being a State subject the responsibility of development Sports, including among girls in schools and colleges across the country rests with the State / Union Territory (UT) Governments.
.Sports Authority of India (SAI) also implements the Schemes of National Sports Talent Contest (NSTC) and Extension Centres of SAI Training Centres (STC)/Special Area Games (SAG) Centres with the aim of promoting sports.
These schemes are applicable for all, including girls schools and colleges.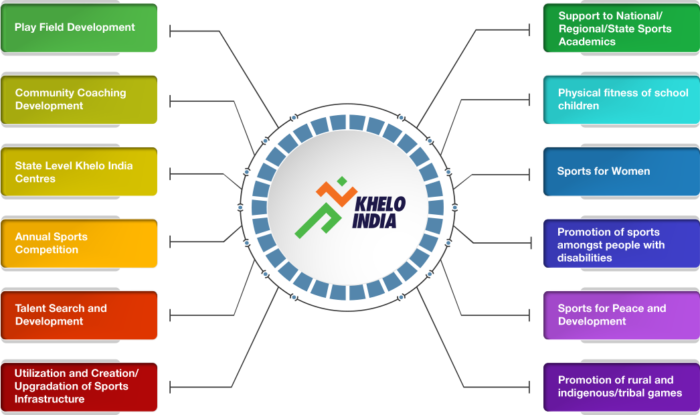 Related Links:
June 15th, 2019 PIB:-Download PDF Here
Read previous 'Best of PIB' here.