June 29th, 2020 PIB:- Download PDF Here

TABLE OF CONTENTS
1. Gaganyaan Mission
2. NOC for power, oil and gas exploration projects
3. PM Formalization of Micro Food Processing Enterprises (PM FME)
4. Gold Nanoparticles

About Gaganyaan Mission:
Gaganyaan is India's first manned space mission. It was announced by the PM in 2018.
With Gaganyaan, India will become only the 4th country after Russia, the USA and China to send humans to space.
Watch the video lecture to know more about Gaganyaan Mission.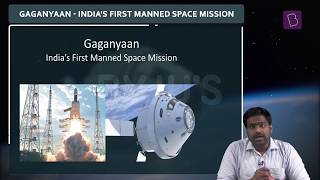 Context:
Union Minister of State for Space said that India's first human space mission "Gaganyaan" will not be affected by the COVID-19 pandemic.
Also read: Semi Cryogenic Technology for Gaganyaan: RSTV – In Depth
---
2. NOC for power, oil and gas exploration projects
Context:
Defence Minister launched online portal for issue of NOC for power, oil and gas exploration projects.
Details:
The new portal was launched for the issue of No Objection Certificate (NOC) for power projects and Research Survey Exploration Exploitation (RSEE) activities in the Indian Territorial Waters (TW) and Exclusive Economic Zone (EEZ).
The Ministry of Defence (MoD) accords security clearances to various private/Public Sector Undertakings (PSUs)/Government organisations for power/wind/solar projects in areas nearby defence installations and also RSEE activities in the Indian TW and EEZ for applications received through different Ministries like Ministry of New and Renewable Energy (MNRE), Ministry of Power, Ministry of Petroleum & Natural Gas, Ministry of Shipping, Director General of Hydrocarbons, etc.
To ensure ease of business and transparency in issuing NOC for such projects, the Ministry has developed the online application portal with the assistance of National e-Governance Division (NeGD), Bhaskaracharya Institute for Space Applications and Geo-informatics (BISAG) and National Informatics Centre (NIC).
The newly developed MoD web portal will facilitate the applicants in submitting their proposals online for seeking MoD Security Clearance for undertaking Power Projects/RSEE activities. The Online System will establish an effective, speedy and transparent mechanism to process these proposals.
The Ministry had earlier launched a similar portal for grant of NOC for aerial survey.
---
3. PM Formalization of Micro Food Processing Enterprises (PM FME)
Context:
The Union Minister for Food Processing Industries launched the PM Formalization of Micro Food Processing Enterprises (PM FME) scheme.
Background:
The unorganised food processing sector faces a number of challenges which limit their performance and their growth.
These challenges include lack of access to modern technology & equipment, training, access institutional credit, lack of basic awareness on quality control of products; and lack of branding & marketing skills, etc.
The unorganized food processing sector comprising nearly 25 lakh units contributes to 74% of employment in the food processing sector.
Nearly 66% of these units are located in rural areas and about 80% of them are family-based enterprises supporting the livelihood of rural household and minimizing their migration to urban areas.
These units largely fall within the category of micro-enterprises.
About the PM FME Scheme:
The scheme was launched as part of the Atmanirbhar Bharat Abhiyan.
The Minister said that the Scheme would generate a total investment of Rs 35,000 crore and generate 9 lakh skilled and semi-skilled employment and benefit 8 lakh units through access to information, training, better exposure and formalization.
It is a Centrally Sponsored Scheme wherein the expenditure would be shared in 60:40 ratio between Central and State Governments, in 90:10 ratio with North Eastern and the Himalayan States, 60:40 ratio for UTs with legislature and 100% by Centre for other UTs.
It is to be implemented over a period of five years from 2020-21 to 2024-25 with an outlay of Rs 10,000 crore.
The main goal of the scheme is to provide financial, technical and business support for the upgradation of existing micro food processing enterprises.
The Scheme adopts One District One Product (ODODP) approach to reap benefits of scale in terms of procurement of inputs, availing common services and marketing of products.

The States would identify food product for a district keeping in view the existing clusters and availability of raw material.
The ODOP product could be a perishable produce-based product or cereal-based products or a food product widely produced in a district and their allied sectors.
An illustrative list of such products includes mango, potato, litchi, tomato, tapioca, kinnu, bhujia, petha, papad, pickle, millet-based products, fisheries, poultry, meat as well as animal feed among others.
Preference would be given to those producing ODOP products. However, units producing other products would also be supported.
Support for common infrastructure and branding & marketing would be for ODOP products.
The Scheme also places focus on waste to wealth products, minor forest products and Aspirational Districts.

Existing individual micro food processing units desirous of upgrading their unit can avail credit-linked capital subsidy @35% of the eligible project cost with a maximum ceiling of Rs.10 lakh per unit.

Seed capital @ Rs. 40,000/- per SHG member would be provided for working capital and purchase of small tools.
FPOs/SHGs/producer cooperatives would be provided credit-linked grant of 35% for capital investment along the value chain.
Support would be provided through credit-linked grant @ 35% for development of common infrastructure including common processing facility, lab, warehouse, cold storage, packaging and incubation centre through FPOs/SHGs/cooperatives or state-owned agencies or private enterprise to use by micro-units in the cluster.
Support for marketing & branding would be provided to develop brands for micro-units and groups with 50% grant at State or regional level which could benefit a large number of micro-units in clusters.
The Minister also announced the extension of Operation Greens from TOP (tomato-onion-potato) to all perishable fruits and vegetables. Read more about Operation Greens in the linked article.
---
Context:
The National Centre for Polar and Ocean Research (NCPOR) and the Goa University (GU) have successfully synthesized gold nanoparticles (GNPs) using psychrotolerant Antarctic bacteria through a non-toxic, low-cost, and eco-friendly way.
Details:
The study has established that 20-30-nm-sized spherical-shaped GNPs could be synthesized in a controlled environment.
These GNPs can be used as a composite therapeutic agent in clinical trials, especially in anti-cancer, anti-viral, anti-diabetic, and cholesterol-lowering drugs.
The NCPOR-GU study revealed the genotoxic effect of GNPs on a sulphate reducing bacteria (SRB).
The GNPs displayed enough anti-bacterial properties by inhibiting the growth of SRB and its sulphide production by damaging the genetic information of the DNA of the bacterial cell.
Genotoxicity describes the property of a chemical agent that is capable of damaging the genetic information of DNA and thus causing a mutation of the cell, which can lead to cancer.
About Gold Nanoparticles (GNPs):
Gold nanoparticles (AuNPs) are small gold particles with a diameter of 1 to 100 nm which, once dispersed in water, are also known as colloidal gold.
GNPs are found to have greater solar radiation absorbing ability than the conventional bulk gold, which makes them a better candidate for use in the photovoltaic cell manufacturing industry.
GNPs have unique optical properties too. For example, particles above 100 nm show blue or violet colour in water, while the colour becomes wine red in 100 nm gold colloidal particles. They can thus be used in therapeutic imaging.
GNPs also have unique physicochemical properties. Their biocompatibility, high surface area, stability, and nontoxicity make them suitable for various applications in therapeutic use including detection and diagnosis of diseases, bio-labelling, and targeted drug delivery.
As nano-carriers, GNPs are capable of transferring various drugs made out of peptides, proteins, plasmid DNAs, small interfering RNAs, and chemotherapeutic agents to target diseased cells of the human body.
GNPs are also found to be useful in the electronics industry.

Scientists have constructed a transistor known as NOMFET (Nanoparticle Organic Memory Field-Effect Transistor) by embedding GNPs in a porous manganese oxide as a room temperature catalyst to break down volatile organic compounds in air and combining GNPs with organic molecules.
NOMFETs can mimic the feature of the human synapse known as plasticity, or the variation of the speed and strength of the signal going from neuron to neuron.
These novel transistors can now facilitate better recreation of certain types of human cognitive processes, such as recognition and image processing and have their application in artificial intelligence.
June 29th, 2020 PIB:- Download PDF Here
Read more PIB articles here.