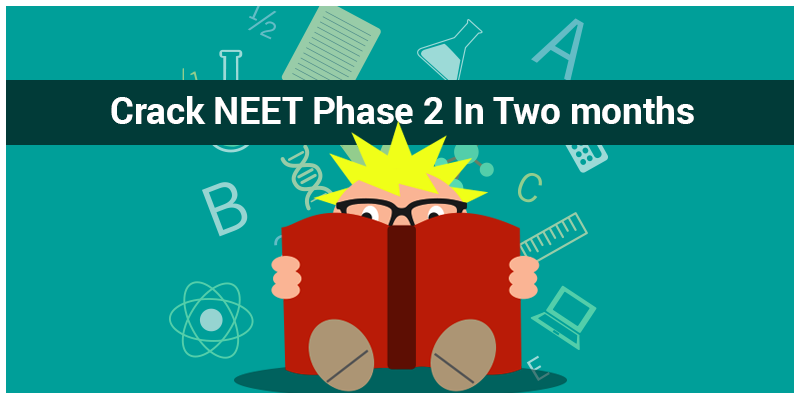 National Eligibility cum Entrance Test known as NEET is a national level medical entrance exam. Medical and dental aspirants, who wish to get a seat in any of state or private colleges, have to clear NEET Phase 2.  Being one of the toughest entrance exams to crack in the country, one has to be focused and hardworking to be able to crack it. candidates should have an exceptional concentration power and should at least study 5 to 6 hours on a daily basis. The last few months will be especially crucial for their preparation for NEET Phase 2. Here is what aspirants can do to maximize their chances of clearing NEET UG Phase 2.
Biology
Revise the notes & diagrams in NCERT from the NEET syllabus.
Make notes of topics that you tend to forget quickly. Stick it on the walls or furniture that you look at more often and revise some of it every day.
Topics like Morphology of plants, animal, and plant diversity are vital for NEET Phase 2.
Genetics and biotechnology constitute a major portion too in NEET Phase2. First to grasp the concept and then practice as much as you can.
Topics like animal physiology and plant physiology and ecology must be revised in the end.
Chemistry
In Organic Chemistry, learn how reactions proceed at each step, the concept involved, conversions and make sure that you memorize all named reactions very well.
Understand the concepts like acidity, basicity, strength, and practice last year's papers for questions based on them.
In Physical Chemistry, all formulas & their application & laws should be on your tips.
Physics
All formulae & tricks should be on your tip. Modern Physics is usually the high scoring area in NEET Phase 2, Physics as the questions are not very complicated but do require accuracy.
Solve 15 to 20 model question papers and past year's papers.
Choose and stick to the study material and techniques that you have been following for some time now and which you feel is most rewarding. Be confident of your NEET preparation and try to focus all your attention on studying rather than panicking. Take proper rest and nutrition and allow yourself to relax between study hours to rejuvenate your mind and increase its retention ability.
In case you are not able to study for long hours or tend to have a short attention span, you could go for video lectures which are both captivating and act like memory boosters. It is also the best revision technique as the mind always remembers what it witnesses.
Stay tuned with Byju's to get the latest notification on NEET along with NEET exam pattern, cut off sore, eligibility criteria, etc.