Flashcards for NEET Biology are designed to boost your NEET preparation. Find below flashcards for Biological Classification. These flashcards on Biological Classification are prepared as per the NEET syllabus. This is helpful for aspirants of NEET and other exams during last-minute revision. Flashcards For NEET Biology – Biological Classification, covers all the important points that are frequently asked in the exam. Check BYJU'S for the full set of Flashcards and Study material for NEET Biology. Solve NEET Biology MCQs to check your understanding and outperform in the exam.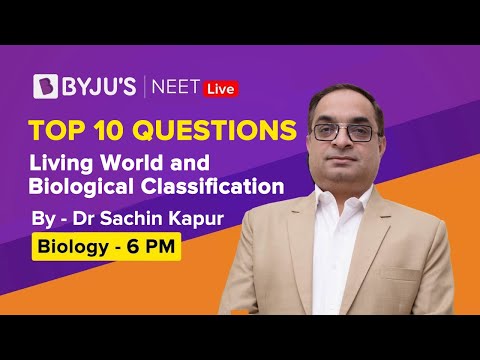 | | | |
| --- | --- | --- |
| Name of the NEET sub-section | Topic | Flashcards helpful for |
| Biology | Biological Classification | NEET exams |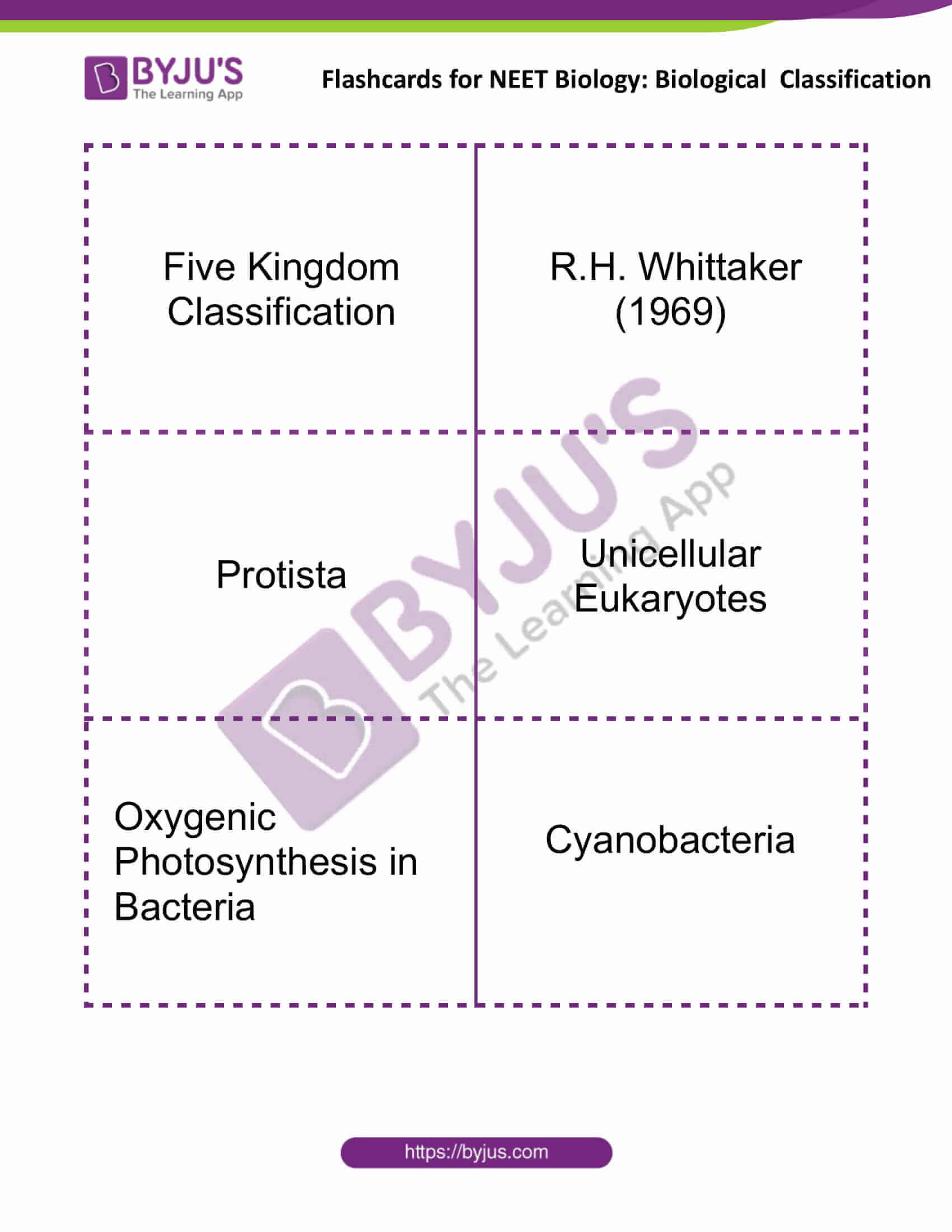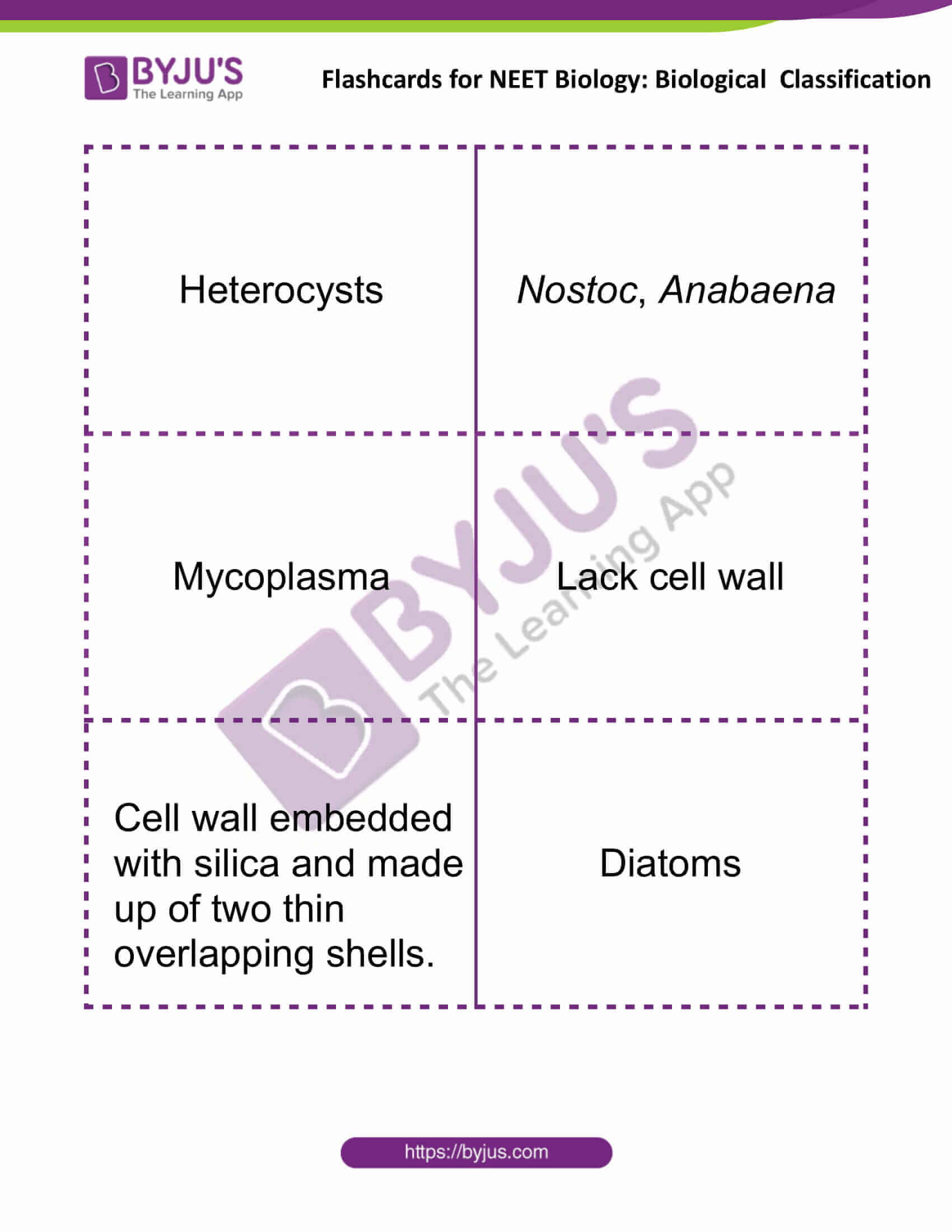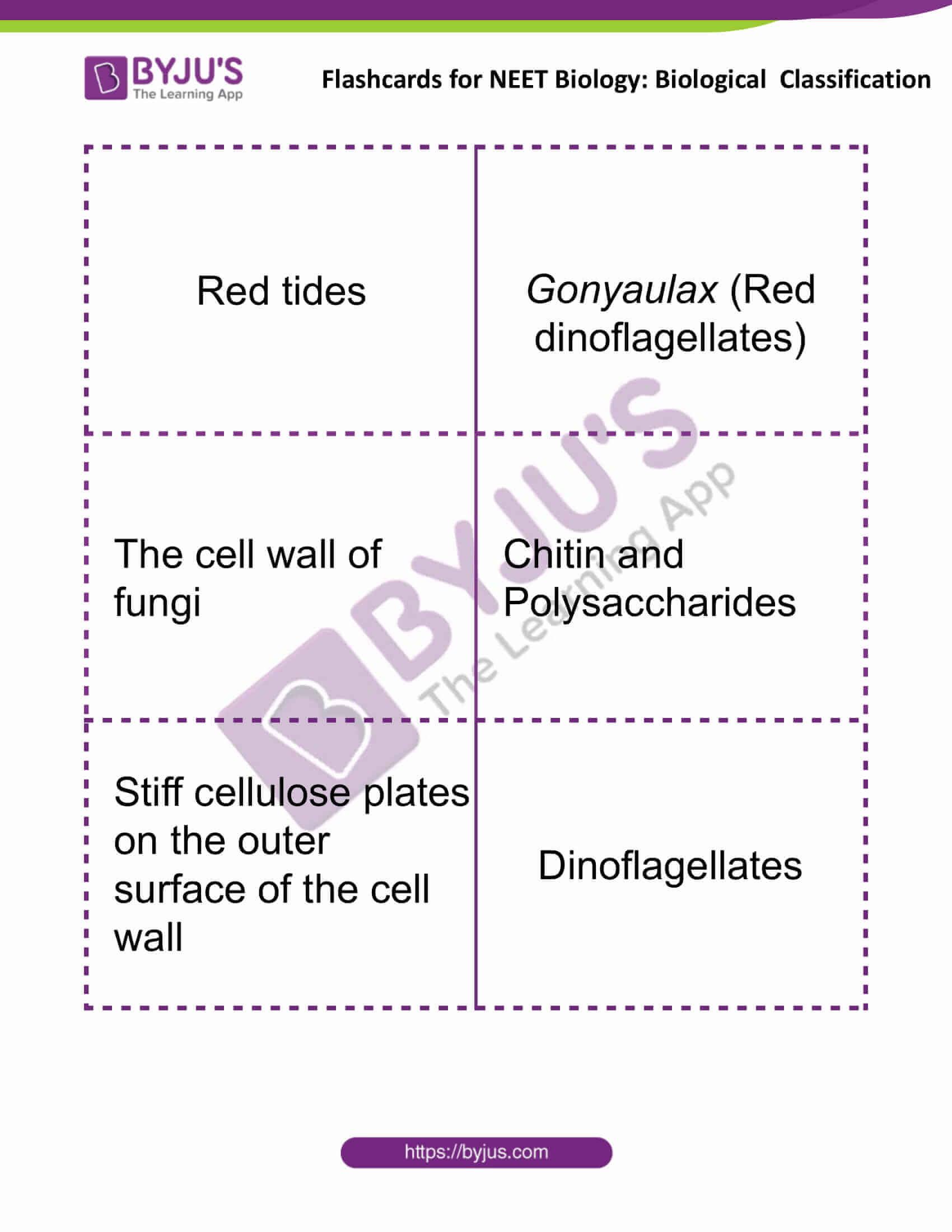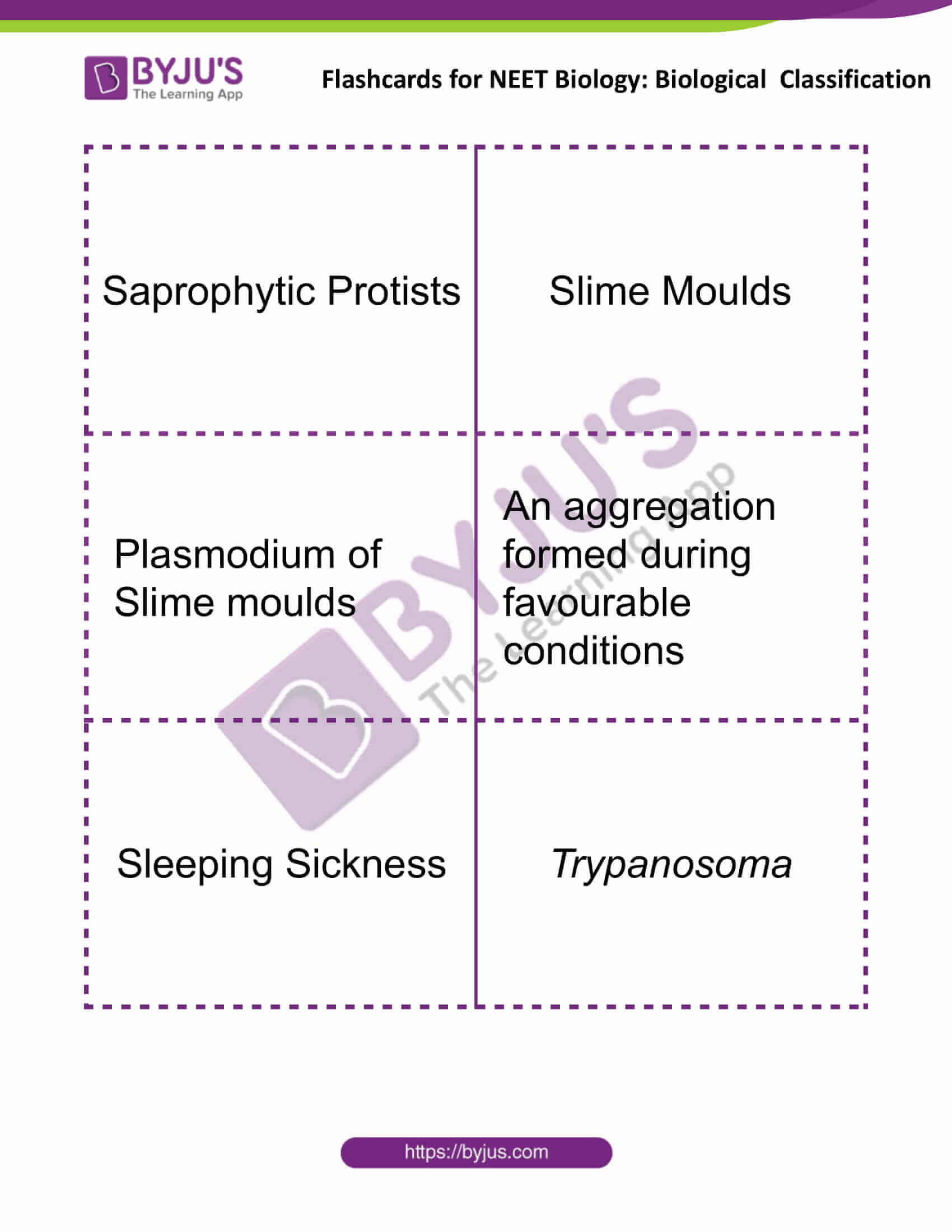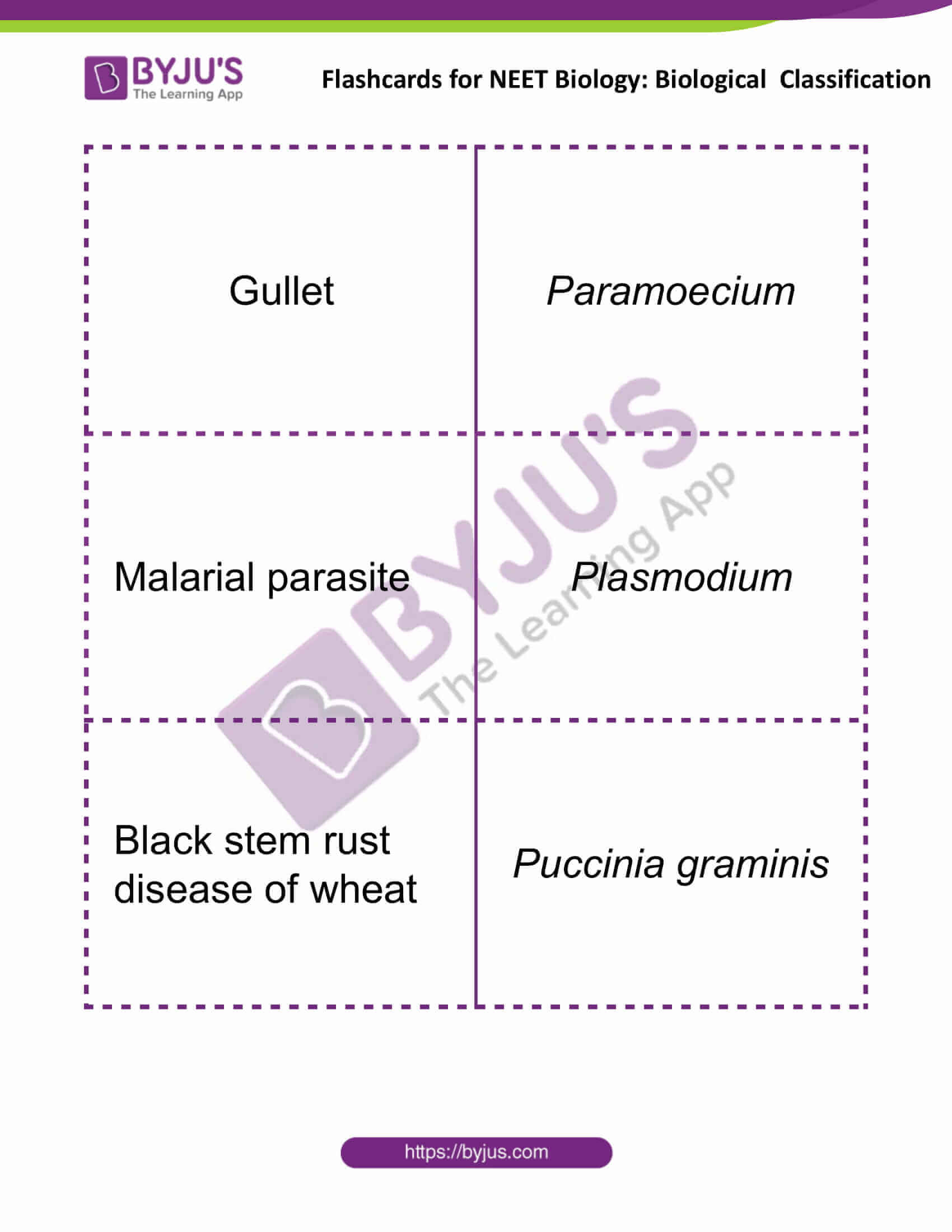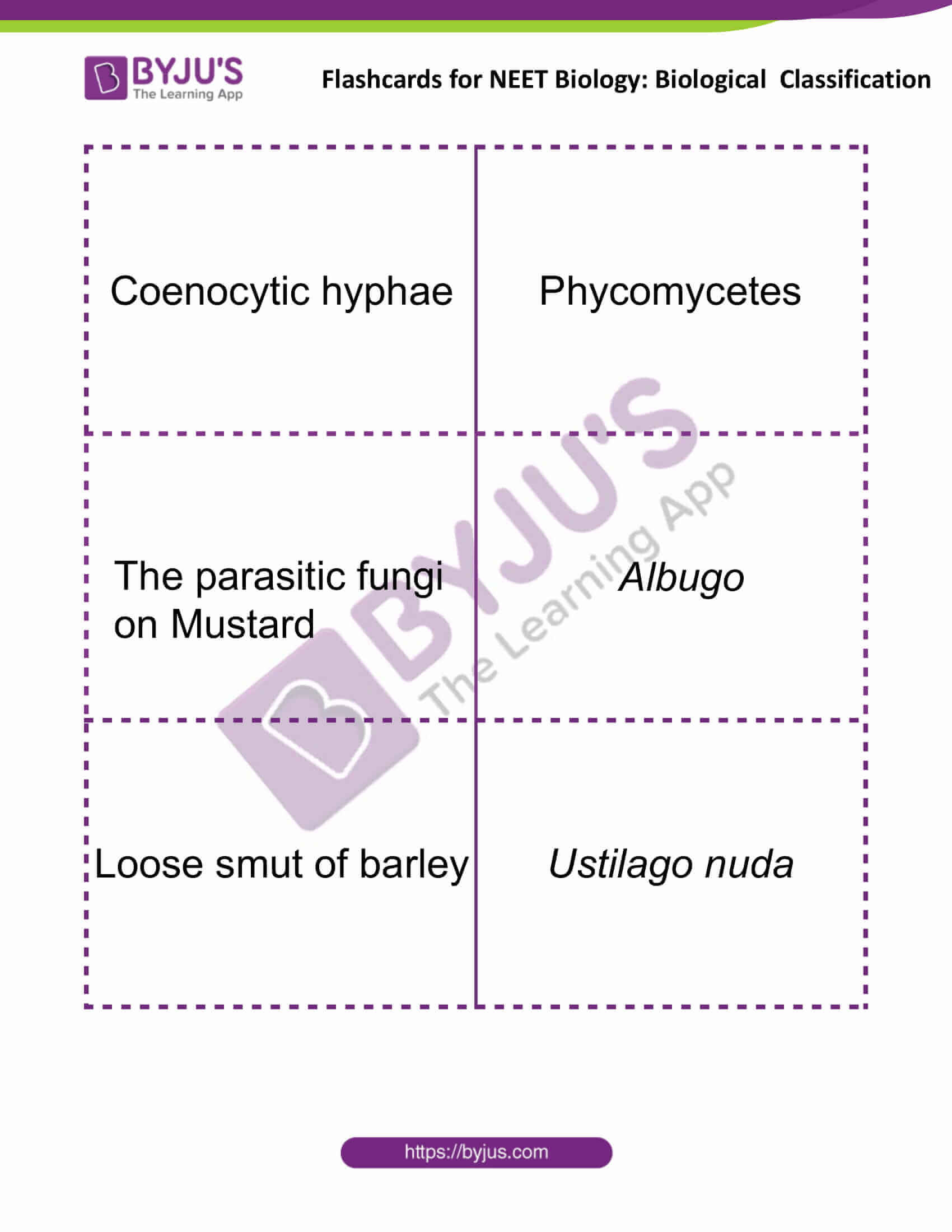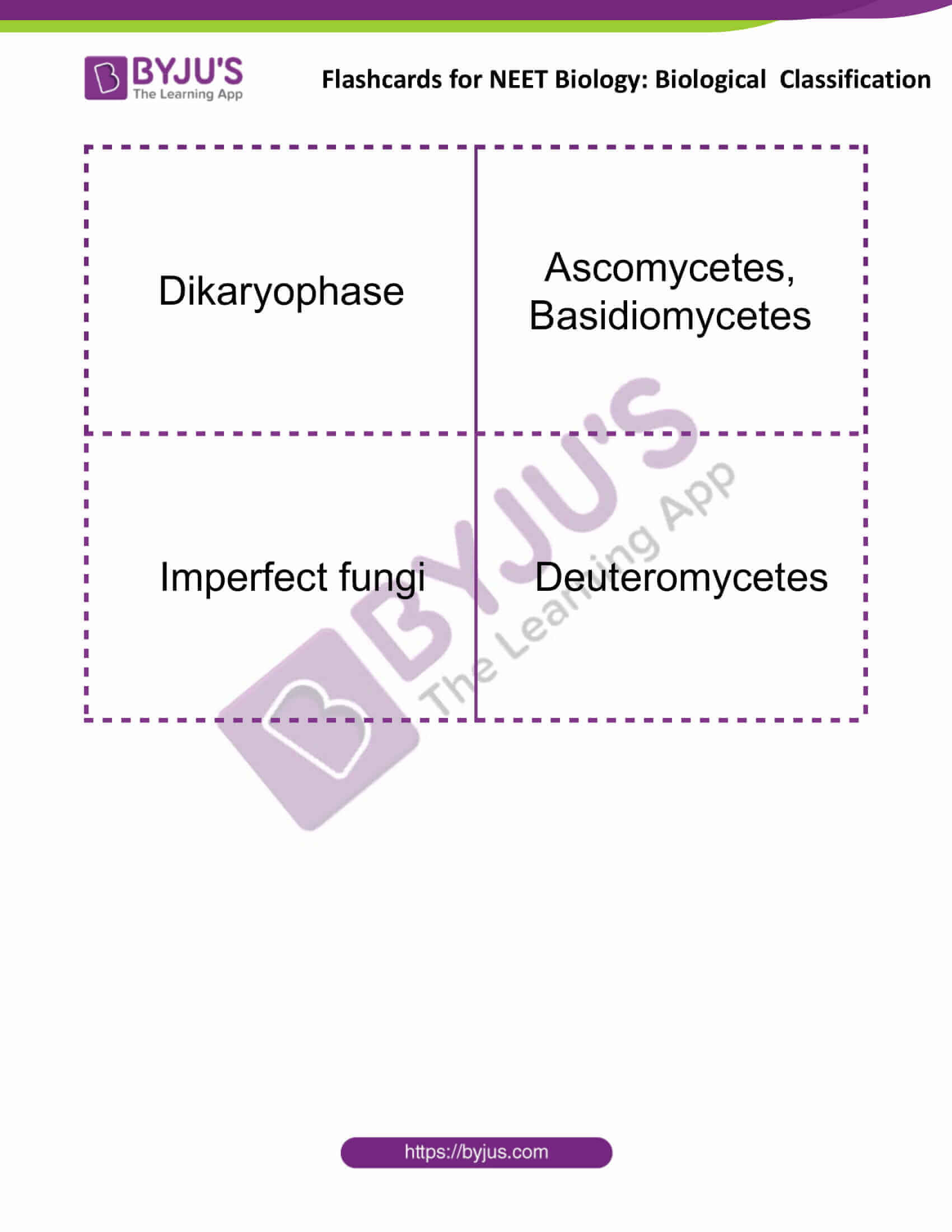 Biological Classification

Five Kingdom Classification
R.H. Whittaker (1969)
Protista
Unicellular Eukaryotes
Oxygenic Photosynthesis in Bacteria
Cyanobacteria
Heterocysts
Nostoc, Anabaena
Mycoplasma
Lack cell wall
Cell wall embedded with silica and made up of two thin overlapping shells
Diatoms
Red tides
Gonyaulax (Red dinoflagellates)
The cell wall of fungi
Chitin and Polysaccharides
Stiff cellulose plates on the outer surface of the cell wall
Dinoflagellates
Saprophytic Protists
Slime Moulds
Plasmodium of Slime moulds
An aggregation formed during favourable conditions
Sleeping Sickness
Trypanosoma
Gullet
Paramoecium
Malarial parasite
Plasmodium
Black stem rust disease of wheat
Puccinia graminis
Coenocytic hyphae
Phycomycetes
The parasitic fungi on Mustard
Albugo
Loose smut of barley
Ustilago nuda
Dikaryophase
Ascomycetes, Basidiomycetes
Imperfect fungi
Deuteromycetes
Get access to the full set of flashcards for NEET Biology, only at BYJU'S.
Also See:
NEET Flashcards: The Living World
NEET Flashcards: Plant Kingdom
NEET Flashcards: Animal Kingdom
NEET Flashcards: Morphology Of Flowering Plants
NEET Flashcards: Anatomy Of Flowering Plants
Watch the video below to learn about the taxonomy triangle: