Flashcards for NEET Biology are designed to boost your NEET preparation. Find below flashcards for Breathing and Exchange of Gases. These flashcards on Breathing and Exchange of Gases are prepared as per the NEET syllabus. This is helpful for aspirants of NEET and other exams during last-minute revision. Flashcards For NEET Biology – Breathing and Exchange of Gases, covers all the important points that are frequently asked in the exam. Check BYJU'S for the full set of Flashcards and Study material for NEET Biology. Solve NEET Biology MCQs to check your understanding and outperform in the exam.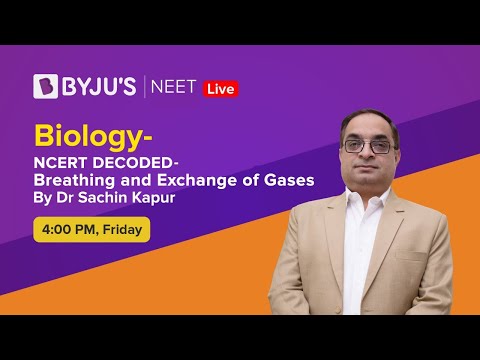 | | | |
| --- | --- | --- |
| Name of the NEET sub-section | Topic | Flashcards helpful for |
| Biology | Breathing and Exchange of Gases | NEET exams |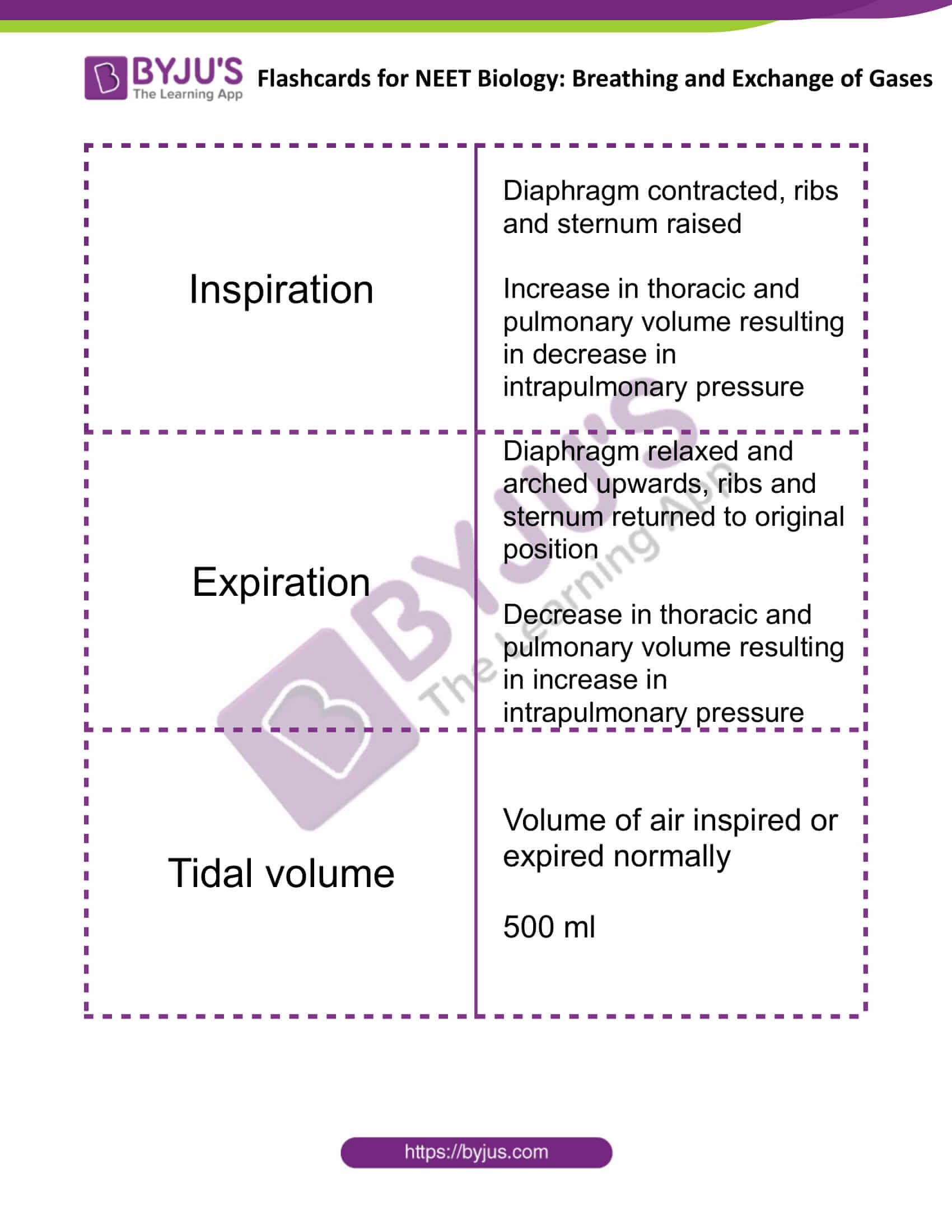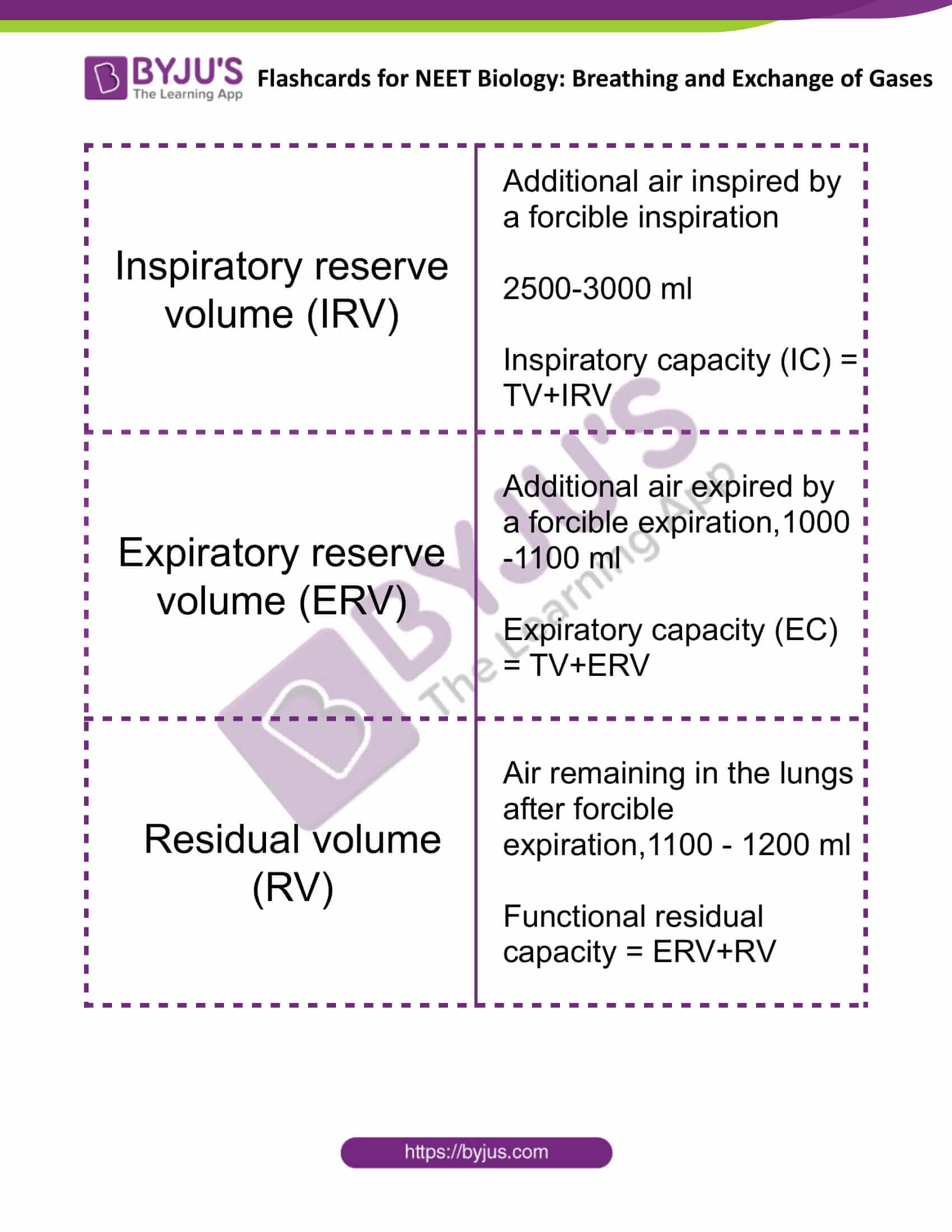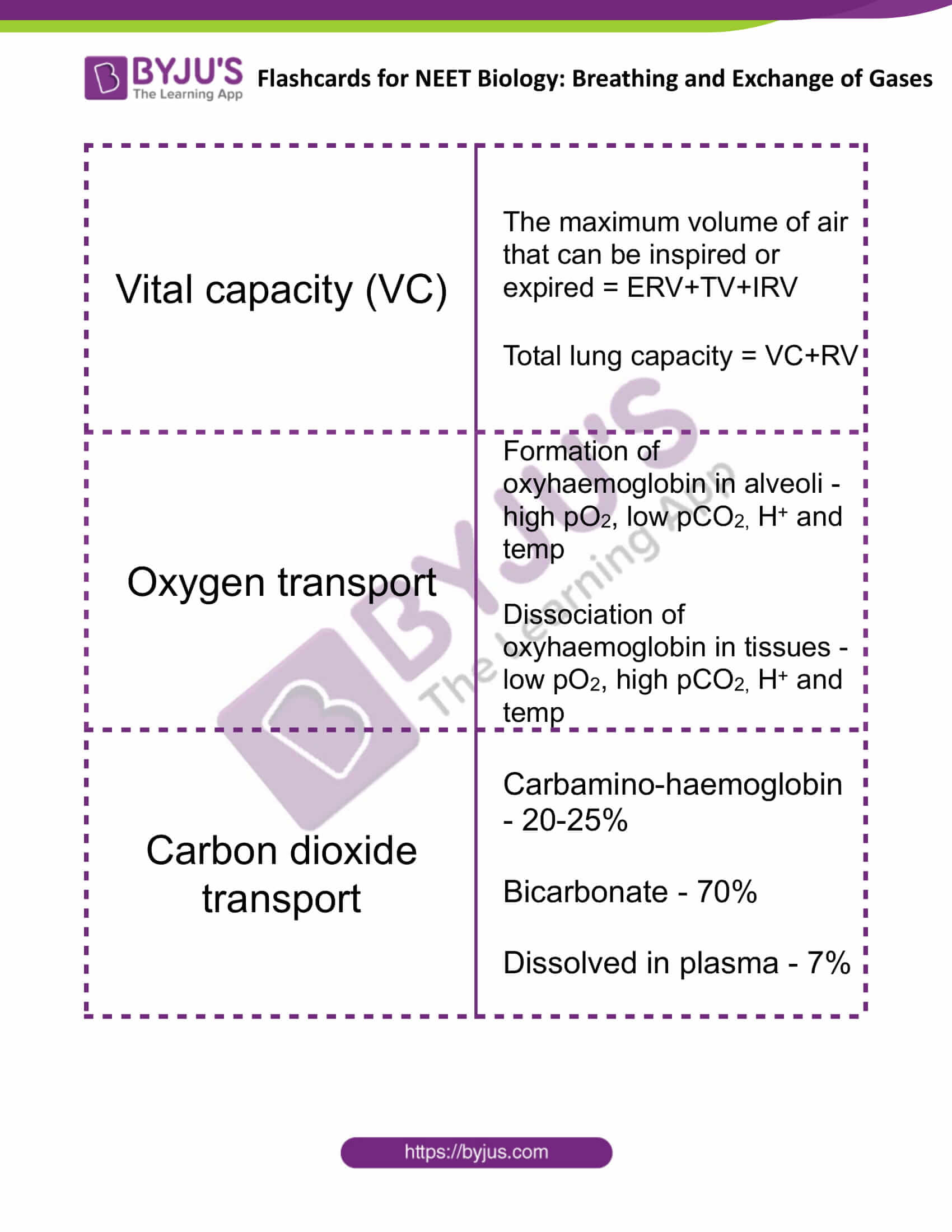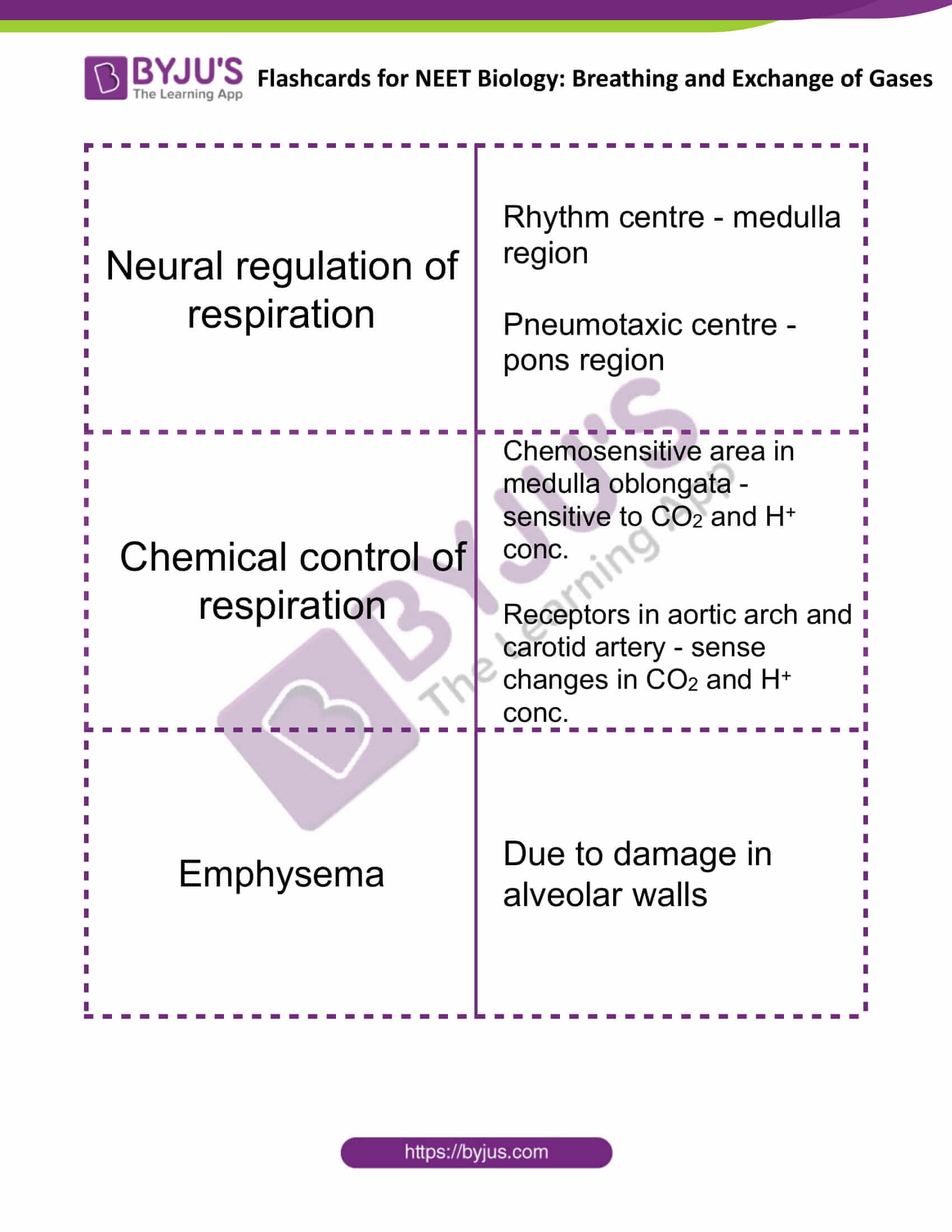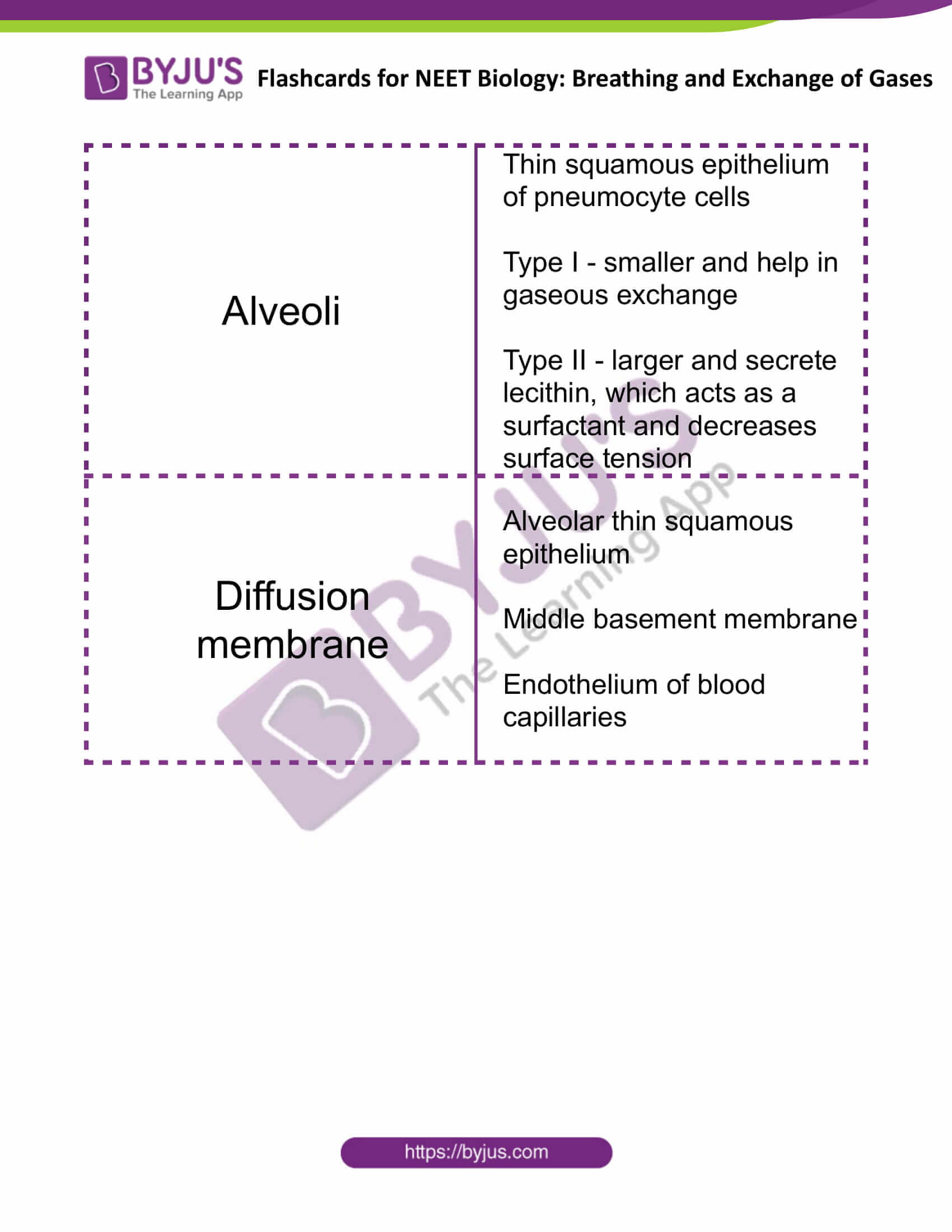 Breathing and Exchange of Gases

Inspiration
Diaphragm contracted, ribs and sternum raised

Increase in thoracic and pulmonary volume resulting in a decrease in intrapulmonary pressure

Expiration
Diaphragm relaxed and arched upwards, ribs and sternum returned to the original position

The decrease in thoracic and pulmonary volume resulting in an increase in intrapulmonary pressure

Tidal volume
The volume of air inspired or expired normally

500 ml

Inspiratory reserve volume (IRV)
Additional air inspired by a forcible inspiration

2500-3000 ml

Inspiratory capacity (IC) = TV+IRV

Expiratory reserve volume (ERV)
Additional air expired by a forcible expiration,1000 -1100 ml

Expiratory capacity (EC) = TV+ERV

Residual volume (RV)
Air remaining in the lungs after forcible expiration,1100 – 1200 ml

Functional residual capacity = ERV+RV

Vital capacity (VC)
The maximum volume of air that can be inspired or expired = ERV+TV+IRV

Total lung capacity = VC+RV

Oxygen transport
Formation of oxyhaemoglobin in alveoli – high pO2, low pCO2, H+ and temp

Dissociation of oxyhaemoglobin in tissues – low pO2, high pCO2, H+ and temp

Carbon dioxide transport
Carbamino-haemoglobin – 20-25%

Bicarbonate – 70%

Dissolved in plasma – 7%

Neural regulation of respiration
Rhythm centre – medulla region

Pneumotaxic centre – pons region

Chemical control of respiration
Chemosensitive area in medulla oblongata – sensitive to CO2 and H+ conc.

Receptors in the aortic arch and carotid artery – sense changes in CO2 and H+ conc.

Emphysema
Due to damage in alveolar walls
Alveoli
Thin squamous epithelium of pneumocyte cells

Type I – smaller and help in gaseous exchange

Type II – larger and secrete lecithin, which acts as a surfactant and decreases surface tension

Diffusion membrane
Alveolar thin squamous epithelium

Middle basement membrane

Endothelium of blood capillaries
Get access to the full set of flashcards for NEET Biology, only at BYJU'S.
Also Check:
NEET Flashcards: Body Fluids And Circulation
NEET Flashcards: Excretory Products And Their Elimination
NEET Flashcards: Locomotion And Movement
NEET Flashcards: Neural Control And Coordination