Poems are an ideal way of putting the poet's emotions into words in order to express heartfelt thoughts and feelings in a manner that would otherwise be difficult to communicate. A good poem is an attempt by a poet to give meaning to his/her thoughts and emotions and sensitize the readers to decipher its meaning. 
Poems are cherished by both kids and adults. Good poems are, therefore, instinctive. Class 3 English poems are written with the intent of capturing the interest of young kids relating to various things like animals, birds, plants and convey the emotions behind such wonderful lines. 
How Creatures Move is one such poem which beautifully delineates how different living creatures such as animals, birds, boys and girls have fun moving around.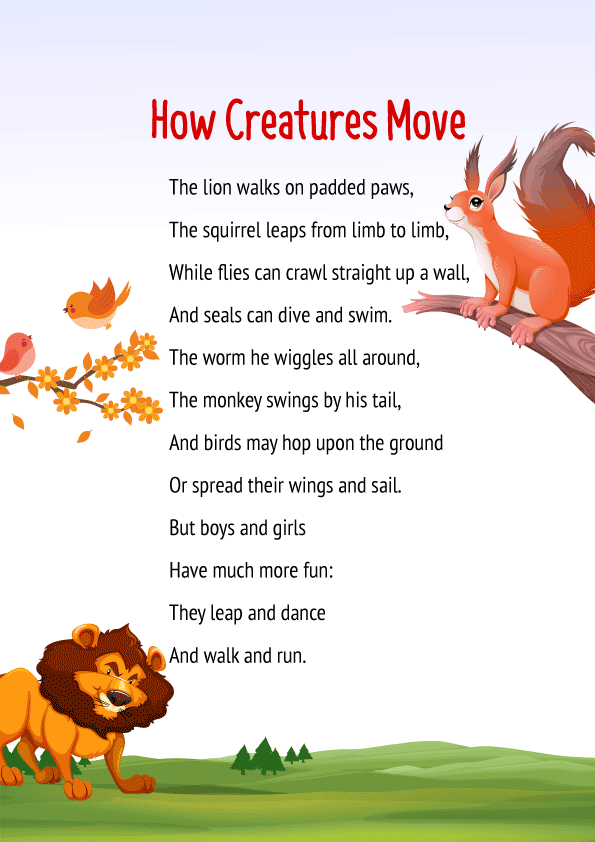 How Creatures Move – Poem Summary
How Creatures Move poem is a beautiful piece of writing in which we observe how different creatures move around and discover who has the maximum fun in doing so. It discusses how the lion walks with its paws, the squirrel hops around, flies crawl up the wall and seals dive in the water. 
Further, it also mentions how a worm wiggles all around, a monkey swings from one tree to another and birds spread their wings and sail off to far-off places. However, it appears that boys and girls have the most fun among all creatures as they can do multiple things all at once like leaping, dancing, walking and running around and can go wherever they wish to. 
The Class 3 poem intends to convey that human beings are privileged to move on their own from one place to another and should benefit from this opportunity.
How Creatures Move Class 3 poem is indexed in the CBSE English syllabus. For more such mind-boggling poems which make learning a fun experience for your kid, you can check English Poems for Class 3 CBSE students.
Besides, we have a huge variety of other kids learning resources, worksheets and study materials which you may explore at the BYJU'S website and make learning an enjoyable experience for your child.
Related Poems: