In this article, we bring you a Good Morning poem summary for Class 3 students. The Good Morning poem Class 3 is for CBSE students and is written with an intent to express a kid's mindset about the morning – the beginning of a new day.
English is a very interesting subject which has an immense collection of poems. These poems cover a huge variety of topics on animals, mountains, plants, rivers, emotions and feelings, etc. 
Poets write poems with the intent of conveying their emotions and feelings on a certain topic and expressing their mindset in simple terms. By doing so, they view the world from a child's perspective which is a mixed bag combination of pure emotions, innocence and simplicity.
The Good Morning poem summary is given in a colourful PDF format that you can download for free and let your kid enjoy learning anytime, anywhere.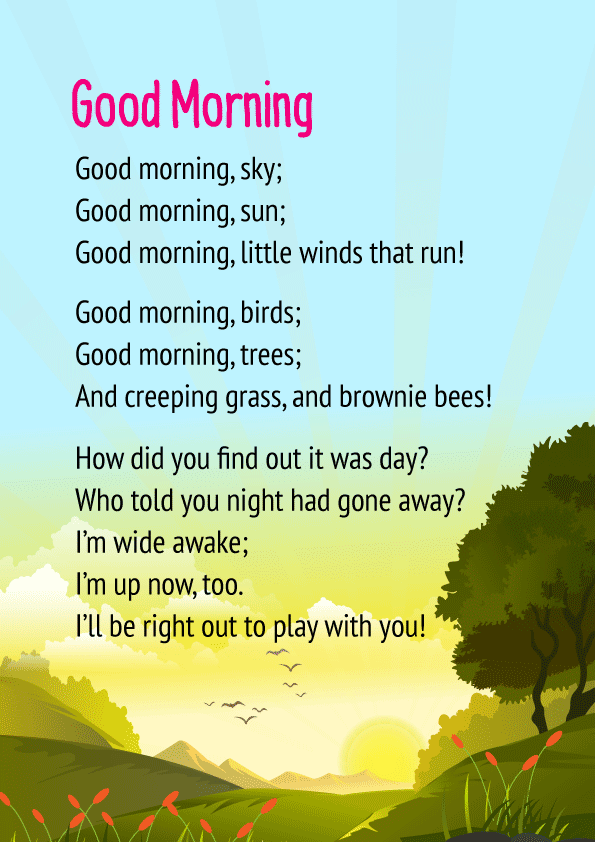 Good Morning Poem Summary:-
"Set a goal that makes you want to jump out of bed in the morning." 
The above quote by Brian Tracy implies that you should set your objectives or goals in such a manner that push you to jump out of bed every morning. This indicates that you should always start your day with a grateful and generous heart in the morning. A Good morning poem is a perfect poem to lighten up children's mood and excitement.
Morning is the best time of the day when the mind is fresh and more receptive to new ideas. Likewise, a Good Morning poem in English that is given above also indicates that it is during the early morning when the sky is bright with sunshine, a light breeze is blowing where birds are chirping, bees are buzzing and trees and grass are fresh and green. 
The Good Morning poem Class 3 expresses the optimistic thought that every morning is the dawn of a new day when a child wakes up with fresh hope of enjoying the day and ready to go out and play. The Good Morning poem fills the minds of its readers with an aspiration to look forward to a fresh new start at the beginning of the day.
Although the above poem is for young learners, it was written with the intent that every person should welcome the morning which is the advent of a fresh new beginning. The Good Morning poem which is listed in the CBSE English curriculum of Class 3 contains deep lessons in its simple lines. English Poems for Class 3 are truly very enjoyable and engaging. 
For more such mind-blowing content like worksheets on various topics, stories of several genres, general knowledge questions, essays for kids, NCERT solutions, easy trivia questions, etc., check out our Kids Learning page and watch your kid enjoy learning to the fullest!
Related Poems: