English poems for Class 3 always make for an interesting read. There are various poems for kids which are based on plants, birds, animals, people and their conversations. Children studying in Class 3 get acquainted with such a varied collection of amazing poems, which arouses interest among them to learn more and gain knowledge. The Bird Talk Poem For Class 3 is one such poem wherein two birds are in a conversation with each other about their capabilities.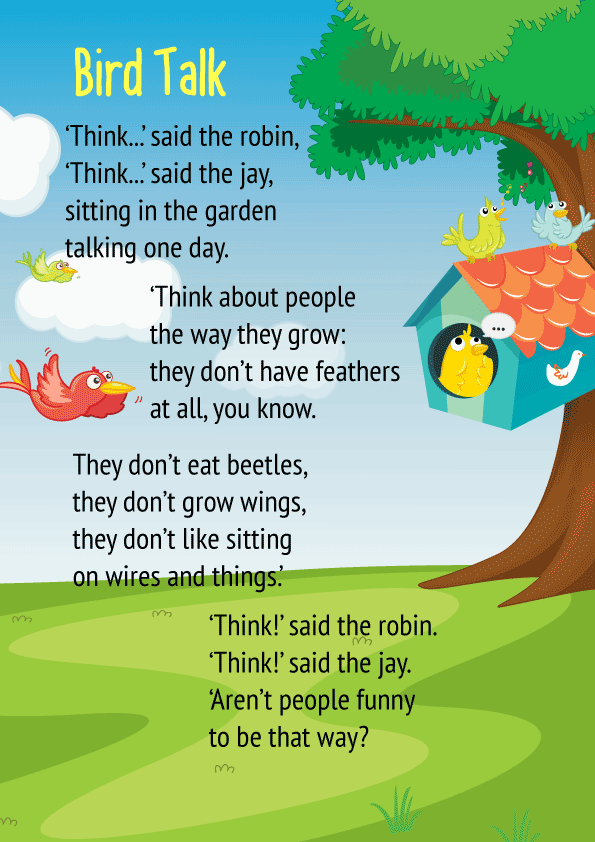 Bird Talk Poem Summary
There are lots of ways in which birds communicate with each other. They either sing, talk, dance, cuddle or fight with each other. The Bird Talk poem is basically a conversation between two birds sitting in a garden wherein they are discussing how they differ from human beings. They boast of the fact that they have feathers which humans do not possess. Besides, they also mention that they have wings and like sitting on wires and things which humans are incapable of doing. Having said that, they feel that they enjoy more freedom than human beings as they can fly away with their wings to any place they want to.
The Bird Talk poem class 3 is for young kids which is included in the CBSE English curriculum. For more such amazing collection of English poems for Class 3 kids, you can download India's most loved kids learning app – Disney BYJU'S Early Learn and let your kid have a fun-filled learning experience.