Class 3 English poems are very interesting to read and arouse a keen interest and curiosity among the kids to learn more. In Class 3, there are a huge variety of poems for kids which are pretty absorbing in nature and captivate the interest of the little ones to explore more and learn new things. The Little by Little poem is about an acorn in which it expresses how the leaves of the oak tree appear and the slender branches spread across far and wide until the mighty oak tree becomes the pride of the forest.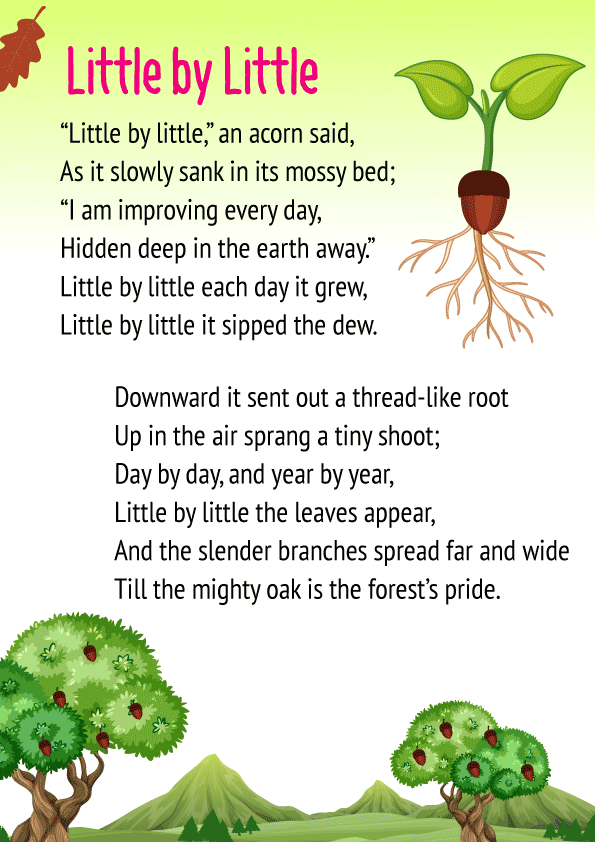 Little by Little Poem Summary:
In the Little by Little poem, it describes how an acorn improves and enhances itself over the years as it lies buried deep underneath the earth. A root of the plant grows downwards. Simultaneously, a tiny shoot of the plant appears above the ground and thereafter the leaves appear on it. Soon after that, the slender branches of the tree spread across everywhere. In due course of time, the acorn grows into a mighty oak tree. In a similar fashion, just as an acorn symbolizes strength and potential; every child wants to grow up one fine day as a wise and intelligent individual just like the mighty oak tree.
The Little by Little poem Class 3 is included in the CBSE English curriculum. For more such interesting English poems for Class 3 students, you can download India's most loved kids learning app – Disney BYJU'S Early Learn and let your kid have an enjoyable learning experience.
Related Poems: