Poems are cherished by everyone. English poems of Class 3 are crafted in order to engage young minds to learn new concepts and teach them moral values and ethics. Children usually love to listen and recite poems for elocution. The Balloon Man poem is about a young girl who talks about a balloon man whom she often meets in the market. He carries balloons of different sizes and colours and she wishes that he would let loose those balloons someday, which would fly high in the sky.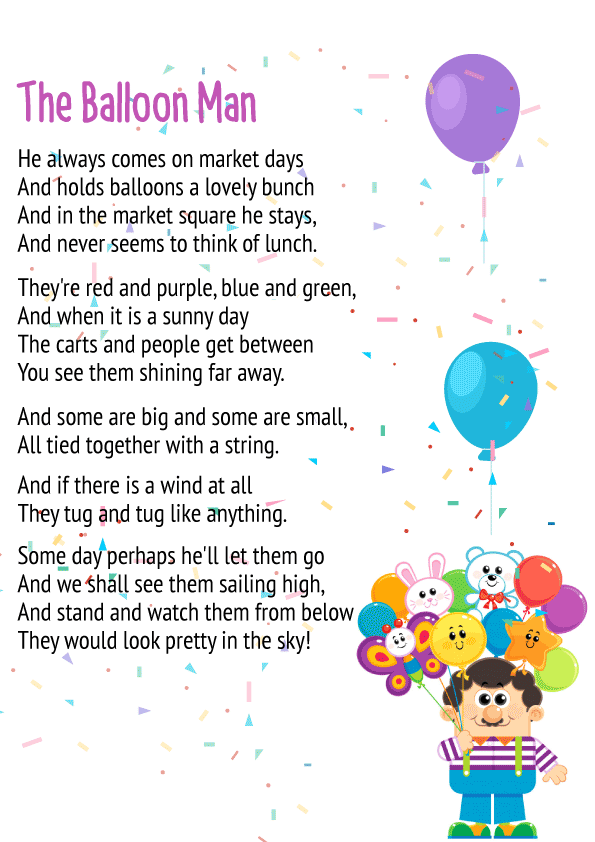 The Balloon Man Poem Summary:
In the summary of the poem "The Balloon Man", we shall explore the poem composed by Rose Fyleman in detail. In this poem, there is a young girl who meets a balloon man whom she often meets in the market square. The balloon man is found carrying balloons of various colours like red, purple, blue and green and these balloons look very vibrant from a distance when the market is crowded with carts and people. The balloons are of different shapes and sizes which are secured with a thin string of thread and look beautiful when the wind blows. Having said that, the girl strongly wishes that someday perhaps the balloon man would let loose the balloons in the air and they would sail high in the sky and look pretty floating in the air.
The Balloon Man poem Class 3 is indexed in the CBSE English curriculum. You can explore more such interesting poems for Class 3 students by downloading India's most loved kids learning app – Disney BYJU'S Early Learn and let your kid have a wonderful learning experience.
Related Poems: