Poems are cherished by everyone. English poems of Class 3 are crafted in order to engage young minds to learn new concepts and teach them moral values and ethics. Children usually love to listen to and recite poems for elocution. Here we have brought to you The Balloon Man poem for Class 3 in English along with a detailed summary of the poem. 
The Balloon Man, a CBSE poem of Class 3, is about a young girl who talks about a balloon man whom she often meets in the market. He carries balloons of different sizes and colours and she wishes that he would let loose those balloons someday, which would fly high in the sky. Read more about it in the summary provided below. Also, you can download the poem in PDF format for free through the link below.
Here is The Balloon Man poem in English for Class 3 pupils: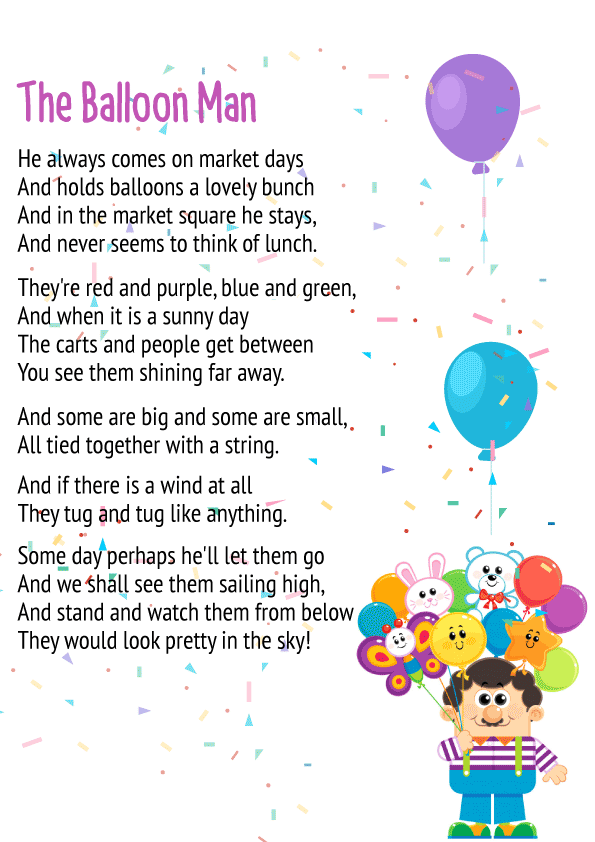 The Balloon Man Poem Summary:
In the summary of the poem The Balloon Man, we shall explore the poem composed by Rose Fyleman in detail. In this poem, there is a young girl who meets a balloon man whom she often meets in the market square. The balloon man is found carrying balloons of various colours like red, purple, blue and green and these balloons look very vibrant from a distance when the market is crowded with carts and people.
The balloons are of different shapes and sizes which are secured with a thin string of thread and look beautiful when the wind blows. Having said that, the girl strongly wishes that someday perhaps the balloon man would let loose the balloons in the air and they would sail high in the sky and look pretty floating in the air.
The Balloon Man poem in English is indexed in the CBSE English curriculum of Class 3. Class 3 poems are simple to understand and short in length. The idea is to inculcate creativity in kids through short lines. When kids go through poems, they imagine what the poet has written in words. Poems teach children how one can write concisely. You can explore more such interesting poems for Class 3 students. 
The summary of the poem The Balloon Man has been explained at length above. If you are looking out for more fascinating learning resources for your little one, consider us your one-stop solution. Explore our kids learning section and find a plethora of worksheets, essays, stories, general knowledge questions, easy trivia questions, NCERT solutions, and a lot more!
Related Poems: