Here, we have provided Trains poem for Class 3 kids. This poem is enlisted in the CBSE English curriculum. Poems are important for kids as they enhance their spoken and written English, as well as their reading and discerning skills.
The Trains poem Class 3 is about a railway wagon with many compartments conjoined to each other. Trains carry passengers through day and darkness and reach them to their respective destinations. Go on and read the poem Trains followed by its detailed summary. You can also download the poem in a beautiful PDF format for free through the link provided below.
Here's the Trains poem Class 3 for kids: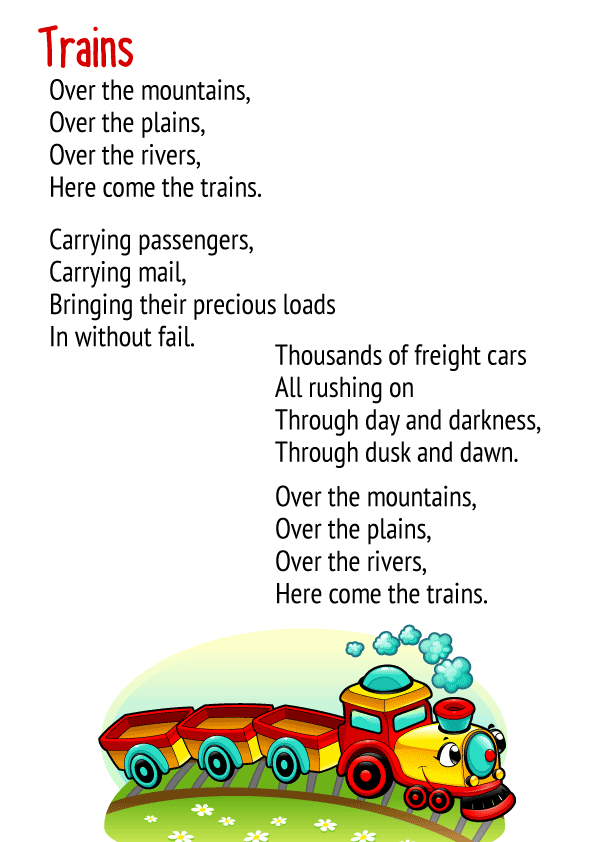 Trains Poem Summary:
The Trains poem composed by James S. Tippett is a beautiful piece in which the poet expresses the usefulness of trains in our lives. A train is a railway wagon with multiple bogies which is moved by a locomotive engine that carries many passengers, mail and cargo from one place to another. 
It carries thousands of freight cars while rushing through the railway tracks from dawn to dusk and helps passengers in reaching their destination while crossing many mountains, plains and rivers.
Poems are written with the intent of expressing emotions and grabbing the attention of the readers through the artistic lines. Young kids often cherish reading poems as they get an opportunity to learn a world of things and can relate to the emotions conveyed through poetry. Children usually enjoy listening and reciting poems for elocution during school functions or events. 
The Trains poem Class 3 is included in the CBSE English curriculum. You may explore all other CBSE Class 3 English poems for your little one here. We have offered a detailed summary for each of these poems. 
For more such engrossing kids learning resources, worksheets, stories, essays, general knowledge questions, trivia questions on various subjects, etc. for your kid, you can check out the linked article and give a complete and rich learning experience to your little one.
Related Poems: