A good poem is a manifestation of an author's effort to make sense of his/her emotions and thoughts to the world. It is often observed that a poem consists of vivid and memorable thoughts and images that help the reader to retain the poem for a long time. 
Poems are loved both by kids and adults. English poems for Class 3 are written with the intent of attracting the interest of little ones with emotions and colourful images so that they can hold on to the poems for a longer duration. 
Don't Tell is one such poem about a young boy who patiently listens to everyone, but never complains. Given a chance, he strongly wishes that he could show them that he is a giant from inside and that he could perform many things too.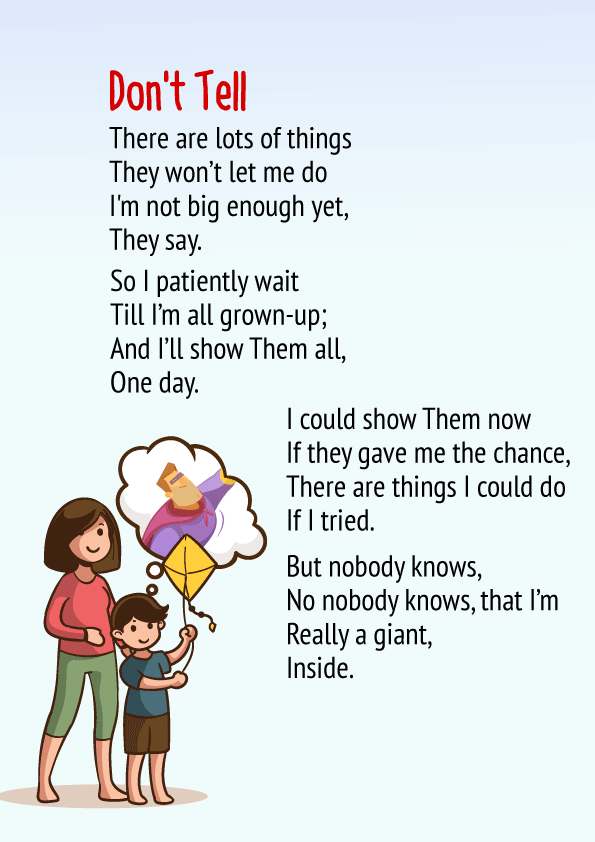 Don't Tell Poem Summary:
Don't Tell poem is an emotional story about a young boy who listens to everyone patiently and protests that adults behave very unreasonably with him because of his small structure. He wishes to tell them that he is capable of doing lots of things and shall show them his capacity once he is fully grown up. 
Meanwhile, he also expresses that given a chance he shall show them that he is indeed a giant from inside who is competent in doing many things which others cannot imagine him to perform. 
The moral of the poem is that when children talk individually about something they want to do, adults should listen to them patiently instead of underestimating them unnecessarily.
Don't Tell poem is listed in the Class 3 CBSE English syllabus. Check here to explore more such amazing English poems for Class 3 kids for a rich learning experience.
For more such mind-boggling kids learning study materials and resources, check out the BYJU'S website and make learning a fun-filled experience for your child.
Related Poems: