States' Startup Ranking Framework is an evolved evaluation tool aimed to strengthen the support of States and UTs to holistically build their startup ecosystems. Startup Ranking Framework 2020 has been developed as a more robust and outcome-oriented exercise and aims to achieve large scale progress across each State and UT.
The Department for Promotion of Industry and Internal Trade (DPIIT) is the body responsible for conducting the states' startup ranking exercise and also releases the final report based on the performances of the states in India. The latest edition of the report was released on September 11, 2020.
Read in detail about the Startup India Scheme launched by Prime Minister Narendra Modi at the linked article. 
In this article, we bring to a brief summary of the States' Startup Ranking in India, the top-performing states and the objectives for conducting this exercise. This is also an important topic from the IAS Exam perspective.
States' Startup Ranking in India [UPSC Notes]:-Download PDF Here
Kickstart your UPSC preparation now and complement your preparation with the links given below:
States' Startup Rankings Framework 2020
The States' Startup Ranking Framework has 7 broad reform area (also known as the seven pillars), consisting of 30 action points ranging from Institutional Support, Easing Compliances, Relaxation in Public Procurement norms, Incubation support, Seed Funding Support, Venture Funding Support, and Awareness & Outreach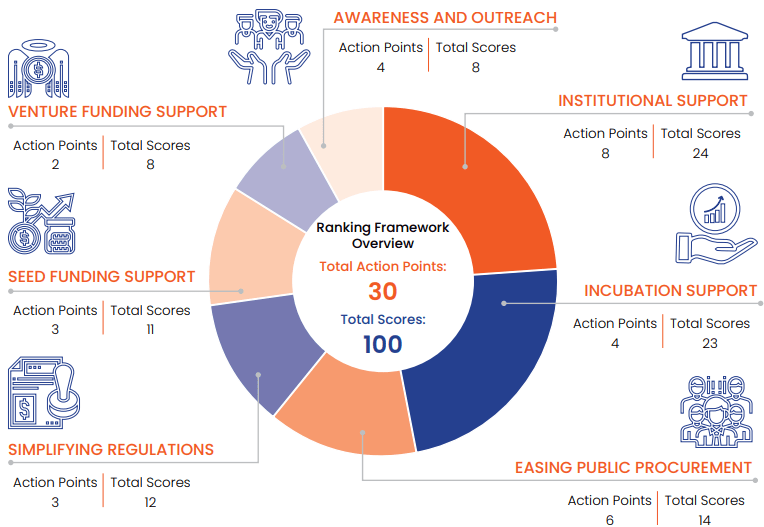 All states and union territories have been divided into two groups to ensure fairness and uniformity in the result. While UTs except for Delhi and all States in North East India except Assam are placed in Category 'Y'. All other States and UT of Delhi are in Category 'X'

A total of 22 States and 3 Union Territories participated in the exercise

For the purpose of evaluation, and to get the appropriate feedback from the beneficiaries, 60,000 calls in 11 different languages were made to ascertain the real situation

For the purposes of Ranking, States are classified into the following 5 Categories: 

Best Performers

Top Performers

Leaders

Aspiring Leaders

Emerging Startup Ecosystems
(Source:https://www.startupindia.gov.in/content/dam/invest-india/compendium/National_Report_09092020-Final.pdf)
States' Startup Ranking Report 2020 – Highlights
Given below is the list of states across the seven reform areas:
Pillar
Leader Names

Institutional Leaders

Karnataka

Kerala

Odisha

Regulatory Change Champions

Karnataka

Kerala

Odisha

Uttarakhand

Procurement Leaders

Karnataka

Kerala

Telangana

Incubation Hubs

Gujarat

Karnataka

Kerala

Seeding Innovation Leaders

Bihar

Kerala

Maharashtra

Scaling Innovations Leaders

Gujarat

Kerala

Maharashtra

Rajasthan

Awareness and Outreach Champions

Gujarat

Maharashtra

Rajasthan
States' Startup Ranking 2020 – Category X
Category
State
Best Performer

Gujarat

Top Performers

Karnataka

Kerala

Leaders

Bihar

Maharashtra

Odisha

Rajasthan

Aspiring Leaders

Haryana

Jharkhand

Punjab

Telangana

Uttarakhand

Emerging Startup Ecosystems

Andhra Pradesh

Assam

Chhattisgarh

Delhi

Himachal Pradesh

Madhya Pradesh

Tamil Nadu

Uttar Pradesh
States' Startup Ranking 2020 – Category Y
Category
State
Best Performer

Andaman and Nicobar Islands

Leader

Chandigarh

Aspiring Leader

Nagaland

Emerging Startup Ecosystems

Mizoram

Sikkim
Startup Landscape in India
The startup landscape in India is pervaded by dynamic statistics, ranging from the age of
founders to the soaring number of unicorns. However, it is imperative to recognise the starting
point as well as the growth potential of India's startup story. Some key outcomes of India's startup growth story as of 31st March 2020 are as follows: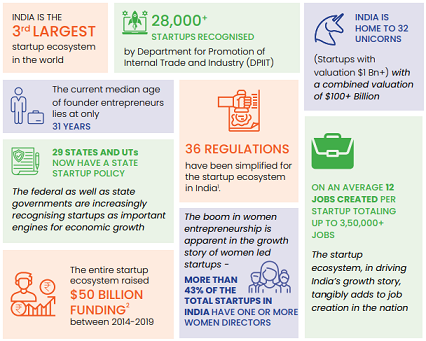 The leading sectors which pervaded the startup landscape included:
Fintech – US$ 5.7 Billion

Enterprises – US$ 3 Billion

Health-Tech – US$ 1.4 Billion

E-Commerce –  US$ 11.7 Billion

Logistics –  US$ 1.2 Billion
During the COVID pandemic period, India Startups have come up with brilliant ideas & solutions to the many problems that the country & the world faced. 
What is a Unicorn Startup?
A unicorn is a term used to indicate a privately held startup company with a valuation of over $1 billion. In 2014, there were only five Unicorns in India. The number has increased significantly to 32 as of 2019, thereby making India the third-largest ecosystem of unicorns in the world after
USA and China. India created nine unicorns alone in 2019 which includes:
BigBasket

Dream11

Delhivery

Lenskart

Rivigo

Icertis

Druva

Ola Electric

Zoho
Some of the other prominent Indian Unicorns include Paytm, Oyo Rooms, BYJU'S, Snapdeal and Policybazaar.
States' Startup Ranking in India [UPSC Notes]:-Download PDF Here
Visit the UPSC Syllabus page and get the detailed prelims and mains syllabus for the upcoming Civil Services Exam.
For the latest exam updates and study material, visit BYJU'S.