Table of Contents:
1. NIT flare-up refuses to die, HRD Ministry sends team
2. U.S. for stronger ties with India
3. Why low outgo for drought relief: SC
4. India, China argue over Masood Azhar
1. 3 get life term for Mumbai blasts
2. FB, Twitter, Google asked to set up India servers
3. Govt. plans sops for SEZs, small exporters to spur shipments
4. Metro trains with no drivers soon
1. Making a hollow in the Forest Rights Act
2. Why we must keep talking to Pakistan
1. Business Standard: Breakthroughs needed for Digital India
.
+++++++++++++++++++++++++++++++++++++++++++++++
Useful News Articles
A. GS1 Related
– Nothing here for today folks! –
B. GS2 Related
1. NIT flare-up refuses to die, HRD Ministry sends team
Topic: Governance
Category: Law and order, free speech
Location: The Hindu
Key points:
Tensions rose between Kashmiri students and outstation students if NIT Srinagar over the former's celebration of India's T20 loss
The state and central governments are duty- bound to ensure the safety of both the groups
The issues of nationalism and free speech involved in this particular situation would also complicate matters
Tags: Art 19 of constitution, nationalism
2. U.S. for stronger ties with India
Topic: International Relations
Category: Indo-US Relations
Location: The Hindu
Key Points:
US Defence Secretary Ash Carter on 3 day visit to India
He said that the U.S. Pivot to Asia and India's Act East policy implied convergence of concerns and interests of US and India
Renewed efforts are on to conclude three defence agreements –the Logistics Supply Agreement (LSA), the Communication and Information Security Memorandum of Agreement (CISMOA) and the Basic Exchange and Cooperation Agreement (BECA) in line with MII Initiative(there would be technology transfer)
India would be participating in the air force exercise Operation Red Flag this month after an eight-year gap
Tags:LSA,BECA,CISMOA,MII,Operatiion Red Flag
3. Why low outgo for drought relief: SC
Topic: Governance
Category: Law and order, free speech
Location: The Hindu
Key points:
Supreme Court made some important observations and comments with respect to drought hit areas of Maharashtra and in  a reply to a PIL plea filed by Swabhiman(NGO)
PIL asked the court to provide guidelines for the effective implementation of the National Food Security Act, the MGNREGS and also for ensuring basic water supply to drought-hit States after assessing rainfall data in these States for the purpose of declaring drought-affected areas, districts and taluks
The Court said that the Centre should be releasing sufficient funds to drought hit States for employment generation under the MGNREGS and Centre should act fast to provide immediate relief in this regard
Centre submitted that a sum of Rs.7,500 crore would be released immediately towards wage dues under the MGNREGS
Tags:SC,MGNREGS
4. India, China argue over Masood Azhar
Topic: International Relations
Category: India- China Relations
Location: The Hindu
Key points:
India had requested the UN to blacklist the terrorist Maulana Masood Azhar for attacking Pathankot but China objected to it.
India said that the issue will be taken up with China diplomatically .
China responded that when it comes to naming who is a terrorist more discussion at the international level is required.
Tags: UN,UNSC blacklist
C. GS3 Related
1. 3 get life term for Mumbai blasts
Topic: Security
Category: Terrorism
Location: The Hindu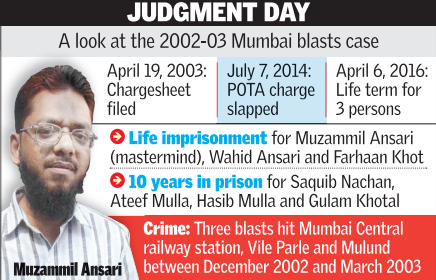 Key Points:
A special Prevention of Terrorism Act (POTA) court awarded life imprisonment to three of the ten convicted in the triple blasts of 2002-2003
10 convicted , 3 acquitted- all 13 accused were charged with murder, attempt to murder, causing grievous injuries, waging a war against the nation and criminal conspiracy and arms possession
Tags: POTA, POTA court
2. FB, Twitter, Google asked to set up India servers
Topic: Security
Category: cyber security
Location: The Hindu
Key Points:
The Union Home Ministry had requested Internet companies like Facebook, Twitter, WhatsApp and Google to maintain servers in India to help get real time information about accounts, which spread mischievous and incendiary messages
For these companies to install a server, they would have to register as an Indian company and hire more people
3. Govt. plans sops for SEZs, small exporters to spur shipments
Topic: Indian Economy
Category: Exports
Location: The Economic Times
Key Points:
A number of proposals will be taken up soon for boosting exports in the upcoming Board of Trade (BoT- A 72 member government-industry panel) meeting after Indian exports declined from $314 billion in FY'14 to $310 billion in FY'15 which is expected to shrink further in 2016
Industry body CII has stressed on strategies need to be evolved to
(a) increase high value added or advanced manufacturing exports
(b) help exporters comply with international best practices and standards
(c) address problems relating to poor infrastructure, inadequate trade finance, high logistic costs and inflexible labour laws
Government is considering several measures such as offering incentives for small exporters ,a package to revive Special Economic Zones (SEZs), categorizing export credit under priority sector lending without riders and giving greater operational flexibility to export driving banks like EXIM bank
Tags: CII, BoT, SEZ, EXIM Bank
4. Metro trains with no drivers soon
Topic: S & T
Category: Rail Technology
Location: The Hindu
Key Points:
first-ever driverless metro ride to be realized in October
The metro trains have been shipped from South Korea
Name of inbuilt technology: Unattended Train Operation (UTO) system
Tags:UTO System
D. GS4 Related
Nothing here for today folks!
E. Important Editorials: A Quick Glance
1 . Making a hollow in the Forest Rights Act
Topic: Environment
Category: Forest resoruces
The issue:
Gram sabhas , under the Forest Rights Act, 2006 (FRA) are the only official mechanism for the Adivasi and forest dwelling communities to participate in State decision-making around the enclosure and destruction of forests for mining.
Governments are regularly by-passing and manufacturing consent for the gram sabhas in favour of miners.
Forging gram sabha resolutions clears the path to lucrative mining
This has taken away the basic rights and livelihood of Adivasis and tribes in the mineral rich areas.
For instance:
In Jharkhand's Chatra district, the Oraon village of Jala has had to move the High Court to challenge the denial of their community forest rights (CFR) claim, and forged gram sabha consent submitted towards clearance for a coal mine. Similar cases were noticed in Chattisgarh Gandmardhan(odisha) etc
How has the Government responded to the concerns?
MoTA ( Ministry of Tribal affairs), the nodal ministry for FRA and the spokesperson for Adivasi interests, is yet to effectively address the concerns
The MoEFCC's conduct also causes concern. It has hastened the process of environmental clearances by-passing the local community.
Why are Local communities important?
knowledge base of local communities, that interact most intimately with the forests, is of value in decision-making.
As the 2013 SC order observed: "…we have realised that forests have the best chance to survive if communities participate in their conservation and regeneration."
Importance of Gram Sabha:
As an institution of local governance, FRA-mandated gram sabhas can be a vital mechanism to outline the full costs and gains of mining, and more crucially, how these get distributed.
They can act as effective and meaningful institutions of participation, decision making and accountability at the local level
This could help ameliorate some of the "resource curse" impacts and deep-rooted corruption that plague India's mining industry, as outlined in grim detail by the Justice Shah Commission's reports on illegal mining.
2 . Why we must keep talking to Pakistan
Topic: India and its neighbourhood
Category: India-Pakistan relations
The Nature of Pakistani Establishment:
The Pakistani military establishment is the key driver of diplomacy, which it equates with national security.
Pakistani political elite is believed to be weak and corrupt as they have all been creations of the army, as its proxies
The Prime Minister in Pakistan is only a figure head on key matters including the appointment of the army chief.
The Strategem:
Playing games has become a part of the Pakistani psyche.
(For Example: Pakistan got hold of an alleged Indian spy around the same time cross-border investigations into the Pathankot attack began)
The faith leaders are also very deeply entrenched in the political establishment.
(As a Jamiat Ulema-e-Islam leader said "The religious parties may have few votes but it doesn't mean they can't topple the government; they will not allow society to become secular." )
When the army intended to suppress the Muttahida Quami Movement (MQM), the Prime Minister resisted because he could not survive in Parliament without the MQM.
These are the political vulnerabilities in Pakistan
So why continue to converse with Pakistan?
With his visit to Lahore,Prime Minister Modi has invested political capital in Pakistan's democracy
In Pakistan, too, Mr. Modi's Lahore visit was received with warmth
Businessmen and Civil society in Pakistan favours peace with India, knowing that democracy in Pakistan is in a sense dependent on the India-Pakistan détente.
At the same time, on the business end, nothing can happen without the army in Pakistan. And therefore the need to reach out to it.
On the positive side, the respective National Security Advisers (NSAs) already appeared to have worked out a reasonable relationship based on substatntial issues.
How should India go Forward?
Smart power trumps all other power.
Experts opine that, India should appear to take two steps whenever Pakistan takes a step forward rather than giving the impression that when Pakistan takes a step forward, we take two steps back.
Pakistan still maintains that Kashmir is its core issue but Kashmiris have understood what that core has been.
There is a strong sentiment in Pakistan that it had unnecessarily mortgaged itself to Kashmir.
From India's perspective, Kashmir could be much easier dealt directly with Srinagar than via Islamabad.
1 .No jobs in sight
 Topic: Indian Economy
Category: Employment and Industry
Key points:
Unemployment crisis looming large in India and we see a spectre of Jobless growth
Due to lack of a good future, we see violent manifestations of the youth with deeply disturbing socio-economic causes haunting them.
What are the compelling reasons for the youth to take to arms?
The agrarian crisis remains unaddressed.
In tribal areas, the penetration of large corporations that tend to be exploitative further fuels the crisis
Consequences and Manifestations:.
Farmer suicides
Endemic hunger
Mass distress migration
Job reservation agitations (Example- Patidars and Jats)
Maoist militancy, aggravated by human rights violations by counter-militancy security operations.
Some Facts:
Every month, a million new persons are joining India's workforce
According to N.C Saxena committee report:
Total number of government staff, (including Central and state governments, PSUs and local bodies,) is less than 1.4 per cent of the population, against the global average of over 3 per cent
Second, the number has fallen from 19.13 million in 2000-01 to 17.60 million in 2011-12.
As a Consequence:
We have very few teachers, health workers and child carers
Hopes of young people are shifting, to the private sector.
Demand for Reservations in Private Sector:
Jobs are being created are in the private sector, and there is wide evidence of the bias shown by this sector against employing youth from socially discriminated categories.
Therefore, experts opine, that there should be reservation for the socially and educationally backward youth in the private sector
The Flip side:
Around 8 per cent of jobs are generated in the formal sector, of which more than half are in the public sector
So this solution would solve only the fringe of the problem.
The Growth Model:
Current growth model built on large private investments and is unable to generate jobs.
Agriculture offers a grim future and the non-agriculture livelihood too is not very promising in rural India.
The Socio-Economic Caste Census shows:
More than 55 per cent of rural households possess no land, and are forced to survive exclusively by distress manual labour.
Marginal and small farmers are also suffering. Hence, the increase in distress migration
Employment in the organised sector actually went down after 1997, while that in the unorganised sector rose.
This proves the point that the high growth years after globalization doesn't give a very pleasing picture
What are the Possible Solutions?
Massive public investments in agriculture and rural job creation
This will create enormous local markets and create jobs from below
Enhance the quality of infrastructure in Primary, secondary and Higher education
Improve health and child care services
This would generate jobs for the youth along with making them skilled.
2 . Making the nuclear point
Topic: International Relations
Category: Nuclear Securtiy and co-operation
Key Points:
Nuclear Security Summit is about:
Adoption of measures to prevent terrorists from gaining access or use of Nuclear technology and facilities through a spectrum of national, bilateral or multilateral measures.
However, international cooperation in promoting nuclear security is limited to the civilian sector only
Countries with nuclear weapons are expected to take national measures to secure their military facilities, fissile material and weapons.
USA'S Pledges in the past:
USA's re-commitment to the goal of a world free of nuclear weapons.
US with cooperation of Russia, will reduce its nuclear arsenal and would not develop any new nuclear weapons.
USA to ratify the Comprehensive Test Ban Treaty (CTBT).
How far have those Promises been kept?
Nuclear disarmament has been a mere pledge.
Both the US and Russia have expanded their nuclear weapon programmes over the past five years.
The US has not ratified the CTBT.
What the US said at the 4th Nuclear Security Summit:
Reiterated their reduction in role of nuclear weapons as part of their nuclear security strategy.
However, USA plans to spend $1 trillion over 30 years on an entire new generation of nuclear bombs, bombers, missiles and submarines.
After the Ukraine crisis, Obama has reportedly ordered 200 additional nuclear weapons to be deployed in Europe.
The decoupling of nuclear disarmament from nuclear security is complete.
So what did the Fourth Nuclear Security Summit achieve?
Washington Communiqué was adopted
Four "action plans" relating to the nuclear security regime were charted
Global Nuclear Security Regime:
The global nuclear security regime is based on both legal and informal instruments.
The UN Security Council Resolution 1,540 (2004) imposes an obligation on states to secure all fissile materials and nuclear facilities to prevent the link between international terrorism and weapons of mass destruction.
The International Convention for the Suppression of Acts of Nuclear Terrorism and the International Convention on the Physical Protection of Nuclear Materials and its 2005 amendment are other legal instruments.
The summit communiqué urges the non-signatories to sign and ratify these instruments and to ensure their implementation.
The summit endorsed the central role of the IAEA in promoting nuclear security,
The IAEA will convene a ministerial-level international conference on nuclear security in December this year.
Four action plans are:
The UN, Interpol, the Global Initiative to Combat Nuclear Weapons and the Global Partnership Against the Spread of Nuclear Weapons and Materials of Mass Destruction
The latter two being informal arrangements among a number of states, mostly from the developed world.
The action plans are non-binding efforts pledged by states for national and bilateral initiatives or multilateral cooperation to strengthen nuclear security
Link between Nuclear Security and Cyber Security:
There was a new focus on the link between nuclear security and cyber security.
Interpol's "Operation Fail Safe" initiative deals with the potentially dangerous nexus between cyber attacks and nuclear risks.
Other areas of cooperation :
Methods of vetting and carrying out psychological assessments of personnel working in nuclear facilities
monitoring of radiation levels and
surveillance at borders for preventing trafficking of nuclear-related materials.
Nuclear security is also linked to non-proliferation measures
(For example, the continued reduction in the use of highly enriched uranium (HEU) and plutonium in civil nuclear facilities to minimise possible leakage for weapon use.)
India's Participation:
India announced several contributions to nuclear security.
India will :
Participate in the informal international "contact group", which fosters cooperation in countering nuclear smuggling.
Its own Global Centre for Nuclear Energy Partnership (GCNEP) will participate in the group on nuclear security training and support centres and centres of excellence.
Henceforth, none of our research reactors will be using HEU
This shows India's credentials become a member of the Nuclear Suppliers' Group.
India's also raised the concerns to nuclear security posed by state supported terrorist groups and deployment of theatre nuclear weapons, indirectly referring to Pakistan
Sticky Point:
Obama hyphenated India-Pakistan yet again calling on both "to make sure that as they develop military doctrines, that they are not continually moving in the wrong direction".
1 .Business Standard: Breakthroughs needed for Digital India
Topic: Governance/Economy
Category: Technological Interventions
Key points:
Digital India is about :
Providing e-governance and other services like government services, health care,etc across entire India including 250,000 gram panchayats serving another 400,000 villages.
What are the Challenges?
lack of basic access, of the "pipes" and "plumbing" for connectivity.
Telecom industry faces challenges like:
Low revenues and high costs,
Constrained access because of shortages – of networks; or of the means to build them, such as inexpensive rights-of-way, where laying fibre is feasible and viable;
Uncertain market sentiment
local manufacturers, facing stiff competition from global vendors
Government has to build additional infrastructure in rural areas as 67pc of the users are there.
The media glare due to recent scam discourages quick policy decisions
Some Policy Developments:
The Telecom Commission approved the operation of virtual network operators, allowing for operators who don't own networks or spectrum.
Recommended lowering spectrum usage charges from five per cent to three per cent of Adjusted Gross Revenues, while the exception of one per cent for Broadband Wireless Access spectrum continues.
What is actually required?
Consensus among stakeholders on issues like : connective links, sustainable equipment at reasonable cost, and revenue streams (whether from user payments or partly from subsidies) for services and content to more than cover those costs.
Hence, encourage Service provides to increase broadband reach to cover suburban and rural users, and to provide content that they want.
How to achieve this?
Sharing networks between operators
Using spectrum unused(rural areas-spectrum remains unused) for broadcasting, and Wi-Fi where feasible through line-of-sight, to offer TV and broadband through a single device to reduce costs,
virtual network operator can be extended to full sharing of networks including secondary sharing of unused spectrum for a fee to owners
This will rationalise future network investments and improve capacity utilisation of networks
F. Concepts-in-News: Related Concepts to Revise/Learn:
Nuclear Security Aspects-CTBT etc
Forest Rights act
Digital India
PoTA
UTO
SEZ
G. Fun with Practice Questions 🙂
Question 1: Which of the following statement regarding Bt Cotton is true?
Bt is a bacterium that protects the crops from pest attacks2. Pink bollworm is a pest that was in news recently that is affecting the cotton cropsa. Only 1b. Only 2c. Both 1 and 2d. Neither 1 nor 2
Question 2:Which of the following statement is not true?
a. The Financial Action Task Force (FATF) is an inter-governmental body for combating money laundering,
terrorist financing and other related threats of which India is still not a member
b. Tax avoidance means reducing one's tax liability being within the legal boundaries of the national law
c. The Undisclosed Foreign Income and Assets (Imposition of Tax) Bill, 2015 penalizes the concealment of foreign income, and provides for criminal liability for attempting to evade tax in relation to foreign income
Question 3:Which of the following statement is true regarding the Forest Rights Act?
a) The Forest Rights Act comes under the ambit of The Ministry of Tribal Affairs2. The Act seeks to recognize and vest the forest rights and occupation in forest land in forest dwelling ScheduledTribes and other traditional forest dwellers who have been residing in such forests for generations but whoserights could not be recorded a)Only 1
b) Only 2
c)Both 1 and 2
d) Neither 1 nor 2
Question 4: Which of the following statement is true regarding water pollution?
a. The major industries causing water pollution include: distilleries, sugar, textile, electroplating,
pesticides etc.
b. Excess phosphate run-off is leading to eutrophication in lakes and water bodies
c. Infectious diarrhoea makes the largest single contribution to the burden of disease associated
with unsafe water, sanitation and hygiene
d. All of the above
Question 5:Which of the following statement regarding SEZs is not true?


a. The SEZ policy intends to make them an engine for economic growth supported by quality infrastructure and an attractive fiscal package, both at the Centre and the State level, with the minimum possible regulations
b. It comes under the purview of Ministry of Commerce – Department of Industrial Policy & Promotion
c. The main objectives of the SEZ Act are generation of additional economic activity , promotion of exports of goods and services, promotion of investment from domestic and foreign sources among others
d. Both b and c
"Proper Current Affairs preparation is the key to success in the UPSC- Civil Services Examination. We have now launched a comprehensive 'Online Current Affairs Crash Course'.
Limited seats available. Click here to Know More."