Table of Contents:
POLITY
1. 'Law on cow slaughter not feasible'
2. Two-child norm tied to jobs in Assam
ENVIRONMENT AND ECOLOGY
************************************************************************************************************

.
************************************************************************************************************
Useful News Articles for UPSC Current Affairs

A. GS1 Related

Nothing here for Today
B. GS2 Related

Category: POLITY

1. 'Law on cow slaughter not feasible'
What's in news?
Rashtriya Swayamsevak Sangh chief Mohan Bhagwat called for a nationwide law for banning cow slaughter
Government official response: not feasible since slaughtering comes under State subject- The protection and preservation of animals is Entry 15 of the State List of the Seventh Schedule of the
Key Facts:
24 States across India have made laws to tackle the issue.
The Gujarat Assembly recently passed an amendment to the Gujarat Animal Preservation (Amendment) Bill – makes cow slaughter, transportation of cows or beef and beef products punishable with a life term, but not less than 10 years.
States and union territory, where there is no ban on cow slaughter- Kerala, Arunachal Pradesh, Mizoram, Meghalaya, Nagaland and Lakshadweep are the only States and union territory.

2. Two-child norm tied to jobs in Assam

What's in news?
The Assam government announced a draft population policy
Two child policy: Denial of government jobs to people with more than two children
Any person getting a job after meeting this condition would have to maintain it till end of his service
For employment generation schemes like grant of tractors, houses and for other government benefits, this two-children norm will be applicable
Besides, all elections such as panchayats, municipal bodies and autonomous councils held under the State Election Commission will also have this norm for candidates
Girl education: Making education up to university level free for all girls
This step is likely to arrest the school dropout rate
Marriage age: Policy seeks to debate on increasing the legal age of marriage from 18 for girls and 21 for boys
If anybody had child marriage then he would be ineligible for government job
Women protection: Stringent laws to prevent violence and sexual abuse of women
A proposal for providing incentives is included for poor persons, who take care of their elderly parents
The policy will also care for the adolescents
The policy proposes to set up a State Population Council and a State Population Research Centre
C. GS3 Related
Category: ENVIRONMENT AND ECOLOGY

1. Nilgai's killed in Noida
Nilgai species:
The nilgai or blue bull is the largest Asian antelope and is endemic to the Indian subcontinent.
Habitat
Nilgai prefer areas with short bushes and scattered trees in scrub forests and grassy plains.
They are common in agricultural lands, but hardly occur in dense forest.
Major populations occur in the Terai lowlands in the foothills of the Himalayas (northern India), but the antelope is sparsely found in Nepal and Pakistan and is extinct in Bangladesh.
Wildlife Protection Act, 1972
The Wildlife Protection Act, 1972 is an Act of the Parliament of India enacted for protection of plants and animal species.
Objective
The Act provides for the protection of wild animals, birds and plants
It has six schedules which give varying degrees of protection.
Schedule I and part II of Schedule II – absolute protection – offences under these are prescribed the highest penalties.
Schedule III and Schedule IV species are also protected, but the penalties are much lower.
Schedule V includes the animals which may be hunted.
The plants in Schedule VI are prohibited from cultivation and planting.
Enforcement
Enforcement can be performed by agencies such as the Forest Department, the Police, the Wildlife Crime Control Bureau (WCCB), the Customs and the Central Bureau of Investigation (CBI).

D. GS4 Related

Nothing here for Today
PIB Articles    Editorials Roundup

E. Concepts-in-News: Related Concepts to Revise/Learn
Prelims worthy Factual Information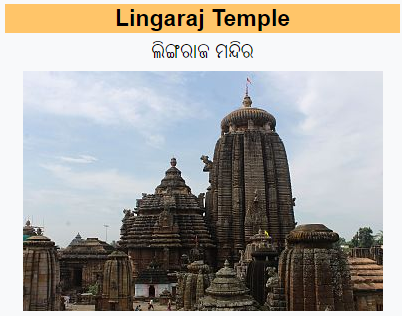 1. Lingaraja Temple:
Lingaraja Temple is a Hindu temple dedicated to Harihara, a form of Shiva and Vishnu and is one of the oldest temples in Bhubaneswar.
The central tower of the temple is 180 ft (55 m) tall.
The temple represents the quintessence of the Kalinga Architecture and culminating the medieval stages of the architectural tradition at Bhubaneswar.
The Kaḷinga architectural style is a style which flourished in the ancient Kalinga region or present eastern Indian state of Odisha and northern Andhra Pradesh. The style consists of three distinct types of temples: Rekha Deula, Pidha Deula and Khakhara Deula.
2. The Prime Minister Shri Narendra Modi will inaugurate an exhibition titled "Swachhagraha – Bapu Ko Karyanjali – Ek Abhiyan, Ek Pradarshani" to mark the 100 years of Mahatma Gandhi's first experiment of Satyagraha in Champaran.
F. BILLS/ACTS/SCHEMES/ORGS IN NEWS
| | |
| --- | --- |
| BILLS/ACTS/SCHEMES/ORGANISATIONS IN NEWS | About the Article |

G. Practice Questions for UPSC Prelims Exam:)

Question 1: Lingaraja Temple is built on which architectural style
Kalinga Architecture
Dravida Architecture
Nagara Architecture
Vasera Architecture
See
Question 2: Consider the following statements:
Electronic Voting Machines (EVM) are used in elections by the Election Commission by invoking its Constitutional powers under Article 324
The 'Voter Verified Paper Audit Trail' refers to an EVM accessory that records every voter id and his/her vote on a slip of paper, for the purpose of verification in the event a dispute arises
Which of the statements given above is/are correct?
1 only
2 only
Both 1 and 2
Neither 1 nor 2
See
"Proper Current Affairs preparation is the key to success in the UPSC- Civil Services Examination. We have now launched a comprehensive 'Online Current Affairs Crash Course'. Limited seats available. Click here to Know More."