Table of Contents:
GEOGRAPHY
1. Himalayan rocks may up flood risk, finds study
POLITY
1. No barrier to naming Lokpal: SC
2. Lokpal panel: CJI among equals
3. Judicial performance index mooted
4. Prescribing generics won't help work unless pharmacists regulated, say activists
5. PM launches low-cost regional flights
6. Now, withdraw PF savings with a self-declared form to pay medical bills
INTERNATIONAL RELATIONS
1. India, Sri Lanka sign energy pact
2. Bhutan backs out of motor vehicle pact
ECONOMICS
1. Direct tax base to soar in 3 yrs
2. 'Revival of fertiliser plants can make India an exporter'
3. Flexible pension for informal staff mooted
4. Italy sees red-tape, taxes as hurdles
ENVIRONMENT AND ECOLOGY
1. Vinegar to the rescue of Great Barrier Reef?
INTERNAL SECURITY
1. All-women force to take on stone pelters
************************************************************************************************************

.
************************************************************************************************************
Useful News Articles for UPSC Current Affairs
1. Himalayan rocks may up flood risk, finds study
Highlights of the study conducted by researchers at the University of Edinburgh in the U.K.:
Provides insight into the long-term impacts of earthquakes and storms in the Himalayan region.
Earthquakes and landslides in the Himalayas — that lead to large volume of hard rocks being dumped into rivers — can increase flood risk up to hundreds of kilometres downstream, potentially affecting millions of people in India and neighbouring countries.
They found that large landslides in the southern, lower elevation ranges of the Himalayas are more likely to increase flood risk than those in the high mountains further north.
For the first time, scientists have traced the path of rocks washed down from the Himalayan Mountains onto the Ganga Plain
Rocks in the south are extremely hard and travel only a short distance — less than 20 km — to reach the Plain. This means much of this rock — such as quartzite — reaches the Ganga Plain as gravel or pebbles, which can build up in rivers, altering the natural path of the water, the research team said.
Rocks from more northerly regions of the Himalayas tend to be softer, and the team found they often travel at least 100 km to reach the plain. These types of rock, including limestone and gneiss, are gradually broken down into sand which, unlike gravel and pebbles, is dispersed widely as it travels downstream.
Risk Assessment: The findings could help researchers improve flood risk maps for the Ganga Plain, a low-lying region covering parts of India, Nepal and Pakistan — one of Earth's most densely populated areas.
1. No barrier to naming Lokpal: SC
What's in news?
What do the Lokpal and Lokayukta Act of 2013 say?
The appointments to Lokpal are made by a high-level selection committee of the Prime Minister, Lok Sabha Speaker, LoP, Chief Justice of India and an eminent jurist chosen by them.
Present scenario:
The 16th Lok Sabha does not have a recognised LoP — the Congress could not get the required 10% membership in the Lok Sabha in the 2014 parliamentary polls — the implementation of the Lokpal Act was stalled.
Lokpal and Lokayuktas and Other Related Law (Amendment) Bill, 2014, containing the proposed amendments in the law has been gathering dust from the date of its introduction in parliament on December 18, 2014.
Parliamentary Standing Committee submitted its report on December 3, 2015, fully supporting the amendment to replace the LoP with the single largest opposition party leader in the Lok Sabha.
Government's contention:
Appointment of Lokpal Chairperson and members is not currently possible, and would have to wait till the 2013 Act is amended to replace the LoP with the single largest Opposition party leader.
Supreme Court ruling:
India is committed to 'zero tolerance against corruption'.
Existing law cannot be put on hold merely because Parliament is working on a better law.
The court pointed to sub-section (2) of Section 4 of the original 2013 Lokpal Act, which makes it clear that an appointment of the Chairperson or Members of Lokpal will not be invalidated merely because one of the members of the Selection Committee — the LoP — is missing. Thus, the available members of the Lokpal Selection Committee could recommend suitable persons to the President for appointment to the Lokpal.
The judgment described the Lokpal Act 2013 as "an eminently workable piece of legislation and there is no justification to keep the enforcement of the Act under suspension till the amendments, as proposed, are carried out".
Supreme Court added that it could not push the issue any further. It said no matter how strongly the populace feels about the imminent need for the Lokpal law and its beneficial effects on the citizenry of a democratic country, it cannot overstep its jurisdiction and encroach into the legislative domain.
Key Fact: India has ratified the United Nations Convention against Corruption way back in May 2011.
2. Lokpal panel: CJI among equals
What's in news?
The Supreme Court upheld the provision of the Lokpal law giving no primacy to the Chief Justice of India's opinion on who should be appointed as Lokpal Chairperson and Members.
The Chief Justice of India's opinion need not always get primacy. It is the prerogative of the legislature to decide whether the opinion of the Chief Justice of India should get primacy.
It is not the mandate of the Constitution that in all matters concerning the appointment to various offices in different bodies, primacy must be accorded to the opinion of the Chief Justice or his nominee.
3. Judicial performance index mooted
What's in news?
In a bid to fix justice system that is in 'dire need of reform' NITI Aayog has proposed the introduction of a judicial performance index to reduce delays and the outsourcing of non-core functions of the police to private agencies or other government departments
NITI Aayog has proposed changes in criminal justice and procedural laws, a repeal of all irrelevant legislation by March 2019 and reforms in land ownership laws — which account for 67% of litigants in civil suits.
Judicial performance index:
Helps the High Courts and their chief justices keep track of the performance and processes at district courts and subordinate levels for reducing delay.
Entail fixing of 'non-mandatory time frames for different types of cases
The index can also include certain progress on process steps already approved by High Courts and such an annual evaluation should give judges in High Courts 'a sense of where they are failing and what they need to fix.'
Citing inordinate delays in India's judicial system and its low rank on enforcing contracts in the World Bank's ease of doing business report for 2017, the think tank has also called for streamlining judicial appointments on the basis of online real-time statistics on the workload of pending cases. Such data will help enable "priority appointment of judges at the lower judiciary levels keeping in mind a scientific approach to assess the number of judges needed to tackle pendency.
Reduce burden of work on Police:
To improve the quality of policing, the think tank has asked the Home Ministry to create a task force to identify 'non-core functions' that can be outsourced to private agents or government departments.
Functions such as serving court summons and antecedents and address verification for passport applications or job verifications can be outsourced.
The Aayog has asked the Home Ministry to push for greater hiring of women in the police force, with a target of 30% of all new recruits.
Key Fact: India's police to population ratio should reach the United Nations norms of 222 per lakh population, over the next seven years, from the current level of 137.
4. Prescribing generics won't help work unless pharmacists regulated, say activists
Context:
Prime Minister Narendra Modi had announced that his government will make generic prescription writing mandatory for doctors.
Indian medical regulator,the Medical Council of India (MCI) issued a circular stating that amendments made to the Indian Medical Council (Professional Conduct, Etiquette and Ethics) Regulation, 2002 had made it mandatory for doctors to prescribe drugs with generic names, legibly and preferably in capital letters, and stipulated that they should ensure rationality in the prescription and use of drugs.
Concerns raised by Public Activists:
Need of the hour is behavior change from the medical fraternity, which mistakenly associates more expensive brands with quality.
The government's decision will not have an impact unless the law can ensure that pharmacists also fall in line.
The government will also have to address the issue of high trade margins that retail chemist shops enjoy. They just stock the branded medicines of those companies which offer them the biggest mark-ups. Sometimes, a medicine costs just a few rupees to produce but by the time it reaches the patient, it costs hundreds of rupees. So, generic prescription regulations must be matched by laws which ensure that chemist shops in India stock and offer the more affordable brands of generic medicines to patients.
In the absence of universal availability of good quality generic name medicines in retail pharmacy shops, merely getting doctors to start prescribing medicines under generic names will end up in shifting the discretion to pharmacists, who will are likely to dispense brands that give them more commission.
Concerns raised by medical fraternity: the decision will compromise the quality of the medicine.
5. PM launches low-cost regional flights
What's in news?
Prime Minister Narendra Modi inaugurated the first flight under the UDAN — Ude Desh Ka Aam Nagrik — scheme for regional connectivity.
The first UDAN flight on the Shimla-Delhi route and simultaneously flagged off flights on the Kadapa-Hyderabad and Nanded-Hyderabad sectors through a video conference from Shimla.
Advantages
The resumption of flights from Shimla airport, would double the hill State's tourism potential.
Other tourist destinations of the northeast also lack good connectivity, providing air connectivity was also required for cultural integration of the region with the other parts of the country.
About UDAN Scheme
UDAN is the first-of-its-kind scheme in the world which would "regional" connectivity through a market-based mechanism, according to the government.
This scheme aims to provide air connectivity to the under-served and unserved airports of the country.
This scheme aims to connect 70 airports in the country
Under the UDAN Scheme, the airfare is capped at rs. 2500 for an hour journey on a fixed-wing aircraft or for a 30-minute journey on a helicopter.
Alliance Airlines has deployed its 42-seater ATR plane on Delhi-Shimla sector.
The Alliance Airlines would offer 35 seats on Delhi-Shimla journey and only 15 on the return journey. The price of 24 seats on the Delhi-Shimla leg is Rs 2036 each
The UDAN scheme would be in operation for 10 years 
6. Now, withdraw PF savings with a self-declared form to pay medical bills
What's in news?
A move towards Self-declaration regime: By submitting a self-declared form to Employees' Provident Fund Organisation (EPFO), provident fund savings can be withdrawn to pay hospital bills in case of serious illness.
Employees with EPF accounts are now allowed to withdraw provident fund savings up to six months' salary in cases of hospitalisation for at least a month, major surgical operation or in case they are suffering from tuberculosis, leprosy, paralysis, cancer and heart ailments.
Simpler ways for withdrawing funds- the EPFO made withdrawing provident fund savings simpler by introducing a composite single page form. EPF subscribers are no longer required to submit evidential documents for withdrawing PF for grant of advances in case of factory closure, marriage, higher education of children, among other things.
Earlier practice:
It was mandatory for the EPF subscribers to get their employer's approval or submit doctor certificates to withdraw provident fund savings for medical purposes.
Even physically challenged employees were required to produce a certificate from a medical practitioner to withdraw their EPF savings for purchasing equipment or aids
Previously, employees were required to fill and submit three different forms to the EPFO for withdrawing provident fund for such purposes(factory closure, marriage, higher education of children, among other things).
Category: INTERNATIONAL RELATIONS

1. India, Sri Lanka sign energy pact
What's in news?
Memorandum of Understanding (MoU) signed between India and Sri Lanka
Area of focus: both sides to collaborate in a host of energy and infrastructure projects across the island.

Setting up of a Liquefied Natural Gas (LNG) plant in suburban Colombo and a solar power plant in Sampur in Trincomalee;
Indian assistance to enhanced use of natural gas in Sri Lanka;
Joint investment in the petroleum sector and partnerships in highways and transportation,
Proposed joint venture to develop a World War-era oil storage facility in Trincomalee, the strategically located port town on the island's east coast.
Joint set up of Industrial Zones and Special Economic Zones in Sri Lanka.
2. Bhutan backs out of motor vehicle pact 
Background information:
The Bangladesh, Bhutan, India, Nepal (BBIN) Initiative is a sub regional architecture of countries in South Asia. It meets through official representation of member states to formulate, implement and review quadrilateral agreements across areas such as water resources management, connectivity of power, transport, and infrastructure.
What's in news?
India's plan for a sub-regional motor vehicle agreement faced a setback on as the Bhutan government announced that it is not ready to go ahead with the process at present.
It asked the other members of the 'BBIN' grouping — India, Bangladesh and Nepal — to continue to operationalise it without Bhutan.
Why such a drastic turn around?
Bhutan Prime Minister Tshering Tobgay's decision to step out of the BBIN process comes on the back of severe domestic opposition to the motor vehicles agreement, primarily on fears of vehicular pollution and environmental degradation if trucks from neighbouring countries are given access to Bhutan, a country that prides itself on its "carbon neutrality" and preserving the environment.
MVA agreement was signed on June 15, 2015, and ratified on its second attempt in the lower house in July 2016, the upper house in Bhutan voted it down in November 2016.
India, Bangladesh and Nepal have already completed the ratification of the agreement.
C. GS3 Related

1. Direct tax base to soar in 3 yrs
What's in news?
The NITI Aayog expects India's direct tax base to rise significantly over the next three years, due to demonetisation and steps taken to curb black money by the government, pegging the direct tax to GPD ratio at 6.3% in 2019-20 from 5.6% in 2016-17.
Demonetisation had led to a significant increase in bank deposits which is likely to result in disclosure of "a significant amount of income that would not have been done otherwise." Therefore, it has argued that there could be a significant one-time increase in the direct tax revenues for 2017-18.
The Aayog has recommended a massive increase in outlays on healthcare and railways and road sectors over the next three years, with the share of healthcare spending in total government expenditure expected to rise from 1.7% in 2015-16 to 3.6% by 2019-20.
It also highlighted the urgent need to develop the transportation infrastructure to assist in economic growth
Health Expenditure:
Health expenditures contribute directly to enhancing the social welfare of people and in developing human capital.
The increased allocation should be utilised towards public health, state level grants, fiscal incentives and human resources for health to states to improve health outcomes.
It cautioned that the current expenditure levels on health are low.
2. 'Revival of fertiliser plants can make India an exporter'
What's in news?
The Centre's decision to revival of four fertiliser plants at a total cost of ₹50,000 crore has the potential to turn India into a fertiliser exporting country from an importing one..
When all the plants (at Barauni, Singhri, Gorakhpur, and Talcher) start, they will add about 75 lakh metric tonnes to the output, taking the total capacity to about 320 lakh metric tones.
Centre plans to improve development in the eastern region of the country, massive infrastructure investment in the region would be a boost to a 'Second Green Revolution' in the region.
3. Flexible pension for informal staff mooted
What's in news?
Highlights of The 'Financial Security for India's Elderly' report by PFRDA (Pension Fund Regulatory and Development Authority) and Crisil :
Workers from the informal economy and the agricultural sector should be allowed flexible contributions and withdrawals from pension plans due to the vagaries of their incomes and the risk of disasters.
Recommended a specific pension scheme for young women along the lines of the government's Sukanya Samriddhi Scheme for young girls.
Since women, who account for 70% of the non-workers in India, are financially dependent on their male counterparts, and generally outlive men, the 'feminisation' of the elderly is going to be increasingly evident in the years to come, and could bring with it huge fiscal burdens.
The contributions could be from the women's families.
Alternatively, the government could look at providing some tax relief to the savings held in the form of pension. This segment, if tapped properly, can ensure high coverage of the working age population (15-59 years).
4. Italy sees red-tape, taxes as hurdles
What's in news?
According to Italian Trade Agency (ITA), major hurdles Italian companies face while doing business in India are
Bureaucracy- Corruption, Red-tapism
Complex taxation
For doing business taking a long time
Procedures relating to starting companies (being) complex
Measures that protect local production compared to foreign production
The ITA is the Italian government body promoting the internationalisation of Italian firms in line with their Economic Development Ministry's strategies.
Category: ENVIRONMENT AND ECOLOGY

1. Vinegar to the rescue of Great Barrier Reef?
What's in news?
Scientists have found out that Common household vinegar may help protect Australia's iconic Great Barrier Reef by effectively and quickly killing the coral-munching crown-of-thorns starfish.
The innovative method of killing crown-of-thorns starfish (CoTS) is safe to other marine life .
The Great Barrier Reef has been exposed to multiple disturbances in recent years, including the 2016 and 2017 mass coral bleaching, three tropical cyclones in the past three years, and the ongoing CoTS outbreak.
CoTS are breeding at epidemic levels and are one of the primary reasons for the decline in live coral.
Basic Information:
Crown-of-thorns starfish: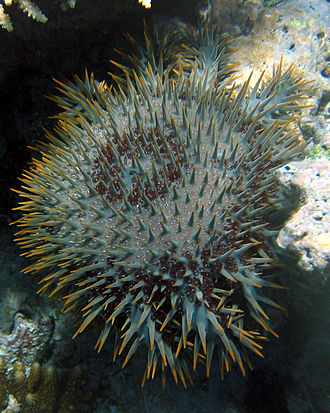 The crown-of-thorns starfish, Acanthaster planci, is a large, multiple-armed
 starfish that usually preys upon hard, or stony, coral polyps (Scleractinia).
The crown-of-thorns starfish receives its name from venomous thorn-like spines that cover its upper surface, resembling the biblical crown of thorns. It is one of the largest starfish in the world.
planci has a very wide Indo-Pacific distribution. It is perhaps most common in Australia, but can occur at tropical and subtropical latitudes from the Red Sea and the east African coast across the Indian Ocean, and across the Pacific Ocean to the west coast of Central America. It occurs where coral reefs or hard coral communities occur in this region.
1. All-women force to take on stone pelters
What's in news?
In order to counter women stone throwers, the Centre plans to raise an all women India Reserve Battalion (IRB) in Jammu and Kashmir. The decision to raise an all women battalion comes days after girl students were seen throwing stones at security forces in Srinagar.
The women battalion would also be assigned other law and order duties but its personnel will be primarily deployed for tackling protesters
The Centre has also given directions to the State government to not use Special Police Officers as "chowkidaars (guards)" at the houses of politicians and other government officials and to use them in active policing instead.
Nothing here for Today
PIB Articles      Editorials Roundup

E. Concepts-in-News: Related Concepts to Revise/Learn
F. BILLS/ACTS/SCHEMES/ORGS IN NEWS
BILLS/ACTS/SCHEMES/ORGANISATIONS IN NEWS
About the Article
Sukanya Samriddhi Scheme

Sukanya Samriddhi Yojana was launched by the Prime Minister Mr. Narendra Modi on 21st January 2015
This scheme was launched to meet the expense of the Girl child's higher education and marriage.

Who is eligible under this scheme?

Gender: Girl child only
Citizenship: Child should be Indian citizen. NRI, OCI and other cannot open account under this scheme.
Age limit: On the date of opening the account, the child's age should 10 years or younger.

Who can Invest:

Parent or Legal Guardian of the eligible Girl child.

Investment limit:

In 1 year, minimum Rs 1000/- needs to be invested., thereafter in multiples of 100/-
Maximum of Rs 1, 50,000/- can be invested.
Deposits can be made in lump-sum or spread out manner.
No limit on number of deposits either in a month or in a financial year.

Mode of Deposit/Investment:

Cash, Cheque, Demand draft, Online payment. All methods are acceptable.

Operation of the account:

The account will be opened and operated by the guardian of a girl child till the girl child, in whose name the account has been opened, attains the age of 10 years.
On attaining age of 10 years, the girl child may herself operate the account if she wishes to do so. If not the gaurdian will continue operating the account.

Tenure of the Scheme:

Deposit needs to made until 15 years from opening of account.
Deposit under scheme will mature 21 year after opening of the account.
G. Practice Questions for UPSC Prelims Exam



Question 1: NASA's Cassini Spacecraft is orbiting around which palnet?
Saturn
Uranus
Jupiter
Mars
See
Question 2: Consider the following statement with:
Neem coating of urea leads to more gradual release of urea, helping plants gain more nutrient and resulting in higher yields.
Neen coated urea lowers underground water contamination due to leaching of urea.
Choose the correct statement.
Only 1
Only 2
Both 1 and 2
Neither 1 nor 2
See
Question 3: Which one of the following countries does not border Caspian sea?
Armenia
Azerbaijan
Kazakhstan
Turkmenistan
See
Question 4: One of the latest amendments proposed to the GST Bill is that 
"the GST Council shall establish a mechanism to adjudicate any disputes". 
The GST Council will consist of
Union Finance Minister as chairman and Chief Ministers of States as members
Union Finance Secretary as chairman and State Finance Secretaries as members
Union Finance Secretary as chairman and State Chief Secretaries as members
Union Finance Minister as chairman and any Minister nominated by each State Government as member
See
Question 5: Certain medications are marked by a red line on their packaging. 
What is this supposed to convey?
The drug is on the National List of Essential Medicines
The drug can be bought only at Jan Aushadhi Stores
The drug must be used carefully, and to discourage unnecessary prescription and over-the-counter sale
The drug is a generic drug
See
"Proper Current Affairs preparation is the key to success in the UPSC- Civil Services Examination. We have now launched a comprehensive 'Online Current Affairs Crash Course'. Limited seats available. Click here to Know More."