Tropical Evergreen forests are a dominant part of the Natural vegetation in India. They flourish in the areas having more than 200 cm of rainfall. Types of forests form an important part of the Indian Geography syllabus for IAS Exam and tropical evergreen forest is one of them.
This article will provide details about the topical evergreen forests also called tropical rainforests.
Introduction to Tropical Evergreen Forests
The evergreen forests are essential in not only promoting greenery on the planet, but they are also useful in the continual survival of animals and plants in the forest ecosystem. The trees are evergreen as there is no period of drought. They are mostly tall and hardwood.
Tropical Evergreen Forests – Characteristics
Learn to identify the tropical evergreen forests, a type of natural vegetation, through the points given below:
Tropical Evergreen Forests
The tropical wet evergreen forest in India is usually found in areas receiving more than 200 cm of rainfall and having a temperature of 15-30 degrees Celsius.
They occupy about 7% of the earth's surface.
They are found mostly near the equator.
They have sparse undergrowth interspersed with clearings
They have a scarce presence of litter (organic matter settling on the ground)
These forests are dense and multi-layered.
They harbor many types of plants and animals.
The forests constitute an important part of the environment and ecology.
These trees are an important component of the Forest Biology and ecosystem, that helps to promote life in the ecosystem. This allows the plants and animal life to harmonize and live with one another in absolute peace.
Tropical Evergreen Forest – Geographical Location
These forests are found on the eastern and western slopes of the Western Ghats.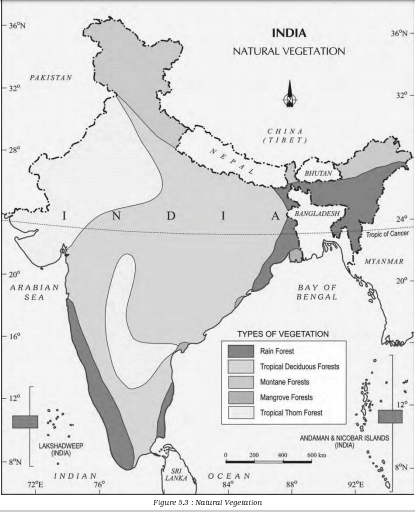 The states where these forests are predominantly identified are :
Tamil Nadu
Kerala
Karnataka
Maharashtra
Assam
Arunachal Pradesh
Nagaland
Tripura
Meghalaya
West Bengal
Andaman and Nicobar Islands.
There are quite a few different plants and animals that exist in harmony with one another for the continual survival of the species. This co-existing system of plants and animals leads to the existence of a biome. A biome is the collection of all wildlife and plants that coexist in a certain environment defined by certain geographical boundaries.
Tropical Evergreen Forests Host Varieties of Plants & Animals
Plant Species in Tropical Evergreen Forests
Animal Species in Tropical Evergreen Forests

Ebony
Mahogany
Rosewood
Rubber Chinchona

Elephants
Monkeys
Lemur
Deer
One-Horned Rhino (Assam, West Bengal)
Birds
Bats
Sloth
Scorpions
Snails
The different types of animals that live in the evergreen forests are usually of a certain type such as indigenous birds like owls, hawks, cardinals, and even some mammals such as deers, possums, and raccoons.
In India, evergreen forests are primarily located in states such as Karnataka and even Kerala. The Western Ghats are the primary location of the evergreen forest. The forests mainly contain trees such as rosewood, mahogany, and ebony.
This article provides relevant information about the tropical evergreen forests and their characteristic features. This topic is relevant for UPSC 2023 and other government exams.
FAQ about Tropical Evergreen Forest in India
Q1
What is the another name of tropical evergreen forest?
Tropical evergreen forests are also known as rain forests because they receive more than 200 cm rainfall per year.
Q2
Which is the largest evergreen forest in the world?
The greatest single area of tropical evergreen forest is found in the Amazon Basin, in the northern half of South America.
Related Links: