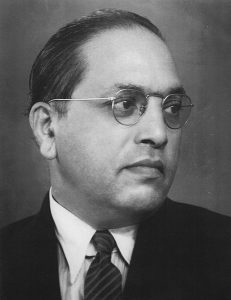 Father of the Indian Constitution, Dr. Bhimrao Ramji Ambedkar was born on 14 April 1891 at Mhow in the Central Provinces in British India (currently in Madhya Pradesh). This day is observed as 'Ambedkar Jayanti' in India. This article will provide you relevant facts about Dr. B R Ambedkar, useful for the IAS Exam and other competitive exams.
To complement your UPSC preparation, check the following links:
Story of Dr. BR Ambedkar
BR Ambedkar promoted the idea of "Educate, Organise, Agitate". The following points mention the key facts about BR Ambedkar for UPSC:
B R Ambedkar, popularly known as Babasaheb was born on April 14, 1891, to Subedar Ramji Maloji Sakpal and his wife, Bhimabai. Sakpal was an officer in the British Indian army and Ambedkar was born in the Mhow cantonment.
His family's origins lay in the town of Ambawade in the present-day Ratnagiri district in Maharashtra.
Born into the Mahar caste, which was considered untouchable in society, Ambedkar faced discrimination during his childhood. His family, being of better socio-economic standing than other untouchables of that time, was able to provide education to the children.
But even in school, Dalit children like Ambedkar had to sit outside the classroom. They had to sit on a gunny sack which they carried with themselves when they left for the day from school. If they were thirsty, they had to rely on an upper-caste pupil or the school peon to pour water onto their mouths as they were not allowed to touch either the water or the jug in which water was kept.
Ambedkar was, of course, profoundly influenced by these degrading experiences. In his later writings, he mentions – "No peon, no water."
Ambedkar was an excellent student and he enrolled at Mumbai's Elphinstone High School in 1897 when the whole family moved to Mumbai.
In 1907, he was admitted to the Elphinstone College, becoming the first 'untouchable' to attain admission there.
He secured a degree in Economics and Political Science from the college which was affiliated to the University of Bombay in 1912 and then prepared for a job with the Baroda government.
The next year, he moved to the USA to pursue higher education. For this, he got a scholarship from the Baroda princely government.
He completed his post-graduation and doctoral degrees in Economics from Columbia University.
He also studied at the London School of Economics and pursued the Bar Course at Gray's Inn.
He returned to India and worked for a while with the Baroda government. After that, he worked as a private tutor and an accountant. He had even launched a consulting business. However, when his clients learned of his being a Dalit, the business failed.
Meanwhile, he was also becoming politically and socially active. He was opposed to the caste-based discrimination rampant in society at that time.
The Southborough Committee, which was preparing the Government of India Act of 1919, invited him to testify. At the hearing, he demanded separate electorates for the untouchables and also argued for reservations.
He also worked for the promotion of education among the depressed classes.
He organised public movements for the opening up of public water bodies for the use of Dalits. He also started movements for Dalits to enter Hindu temples.
In December 1927, he publicly denounced the ancient text Manusmriti and symbolically burned copies of it.
In 1932, the British government decided to form separate electorates for the depressed classes. This was called the Communal Award and was fiercely opposed by Mahatma Gandhi, as he thought this would disintegrate Hinduism.
Gandhi started a fast in protest while at the Yerwada Jail in Pune. The Congress Party had meetings with Ambedkar who then decided to agree to reserved seats within the general electorate. This was called the Poona Pact and was signed on September 25, 1932, between Ambedkar and Madan Mohan Malaviya.
Ambedkar authored several books apart from scholarly essays and his own theses. Some of his famous works are 'Annihilation of Caste', 'Thoughts on Pakistan', 'Who Were the Shudras?', 'The Buddha and His Dhamma', 'The Problem of the Rupee: Its Origin and Its Solution', etc.
He founded the Scheduled Castes Federation, a political party in July 1942.
He converted to Buddhism on 14 October 1956 in a public ceremony where a great number of his followers followed suit.
He was a brilliant economist even though he is today revered mostly as a champion of the Dalits alone. It is not popularly known that he was the first Indian to pursue a doctorate in Economics from a western university.
Ambedkar was a key figure in the Constituent Assembly of India and was the chairman of the Drafting Committee. He argued for reservations in the civil services, government jobs and educational institutions for the depressed classes. He also demanded extensive rights for women. For his role in the preparation of the Constitution, he is revered as the 'Father of the Indian Constitution'.
He also served as India's first Law Minister in the Interim government in 1947. As a law minister, he was opposed to Article 370 which proposed special status to Kashmir. He even supported the uniform civil code.
Ambedkar, who was suffering from diabetes, died in his sleep on 6 December 1956 in Delhi. He was 65. He was awarded the Bharat Ratna posthumously in 1990.
Aspirants can also read about similar eminent personalities from the links mentioned in the table below: