21 December 1881
"Gandhi of Chhattisgarh" Pandit Sundarlal Sharma was born
---
What happened?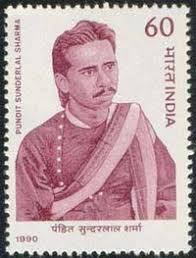 On 21 December 1881, Pandit Sundarlal Sharma was born in Chamshur village in Raipur District, present-day Chhattisgarh.
Pandit Sundarlal Sharma Biography
Pandit Sundarlal Sharma was a key figure in the independence movement from Chhattisgarh.
He was a follower of Mahatma Gandhi and believed in Satyagraha and non-violence, for which he earned the nickname 'Gandhi of Chhattisgarh'.
It was largely because of his efforts that Gandhi visited Raipur in December 1920, in connection with the Nahar satyagraha.
In 1918, Pandit Sharma founded a political council at Dhamtari. He was largely responsible for ushering in political and social consciousness to Chhattisgarh.
In 1920, he started the canal satyagraha, also known as the Nahar satyagraha at a village called Kandel in Dhamtari Tehsil. Other leaders with him were Narayan Rao Medhawale and Babu Chotelal Srivastava.
Kandel Nahar Satyagraha
This was a movement that the farmers launched against the British government's irrigation tax. They defied an order of the government to pay over Rs.4000 in this lieu. In retaliation, the government suppressed the villagers by taking many into custody and torturing them. Their cattle were also confiscated.
Despite the suppressing measures, the farmers continued their satyagraha. When Gandhi was being called for by the local leaders, the British government launched a probe into the matter, so that the issue does not flare up to the national level.
Then, even before Gandhi could arrive, the authorities waived off the tax and returned the cattle to the farmers. Nevertheless, Gandhi did arrive in that area.
Sharma was arrested in 1920-21 in connection with his political activities.
He was also a social activist and advocated against caste-based discrimination and untouchability.
He started an ashram and also a school for girls belonging to the depressed classes.
A lifelong Gandhian, his motto in life was "Do not move away from truth in life or death".
He was also arrested in 1930 during the Nagpur Flag Satyagraha and then again in 1932.
He had established the 'Smitra Mandal' in his native town for selling indigenous goods.
Sunderlal Sharma died on 28 September 1940. He had donated his entire property to the service of his countrymen.
Also on this day




---


1932: Birth of eminent writer in the Kannada language, U. R. Ananthamurthy.
1952: Saifuddin Kitchlew received the Lenin Peace Prize (then called the Stalin 
Peace Prize) becoming the first Indian to receive this prize.
See previous 'This Day in History' here.
Also read: