17 July 1835
Death of freedom fighter Tirot Sing
---
What happened?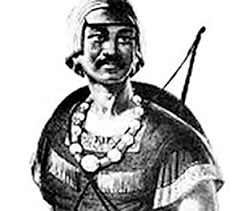 U Tirot Sing Syiem, a chief of the Khasi people of north-eastern India, died on 17th July 1835 while in British captivity. Read on for more about this valiant freedom fighter. It is important to increase your General Awareness for the IAS exam.
In this article, you will read about the brave freedom fighter Tirot Sing and his contributions. IAS aspirants must be aware of freedom fighters from different corners of the country and not limit their knowledge to the 'mainstream' ones. This is also important for the UPSC prelims exam.
Biography & Contribution of Tirot Singh
U Tirot Sing Syiem was a Khasi chief and one of the greatest freedom fighters of the country. He belonged to the Syiemlieh clan and was the Syiem or king of Nongkhlaw, a region in the Khasi Hills of Meghalaya.
In 1826, the British had concluded the Treaty of Yandabu which gave them a stronghold over the Brahmaputra Valley. The Surma Valley (in Assam and partly in Bangladesh) had also become a possession of the British. They now wanted to link these two regions for easier transport and strategic purposes. For this, they had to construct a road through the Khasi Hills.
The political agent of the British, David Scott, requested Tirot Sing for permission to construct a road cutting through the hills which belonged to the Khasis.
Scott proposed that in lieu of the permission, Tirot Sing would be given control of the duars (passes into Assam) and also assured of free trade in the region.
After consultation with his durbar, Tirot Sing consented to the British proposal.
After the construction of the road started, the Raja of Ranee Balaram Singh disputed Tirot Sing's possession of the duars and claimed them for himself.
Tirot Sing expected the British to stick to their word and support him, but instead, they blocked his entry.
Also, Tirot Sing received the news that the British were bringing in reinforcements from Guwahati and Sylhet. This led Tirot Sing to ask the British to leave Nongkhlaw. The British paid no attention to the orders and continued to remain in their post.
On 4 April 1829, Khasi forces under Tirot Sing attacked the British garrison. Two officers were killed in the attack.
The British retaliated immediately. In the fighting that ensued, the Khasis, though brave and fearless, could not match up to the modern firearms of their enemies. Despite this, Tirot Sing and his troops carried on guerrilla warfare with the British for four years. The British were thoroughly shaken by the Khasis.
Sustaining a bullet injury, Tirot Sing hid in a cave in the hills. However, he was betrayed and captured by the British in January 1833. After a trial, he was deported to Dhaka, Bangladesh. There, he died in captivity on 17th July 1835.
The state of Meghalaya observes the 17th of July as U Tirot Sing Day every year.
Also on this day




---