13 February 1879
Sarojini Naidu was born
---
What happened?
On 13 February 1879, the 'Nightingale of India' Sarojini Naidu was born.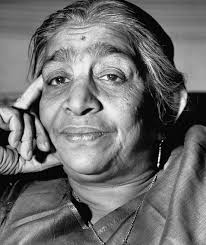 Sarojini Naidu Biography
Sarojini Naidu was born in Hyderabad to Aghore Nath Chattopadhyay and Barada Sundari Devi. Her father was a doctorate from Edinburgh University and her mother was a poet of the Bengali language.
Naidu was educated at Madras, London and Cambridge. At the age of 19, she married a physician named Govindarajulu Naidu, at a time when inter-caste marriages were uncommon.
Naidu started writing at a very young age. She was drawn towards the freedom movement after the partition of Bengal in 1905.
She came into contact with eminent leaders like Gopal Krishna Gokhale, Rabindranath Tagore and Annie Besant.
During the years, 1915 – 18, she travelled the length and breadth of the country giving lectures on nationalism, women empowerment and social welfare.
In 1917, she helped found the Women's Indian Association which was involved in the field of women's suffrage.
In 1925, she was chosen President of the Indian National Congress at its Kanpur session, the first Indian woman to hold that post.
She worked for the rehabilitation of affected people during the plague epidemic in India, and was awarded the Kaisar-i-Hind Medal by the British government.
She was actively involved in all the major political developments taking place in India. She participated in the Second Round Table Conference in 1931.
Naidu also took part in the civil disobedience movement, the Quit India movement, and other Satyagrahas. She was an avid follower of Mahatma Gandhi.
Naidu was imprisoned several times during the independence movement.
She travelled to Europe and the USA and spread awareness about Gandhi's principles and ideals about non-violence and peace.
After independence, she became the first governor of the United Provinces and was in office from 15 August 1947 till her death.
Naidu passed away on 2 March 1949 due to a cardiac arrest at Lucknow.
Famous English writer Aldous Huxley had written, "If all Indian politicians are like Mrs. Naidu, then the country is fortunate indeed."
Her birth anniversary is observed as 'National Women's Day' in India.
Sarojini Naidu Books
The Golden Threshold
In the Bazaars of Hyderabad
The Bird of Time
The Broken Wing
Muhammad Jinnah: An Ambassador of Unity
The Sceptred Flute
The Feather of the Dawn
The Indian Weavers
Also on this day




---