5 September 1888
Dr. S Radhakrishnan was born.
---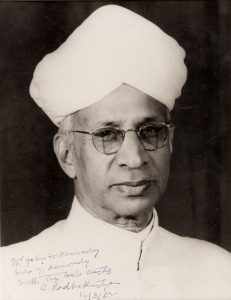 What happened?
On September 5, 1888, India's first Vice President and second President Dr. Sarvepalli Radhakrishnan was born in Thiruthani, modern Tamil Nadu. In today's 'This Day in History', you can read all about the life of India's former president Dr. S Radhakrishnan for the IAS exam.
Dr. S Radhakrishnan
"When we think we know, we cease to learn." – Dr. S Radhakrishnan
Radhakrishnan was born into a Telugu family in the former Madras Presidency.
He was one of the most eminent Indian scholars in the field of philosophy and comparative religion, of the 20th century.
His birth anniversary is celebrated in India every year as 'Teachers' Day' since it was first proclaimed in 1962.
Radhakrishnan graduated from the Madras Christian College (MCC) with an MA in philosophy in 1906. His thesis for his MA degree was titled, 'The Ethics of the Vedanta and its Metaphysical Presuppositions'. In this paper, he defended Vedanta against the charge that it lacked ethicality.
Indeed, this was what Dr. Radhakrishnan was prolific at. A dedicated student of Vedanta, he sought to establish Vedanta and Hinduism as the most universal religion. He was an erudite scholar on both Hindu and Western philosophy. He was also deeply influenced by Swami Vivekananda.
He was hailed by scholars from the east and the west as a living example of a bridge between both civilisations.
Radhakrishnan started his career as a teacher in the Department of Philosophy at the MCC. After that, he taught at the Maharaja's College in Mysore.
He was also appointed to the King George V Chair of Mental and Moral Science at the University of Calcutta in 1921.
At this time, he represented his universities at various international platforms as an authority on philosophy.
He even lectured at Oxford University. For his services, he was knighted by the British government in 1931. (After India's independence, he stopped using his title 'Sir' and used the prefix 'Dr.'.)
In 1936, he became the Spalding Professor of Eastern Religions and Ethics at the University of Oxford. He was also elected a Fellow of All Souls College.
He had also served as the Vice Chancellor of the Andhra University and the Banaras Hindu University.
He has authored many books and his most celebrated work is 'An Idealist View of Life'.
Radhakrishnan was an internationally renowned academician and scholar before he embarked on his political career. In 1931, he had been nominated to the Committee for Intellectual Cooperation of the League of Nations.
After independence, he represented India at the UNESCO and was also a member of the Constituent Assembly. He also served as the Ambassador to the Soviet Union.
In 1952, he was elected as the country's first Vice President. He became the second President of India in 1962 and remained in office till 1967.
When his friends wanted to celebrate his birthday, he expressed his desire that he would rather have them celebrate the day as 'Teachers' Day'. In 1962, the Indian government officially declared September 5th as Teachers' Day. Since then, students in India mark this day in honour of their teachers. In his own words, "Teachers should be the best minds in the country."
He won several national and international awards including the Bharat Ratna in 1954. In 1963, he received an honorary membership of the British Royal Order of Merit. In 1989, the Oxford University instituted the Radhakrishnan Scholarships in honour of his memory.
Radhakrishnan withdrew from public life in 1967 and died in April 1975 aged 86.
Also on this day 
---
1872: Birth of great freedom fighter and writer V O Chidambaram Pillai in Tamil Nadu. 1918: Death of great industrialist Ratanji Jamshetji Tata. 1967: The Central Hindi Committee was constituted with the PM as Chairman. 1997: Death of Mother Theresa. 1998: Akash and Trishul missiles test fired from Chandipore.
See previous 'This Day in History' here.
Also read the biographies of: