16 September 1931
Freedom fighters shot dead by British police inside the Hijli Detention Camp, West Bengal.
---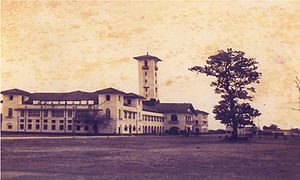 What happened?
Unarmed detainees in the Hijli Detention Camp, Santosh Kumar Mitra and Tarakeswar Sengupta were shot dead by the British Police for agitating in the jail. They were freedom fighters. In this edition of This Day in History, you can read about this incident for the IAS exam modern history segment.
Hijli Firing Background
The Hijli Detention Camp was founded in 1930 by the British administration to detain freedom fighters.
The camp was set up because the large number of freedom fighters (both revolutionaries and participants of the non-cooperation movement) could not be accommodated in ordinary jails.
A poignant moment in the Camp's history occurred on 16 September 1931 when two unarmed jail inmates Santosh Kumar Mitra and Tarakeswar Sengupta were shot dead by British police for agitating inside the premises.
This move by the authorities was condemned widely all over the country.
Indian leader Subhas Chandra Bose came to the camp to collect the bodies of the martyrs.
Nobel laureate Rabindranath Tagore also criticised the government and strongly protested against this brutal act.
This incident came to be known as the 'Hijli Firing'.
This is the only incident of firing by the police inside a detention camp.
The British government closed down the camp in 1937 and reopened it in 1940.
In 1942, the camp closed for good.
It was also used as a US airbase during the Second World War.
Today, the building is a part of the Indian Institute of Technology Kharagpur and is known as 'Shaheed Bhavan'.
A part of the camp has also been converted to the Nehru Museum of Science and Technology.

Also on this day 
---
1916: Birth of classical musician and Bharat Ratna awardee M S Subbulakshmi. 1931: Birth of eminent theoretical Physicist and Padma Vibhushan awardee E C George Sudarshan. 1954: Lok Sabha provided for divorce by consent in the Special Marriage Bill. 1955: Death of Leo Amery, the Secretary of State for India from 1940 to 1945 aged 81. 2000: The Rajasthan High Court declared Jains as a religious minority allowing educationalinstitutions set up by Jains to enjoy minority status as per Article 29 and 30 of the Indian Constitution.
See previous 'This Day in History' here.
Also read: