TABLE OF CONTENTS
A.

 GS1 Related




B.

 GS2 Related


INTERNATIONAL RELATIONS
1. Exercise Peace Mission 2018
2. U.S-India 2+2 talks
3. Myanmar rejects UN findings on 'genocide'
GOVERNANCE
1. Lynching: social media sites to be held responsible


C.

 GS3 Related


ECONOMY
1. Demonetization: The Reserve Bank of India's annual report for 2017-18
2. RBI flags risk of higher inflation
3. The number of cases of fraud reported by banks increased
DISASTER MANAGEMENT
1. O-SMART : India is set to get more disaster warning systems along its coasts


D.

 GS4 Related




E. 

Editorials


GOVERNANCE
1. The crackdown on civil society
ENVIRONMENT AND ECOLOGY
1. How not to do an environmental assessment
INTERNATIONAL RELATIONS
1. Challenges at BIMSTEC
DISASTER MANAGEMENT
1. A people's campaign to rebuild Kerala


F. 

Tidbits




G. 

Prelims Fact


H. UPSC Prelims Practice Questions
I. UPSC Mains Practice Questions 

Nothing here for today!!!
Category: INTERNATIONAL RELATIONS
1. Exercise Peace Mission 2018
Exercise Peace Mission 2018, the joint military exercise of the Shanghai Cooperation Organisation (SCO), ended in Russia with the eight-member states undertaking joint training on combating terrorism.
This is the first time India and Pakistan participated in the exercise, which began on August 24 at the firing ranges in Chebarkul.
After intense training, the joint exercise concluded with multinational forces exhibiting their combat power and dominance over the extremist groups in simulated situation.
The closing ceremony showcased the immense talent and unique military ethos of all the member-nations.
India, China, Kazakhstan and Russia showcased their armoured and mechanised forces while Pakistan had sent only Special Forces personnel.
China welcomed the participation of the two south Asian countries in the exercise and said stability between the two countries was significant to the peace and development of the region and the whole world.
 Exercise Peace Mission 2018
Exercise Shanghai Cooperation Organization (SCO) Peace Mission 2018, the latest in 'Peace Mission' series formally started on 24 August 2018 at Chebarkul, Russia.
The opening ceremony was conducted in Chebarkul, Russia with military contingents of the all eight SCO member nations participating in this exercise.
The exercise will provide an opportunity to the armed forces of SCO nations to train in counter terrorism operations in urban scenario in a multinational and joint environment.
The scope of the exercise includes professional interaction, mutual understanding of drills & procedures, establishment of joint command and control structures and elimination of terrorist threat in urban counter terrorist scenario.
The Russian Army has the major participation of 1700 personnel followed by China with 700 & India with 200 personnel.
The SCO Peace Mission Exercise is one of the major defense cooperation initiatives amongst SCO nations and will be a landmark event in the history of SCO defence cooperation.
The first U.S.-India 2+2 dialogue next week in New Delhi will discuss regional and strategic issues of Asia and will also have some real outcomes.
The Trump administration is mindful of India's legacy ties with Russia, but does not appreciate its continuing defence cooperation with it.
US is not sure of granting a waiver to India from sanctions if India went ahead with the planned purchase of S-400 missile defence system from Russia.
S-400 Defence System
The S-400 Triumph air defence system integrates a multifunction radar, autonomous detection and targeting systems, anti-aircraft missile systems, launchers, and command and control centre. It is capable of firing three types of missiles to create a layered defence.
The system can engage all types of aerial targets including aircraft, unmanned aerial vehicles (UAV), and ballistic and cruise missiles within the range of 400km, at an altitude of up to 30km. The system can simultaneously engage 36 targets.
The S-400 is two times more effective than previous Russian air defence systems and can be deployed within five minutes. It can also be integrated into the existing and future air defence units of the Air Force, Army, and the Navy.
U.S. administration expected some concrete outcomes such as concluding an enabling agreement on communication and expanding the scope of military exercises
Operationalizing India-U.S. partnership in Asia would be part of the 2+2 agenda.
2+2 Dialogue
2+2 Dialogue between India and US was agreed during visit of Prime Minister Narendra Modi to US in June, 2017.
It is similar to India-Japan 2+2 dialogue format between foreign and defence secretaries and ministers of the two countries. It replaces earlier India-US Strategic and Commercial Dialogue.
The dialogues aimed enhancing strategic coordination between both countries and maintaining peace and stability in Indo-Pacific region.
It puts strategic, defence and security relationship between two countries at forefront and centre stage.
It insulates India-US strategic relationship from feuds over trade issues and deep divide on economic integration policies as trade and commercial issues that collided with strategic relationship between both countries' discussed in Strategic and Commercial Dialogue earlier.
3. Myanmar rejects UN findings on 'genocide'
Myanmar rejected the findings of a UN investigation alleging genocide by its military against the Rohingya, after the U.S. and other countries joined growing calls for them to face justice.
The UN probe on Monday detailed evidence of genocide and crimes against humanity "perpetrated on a massive scale" against the Rohingya.
Myanmar's Ambassador to the UN Hau Do Suan questioned the UN report's findings, reiterating that Myanmar "did not accept the mandate of the mission because we have our concern about the mission's impartiality".
Rohingya Crisis
Burmese security forces have been carrying out a campaign of ethnic cleansing against Rohingya Muslims in Rakhine State.
Over half a million Rohingya have fled to neighboring Bangladesh to escape killings, arson, and other mass atrocities.
The Rohingya, effectively denied citizenship under Burmese law, have faced decades of repression and discrimination.
About 120,000 remain internally displaced from waves of violence in 2012 and 2016, in dire humanitarian conditions. Human Rights Watch researchers are reporting from the field on the crisis and its global impact.
Since late August 2017, more than 671,000 Rohingya Muslims have fled Burma's Rakhine State to escape the military's large-scale campaign of ethnic cleansing.
The atrocities committed by Burmese security forces, including mass killings, sexual violence, and widespread arson, amount to crimes against humanity.
Military and civilian officials have repeatedly denied that security forces committed abuses during the operations, claims which are contradicted by extensive evidence and witness accounts.
The Rohingya have faced decades of discrimination and repression under successive Burmese governments.
Effectively denied citizenship under the 1982 Citizenship Law, they are one of the largest stateless populations in the world.
Restrictions on movement and lack of access to basic health care have led to dire humanitarian conditions for those displaced by earlier waves of violence in 2012 and 2016.
1. Lynching: social media sites to be held responsible
A panel headed by Union Home Secretary Rajiv Gauba, which deliberated on measures to check incidents of lynching, submitted its report to a Group of Ministers headed by Home Minister Rajnath Singh.
In May and June, more than 20 people were lynched based on fake posts or rumours floating on various social media platforms.
The panel discussed such incidents and is learnt to have come to the conclusion that social media platforms needed to act in a "time-bound" manner.
FIR against officials
A senior government official said social media platforms — Facebook, WhatsApp, YouTube and Twitter — would be made accountable for not blocking malicious posts and videos when brought to their notice and an "FIR could be lodged against their country heads" for not complying with government orders and they could be prosecuted under law.
The committee of secretaries held consultations with a cross-section of society and other stakeholders before submitting its report to the Group of Ministers.
The GoM will now submit its recommendations to Prime Minister Narendra Modi for a final decision, a Home Ministry official said.
Objectionable content
There is a provision in law which enables the government to issue orders to remove objectionable content, block websites, etc. Law enforcement agencies should be able to step up the act and monitor more proactively.
Compliance should be timely. Some countries employ non-governmental organisations and volunteers who proactively surf the Internet.
A portal has been created where people can report such videos and content and that can be forwarded by the National Crime Records Bureau to the States concerned for appropriate action," the official said.
Last month, the Home Ministry issued advisories to the State governments and authorities of the Union Territories after the Supreme Court issued directives to check incidents of lynching in the country.
Special task force
The Centre asked them to appoint an officer in each district at the level of Superintendent of Police, set up a special task force to gather intelligence, and closely monitor social media contents to prevent mob attacks on people on the suspicion of being child-lifters or cattle smugglers.
Lynching
Lynching is a form of violence in which a mob, under the pretext of administering justice without trial, executes a presumed offender, often after inflicting torture and corporal mutilation.
The term lynch law refers to a self-constituted court that imposes sentence on a person without due process of law.
When people take the law into their own hands and decide to punish a suspected criminal — or merely a person who's seen as challenging the status quo — the result can unfortunately be a lynching.
Lynchings have most often involved hanging, especially during the period of racially motivated lynchings in the American South.
1. Demonetization: The Reserve Bank of India's annual report for 2017-18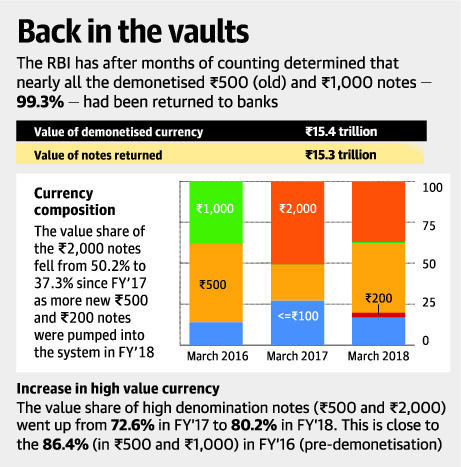 The Reserve Bank of India's annual report for 2017-18 said more than 99% of the Rs. 500 and Rs.1,000 notes, which were withdrawn from circulation in November 2016, had been returned to the central bank.
The central bank said the processing of the withdrawn bank notes has been completed at all centres of the Reserve Bank.
While cash has come back into the system, electronic payments also registered a healthy growth, RBI data showed.
The share of electronic transactions in the total volume of retail payments increased to 92.6% in 2017-18, from 88.9% in the previous year with a corresponding reduction in the share of paper-based clearing instruments from 11.1% in 2016-17 to 7.4% in 2017-18.
Prepaid payment instruments (PPIs) recorded a volume of about 3.5 billion transactions, valued at ₹ 1,416 billion while mobile banking services witnessed a growth of 92% and 13% in volume and value terms.
The number of registered customers rose by 54% to 251 million at end-March 2018 from 163 million at end-March 2017, the RBI said.
Demonitization
On 8 November 2016, the Government of India announced the demonetization of all 500 and 1000 banknotes of the Mahatma Gandhi Series.
The government claimed that the action would curtail the shadow economy and crack down on the use of illicit and counterfeit cash to fund illegal activity and terrorism.
The sudden nature of the announcement and the prolonged cash shortages in the weeks that followed created significant disruption throughout the economy, threatening economic output.
Impact of Demonetization on Indian Economy in 2018
Economic Survey after careful review of Demonetization which was announced one and a half year back, has found that the cash-to-GDP ratio has stabilized. It suggests a return to equilibrium:
The Economic Survey says that India's GDP is set to grow at 7 to 7.5 percent in 2018-19. This is an increase from its prediction of 6.75 percent growth this fiscal year.
The Economic Survey has cited exports and imports data to claim that the demonetisation effect was now over.
It claims that re-acceleration of export growth to 13.6 percent in the third quarter of Financial Year 2018 and deceleration of import growth to 13.1 percent is in line with global trends.
This suggests that the demonetization and GST effects are receding. Services export and private remittances are also rebounding.
According to the statistics released in the Survey, the Demonetization had led to Rs 2.8 lakh crores less cash (Equivalent to 1.8% of GDP) and Rs 3.8 lakh crores less high denomination notes (Equivalent to 2.5% of GDP) in the Indian economy.
The Economic Survey has also clarified that income tax collections have touched new high with demonetization and introduction of GST.
From about 2 percent of GDP between 2013-14 and 2015-16, they are likely to rise to 2.3 percent of GDP in 2017-18, a historic high.
2. RBI flags risk of higher inflation
The Reserve Bank of India (RBI) has warned about upside risks to inflation during the remaining part of the current financial year, 'warranting vigil and readiness' to deal with them.
The risks could emanate from rising commodity prices, especially crude oil, global financial market developments and second-round impact from revision of house rent allowance for central government staff.
Headline inflation which averaged 4.8% during Q1:2018-19, is likely to face upside risks over the rest of the year from a number of sources.
Inflation concerns have led RBI to raise the key policy rate, or the repo rate, twice in the last two monetary policy meetings by 25 basis points each, to 6.5%.
A further rise in households' inflation expectations in the June 2018 round of the Reserve Bank's survey warrants caution, especially to prevent wage-cost spirals from developing.
RBI has projected headline inflation at 4.6% in Q2 of 2018-19; 4.8% in the second half of the year; and 5% for the first quarter of 2019-20, taking into account the HRA impact for the central government.
The central bank said the stage is set for the 'intensification of structural reforms that will unlock new growth energies and place the Indian economy on a sustainable trajectory of higher growth.'
On growth, RBI said incoming data pointed to favourable conditions for an acceleration of activity in the Indian economy.
RBI said the Indian economy is set to step up its growth trajectory, adding that two aspects warrant priority if this aspiration is to be 'realisable and sustainable.' The first is infrastructure that holds the key to unleashing faster growth.
During 2018-19, this aspect of the infrastructure mission is set to accelerate.
Second, even as infrastructure development provides the thrust, sustaining the momentum of growth will hinge around its inclusiveness and its employment intensity.
The pace and quality of growth will be anchored by progress on structural reforms over the medium-term.
These include resolution of banking and corporate financial stress, taxation, agriculture, liberalisation of the economy's external interface and galvanising the business environment.
Hard-earned gains of macroeconomic stability that have defined the recent period as its greatest achievement need to be preserved as an imperative within this endeavour.
3. The number of cases of fraud reported by banks increased
The number of cases of fraud reported by banks increased both in terms of numbers and value in 2017-18, the Reserve Bank of India said in its annual report.
Fraud cases, which were generally hovering at about 4,500 in the last 10 years, increased to 5,835 in 2017-18, the report said.
Similarly, the amount involved in frauds was increasing gradually, followed by a significant increase in 2017-18 to Rs.410 billion. The quantum jump in the amount involved in frauds during 2017-18 was on account of a large value fraud committed in the gems and jewellery sector, mainly affecting one public sector bank," the report said. In 2017-18, PSBs accounted for 92.9% of the amount involved in frauds of more than Rs 0.1 million, while private sector banks accounted for 6%.
Public sector banks (PSBs) accounted for about 85% of the cumulative amount involved in frauds till March 31, 2018, while private banks accounted for a little over 10%.
At the system level, loans in terms of value accounted for more than 75% of frauds, in amounts involving ₹0.1 million and more, while deposit accounts accounted for just over 3% of frauds, it added.
Loan frauds
In the loan category of frauds, PSBs accounted for a major share with 87%, followed by private sector banks at 11%.
The share of PSBs in frauds relating to 'off-balance sheet items' such as Letter of Credit (LCs), Letter of Undertaking, and Letter of Acceptance was even higher at 96%, RBI said in the report.
Off-balance sheet items accounted for 14.68% of fraud cases. New private sector banks accounted for more than 20% of the frauds related to 'cash/cheques/clearing' and 'foreign exchange transactions'.
1. O-SMART : India is set to get more disaster warning systems along its coasts
India is set to get more disaster warning systems along its coasts. While it already has a tsunami warning system in place, the new systems will keep an eye out for "tsunamis and storm surges," according to an official release.
The system is part of a programme called O-SMART (Ocean Services, Technology, Observations, Resources Modelling and Science) that is being piloted by the Union earth sciences ministry.
It was cleared by the Cabinet Committee on Economic Affairs on Wednesday, at an outlay of ₹1,623 crore.
O-SMART
O-SMART will provide economic benefits to a number of user communities in the coastal and ocean sectors, namely, fisheries, offshore industry, coastal States, defence, shipping, ports, etc.
Other key missions under O-SMART include
strengthening of Ocean Observations and Modelling, strengthening of Ocean Services for fishermen,
setting up marine observatories for monitoring marine pollution,
setting up Ocean Thermal Energy Conversion Plant (OTEC) in Kavaratti,
acquiring two coastal research vessels,
continuation of ocean survey and exploration of minerals and living resources,
technology development for Deep Ocean Mining and manned submersibles and the setting up six desalination plants in Lakshadweep.
O-SMART is an umbrella scheme which comprised of ocean services, technology, observations, resources modeling and science.
The scheme is charted for implementation during the period from 2017-18 to 2019-20 at an overall cost of Rs.1623 crores, and would encompass a total of 16 sub-projects addressing ocean development activities like services, technology, resources, observations, and science.
The services under this O-SMART will provide economic benefits to a number of user communities in the coastal areas, namely fisheries as this will help in reducing the search time for fishermen resulting savings in the fuel cost.
Currently, five lakh fishermen communities are 1receiving this information daily through the mobile, which includes allocation of fish potential and local weather conditions in the coastal waters.
Apart from this offshore industry, coastal states, defence, Shipping, ports are also set to reap the benefits from it.
Moreover, the implementation of O-SMART will help in addressing issues relating to Sustainable Development Goal-14, which aims to conserve use of oceans, marine resources.
This will also provide necessary scientific and technological background required for implementation of various aspects of Blue Economy.
The technologies being developed under this scheme will help in harnessing vast ocean resources of both living and non-living resources from the seas around
The state of art early warning systems established under the O-SMART Scheme will help in efficiently dealing with ocean disasters like Tsunami, storm surges.
This scheme will also facilitate installation of Ocean Thermal Energy Conversion Plant (OTEC) in Kavaratti and six Desalination Plants in Lakshadweep.
India's ocean-related activities are now extended from the Arctic to the Antarctic region covering large ocean spaces which have been monitored through a wide spectrum of in situ and satellite-based observations.
India had also signed the Antarctic Treaty System and joined the Commission of Conservation of Antarctic Marine Living Resources (CCAMLR) for harnessing the resources.
Nothing here for today!!!
1. The crackdown on civil society
Context:
On the 28th of August, lawyers, poets, academics and activists known for their defence of the deprived were targeted by the Maharashtra police.
The houses of Sudha Bharadwaj, Varavara Rao, Vernon Gonsalves, Arun Ferreira, Gautam Navlakha, Anand Teltumbde and Stan Swamy were raided, and some of them imprisoned.
The reason for their arrest was that their speeches at the Elgar Parishad meeting in Pune in December 2017 incited the violence unleashed on a Dalit gathering at Bhima-Koregaon on January 1, 2018.
What is civil Society?
The society considered as a community of citizens linked by common interests and collective activity is a civil society.
It is the "aggregate of non-governmental organizations and institutions that manifest interests and will of citizens.
It is referred to as the third sector of the society distinct from government and business.
What is the need for civil society?
The modern democratic state with the technologies of surveillance and control possesses such power that has never been seen in the history. Yet, there are citizens that are vulnerable and helpless despite the rights they possess, if the democratic state decides to terrorise, kill and drill fear in them.
The market in present times lacks moral sense. It is supremely indifferent to human suffering. It has neither sympathy nor room for citizens exploited by the state, and by its own need for resources, labour, and profit.
Such a scenario calls for the intervention of civil society to protect the interest of the citizens. As it is the only sphere that stands between the individual and the state.
Their role is crucial for democracy because today we are ruled by a government that openly defies ethics and morality, that casts itself in the mould of realism, and that is supremely indifferent to the plight of millions of its citizens.
We are ruled by leaders who dismiss the need for civil society because the cadres and the front organisations of its ideological backbone seek to dominate the space between the individual, the market and the state
Associations have the capacity to challenge the violent power of the state through petitions, protests, dharnas and ultimately judicial activism.
When the political parties are unresponsive, citizens can access centres of power and privilege only through a vibrant civil society.
Background:
Every political revolution in the world has begun with the rights to life and liberty, be it the French Revolution or the Glorious Revolution, among the others. These two rights lie at the core of other rights that have been developed and codified as critical for human beings.
The two rights stretch from the right not to be tortured or killed, to the right not to be arrested and imprisoned by the lackeys of the state without due cause.
The right to life is a basic right, but our lives do not mean anything if we are imprisoned for no reason.
The civil liberties movement made an appearance on to the scene of Indian politics at the aftermath of Emergency (1975-77) as some Indian citizens were randomly and arbitrarily imprisoned and the fundamental rights of others were curtailed.
The movement took a significant task of protecting the fundamental right to life and liberty granted by the Indian Constitution.
What has been the role of Civil Society in India?
The human rights groups have become the custodian of the Fundamental Rights chapter of the Indian Constitution.
They have investigated cases of arbitrary imprisonment, custodial deaths, deadly encounters and coercion of any citizen who dares to speak up against the state or dominant groups.
These organisations have carefully documented the causes and the triggers of communal and caste violence, and established an excellent archive on the abuse of power by governments.
Criticisms:
Not all civil society groups are involved in protecting the moral conscience of our society. Some are in the sole business of getting funds from the state or others.
Some sections of media are often cowered down by their corporate bosses, and the temptation of fame.
Few sections are involved in excessive protests, eventually hampering national interests.
Too often, even progressive global civil society organisations do not meet the standards of accountability and transparency that they demand of others.
Unhappily, the majority of Indians keep quiet when their own fellow citizens are tortured by the police, stripped of access to resources and livelihoods, lynched, exploited by corporate India, and neglected by the mainstream media.
Conclusion:
Some parts of global civil society have played a significant role in mobilising public opinion and in spurring global action in the direction of fairness and justice. Each democratic association is important, but we cannot deny that civil liberty and human rights groups are an essential precondition for human well-being. But too often an unbalanced picture is painted of this highly complex phenomenon. Alongside its evident benefits and opportunities, some of its limitations and downsides should be recognised. A more rounded understanding of and intelligent engagement with the civil society will help to bridge the gap between its image and its performance, and produce better public policy.
Category: ENVIRONMENT AND ECOLOGY
1. How not to do an environmental assessment
Context:
The Nauroji Nagar project was among the projects awarded to NBCC, a public sector company, to set up residential and commercial buildings, over 571 acres, in south Delhi.
An analysis by environmental activists and researchers show that the portions of the environmental impact assessment (EIA) plan used to obtain permission for redevelopment of Nauroji Nagar were plagiarised.
It even mentions that the water quality study was undertaken in 2015, one year before the project was commissioned to NBCC.
It cites eight water quality monitoring locations for the study which are situated in Tamil Nadu.
The project waded into controversy after it emerged that this would involve felling of at least 11,000 trees.
Though some trees have been felled and construction is under way, the project has been stayed after legal challenges and citizen activism.
What is an EIA Report?
EIA reports are a critical component of India's environmental decision-making process.
They are supposed to be a detailed study of the potential impacts of proposed projects.
Based on these reports, the Environment Ministry or other relevant regulatory bodies may or may not grant approval to a project.
The EIA reports are also important to define measures that the project could take in order to contain or offset project impacts.
To ensure that they are an accurate account of scientific facts and observations, the law mandates the engagement of an accredited independent EIA consultant to undertake the study.
Details:
This article outlines three ways in which these projects have used the Environmental Impact Assessment (EIA) process to subvert the right of citizens to a better environment.
A case of no ethics
The EIA reports of the redevelopment projects are an exercise in the worst possible research practices and ethics.
The consultant for the Nauroji Nagar project has used material from copyrighted papers, webpages and other EIA reports.
Such research practices in EIAs continue unabated because of the Environment Ministry's failure to come down heavily on this. In the end, it is citizens who have to bear the brunt.
Gaps and errors
There are many instances of missing or misleading information which understate the potential impact of these projects.
For example, the EIA's 'Terms of Reference' (ToR) for Nauroji Nagar, which is essentially a commercial project, fail to mention the word "commercial". Instead, it states that the project is for the "modernization" of government residential colonies.
The ToR requires the EIA report to include a detailed traffic impact analysis, but this is missing.
The report is also oblivious to the many archaeological and cultural heritage sites that will be affected by the construction.
The EIA Notification 2006 says that "deliberate concealment and/or submission of false or misleading information or data…" can lead to a rejection of the application or cancellation of the approval. But it is unlikely that the Ministry will pursue this line against these projects as it would mean stopping the project of the more powerful Ministry of Urban Development.
No public hearings
EIA-based approvals for most projects also involve the process of conducting public hearings in order that the views and opinions of people who are likely to be affected can be taken on board before a decision to approve the project is made.
It is upheld that public participation "threshold condition" for development. Yet, the government has exempted real estate projects from holding consultations.
Since Delhi's "redevelopment" projects were approved without public consultation, any problems raised now by citizens, such as those about the EIAs, will be rendered "post facto".
Way forward:
Citizen action and litigation has forced the project proponents and the Ministry of Urban Development to state that they will revise their plans to reduce or prevent tree felling. The Delhi High Court that is hearing this matter must ensure that these redevelopment projects reapply for approvals as a single integrated one, and in accordance with the law.
An urban redevelopment project must apply for approvals in an integrated manner
EIA is not yielding all the benefits it could because the process is undertaken too late and project proponents are concerned primarily with meeting administrative requirements. It should be given utmost importance and must be carefully integrated into planning.
Category: INTERNATIONAL RELATIONS
Context:
The Bay of Bengal Initiative for Multisectoral Technical and Economic Cooperation (BIMSTEC) summit in Kathmandu will be held this week.
This summit would be another milestone for India after the BRICS-BIMSTEC Outreach Summit hosted by it in 2016, as the grouping has gradually emerged as a key vehicle to take forward India's regional, strategic and economic interests.
Stagnation of SAARC:
Two major factors have driven India's interests in the BIMSTEC forum.
A key reason for India to reach out to its BIMSTEC neighbours has been the stagnation of the South Asian Association for Regional Cooperation (SAARC).
The main motivation for India to push BIMSTEC is in the country's interest to ensure that the region does not lag behind and that an unstable neighbourhood does not drag its growth. India's desire to link South Asia to the economically dynamic Southeast Asia is also part of this strategy.
Stagnation of SAARC limited both the scope of India's growing economic aspirations as well as the role it could play in improving regional governance. However, India did not stop its efforts in revitalising the SAARC grouping when opportunities emerged.
At the 18th SAARC Summit in Kathmandu, in 2014, India proposed the SAARC Motor Vehicles Agreement. However, this could not progress due to resistance from Pakistan. This compelled Bangladesh, Bhutan, India, and Nepal (BBIN) to sign the BBIN Motor Vehicles Agreement in 2015.
Pakistan also opted out of the ambitious SAARC Satellite project proposed by India, leading to a change in its name to the South Asia Satellite.
There is a tendency in some quarters to see India's interests in BIMSTEC as part of its strategy to isolate Pakistan and position BIMSTEC as an alternative to SAARC. The above instances suggest otherwise.
A few challenges:
India is currently being the largest contributor to the BIMSTEC secretariat's budget contributed 32% of the total secretariat budget for 2017-18.
With the Secretariat planning to strengthen its capacity by increasing human resources and the number of officials representing each member state, India may need to consider allocating more resources. India's generosity would be a key test of its commitment to the sub regional grouping.
Another issue would be for India to counter the impression that BIMSTEC is an India-dominated bloc, a problem that it faced for a long time in SAARC.
A strategic challenge for India is that China has long desired to be part of the SAARC grouping. Some SAARC members also want it to balance India's dominance. China currently has observer status in SAARC.
Way forward:
Many of the elements that made SAARC hostage to political rivalry can re-emerge in BIMSTEC.
Today, most of the smaller neighbours (SAARC) are more willing to engage so as to benefit from India's economic rise. Nonetheless, to moderate suspicions that BIMSTEC is an India-dominated bloc, India will need to show sensitivity to the concerns of smaller neighbours.
India will have to carefully navigate the emerging regional geopolitics, as many of the elements that made SAARC hostage to political rivalry and turned it into a defunct mechanism can re-emerge in BIMSTEC.
1. A people's campaign to rebuild Kerala
Context:
The material loss due to the Kerala floods has been estimated at Rs. 26,000 crore
Beyond this there has been an immense loss of natural, human, and social capital for which no estimates are available.
Now that the Kerala floods have receded, a new approach is needed to rebuild Kerala. One that enhances the sum total of man-made, natural, human and social capital.
There is no doubt that the short-sighted attempts in building man-made capital (buildings in hilly forests, encroachments on wetlands and rivers, and stone quarries) while ignoring the attendant degradation of natural, human and social capital have played a significant role in exacerbating the problem. The immediate task in the State is relief and rehabilitation, but it is crucial to simultaneously identify the root causes of the havoc.
The root causes of Floods:
Going against the laws that have been established to safeguard natural capital.
Illegal mining. The Shah Commission inquiring into illegal mining in Goa observes that mining beyond permissible limits has caused serious damage to water resources, agriculture and biodiversity.
Serious degradation of human capital in terms of health and employment was ignored. In the case of the Plachimada panchayat in Palakkad district, overuse and pollution of water resources by the Coca Cola factory has resulted in huge losses
Scientific knowledge and advice has been continually disregarded. For instance, the project document of proposed Athirappilly hydroelectric project had seriously overestimated the availability of water.
There has been serious erosion of social capital. For instance, a staunch anti-quarry activist engaging in a peaceful demonstration was killed by those allegedly employed by quarry owners, in 2014.
The right of local communities:
The new regime must acknowledge role of local communities in the health and working of their ecosystem as they have a genuine stake in it.
Transparency must be brought about in managing and protecting the natural resources.
The current system of protecting natural resources through negative incentives in the hands of corrupt bureaucracy must stop.
The Western Ghats panel proposes several such incentives to the local communities. Ex: payment of conservation service charges for protecting important elements of biodiversity such as sacred groves (called Sarpa Kavus in Kerala), and payment towards soil carbon enrichment by switching to organic farming.
The government must implement the 73rd and 74th constitutional amendments in letter and spirit.
What steps should be taken?
Local bodies at the ward, gram panchayat, and town and city levels must be empowered to prepare reports on the status of the environment and to decide on how a substantial portion of the budget should be spent on the basis of these reports.
Biodiversity Management Committees of citizens must be set up.

These Biodiversity Management Committees must be empowered to document the status of the local ecosystems and biodiversity resources, and regulate their use.
They must be given powers to levy collection charges for access to biodiversity as well as to intellectual property relating to community knowledge.
Biodiversity Management Committees must be accorded a central place in the preparation of environmental impact assessments and ensure that these assessments begin to reflect the true state of affairs instead of being the uniformly fraudulent documents that are being submitted today.

The Forest Rights Act must be fully implemented. Not only tribals, but all traditional forest dwellers must be allowed to control, manage and market non-timber forest produce.
All the environment and development-related information must be uploaded on the websites as the RTI Act demands.
Building a public and transparent database on environmental parameters drawing on the environment status reports, People's Biodiversity Registers, community forest management working schemes, and environmental education projects undertaken by students must be initiated.
Equipped with this information and all pertinent documents such as from the Western Ghats Ecology Expert Panel, the Kasturirangan Committee, and the Oommen V. Oommen Committee, the State government should ask local bodies about the levels of ecological sensitivity in different parts of the landscape on the basis of topography, hydrology, land use and vegetation, regardless of ownership of the land.
The local bodies should provide suggestions on appropriate management regimes for regions of different levels of sensitivity.
The government should begin to proactively use modern technologies, including smartphones, in a user-friendly manner so that all the inputs from the various local bodies are transparently available to all citizens.
Citizens can then assist in the task of integrating all this information and come up with appropriate conservation and development plans that are properly fine-tuned to locality- and time-specific ecological and social conditions.
Read more about Madhav Gadgil Report and Kasturi Rangan Report from 25th August CNA
Conclusion:
For a sustainable and safe future, focus cannot just be on man-made capital; the sum total of man-made, natural, human and social capital should be enhanced.
The Kerala government must reassure its people that it will no longer continue the policies of development and conservation by exclusion, and that it will respect the right of local communities to decide what kind of development they want and what kind of conservation measures they would like to see put in place.
It should embrace such a progressive approach, so that the state will be much better equipped in the years to come to moderate, if not fully prevent, the kind of havoc that visited recently.
Nothing here for today!!!
Nothing here for today!!!
Nothing here for today!!!
H. Practice Questions for UPSC Prelims Exam
Question 1. Consider the following statements:
The Shanghai Cooperation Organization (SCO) Peace Mission 2018 was held in Chebarkul, Russia.
The Peace Mission 2018 exercise was aimed at enhancing cooperation between member states to deal with the growing threat of terrorism and extremism.
Which of the above statements is/are correct?
Only 1
Only 2
Both 1 and 2
Neither 1 nor 2
See
Question 2. Consider the following statements:
S-400 is a long-range surface-to-air missile (MLR SAM) system built by Russia.
The mobile S-400 system can engage all types of aerial targets.
Which of the above statements is/are incorrect?
Only 1
Only 2
Both 1 and 2
Neither 1 nor 2
See
Question 3. Consider the following statements about O-SMART 
(Ocean Services, Technology, Observations, Resources Modelling 
and Science):
O-SMART is an umbrella scheme which comprised of ocean services, technology, observations, resources modelling and science.
The services under this O-SMART will provide economic benefits to a number of user communities in the coastal areas, namely fisheries.
Which of the above statements is/are correct?
Only 1
Only 2
Both 1 and 2
Neither 1 nor 2
See
Question 4.Consider the following statements about O-SMART
 (Ocean Services, Technology, Observations, Resources Modelling 
and Science):
The implementation of O-SMART will help in addressing issues relating to Sustainable Development Goal-14, which aims to conserve use of oceans, marine resources.
The O-SMART Scheme will help in efficiently dealing with ocean disasters like Tsunami, storm surges.
Which of the above statements is/are correct?
Only 1
Only 2
Both 1 and 2
Neither 1 nor 2
See
I. Practice Questions for UPSC Mains Exam
Compare and contrast the role of the SAARC and BIMSTEC in India's regional governance. Has BIMSTEC emerged as a new platform to take forward India's economic and security policies in the South Asian region?
Also, check previous Daily News Analysis
"Proper Current Affairs preparation is the key to success in the UPSC- Civil Services Examination. We have now launched a comprehensive 'Current Affairs Webinar'. Limited seats available. Click here to Know More."
Enroll for India's Largest All-India Test Series