20 Jan 2021 CNA:- Download PDF Here
TABLE OF CONTENTS
A. 

GS 1 Related




B. 

GS 2 Related


POLITY AND GOVERNANCE
1. SC panel lays out road map on farmers' issue
HEALTH
1. Punjab, T.N. register poor vaccination coverage
INTERNATIONAL RELATIONS
1. India to fly out vaccines to neighbours
2. Military specialists to get S-400 training in Moscow


C. 

GS 3 Related


ECONOMY
1. SC upholds threshold for filing insolvency plea against realty developers


D. 

GS 4 Related




E. 

Editorials


POLITY
1. In bad faith
INTERNATIONAL RELATIONS
1. India-Nepal relations in a new transition
INTERNAL SECURITY
1. The threat of deepfakes.


F. 

Prelims Facts


1. Special Tiger Protection Force


G. 

Tidbits


1. Netaji's birth anniversary to be celebrated as 'Parakram Divas'


H. 

UPSC Prelims Practice Questions




I. 

UPSC Mains Practice Questions



1. Punjab, T.N. register poor vaccination coverage
Context:
According to the Health Ministry, Punjab, Puducherry and Tamil Nadu have registered low coverage of COVID-19 vaccination so far.
Details:
In Punjab, only 27.6% of the beneficiaries have received the shot, in Puducherry and Tamil Nadu, the figures stood at 34.6% and 34.9%, respectively.
At the other end of the spectrum are Lakshadweep (89.3%), Sikkim (85.7%), Odisha (82.6%), Telangana (81.1%), Arunachal Pradesh (75.4%), Uttar Pradesh (71.4%) and Rajasthan (71.3%).
Challenges:
Vaccine hesitancy was also a challenge at the initiation of polio and measles vaccination drive.
It must be addressed through dialogue and creation of awareness, ensuring that the concerns are cleared.
Read more on the challenges India could face in the Vaccination Drive, covered in 19th January 2021 Comprehensive News Analysis.
Category: INTERNATIONAL RELATIONS
1. India to fly out vaccines to neighbours
Context:
India will begin to ship out lakhs of doses of the novel coronavirus vaccine to neighbouring countries.
Details: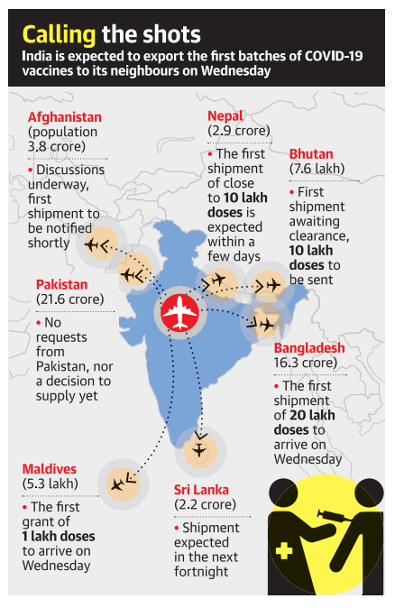 Announcing the shipments, the PM had said that India is deeply honoured to be a long-trusted partner in meeting the healthcare needs of the global community.
The first batches are expected to reach Bhutan and the Maldives among several countries by special planes as a grant or gift.
Shipments to Bhutan, the Maldives, Bangladesh, Nepal, Myanmar and Seychelles have been confirmed, while those to Sri Lanka, Afghanistan and Mauritius are awaiting necessary regulatory clearances.
The only exception to India's regional vaccine diplomacy is Pakistan, that has neither requested nor is India discussing supplies to it at present.
Significance:
The release of the shipments is part of the government's "Neighbourhood First" initiative.
This will make India the first country to reach COVID-19 vaccines in South Asia, ahead of China (which has promised but not so far delivered), the World Health Organization and GAVI's vaccine alliance programme.
Read more on GAVI, the Vaccine Alliance.
2. Military specialists to get S-400 training in Moscow
Context:
As India prepares to receive the first batch of S-400 long-range air defence system by the end of 2021, the first group of Indian military specialists are scheduled to depart for Moscow soon to undergo training courses on the S-400.
Background:
In October 2018, India signed a $5.43-billion deal with Russia for five S-400 Triumf regiments despite objections from the U.S. and the threat of sanctions under Countering America's Adversaries Through Sanctions Act (CAATSA).
S-400 supplies initiative is one of the flagship projects in the Russian-Indian military and military-technical cooperation.
Read more on CAATSA and its relevance to India.