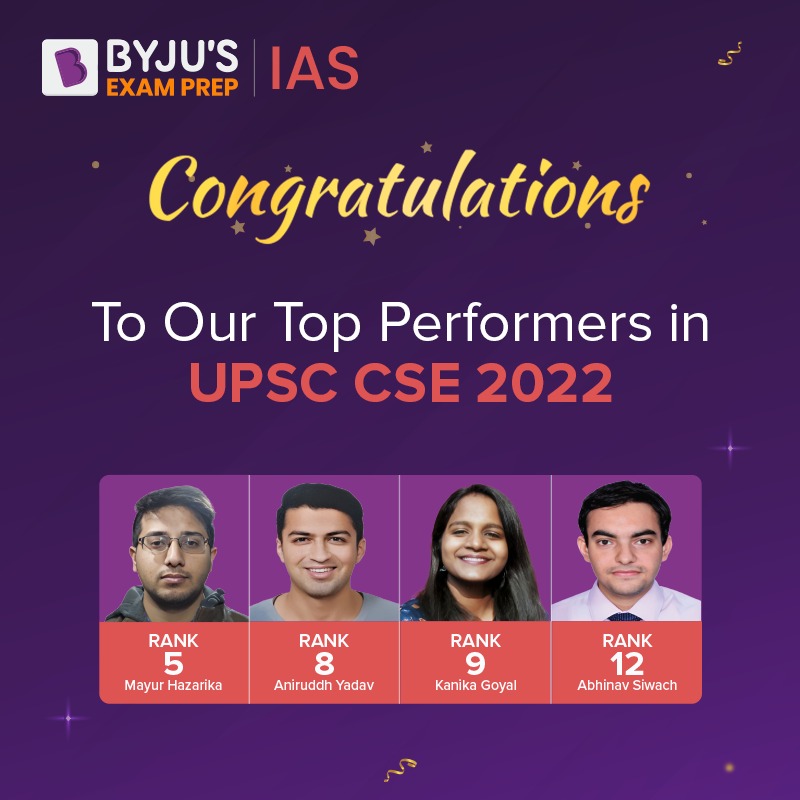 CNA 01 June 2023:- Download PDF Here
TABLE OF CONTENTS
A. 

GS 1 Related




B. 

GS 2 Related




C. 

GS 3 Related


ECONOMY
1. GDP expanded 6.1% in 2022-23's last quarter


D. 

GS 4 Related




E. 

Editorials


ENVIRONMENT
1. Biodiversity conservation
SCIENCE AND TECHNOLOGY
1. Research and production of Graphene in India
GOVERNANCE
1. Withdrawal of 2000 rupee note


F. 

Prelims Facts


1. Chollima-1 rocket
2. CITIIS programme


G. 

Tidbits


1. World's largest grain storage plan: Centre to implement pilot project in 10 districts
2. OTT platforms mandated to show anti-tobacco warnings


H. 

UPSC Prelims Practice Questions




I. 

UPSC Mains Practice Questions



A. GS 1 Related
Nothing here for today!!!
B. GS 2 Related
Nothing here for today!!!
C. GS 3 Related
1. GDP expanded 6.1% in 2022-23's last quarter
Syllabus: Indian Economy and issues relating to planning, mobilization, of resources, growth, development and employment.
Prelims: About GDP, GVA and National Statistical Office (NSO)
Mains: Trends in the Indian economy
Context
The National Statistical Office (NSO) has released the Provisional Estimates (PE) of National Income for 2022-23 and Quarterly Estimates of Gross Domestic Product (GDP) for the quarter January-March of 2022-23 (Q4).
National Statistical Office (NSO)
National Statistical Office (NSO) is the statistics wing of the Ministry of Statistics and Program Implementation (MoSPI).

The National Statistical Office (NSO) consists of the Central Statistical Office (CSO), the Computer Centre and the

National Sample Survey Office (NSSO)

. 

The NSO has been conducting various surveys in India since 1950.
Details
As per the data released by NSO, India's

GDP

growth accelerated to 6.1% in the January to March 2023 quarter.

The

Gross Value Added (GVA)

of the Indian economy has increased by 7% in 2022-23, as against 8.8% in 2021-22. 

Furthermore, the sector-wise estimates were also compiled using the indicators

Index of Industrial Production (IIP)

, the financial performance of Listed Companies, production of major livestock products, production and consumption of Cement and Steel, passenger and cargo traffic handled by Civil Aviation and Major Sea Ports, sales of commercial vehicles, Bank deposits & credits, etc.

It was seen that only three of the eight broad economic activity segments recorded GVA growth higher than in 2021-22, which include:

The agricultural GVA increased by 4% in 2022-23 as compared to 3.5% in 2021-22. 

The financial, real estate and professional services sectors witnessed a GVA growth of 7.1% from 4.7% in 2021-22. 

The GVA of the trade, hotels, transport, communication and services sectors related to broadcasting grew by 14%.

It was seen that the GVA growth in the manufacturing sector declined to just 1.3% in 2022-23 from 11.1% in 2021-22 in spite of a 4.5% rebound in the final quarter after six months of contraction.
Nut graf: India's 6.1% GDP growth, as estimated by the NSO in its provisional national income data, is said to be the fastest among major economies. However, experts point out that the consumption patterns remain tepid and the overall growth pattern is still uneven.
D. GS 4 Related
Nothing here for today!!!
E. Editorials
Syllabus: GS-3, Biodiversity and Conservation
Mains: Implications for biodiversity conservation on climate change mitigation
Context: International Biodiversity Day was observed on May 22, 2023.
Introduction: 
International Biodiversity Day

serves as a reminder of the crucial role of nature in addressing the climate change crisis and the decline of biodiversity, both of which threaten our future.

Biodiversity

encompasses a wide range of life forms and their interactions with the environment, from microorganisms in our bodies to ecosystems in remote areas, and plays a vital role in sequestering carbon dioxide and cooling the planet.

Biodiversity provides numerous benefits, including fulfilling our basic needs, such as food, shelter, medicines, mental well-being, and recreation, and offers nature-based solutions to combat environmental degradation.
Read more about the International Day for Biodiversity in the linked article.
Issues with the present model of conservation:
The inadequate protection and management of our natural heritage, both globally and in India, is compromising biodiversity conservation, with the

Forest (Conservation) Amendment Bill

in India serving as an additional challenge to these efforts.

The current custodianship of India's natural heritage lies primarily with the Indian Forest Service, a term that inadequately represents the diverse ecosystems found in land, waterbodies, rivers, deltas, and oceans. 

It is crucial to transition from a narrow focus on "forests" and "wildlife" towards a broader understanding of multifunctional landscapes and interconnected ecological communities.

While the Forest Rights Act of 2006 aimed to increase indigenous groups' stake in biodiversity ownership and management, its implementation has been limited. 
Mainstreaming biodiversity:
To effectively integrate biodiversity into our daily actions, it is vital to mainstream it across all development programs, government departments, and public and private institutions. 

Furthermore, decentralising biodiversity management through the involvement of multiple stakeholders, particularly local communities, via gram sabhas and biodiversity management committees, will be instrumental in achieving this goal.

Preserving and enhancing biodiversity is crucial for restoring degraded lands, sustaining agriculture in the face of climate change, fostering a sustainable green economy, and inspiring future generations to prioritise the well-being of the natural world.

The proposed

National Mission on Biodiversity and Human Wellbeing

aims to integrate biodiversity into mainstream practices. 

The mission focuses on utilising biodiversity and ecosystem services, known as nature-based solutions, to address challenges related to climate change, agriculture, and public health. 
Nut Graf: International Biodiversity Day highlights the importance of nature in combating climate change and biodiversity decline. Mainstreaming biodiversity into development programs, involving local communities, and implementing the National Mission on Biodiversity and Human Wellbeing are key steps forward.
Category: SCIENCE AND TECHNOLOGY
1. Research and production of Graphene in India
Syllabus: GS-3, Indigenization of Technology & Developing New Technology
Mains:  Various applications of Graphene-based systems in India
Context: This article discusses India's need to bridge the gap in graphene research and production.
Introduction:  
Graphene is a two-dimensional allotrope of carbon arranged in a hexagonal lattice, making it the thinnest and strongest material known to date. 

It is 200 times stronger than steel but six times lighter.

Its unique structure gives it exceptional properties such as high electrical and thermal conductivity, mechanical strength, and flexibility.

The discovery of graphene has opened up a realm of possibilities for future advancements. 

According to the Grand View Research, the global graphene market size was valued at $175.9 million in 2022 and is expected to grow at a CAGR of 46.6% between 2023 and 2030.

China, the U.S., the U.K., Japan, South Korea, Russia, and Singapore stand out as prominent nations in the field of graphene research. 

Until 2012, the U.S. held a dominant position in terms of patent filings related to graphene. However, in 2018, China alone filed 218 patents, while the combined filings of the other leading nations amounted to 79. India contributed eight filings to the overall count.

China and Brazil are global leaders in the commercial production of graphene. India produces about one-twentieth compared to China and one-third compared to Brazil.
Applications of Graphene: 
As research and development continue, graphene is expected to play a significant role in shaping the future of technology and materials science.

It is almost perfectly transparent as it absorbs only 2% of light. It is impermeable to gases, even those as light as hydrogen and helium. 

It has the potential to revolutionise electricity, conductivity, energy generation, batteries, sensors and more. 

Graphene composites are used in aerospace, automotive, sports equipment, and construction, while its derivatives are utilised in high-performance batteries, super-capacitors, touchscreens, conductive inks, and water purification.

Graphene is valuable in defence and aerospace due to its exceptional strength, ability to absorb electromagnetic waves, and sensitivity to environmental changes. 

It can be used for armour, stealth coatings, sensing hazardous substances, and protection against chemical and biological attacks.

Graphene's exceptional sensitivity to environmental variations positions it as a prime choice for detecting chemical and biological agents, explosives, radiation, and other dangerous substances. 
Also read: Graphene Tattoos
India's progress:
India has made significant advancements in graphene technology, exemplified by the collaboration between the Centre for Nano Science and Engineering at IISc Bangalore and KAS Tech, which produced a graphene-based system. 

Additionally, several start-ups and foreign subsidiaries have begun utilising graphene or graphene derivatives in India.

Tata Steel has successfully grown graphene, with large domains of about 50 micrometres, using annealing techniques and extracting atomic carbon from steel surfaces. 

Furthermore, Tata Steel has innovatively combined graphene with used plastic products for recycling purposes.

India has explored the application of graphene oxide-based wrappers loaded with preservatives to extend the shelf life of fruits and vegetables. 

This discovery holds great potential for reducing food waste and improving agricultural practices.

The establishment of the India Innovation Centre for Graphene in Kerala, in partnership with Tata Steel and C-MET, Thrissur, marks a commendable step towards fostering large-scale innovation activities in the field of graphene. 
Way Forward:
Overall, India's progress in graphene technology has been notable, but concerted efforts are required to accelerate and expand these advancements. 

Government shall prioritise graphene research and development by establishing a national graphene mission and entrusting a dedicated ministry with the responsibility.

Government must also develop a clear regulatory framework for graphene production, ensuring safety standards and environmental regulations are in place. 

Encourage the protection of intellectual property rights to incentivize innovation and commercialization. Streamline patent processes and establish mechanisms to support patent filing and enforcement.

This proactive approach is essential to ensure that India becomes a leader in the graphene industry, as the dynamics of this technology favour early adopters and concentrated production centres. 
Nut Graf: India's progress in graphene technology is promising, with collaborations, start-ups, and innovative applications. To accelerate growth, India should prioritise R&D, establish a regulatory framework, protect intellectual property, and streamline patent processes. Proactive measures will position India as a leader in the graphene industry.
Category: GOVERNANCE
1. Withdrawal of 2000 rupee note
Syllabus: GS-2, Government Policies & Interventions for Development
Mains:  Impact of the Withdrawal of the 2000 Rupees Notes
Context: On May 19, 2023, the Reserve Bank of India (RBI) announced that it will withdraw the Rs 2000 denomination banknotes from circulation.
Key Details: 
RBI's withdrawal of ₹2,000 banknotes in May 2023 is part of its Clean Note Policy, which aims to provide the public with high-quality currency notes and coins with improved security features.

Demonetization aimed to curb terror financing and black money hoarding, with a rise in currency notes in circulation and a decline in counterfeit ₹2,000 notes. 

The central bank has stated that the objective of these notes had been fulfilled, citing their limited usage and nearing the end of their estimated lifespan.

However, counterfeit ₹500 notes have increased steadily since their introduction.

The share of ₹2,000 notes in total banknotes in circulation dropped to 10.8% in March 2023, contrasting sharply with their 50% share in March 2017. ₹500 notes now account for 77% of the total value, compared to the pre-demonetization period.

The volume of ₹2,000 notes in circulation has gradually declined since 2018, dropping by 46% by March 2023. Printing of ₹2,000 notes was stopped in 2018-19 due to sufficient availability of other denominations.

With the discontinuation of ₹2,000 notes, the supply of ₹500 notes could increase or a new high-value currency may be introduced, impacting printing costs.
Read more on the Withdrawal of 2000 rupee currency notes.
Nut Graf: The RBI's recent withdrawal of ₹2,000 banknotes aligns with its Clean Note Policy and aims to provide improved currency with enhanced security. The discontinuation may lead to an increased supply of ₹500 notes or the introduction of a new high-value currency, affecting printing costs.
F. Prelims Facts
Syllabus: GS-3; Science and Technology; Awareness in the field of Space
Prelims: About the Chollima-1 rocket
Context
North Korea's attempt to launch its spy satellite failed as the Chollima-1 rocket fell into the sea.
Details
Chollima-1 is a new rocket developed by North Korea.

The Chollima-1 rocket was launched from North Korea's Sohae Satellite Launching Ground in the northwest, carrying the "Malligyong-1 satellite". 

Malligyong-1 is a military reconnaissance satellite and the county's first spy satellite.

However, the Chollima-1 rocket crashed off the Korean Peninsula's western coast as it lost thrust after the separation of its first and second stages and the carrier rocket fell in the Yellow Sea.

The launch was criticised by South Korea, Japan and the U.S.

South Korea also retrieved some of the debris from the water.

Concerns about the launch have been expressed as a satellite launch by North Korea is a violation of

UN Security Council (UNSC)

resolutions that have banned the country from conducting any launch based on ballistic technology.
Syllabus: GS-2; Governance; Government policies and interventions for development in various sectors 
Prelims: About CITIIS and CITIIS 2.0 programmes
Context
The Union Cabinet approved the second phase of the City Investments to Innovate, Integrate and Sustain (CITIIS) programme.
Details:
CITIIS 2.0 programme will be implemented in 18 cities which would be selected based on competition.

The programme aims to support projects that promote a circular economy with a key focus on:

Integrated waste management at the city level

Climate-oriented reform actions at the state level 

Institutional strengthening and knowledge dissemination at the national level

CITIIS 2.0 programme will be implemented for a period of four years from 2023-2027.

Further, the CITIIS 2.0 programme will be implemented in partnership with the French Development Agency (AFD), Kreditanstalt für Wiederaufbau (KfW), the European Union (EU), and the National Institute of Urban Affairs (NIUA). 
About City Investments to Innovate, Integrate and Sustain (CITIIS) programme
The CITIIS program was launched in 2018.

CITIIS project is a programme under the ambit of the

Smart Cities Mission

.

CITIIS project is a joint program of the Ministry of Housing and Urban Affairs, Agence Francaise de Development (AFD), the European Union (EU), and the National Institute of Urban Affairs (NIUA).

The key objective of the programme is to promote integrated waste management and climate-oriented reform actions.

In the first phase of the CITIIS programme, 12 projects are under implemented in the cities of Agartala, Amaravati, Amritsar, Bhubaneshwar, Chennai, Dehradun, Hubbali-Dharwad, Kochi, Puducherry, Surat, Ujjain and Visakhapatnam. 
G. Tidbits
1. World's largest grain storage plan: Centre to implement pilot project in 10 districts
The Union Cabinet approved the establishment of an Inter-Ministerial Committee (IMC) for facilitating the "world's largest grain storage plan in the cooperative sector" by merging different schemes of the Ministries of Agriculture and Farmers' Welfare, Consumer Affairs, Food and Public Distribution and Food Processing Industries.

This committee will be headed by the Union Cooperation and Home Minister and is mandated to come up with the guidelines for setting up infrastructure such as godowns, for agriculture and allied purposes, at selected and viable

Primary Agricultural Credit Societies (PACS).

According to reports, the Ministry of Cooperation will be implementing a pilot project in about 10 selected districts of different States to ensure timely and uniform implementation of the plan.

As per the released statement, there is a provision for the farmers to sell their crops to PACS in exchange of advance payment at the Minimum Support Price (MSP), and receive the balance after the PACS sold the food grains in the market.
2. OTT platforms mandated to show anti-tobacco warnings
According to a Union Health Ministry notification on amending the rules under the Cigarettes and Other Tobacco Products Act (COTPA), 2004, it is now made compulsory for over-the-top (OTT) streaming platforms to display anti-tobacco warnings.

The notification which was released on

World No Tobacco Day

says that the publishers of online curated content displaying tobacco products, or their use will also be required to display anti-tobacco health spots at the beginning and middle of the programme.

An anti-tobacco health warning is to be displayed as a prominent static message at the bottom of the screen when tobacco products or their use are displayed during the programme.

Furthermore, the anti-tobacco health warning message should be legible and readable, with a black colour font on a white background and with the warnings "Tobacco causes cancer" or "Tobacco kills".

The warning messages, health spots and audio-visual disclaimers will also have to be in the same language as used in the show.

Industry experts say that the streaming industry was not consulted before issuing the notification.
H. UPSC Prelims Practice Questions
Q1. How many of the following statements are true regarding Multiple Sclerosis? 
(Level – Moderate)
It is an auto-immune disease.

It mainly affects the cardiovascular system of our body.

Currently, there is no cure for the disease.
Options:
Only 1 statement

Only 2 statements

Only 3 statements

None
CHECK ANSWERS:-

Answer: b

Explanation:

Statement 1 is correct

, Multiple sclerosis is an autoimmune inflammatory illness that affects the central nervous system (CNS) when the body's immune system attacks its tissue.

Statement 2 is not correct

, Multiple sclerosis mainly affects the

central nervous system (CNS) i.e. the brain and spinal cord.

The nerve damage disrupts communication between the brain and the body.

Statement 3 is correct

, At present, there is no cure for multiple sclerosis. 

Treatment mainly focuses on speeding recovery from attacks, reducing new radiographic and clinical relapses, slowing the progression of the disease, and managing symptoms.
Q2. Consider the following statements about the Delimitation Commission in India: 
(Level – Easy)
Both the Centre and the States can set up Delimitation Commissions for the division of constituencies at national and state levels respectively.

Articles 82 and 170 of the Constitution allow for setting up a Delimitation Commission after every census.
Which of the above statements is/are correct?
1 only

2 only

Both 1 and 2

Neither 1 nor 2
CHECK ANSWERS:-

Answer: b

Explanation:

Statement 1 is not correct

, The Delimitation Commission in India is a high-power body whose orders have the force of law and cannot be called into question before any court.

The

Delimitation Commission is appointed by the President of India

and works in collaboration with the Election Commission of India.

Statement 2 is correct

, As per Article 82, the Parliament will enact a Delimitation Act after every census.

According to Article 170, the states also get classified into territorial constituencies after every census.
Q3. How many of the following is/are an example of Circular Economy? (Level – Easy)
Planned Obsolesce of Products

Extended Producer Responsibility

Banning of Single-Use Plastics
Options:
Only 1

Only 2

All 3

None
CHECK ANSWERS:-

Answer: b

Explanation:

Statement 1 is not correct

, A circular economy would mean the

end of planned obsolescence

. 

This means re-using, repairing, refurbishing, and recycling existing materials and products.

Planned obsolescence of electronic products generates massive amounts of waste.

Statement 2 is correct

, Implementing Extended Producer Responsibility (EPR) helps make an important contribution towards the transition to a circular economy.

Statement 3 is correct

, Banning single-use plastic helps further in the shift toward a more circular economy.
Q4. How many of the following is/are true regarding "Joint Logistics Nodes"? 
(Level – Difficult)
Such nodes cater to the logistics bodies of all 3 services of the Indian Military: the Army, the Navy, and the Air Force.

Right now, we have 3 such nodes which have been operationalized.

The Joint Operations Division is responsible for the establishment of such nodes.
Options:
Only 1 statement

Only 2 statements

All 3 statements

None
CHECK ANSWERS:-

Answer: c

Explanation:

Statement 1 is correct

, Joint Logistics Node (JLN) will provide integrated logistics cover to the Armed Forces for their small arms ammunition, rations, fuel, general stores, civil hired transport, aviation clothing, spares and also engineering support in an effort to synergise their operational efforts. 

 JLNs play a key role in integrating the logistics of all three Services.

Statement 2 is correct

, Currently, India has three JLNs which were made operational in 2021 for the logistics integration of the three services. 

Statement 3 is correct

, The Joint Operations Division under the Headquarters Integrated Defence Staff is responsible for setting up such nodes.
Q5. Lord Buddha's image is sometimes shown with the hand gesture called 'Bhumisparsha 
Mudra'. It symbolizes: (Level – Moderate) [PYQ 2012]
Buddha's calling of the Earth to watch over Mara and to prevent Mara from disturbing his meditation.

Buddha's calling of the Earth to witness his purity and chastity despite the temptations of Mara.

Buddha's reminder to his followers that they all arise from the Earth and finally dissolve into the Earth, and thus this life is transitory.

Both the statements (a) and (b) are correct in this context.
CHECK ANSWERS:-

Answer: b

Explanation:

Lord Buddha's 'Bhumisparsha Mudra' symbolises Buddha's calling of the Earth to witness his purity and chastity despite the temptations of Mara.

'Bhumisparsha Mudra' symbolises the triumph of the spirit over matter and its liberation from worldly trappings.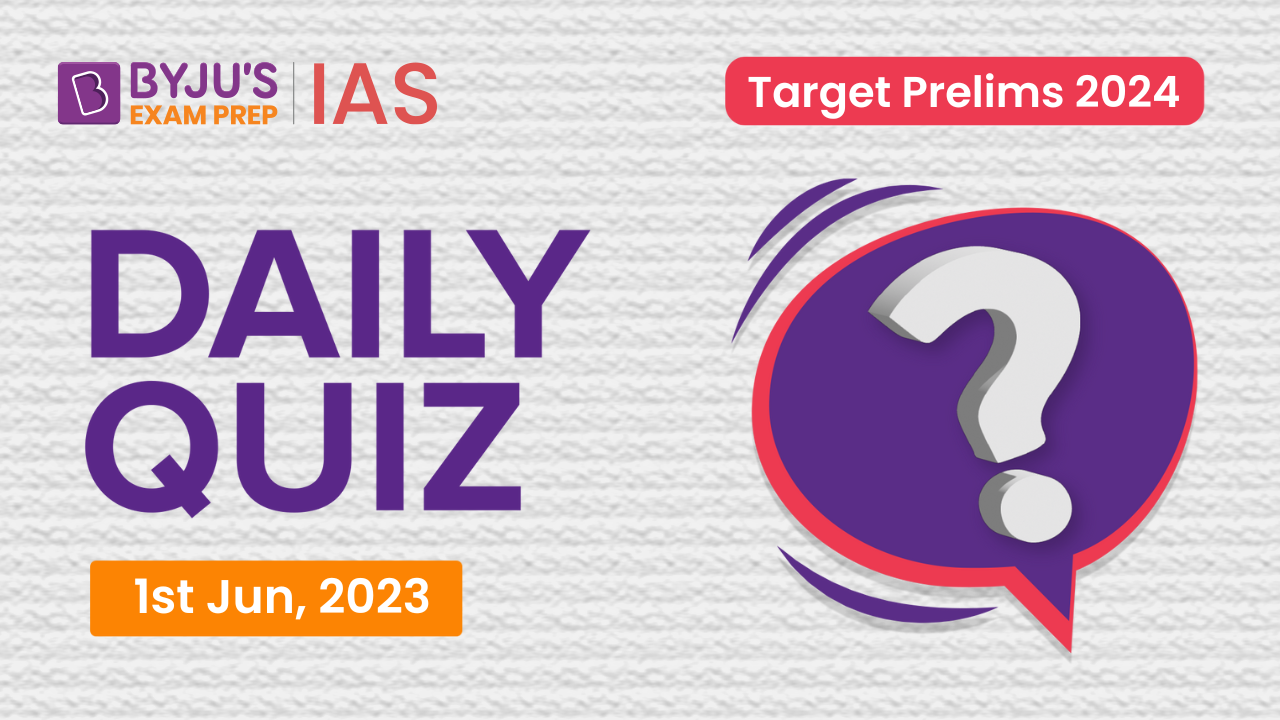 CNA 01 June 2023:- Download PDF Here