TABLE OF CONTENTS
A.

 GS1 Related




B.

 GS2 Related


INTERNATIONAL RELATIONS
1. Nasheed secures decisive vote in MDP primary
2. U.S. renames Pacific Command
3. Trilateral war games to kick off next week
4. Modi, Mahathir hold 'productive' talks
5. PM launches three apps in Singapore
GOVERNANCE
1. U.P. & M.P. likely to start cash transfer for food subsidies


C.

 GS3 Related


ECONOMY
1. Govt. puts FY18 growth at 6.7%
2. Intra-State e-waybills to take effect in final 8 States
ECOLOGY AND ENVIRONMENT
1. Mother of all lizards found in Italian Alps
HEALTH
1. Sharp drop in tobacco smoking in India, says WHO report


D.

 GS4 Related




E. 

Editorials


POLITY & GOVERNANCE
1. How to be garbage-free
2. Settling disputes out of court


F. 

Prelims Fact


1. Hoolock Gibbons
2. Press Council of India
G. UPSC Prelims Practice Questions
H. UPSC Mains Practice Questions 

Nothing here for today!
Category: INTERNATIONAL RELATIONS
1. Nasheed secures decisive vote in MDP primary
Exiled Maldivian leader and former President Mohamed Nasheed has secured around 40,000 votes in the Maldivian Democratic Party's (MDP) presidential primary, defying a court order that they termed politically motivated.
Background
Nasheed ran as a single candidate without a contest, but the party constitution needed him to prove support from at least 10% of the near-53,000 members to be declared winner.
He secured over 80%, where party members living in India, Sri Lanka and Malaysia also voted in ballot boxes specially arranged.
The Maldives's Election Commission has vowed action on the MDP for the illegal political activity as the persons with criminal convictions were disallowed from contesting presidential polls, effectively barring dissident opposition leaders, including Mr. Nasheed, from running.
The MDP had termed the move constitutionally invalid and went ahead with the primary.
No headway
Despite being in conversation with India, the party was unable to make any meaningful headway.
Nasheed said that if India is unable to secure free and fair election in the Maldives, China's hold there will be irreversibly strengthened.
External Affairs Minister Sushma Swaraj had earlier said that India's bilateral ties with Maldives were not broken and cannot be broken.
Watch BYJU'S video on India-Maldives relations
2. U.S. renames Pacific Command
The U.S. has renamed its strategically important Pacific Command (PACOM) as the U.S. Indo-Pacific Command, in a move widely seen as a public expression of America's keenness to count India as key partner in its strategic planning.
The Trump administration has already been using the term Indo-Pacific instead of Asia-Pacific in official documents.
Secretary of Defence James Mattis said that the Indo-Pacific Command is critical for a region open to investment and free, fair and reciprocal trade, not bound by any nation's predatory economics or threat of coercion, for the Indo-Pacific has many belts and many roads.
Indo-US relations
India is currently caught in the crossfire of anti-Russian sanctions mandated by the U.S. Congress and Mr. Mattis has called for waiver for India though it has significant defence cooperation with Russia.
The first 'two-plus-two' ministerial dialogue between India and the U.S. is scheduled for the first week of July.
America continues to invest vigorously in Indo-Pacific stability, bolstering the free and open rules-based international order that has enabled this region to grow and to thrive for over 70 years.
Greater connectedness
The renaming reflects the existing geographic coverage of the command and the acknowledgement of the increasing connectedness between the two oceans — what happens in the Pacific, doesn't stay in the Pacific — but also, more broadly, the process of India's re-entry into the U.S. government's Asia orbit.
Renaming the combatant command is strategically significant, in that it reflects a recognition within the U.S. government that East Asia and the Indian Ocean Region are gradually becoming a single competitive space.
It's also shrewd marketing — a way of reaffirming to New Delhi and to the rest of the world that India is, and ought to be, an indispensable pole of the future Asian order.
Concerns
However, the effectiveness of an Indo-Pacific defence and security strategy and U.S.-India cooperation will still depend on the level of discussion and coordination across combatant commands and bureaus.
Such a step can have organisational implications and affect the policy debate outside government as well.
However, in other parts of the government these regions are still categorised separately.
Moreover, the U.S. and India have different ideas of what constitutes the Indo-Pacific — India includes the whole Indian Ocean region, which U.S. CENTCOM and AFRICOM cover as well.
3. Trilateral war games to kick off next week
India, Japan and the U.S. will hold the annual Malabar trilateral naval war games off the coast of Guam in the Philippine Sea from June 6-15.
Background
The exercise comes at a time of increased friction between China and the U.S. along with the nations bordering South China Sea as Beijing militarises reclaimed islands.
Incidentally the U.S. has just renamed its Pacific command as Indo-Pacific command to underscore its commitment to the region in line with its Indo-Pacific strategy.
The exercise
Training will focus on high-end war fighting skillsets, subject matter expert and professional exchanges, combined carrier strike group operations, maritime patrol and reconnaissance operations, surface and anti-submarine warfare, medical operations, damage control, helicopter operations and visit, board, search and seizure operations.
Indian Navy is sending indigenous stealth frigate INS Sahyadri, anti-submarine corvette INS Kamorta, fleet tanker INS Shakti and P-8I long-range maritime patrol aircraft.
However, India's sole aircraft carrier INS Vikramaditya, which has participated in Malabar earlier, will miss action this year as it is currently undergoing scheduled refit.
Japan is deploying its helicopter carrier JDS Ise along with Soryu class conventional submarines and Kawasaki P-1 aircraft maritime patrol aircraft.
The U.S. is sending its aircraft carrier USS Ronald Reagan along with strike complement of destroyers, support ships and nuclear attack submarines in addition to P-8A maritime patrol aircraft.
Read more on Exercise Malabar
4. Modi, Mahathir hold 'productive' talks
Prime Minister Narendra Modi met his newly-elected Malaysian counterpart Mahathir Mohammad and the two leaders had a productive exchange of views on strengthening the strategic partnership.
The two leaders discussed ways to boost economic and cultural relations between India and Malaysia.
Modi is among the first world leaders to meet Mr. Mahathir after he became the world's oldest elected leader.
5. PM launches three apps in Singapore
Prime Minister Narendra Modi launched three Indian mobile payment apps at a business event aimed at internationalisation of the country's digital payment platform.
Modi launched India's BHIM, RuPay and SBI apps.
The RuPay digital payments system was linked up with Singapore's 33-year old Network for Electronic Transfers (NETS).
RuPay users will now be able to make payments at all of NETS acceptance points across Singapore.
Online purchase
Holders of Singapore NETS will be able to make online purchase on any National Payment Corporation of India (NPCI) e-commerce merchant website in India, using 2.8 million RuPay point of sale terminals in India.
Industry observers said that the move would create multi-billion-dollar transactions as some five million Indians travel to and transit through Singapore.
RuPay is beginning with the first cross border usage.
1. U.P. & M.P. likely to start cash transfer for food subsidies
Uttar Pradesh and Madhya Pradesh are likely to be the next States to start implementing cash transfer for food subsidies in certain areas.
But Food Minister Ram Vilas Paswan emphasised that banking systems and infrastructure must be in place before any such scheme can begin.
About 2.4 lakh households in Puducherry, Chandigarh and the urban areas of Dadra and Nagar Haveli currently receive a direct transfer of money — amounting to a total of ₹12 crore per month — instead of food grains through the local ration shop.
Potential hurdles
Talking about the lessons learnt from the experience in these three relatively urban areas, Mr. Paswan said the biggest potential hurdles were in the banking system and in last mile infrastructure.
He pointed out that when a beneficiary is forced to spend money and lose working hours due to repeated trips to a bank branch as far as 20 km away, which may be closed or may not have received the money in time, then he or she would not be in favour of the cash transfer.
Pre-requisites
States such as M.P. and U.P., which have also expressed interest in implementing the scheme in certain districts, must meet several pre-requisites, including complete digitisation of the beneficiary database, seeding with account details, Aadhaar and mobile numbers, extensive awareness campaigns and post-distribution monitoring and grievance redressal mechanisms.
The requirements, timelines and best practices have now been laid out in a handbook prepared in collaboration with the World Food Programme (WFP), which acted as advisers to the government for the pilot scheme in the three union territories.
1. Govt. puts FY18 growth at 6.7%
Stronger growth of 7.7% in the fourth-quarter GDP estimates for 2017-18, driven in large part by the manufacturing and construction sectors, led to an upward revision in the official GDP growth projection for the full year to 6.7%.
The fourth-quarter growth was the strongest in the entire financial year 2017-18, with the economy expanding by 5.6% in the first quarter, at a 6.3% pace in the second, and by 7% in the October-December period.
The government had earlier forecast full-year growth at 6.6%. Growth in 2017-18 was notwithstanding the upward revision, however, still slower than the 7.1% pace posted in 2016-17.
Manufacturing
The manufacturing sector grew at 9.1% in Q4 of 2017-18, faster than the 6.1% seen in the year-earlier quarter.
Overall, the sector is estimated to have grown at 5.7% over 2017-18, compared with 7.9% in 2016-17.
Hint of a turnaround
Capital formation is another area where growth has been strong, along with manufacturing and construction, which grew strongly on the back of negative growth in Q4 last year which indicates a turnaround in the economy and should also give a boost going forward.
Sequential growth in manufacturing has picked up in Q3 and Q4, which suggests the impact of GST.
With the contribution of net export growth being negative in all four quarters of 2017-18, growth has clearly been driven by domestic factors.
Construction
The construction sector witnessed a robust growth of 11.5% in the fourth quarter of 2017-18, compared to a contraction of 3.9% in the same quarter of the previous year. This turnaround in the sector propelled its full-year growth to 5.7% in 2017-18 from 1.3% in 2016-17.
Agriculture
The agriculture sector in the fourth sector grew faster than any previous quarters in 2017-18, at 4.5%, but this was still slower than the 7.1% seen in the fourth quarter of the previous year. Overall, the sector grew at 3.4% in 2017-18, compared with 6.3% in 2016-17.
Other factors
Gross fixed capital formation, a proxy for the amount of investment in the economy, grew 7.6% in 2017-18 compared with 10.1% in the previous year.
Similarly, private final consumption expenditure grew at 6.6% in 2017-18, down from 7.3% in the previous year.
Currently, the Indian economy is in a sweet spot, with most macro-prints on the upside, especially seen in terms of broad-based industry growth, improving sales data, and positive sentiment as evidenced through the purchasing managers' index (PMI).
However, despite a general upside sentiment, the economy remains vulnerable to external risks, key among them is the anticipated rise in crude price and input costs.
Purchasing Managers' Indexes (PMI)
These are economic indicators derived from monthly surveys of private sector companies.
The data for the index are collected through a survey of 400 purchasing managers in the manufacturing sector on five different fields, namely, new orders from customers, speed of supplier deliveries, inventories, order backlogs and employment level.
2. Intra-State e-waybills to take effect in final 8 States
The e-waybill system for intra-State movement of goods will be implemented for the final eight States over the first three days of June, the Centre has announced.
The new system would be implemented for intra-State transport in Chhattisgarh, Goa, Jammu & Kashmir, Mizoram, Odisha, Punjab, Tamil Nadu and West Bengal.
The e-waybill system is functioning successfully and as of now, more than 6.3 crore e-waybills have been generated, including more than two crore e-waybills for the intra-State movement of goods.
The e-waybill system for intra-State movement of goods will be implemented throughout the country latest by June 3, 2018.
It has now been two months since the e-waybill system was implemented and the same is working smoothly and without any glitches.
On an average more than 12 lakh e-waybills are being generated every day.
The e-waybill system
It is an electronic documentation detailing the movement of goods and has to be mandatorily carried by transporters for any consignment exceeding Rs50,000 in value.
It can be generated from the GSTN set up for the e-way bill system by the transporter before the movement of goods begins.
The e-way bill's validity varies depending on the distance that the goods have to travel. Typically, the bill's validity is one day for every 100km of movement of goods.
Exceptions
Some goods that are out of the e-way bill's ambit include perishable items such as meat, milk and milk products and fruits and vegetables. Other items that don't need an e-way bill are gold and silver jewellery, cooking gas cylinders, raw silk, wool and handlooms.
Significance
The e-way bill is a key anti-tax evasion measure and is a crucial part of the GST architecture.
Tax authorities believe its implementation will dissuade tax evaders from underreporting transactions.
It will also check instances where the entire transaction is not recorded due to connivance between the seller and buyer.
It will provide a boost to GST revenues and the government is hoping that this anti-evasion measure will bring buoyancy.
Concerns
The industry is worried that the technology system may not be prepared to handle the huge e-way bill volume and that this may cause a disruption to trade.
When the e-way bill system was initially rolled out, technological glitches caused long delays in generation of GST e-way bills. This led to trade coming to a standstill, forcing the government to defer its implementation.
Another worry for industry is the potential scope for harassment by tax authorities. Taxmen have powers to stop trucks and check e-way bills and transporters fear this may lead to rent-seeking.
Way out
To avoid technological glitches, the GSTN and the National Informatics Centre have ramped up the infrastructure.
The system can now handle 75 lakh e-way bills daily, compared with 26 lakhs earlier.
To prevent harassment of taxpayers, e-way bill rules specify that goods will be inspected only once during the journey except in cases where specific information on tax evasion is received.
Further, in case a vehicle is detained for more than 30 minutes, the transporter can report it on the portal.
1. Mother of all lizards found in Italian Alps
Scientists have tracked down the oldest known lizard, a tiny creature that lived about 240 million years ago when Earth had a single continent and dinosaurs were brand new.
Scans of the fossilised skeleton of Megachirella revealed the chameleon-sized reptile was an ancestor of today's lizards and snakes, which belong to a group called squamates (scaled reptiles).
New revelation
This finding dragged the group back in time by 75 million years and means that lizards inhabited the planet since at least 240 million years ago.
That, in turn, suggested that squamates had already split from other ancient reptiles before the Permian/Triassic mass extinction some 252 million years ago, and survived it.
Up to 95% of marine- and 75% of terrestrial life on earth was lost.
Megachirella, discovered some 20 years ago buried in compacted sand and clay layers in the Dolomites mountain range in northeast Italy, was initially misclassified as a close lizard relative.
The team found a tiny bone in Megachirella's lower jaw that is unique to the squamate family.
The Permian–Triassic extinction event
The Permian–Triassicextinction event, colloquially known as the Great Dying, the End-Permian Extinction or the Great Permian Extinction, occurred about 252 million years ago, forming the boundary between the Permian and Triassic geologic periods, as well as the Palaeozoic and Mesozoic eras.
It is the Earth's most severe known extinction event, with up to 96% of all marine species and 70% of terrestrial vertebrate species becoming extinct.
It is the only known mass extinction of insects. Some 57% of all families and 83% of all genera became extinct. Because so much biodiversity was lost, the recovery of life on Earth took significantly longer than after any other extinction event, possibly up to 10 million years.
1. Sharp drop in tobacco smoking in India, says WHO report
From 19.4% in 2000, the prevalence of smoking tobacco in India dropped down to 11.5% in 2005, according to a World Health Organization report.
The report projected the prevalence to drop down further to 9.8% by 2020 and 8.5% by 2025.
The prevalence of tobacco use has decreased more slowly in low and middle-income countries than in high-income countries because the introduction of strong tobacco control policies by low and middle-income countries is impeded by relentless lobbying from the tobacco industry.
Chewing tobacco excluded
While the report only covered tobacco usage in the form of smoking, India has a large population of chewing tobacco users, thus posing additional burden.
The drop in smoking prevalence is in sync with the Global Adult Tobacco Survey (GATS) outcome.
However, India has a unique problem of chewing tobacco.
More than 3/4th tobacco users have it in the chewing form.
Therefore, we need policies that address this form of tobacco rigorously as our government has turned a blind eye towards regulating pan masala.
Most people know that using tobacco causes cancer and lung disease, but many people are not aware that it also causes heart disease and stroke — the world's leading killers.
While tobacco use has declined markedly since 2000, the reduction is insufficient to meet globally agreed targets aimed at protecting people from death and suffering from cardiovascular and other diseases (NCDs).
Risk of ignorance
Tobacco use and second-hand smoke exposure were major causes of cardiovascular diseases, including heart attacks and stroke, contributing to approximately three million deaths a year.
But evidence revealed a serious lack of knowledge of the multiple health risks associated with tobacco.
In China, over 60% people were unaware that smoking could cause heart attacks, said the Global Adult Tobacco Survey.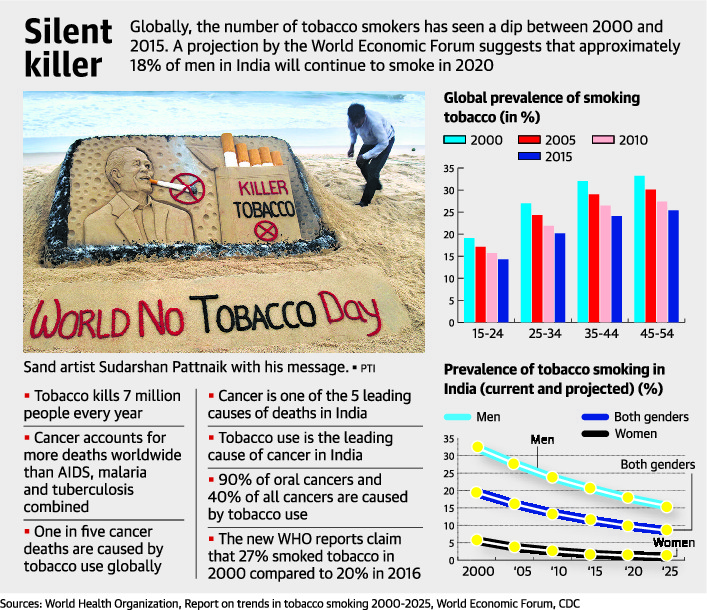 Nothing here for today!!!
1. How to be garbage-free
Why in the news?
In the spirit of Swachh Bharat Abhiyan, the Goan government promised to make the State garbage-free by 2020.
Will it be a reality?
With a population of 18.2 lakhs and an economy geared for tourists, is Goa prepared to reach this milestone? Quite possibly not.
The case of Candolim beach
In Candolim beach plastic and glass bottles are ubiquitous. This shows that tourists and beachgoers lack basic civic sense.
Management – Litter on the beach also shows that there is no responsible waste management system. One reason why people abandon their garbage with such impunity may be the paucity of waste receptacles along the beach.
Stakeholder – There is also abdication of responsibility by the companies, distributors, restaurants and shopkeepers who manufacture, market and sell these products.
Government -Garbage on the beach also shows a lack of attention by authorities towards this issue though it concerns health, hygiene and protecting natural spaces — all of which are key to attracting tourists.
Rule of law – There are no police or other such representatives on beaches who are empowered to enforce the law and hand out fines. Just as justice needs to be seen to be done, respect for the law arises from its implementation and the visible presence of an agency dedicated to deterrence and application of the law.
Attitudinal change – Behaviour change communication (BCC) could be the key to changing attitudes and behaviour patterns. India has seen success with this method regarding nutrition for expectant mothers. However, BCC on tourist-focussed waste management is non-existent in Goa. There is no mention of fines or the responsibilities of tourists. A critical element of BCC is having requisite infrastructure. In this case it would mean installation of waste receptacles, proper collection and management, and proper policing.
Technology – While technology such as clean composting can help, it is an insufficient response to an attitudinal issue.
Conclusion
The ability to add to the litter and enjoy a dirty beach is something unique to this part of the world.
Lasting change may only come when people realise that their enjoyment of the beach is inextricably linked to keeping that beautiful environment garbage-free.
Cleanliness will only follow an attitudinal change.
2. Settling disputes out of court
What is the issue?
Mandatory pre-litigation mediation in commercial disputes has been introduced by the recent Commercial Courts, Commercial Division and Commercial Appellate Division of High Courts (Amendment) Ordinance, 2018, which amends the Commercial Courts Act of 2015.
This amendment is expected to alter parties' sense of responsibility in resolving disputes. Mandatory pre-litigation mediation puts the ball in the court of the parties involved, rather than looking at external agencies like courts, and urges them to engage with and resolve disputes.
The meaning of mediation
Mediation is a process of resolution of disputes by the parties to them. It involves discussion of the conflicts, moving out of the loop of allegations and counter-allegations, and assessing where interests lie in resolving the disputes.
Options for settlement are explored and a settlement is worked out through joint evaluation. The process is managed by a neutral person called the mediator, who may evaluate the disputes and weigh in on options for settlement (a variant called conciliation) but has no authority to impose a settlement.
The participation of the disputants is voluntary. The terms of settlement, if the parties do settle, are decided by the parties. The discussions are confidential.
Background
Mediation, and mandatory mediation specifically, is not new in India.
The Arbitration and Conciliation Act, 1996, makes a settlement arrived at through conciliation enforceable like a court decree.
Under the Code of Civil Procedure, judges can refer cases to mediation.
The Micro, Small and Medium Enterprises (MSME) Development Act, 2006, mandates conciliation when disputes arise on payments to MSMEs.
The Italian case
Italy, which faces a high rate of pendency of cases, has adopted what is referred to as 'opt out' mandatory mediation.
In 2010 and 2013, it introduced a law for pre-litigation mediation. Attempts to mediate were made mandatory for certain disputes (like partition and joint ownership of property) before a case was filed in court.
What lies ahead?
Pre-litigation mediation is an important step to improve the ease of doing business
The ordinance is an important step in mainstreaming mediation, but it is not enough.
Most disputes seek urgent orders for preservation of status quo or restraint orders on filing. With such an application, pre-litigation mediation could effectively be given a go-by.
There is a need for a comprehensive policy on mediation, rather than the abbreviated and disconnected steps so far.
This policy would encapsulate the process, the role and professional responsibilities of mediators, the rights and obligations of parties in the process, and the outcome of the mediation agreement.
When seen in the context of a deliberate and well-considered law, mediation as a process would be more credible to disputants, as has happened in the case of arbitration.
Hoolock Gibbons are the only apes to be found in India.
Hoolock Gibbons are extremely rare primates, listed under Schedule I of the Wildlife Protection Act (1972) and as an endangered as per the red list of IUCN.
Hoolock Gibbons are found in certain specific habitats of Assam and Arunachal Pradesh and also in Eastern Bangladesh.
It is not clear whether the animals were sourced from India or Bangladesh.
Hoolock Gibbons are one of the most endangered 25 primate species in the world.
The Press Council of India is a statutory body in India that governs the conduct of the print media.
It is a quasi-judicial body which acts as a watchdog of the press.
It is one of the most important bodies that sustain democracy, as it has supreme power in regard to the media to ensure that freedom of speech is maintained.
The Press Council of India was first set up in 1966 by the Parliament to regulate the press in India.
But since 2017, the Council functions under the Press Council Act 1978 which arose from the recommendations of the Second Press Commission of India (1978).
The Press Council is headed by a Chairman: usually, a retired judge of the Supreme Court and 28 other members, which includes journalists as well.
G. Practice Questions for UPSC Prelims Exam
Question 1. Consider the following statements with respect to World Food Programme:
It is food assistance branch of the United Nations.
WFP has its headquarters in Rome.
Zero hunger in 2030 is one of its objectives.
Which of the above statement/s is/are correct?
1 only
1 and 2 only
1 and 3 only
All of the above
See
Question 2. The following are the institutions of World Bank group. Identify the correct option
of which India is not a member.
International Bank for Reconstruction and Development (IBRD)
International Development Association (IDA)
International Finance Corporation (IFC)
Multilateral Investment Guarantee Agency (MIGA)
International Centre for the Settlement of Investment Disputes (ICSID)
Choose the correct option:
4 only
5 only
4 and 5 only
None of the above
See
Question 3. Consider the following statements:
The Convention on Biological Diversity (CBD) was adopted during the Earth Summit held in Rio de Janeiro in 1992.
India enacted the Biological Diversity (BD) Act in 2002 to give effect to the provisions of this CBD Convention.
Which of the above statement/s is/are correct?
1 only
2 only
Both 1 and 2
None of the above
See
Question 4. Which of the following are fundamental for the governance of a country?
Directive principles of state policy
Fundamental rights
Laws, polices and rules
Fundamental duties and preamble
See
H. UPSC Mains Practice Questions
What is feminization of labour and discuss its challenges?
Do you agree with the view that the USA is of late willing to treat India as a partner rather than merely a camp-follower? Give reasons for your answer.
Also, check previous Daily News Analysis
"Proper Current Affairs preparation is the key to success in the UPSC- Civil Services Examination. We have now launched a comprehensive 'Current Affairs Webinar'. Limited seats available. Click here to Know More."
Enroll for India's Largest All-India Test Series