TABLE OF CONTENTS
A.

 GS1 Related




B.

 GS2 Related


INTERNATIONAL RELATIONS
1. Now, Nirav Modi comes between India-U.K. bilateral ties
2. India to host first BIMSTEC war games
3. Remove copters by June-end: Maldives
GOVERNANCE
1. PM's maternity scheme benefits 23.6 lakh


C.

 GS3 Related


ECOLOGY
1. Under divine care, turtles swim on in temple tanks


D.

 GS4 Related




E. 

Editorials


SCIENCE AND TECHNOLOGY
1. Artificial intelligence ecosystem in India: AI garage
INTERNATIONAL RELATIONS
1. India re-defines its regional role


F. 

Tidbits


1. Govt. set to unveil Rs.500 cr. credit enhancement fund
2. CSCs to soon offer bank services: Goyal
1. Reserve Bank aims to tighten working capital loan norms
G. UPSC Prelims Practice Questions
H. UPSC Mains Practice Questions 

Nothing here for today!!!
Category: INTERNATIONAL RELATIONS
1. Now, Nirav Modi comes between India-U.K. bilateral ties
The precarious bilateral relationship between India and Britain is set to be tested even further, amid unofficial confirmation that fugitive jeweller Nirav Modi had fled to Britain seeking political asylum.
British Foreign Office and Indian officials confirmed that Mr. Modi had sought political asylum, following months of speculation as to his whereabouts.
While parallels will be drawn with the case of Vijay Mallya, the liquor baron whose extradition to face charges of money laundering and fraud of around Rs.9,000 crore that India is currently pursuing through the British court system, the cases appear to be quite different.
Mallya case
Mallya, who had his Indian passport revoked by Indian authorities, has said he has been a British resident, now with indefinite leave to remain, since 1992.
The decision on whether to return him to India lies within Britain's court system, under an extradition process set out in a 1992 bilateral extradition treaty.
Modi case
Modi — if he has claimed political asylum would have to navigate Britain's highly uncertain political asylum process.
Modi's apparent decision to flee to the U.K. comes at a particularly sensitive time for bilateral relations, with tensions not only over Britain's immigration system (and its treatment of Indian nationals, particularly skilled professionals), but also over the questions about Indian jails raised in recent court cases.
While India has by and large sought to emphasise its respect for the UK judicial system and processes, the issue has surfaced at a political level too.
2. India to host first BIMSTEC war games
India will host the first military exercise of the BIMSTEC (Bay of Bengal Initiative for Multi-Sectoral Technical and Economic Cooperation) group focussing on counter-terrorism in September.
As part of this, a conclave of the Army chiefs of all seven member-states is being planned.
The exercise is scheduled to be held in Pune in the second week of September.
The aim is to promote strategic alignment among the member-states and to share best practices in the area of counter-terrorism.
The initial planning conference to work out the modalities is scheduled to be held in June and the final planning conference is scheduled in August.
BIMSTEC
BIMSTEC was set up in 1997 and includes India, Bangladesh, Bhutan Myanmar, Nepal, Sri Lanka and Thailand.
The theme includes counter-terrorism in semi-urban terrain and cordon and search, and each side will bring in some 30 soldiers.
The conclave of Army chiefs is scheduled on the last two days of the exercise.
The chiefs will debate the challenge of terrorism and transnational crime, which is a major concern among all the states and on how they can promote collective cooperation.
BIMSTEC countries held a disaster management exercise in 2017, but this is the first military exercise of the grouping.
Also read | BIMSTEC
3. Remove copters by June end: Maldives
External Affairs Minister Sushma Swaraj held a high-power meeting to discuss a deadline set by the Maldives for India to withdraw its helicopters gifted to the island nation.
Tensions over the presence of the two Indian helicopters in two strategically important locations in the Laamu and Addu atolls have been growing over the past few weeks, forcing the External Affairs Ministry to step in to defuse the situation.
The Maldives has given India a deadline by the month-end to remove the helicopters.
The government was discussing possible reactions to the move.
Significantly, the meeting came just days after a vote at the U.N. for Security Council seats, where the Maldives claimed India had supported its candidature against that of Indonesia, an election that the Maldives lost nonetheless.
Frayed ties
Relations between New Delhi and Male have been frayed since last year, when the Maldives rushed through a free trade agreement with China, and plummeted further after President Abdulla Yameen declared an Emergency in the country in February.
India had gifted two Dhruv advanced light helicopters in 2013, of which one was operated by the Indian Coast Guard and the other by the Indian Navy, manned by six pilots and a number of maintenance ground staff.
In the normal course, letters of exchange (LoEs) are renewed for two years at a time, but on this occasion, the Yameen government refused to do so and has since made it clear that it would like India to remove them and their crew entirely.
The LoE of the Coast Guard helicopter had expired a few months ago, while that of the Navy one is due to expire in June.
India has yet to recall either helicopter, in the hope that the matter will be resolved through negotiations.
The controversy took an additional twist last month when visas given to the pilots operating the helicopter expired at the end of May.
The visas were not renewed immediately, causing some concern for the personnel.
The Maldives has also not approved an LoE sent by India for a Dornier maritime patrol aircraft that it had itself requested, but in less tense times.
1. PM's maternity scheme benefits 23.6 lakh
After initial hiccups in implementing the maternity benefit programme Pradhan Mantri Matru Vandana Yojana (PMMVY), the government has finally made some headway and provided cash incentives to nearly 23.6 lakh beneficiaries out of an estimated 51.6 lakh a year.
The scheme was approved by the Union Cabinet in May 2017 and was expected to be rolled out in September.
However, until January 2018, the government programme had covered only 90,000 women — a mere 2% of the target.
Under the scheme, pregnant women and lactating mothers are offered a cash incentive of Rs.6,000 on the birth of their first child as partial compensation for wage loss, to reduce maternal mortality and malnutrition levels among children.
Many States like Tamil Nadu, Telangana, Odisha and West Bengal have not yet come on board to implement the scheme. These States account for nearly 25% of the total beneficiaries.
But these states are bound to comply because the scheme is a by-product of the National Food Security Act.
Huge backlog
However, due to a huge backlog from last year, the government needed to provide cash benefits to over 100 lakh estimated beneficiaries by the end of the financial year 2018-19.
An amount of Rs.673 crore has been transferred to the accounts of the beneficiaries out of the total budget of Rs.2,594 crore set aside for the scheme last year, and another Rs.2,400 crore allocated for the current fiscal.
The scheme is being implemented on a 60:40 cost-sharing basis with the State governments.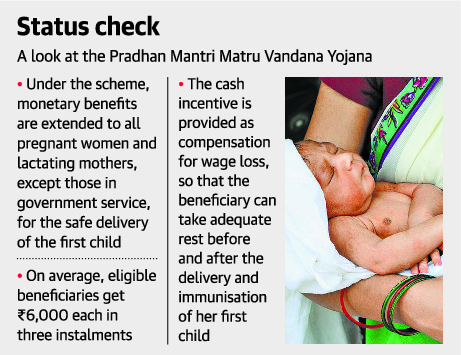 1. Under divine care, turtles swim on in temple tanks
It is not only humans who are blessed by the sacred waters of temple ponds across northeast India.
These protected water bodies have emerged as safe havens for many threatened species of freshwater turtles, including the Nilssonia nigricans or Black Softshell turtle, declared extinct in the wild by the IUCN Red list.
However, given their ritual nature, scientists are denied complete access to these ponds and hence have used the technique of extracting environmental DNA (eDNA) to confirm the presence of specific varieties.
In addition to N. nigricans, tests at the Nagshankar temple pond in Assam have confirmed the presence of two more species — Nilssonia gangetica or Indian softshell turtle, classified as Vulnerable, and Chitra indica or South Asian narrow-headed softshell turtle, listed as Endangered by the IUCN.
The research findings were recently published in the journal Herpetology Notes by scientists associated with the Zoological Survey of India (ZSI), Kolkata.
eDNA testing is fast emerging as a tool for monitoring the biodiversity of an area without physically collecting specimens.
Nothing here for today!!!
Category: SCIENCE AND TECHNOLOGY
1. Artificial intelligence ecosystem in India: AI garage
To realise India's potential in the field, a strong buy-in from policymakers is needed
The NITI Aayog has published an ambitious discussion paper on kickstarting the artificial intelligence (AI) ecosystem in India.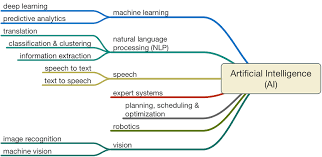 Meaning of Artificial intelligence
The theory and development of computer systems able to perform tasks normally requiring human intelligence, such as visual perception, speech recognition, decision-making, and translation between languages.
AI is the use of computers to mimic human cognitive processes for decision-making.
Framework for AI tools
The paper talks of powering five sectors — agriculture, education, health care, smart cities/infrastructure and transport — with AI.
It highlights the potential for India to become an AI 'garage', or solutions provider, for 40% of the world.
To pull this off, India would have to develop AI tools for a range of applications: reading cancer pathology reports, rerouting traffic in smart cities, telling farmers where to store their produce, and picking students at high risk of dropping out from school, among them.
It is a tall order, but several countries have similar ambitions. The U.S., Japan and China have published their AI strategy documents and, importantly, put their money where their aspirations are.
China, for example, plans to hand out a million dollars in subsidies to AI firms, as well as to run a five-year university programme for 500 teachers and 5,000 students.
Highlights
The NITI Aayog does not talk about how India's ambitions will be funded, but proposes an institutional structure to get things going.
This structure includes a network of basic and applied research institutions, and a CERN-like multinational laboratory that would focus on global AI challenges.
Challenges
These are lofty goals, but they beg the question: can India bring it to pass?
In answer, the NITI Aayog offers a sombre note of caution. India hardly has any AI expertise today.
The paper estimates that it has around 50 top-notch AI researchers, concentrated in elite institutions like the IITs.
Further, only around 4% of Indian AI professionals are trained in emerging technologies such as deep learning.
And while India does publish a lot, these publications aren't very impactful;
India's H-index, a measure of how often its papers are cited, is behind 18 other countries. This is not encouraging, considering that returns on AI are not guaranteed. The technology has tripped up as often as it has delivered.
Significance
Among successes, a recent study found that a Google neural network correctly identified cancerous skin lesions more often than expert dermatologists did.
India, with its acute shortage of specialist doctors in rural areas, could benefit greatly from such a tool.
studies have found that AI image-recognition technologies do badly at identifying some races, because the data used to train them over-represent other races. This highlights the importance of quality data in building smart AI tools.
India lacks this in sectors such as agriculture and health. Where data exist, this is poorly annotated, making it unusable by AI systems. Despite these formidable challenges, the scope of NITI Aayog's paper must be lauded.
The trick will be to follow it up with action, which will demand a strong buy-in from policymakers and substantial funds.
Category: INTERNATIONAL RELATIONS
1. India re-defines its regional role
It is recasting its approach to the Indo-Pacific and building deeper links with continental Eurasia
Recent foreign policy moves by New Delhi indicate an inflexion point. Combining orthodox ideas from the Cold War era along with 21st century pragmatism, it appears that India has decided that the emerging multipolar world is becoming far too complicated for the binary choices and easy solutions that some had envisioned for the country's foreign policy.
Not only has it recast its approach to the maritime Indo-Pacific but as the recent Shanghai Cooperation Organisation (SCO) summit exemplifies, it is also building deeper and more constructive links with continental Eurasia.
India's evolving foreign policy
Prime Minister Narendra Modi's speech at the Shangri-La Dialogue in Singapore on June 1 laid out a framework that might outlast the present government. The speech was dominated by four themes that collectively tell us about the evolving foreign policy.
First, the central theme was that at a time when the world is facing power shifts, uncertainty and competition over geopolitical ideas and political models, India would project itself as an independent power and actor across Asia.

One of the most important parts of the speech was when Mr. Modi described India's ties with the three great powers.
Russia and the United States were called as partners with whom India has relationships based on overlapping interests in international and Asian geopolitics.
And, India-China relations were portrayed in complex terms as having "many layers" but with a positive undertone that stability in that relationship is important for India and the world.
The intended signal to all major capitals was that India will not be part of a closed group of nations or aggregate Indian power in a bloc, but will chart out its own course based on its own capacity and ideas.
The following phrases: "our friendships are not alliances of containment" or "when nations stand on the side of principles, not behind one power or the other, they earn the respect of the world and a voice in international affairs". For some this portends a renewed emphasis on non-alignment. The Prime Minister himself used the more agreeable term "strategic autonomy".
In essence, what it really means is that India has become too big to be part of any political-military camp whose design and role in Asian affairs is being conceived elsewhere, upon ideas that India might not fully share, and where India has a marginal role in strategy and policy implementation.
The China factor, even as China's rise has undoubtedly increased the demand and space for India to increase its region-wide engagement, India's role in the vast Indo-Pacific is no longer envisaged as a China-centric one.

Modi removed any lingering impression of an impeding crusade or an ideological sub-text to India's Act East policy in the coming years when he remarked, "India does not see the Indo-Pacific Region as a strategy or as a club of limited members.
Nor as a grouping that seeks to dominate." If anybody imagined that India's identity as a democracy would position it naturally towards one side in the emerging world order, Mr. Modi clarified that misperception quite emphatically: "India's own engagement in the Indo-Pacific Region — from the shores of Africa to that of the Americas — will be inclusive…
That is the foundation of our civilisational ethos — of pluralism, co-existence, openness and dialogue. The ideals of democracy that define us as a nation also shape the way we engage the world."
India's Ambassador to Beijing expressed a similar message on the eve of the SCO summit: Big countries "can peacefully coexist despite differences in their systems and that they can work together".
In other words, India's democracy is far more comfortable with a world of diversity than the spectre of a clash of civilisations or great powers locked in ideological contests.
Despite this policy adjustment, India's approach to the region is not going to be a hands-off policy or one devoid of norms. We continued to hear an emphasis on a "free, open, inclusive region" and a "common rules-based" Indo-Pacific order. Significantly, Mr. Modi asserted that such "rules and norms should be based on the consent of all, not on the power of the few.
Finally, Mr. Modi urged both the U.S. and China to manage their rivalry and prevent their "normal" competition from descending into conflict. "Asia of rivalry will hold us all back.

Asia of cooperation will shape this century. So, each nation must ask itself: Are its choices building a more united world, or forcing new divisions? It is a responsibility that both existing and rising powers have."
He made it clear that while India would pursue many partnerships "in the region and beyond", it was not going to choose "one side of a divide or the other" but would remain wedded to its principles and values that emphasise inclusiveness, diversity and of course its own interests.
Did Mr. Modi's speech constitute a turning point in India's foreign policy? As analysts debate this question, the messaging was unmistakable.
After drifting towards the U.S. for the past decade, Delhi is rediscovering a posture and policy for a multipolar world as well as taking greater responsibility for its own future and destiny.
Reflecting its unique geographical position at the rimland of Eurasia and at the mouth of the Indo-Pacific, India's foreign policy is likely to be driven by a dual attention to the balance of power and order building in the continental and maritime environment around the subcontinent.
1. Govt. set to unveil Rs.500 cr. credit enhancement fund
The government is set to unveil a Rs.500-crore credit enhancement fund next month to facilitate infrastructure investments by insurance and pension funds.
The fund was first announced in the Budget for the fiscal year 2016-17.
It will help in upgrading credit ratings of bonds issued by infrastructure companies and facilitate investment from investors like pension and insurance funds.
The initial corpus of the fund, to be sponsored by IIFCL (India Infrastructure Finance Company), will be Rs.500 crore, and it will operate as a non-banking finance company.
IIFCL will hold a 22.5% stake in the NBFC, while the Asian Infrastructure Investment Bank (AIIB) has offered to pick up a 10%, SBI, Bank of Baroda and LIC will also have stakes in the firm.
2. CSCs to soon offer bank services: Goyal
The government will work to enable all 2.9 lakh common service centres (CSCs) in the country to operate as business correspondents of banks.
Business correspondents are retail agents engaged by banks for providing services at locations other than a bank branch or an ATM.
Permitted services include identification of borrowers, collection and preliminary processing of loan applications, collection of small value deposit, disbursal of small value credit, sale of micro insurance, MF products and pension products.
Now, CSCs will be able to work as IRCTC agents and would also be able to book general tickets.
3. Reserve Bank aims to tighten working capital loan norms
The Reserve Bank of India (RBI) has proposed a minimum 40% loan component for working capital funding of Rs.150 crore and above to bring in greater credit discipline and improve monetary transmission.
According to draft guidelines, the RBI has proposed that the loan component of 40% will come into effect from October 1 and will be increased to 60% from April 1, 2019.
The loan's tenure will be minimum seven days.
Effective from April 1, 2019, the undrawn portion of cash credit/overdraft limits sanctioned to the large borrowers, irrespective of whether unconditionally cancellable or not, shall attract a credit conversion factor of 20%.
This means banks have to set aside capital for undrawn portion of cash credit limits.
Currently, working capital is mostly in the form of cash credit for which interest rate is reset once a year. Also, cash credit does not have a tight repayment schedule.
While cash credit has its benefits, it also poses several regulatory challenges such as perpetual roll-overs, transmission of liquidity management from the borrowers to banks/RBI, hampering of smooth transmission of monetary policy, etc.
Issues to be addressed
First, if there is a loan component then there will be a repayment schedule which will put pressure on borrowers to manage their liquidity.
Secondly, since the loan component will have a fixed tenure, the reset clause can be invoked at the end of each tenure period.
G. Practice Questions for UPSC Prelims Exam
Question 1. Consider the following statements regarding the OBC Bill (The Constitution
(123rd Amendment) Bill, 2017):
It seeks to grant the National Commission on Backward Classes (NCBC) constitutional status.
The Bill seeks to remove the power of the National Commission for Scheduled Castes (NCSC) to examine matters related to backward classes.
NCBC will comprise of five members appointed by the Prime Minister.
Which of the above statement/s is/are correct?
1 only
1 and 2 only
1 and 3 only
1, 2 and 3
See
Question 2. The problems of high inflation is/are
It reduces the purchasing power of the people
It increases the savings in a country
Interest rates go up
Investments increases
Choose the correct answer:
All of the above
1 and 3 only
2 and 4 only
1, 3 and 4 only
See
Question 3. Which of the following processes is Oxidation?
Addition of Hydrogen
Removal of oxygen
Both a) and b)
None of the above
See
Question 4. During whose reign, the Ijarah system was introduced?
Jahandar Shah
Farrukh Siyar
Bahadur Shah II
Shah Alam II
See
H. UPSC Mains Practice Questions
"Statutory Liquidity Ratio (SLR) has traditionally been more a fiscal policy instrument than a monetary policy instrument in India." Comment.
Peasant movements in India today are no different from the ones in British India. Feudal exploitation still remains the primary cause for dissent. Explain.
Also, check previous Daily News Analysis
"Proper Current Affairs preparation is the key to success in the UPSC- Civil Services Examination. We have now launched a comprehensive 'Current Affairs Webinar'. Limited seats available. Click here to Know More."
Enroll for India's Largest All-India Test Series