The BIMSTEC states are those which are on the shore or are adjacent to the Bay of Bengal and are dependent on it. It was formed on 6th of June 1997, through the Bangkok declaration and is headquartered at Dhaka in Bangladesh.
The topic is important for IAS Exam from the perspectives of both prelims and mains. It is covered under Mains GS-II "Bilateral, Regional and Global Groupings and Agreements involving India and/or affecting India's interest," section.
Candidates can find the general pattern of the Civil Service Exam by visiting the UPSC Syllabus page.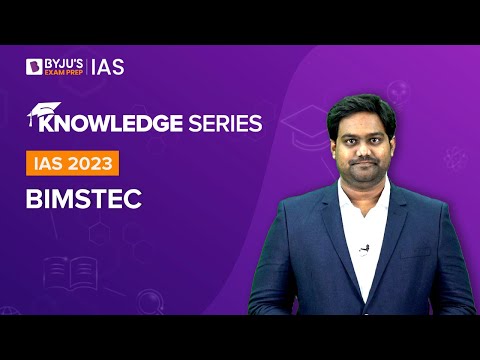 BIMSTEC – Recent Developments
The 17th BIMSTEC Ministerial Meeting was held on 1st April 2021 and chaired by Sri Lanka, virtually, in the presence of all member states
The meeting endorsed:

BIMSTEC Master Plan for Transport Connectivity
Took note of the BIMSTEC Centre for Weather and Climate, being hosted in India, is fully functional with the state of the art facilities to provide Disaster Early Warnings
The Indian Prime Minister Narendra Modi's initiatives of BIMSTEC Startup Conclave in January 2021; BIMSTEC Disaster Management Exercise in Puri in February 2020; and Conference on Combating Drug Trafficking for BIMSTEC countries in February 2020, were appreciated by other member states
The proposal to host the 5th BIMSTEC Summit in Sri Lanka in the coming few months was also welcomed

24th BIMSTEC Day was observed on May 31, 2021
To complement your preparation for
UPSC 2023,
check the following links:
BIMSTEC – Important Facts

What is the full form of BIMSTEC?

Bay of Bengal Initiative on Multi-Sectoral Technical and Economic Cooperation

How many nations are there in BIMSTEC?

There are seven nations in BIMSTEC

What are the names of nations, participating in BIMSTEC?

There are five Southasian nations:

Bangladesh

Bhutan

India

Nepal

Sri Lanka

There are two southeast Asian nations:

When did BIMSTEC come into picture?

It came into being in 1997 through the Bangkok Declaration

What is BIST-EC?

BIMSTEC was initially a four-member states:

Bangladesh

India

Sri-Lanka and

Thailand

Called as BIST-EC where 'EC' stands for Economic Cooperation

When did Myanmar join BIMSTEC?

December 1997, and BIST-EC was then called, BIMST-EC

When were Nepal and Bhutan admitted into BIMSTEC?

2004; and then present-name 'BIMSTEC' was taken over

What are the areas of BIMSTEC cooperation?

Trade and Investment

Technology

Energy

Transportation and Communication

Tourism

Fisheries

Agriculture

Cultural Cooperation

Environment and Disaster Management

Public Health

People-to-People Contact

Poverty Alleviation

Counter Terrorism and Transnational Crime

Climate Change

BIMSTEC – Objectives
Technological and economical cooperation among south Asian and South East Asian countries along the coast of the Bay of Bengal.
BIMSTEC is a sector-driven cooperative organization and covers cooperation in sectors like communication, leather, textiles, transport, fisheries, human resource development, tourism, agriculture, investment, technology and commerce etc. Currently, there are fourteen priority sectors and each member country voluntarily leads one or more sectors. Counterterrorism & transnational crime and telecommunication & transport are dealt with by India.
The grouping is a bridge between South Asia and South-East Asia and constitutes a reinforcement of relations between the seven countries. It is of utmost significance to India as it is major support in implementing its Act East Policy and the development of its ambitious 'Sagar Mala' project.
BIMSTEC, in its first, held a conference on "combating drug trafficking" in New Delhi in February 2020.
Refer to the links below and analyse the bilateral relations of India with other BIMSTEC countries:
Principles of BIMSTEC
Sovereign Equality
Territorial Integrity
Political Independence
No-interference in Internal Affairs
Peaceful Co- existence
Mutual Benefit
Constitute an addition to and not be a substitute for bilateral, regional or multilateral cooperation involving the Member States.
BIMSTEC – The first meeting of National Security Chiefs
The first meeting of National Security Chiefs of BIMSTEC member states was hosted by India in New Delhi on the 21st of March 2017.
The meeting was aimed at discussing the common security challenges faced by the member countries.
The necessity of addressing traditional and non-traditional security challenges to harness human security in the region was underlined, as security cooperation among the member nations is very important in achieving the objectives of the organization.
The Importance of maritime security was emphasized. The member states put forth their views to further strengthen the maritime security cooperation including Humanitarian Assistance and Disaster Relief.
An agreement was reached to arrive at collective strategies recognizing the Bay of Bengal as a common security space.
Urgent need for measures to counter and prevent the spread of terrorism, violent extremism and radicalization through coordination in law enforcement, security organizations and capacity building were also discussed in the meeting.
Also, read about the First BIMSTEC Disaster Management Exercise that was conducted in Odisha, between February 11 and 13, 2020, at the linked article.


How BIMSTEC is Important for India?
It provides a new platform for India to engage with its neighbours with the South Asian Association for Regional Cooperation (SAARC) becoming dysfunctional because of differences between India and Pakistan. Read in detail about SAARC nations on the linked page.
BIMSTEC allows India to pursue three core policies-

Neighborhood First – primacy to the country's immediate periphery;
Act East – connect India with Southeast Asia; and
Economic development of India's northeastern states – by linking them to the Bay of Bengal region via Bangladesh and Myanmar.

Allows India to counter China's creeping influence in countries around the Bay of Bengal due to the spread of its One Belt and One Road Initiative.
Challenges Faced by BIMSTEC
 BIMSTEC does not seem to have made much progress even though there was not much bilateral tension – 
Neglect by member states: It seems that India has used BIMSTEC only when it fails to work through SAARC in the regional setting and other major members like Thailand and Myanmar are focused more towards ASEAN than BIMSTEC.

Inconsistent Meetings: BIMSTEC planned to hold summits every two years, ministerial meetings every year, but only four summits have taken place in 20 years upto 2018.

Broad Focus Areas: The focus of BIMSTEC is very wide, including 14 areas of cooperation like connectivity, public health, agriculture etc. It is suggested that BIMSTEC should remain committed to small focus areas and cooperate in them efficiently.

No FTA: BIMSTEC FTA was negotiated in 2004, talks on it are yet to be concluded.

Bilateral Issues between Member Nations: Bangladesh is facing one of the worst refugee crisis of Rohingyas from Myanmar who are fleeing prosecution in the state of Rakhine in Myanmar. There is a border conflict between Myanmar and Thailand.

BCIM: The formation of another sub-regional initiative, the Bangladesh-China-India-Myanmar (BCIM) Forum, with the proactive membership of China, has created more doubts about the exclusive potential of BIMSTEC.
UPSC aspirants can refer to the RSTV debate on BIMSTEC and also on the comparison of roles of BIMSTEC and SAARC, from the links mentioned below:
BIMSTEC – UPSC Notes:-Download PDF Here
Related Links