India Bangladesh relations UPSC
India's links with Bangladesh are civilisational, cultural, social and economic. There is much that unites the two countries – a shared history and common heritage, linguistic and cultural ties, passion for music, literature and the arts. With Bangladesh, India shares not only a common history of struggle for freedom and liberation but also enduring feelings of both fraternal as well as familial ties. This commonality is reflected in multi-dimensional relations with Bangladesh at several levels of interaction. High-level exchanges, visits and meetings take place regularly alongside the wide ranging people to people interaction. India's Missions in Bangladesh issue about half a million visas every year and thousands of Bangladeshi students study in India on self-financing basis and are recipients of over one hundred annual GOI scholarships.
Sharing of River Waters
India and Bangladesh share 54 common rivers. The Ganga Waters Treaty was signed on December 12, 1996 for water sharing of river Ganga during lean season (January 1-May 31). The 37th Joint Rivers Commission (JRC) meeting was held in New Delhi from March 17-20, 2010. In the last technical level meeting held in Kolkata in February 2012, both sides exchanged data at Dalia in Bangladesh and Gazaldoba in India.
Bilateral Trade
Bangladesh is an important trading partner for India. The two-way trade in FY 2010-2011 was US$5.099 billion with India's exports to Bangladesh accounting for US$ 4.586 billion and imports US $ 0.512 million.
Institutional Mechanisms
Some of the important institutional mechanisms that meet periodically to discuss bilateral issues include Joint Rivers Commission (JRC) and Joint Economic Commission (JEC) at Ministerial level, Foreign Office Consultations, Home, Commerce and Water Resources Secretary level talks, BSF-BDR DG-level border coordination conference, Joint Working Group on Security (JWG), Joint Boundary Working Group (JBWG), Joint Working Group on Trade (JWG), Joint Group of Customs Officials (JGC), Protocol Renewal Committee and Standing Committee to review implementation of Protocol on Inland Water Transit and Trade, and Inter- Governmental Railway Meeting.
India's Economic Assistance to Bangladesh
On the economic assistance side, India has extended a line of credit of US$1 billion to Bangladesh for a range of projects, including railway infrastructure, supply of BG locomotives and passenger coaches, procurement of buses, and dredging projects. The Line of Credit Agreement was signed in Dhaka on August 7, 2010 between EXIM Bank of India and Government of Bangladesh. India has stood by Bangladesh in its hour of need with aid worth over Taka 250 crore (over US $ 37 million) to help it cope with natural disasters and floods in 2007-08 including supply of 1,000 MT of skimmed milk powder, and 40,000 MT of rice. India has completed and handed over 2,649 core shelters in the affected villages in Bagerhat district in southern Bangladesh.
Conflict Zones
The main factors which have contributed to the strained relations between the two countries are – Insurgency: Insurgency is one of the bone of the contention between two countries. The question of ISI operating from Bangladesh and supporting the insurgents in the North-East is one of the major issues. In this way, India has been accusing Bangladesh of facilitating, encouraging and supporting various north east insurgent groups. In 1999, it was reported that the porous border between India and Bangladesh has been used by the insurgent groups for movement to and from their camps. In 2001, media reports highlighted the presence of a number of camps in Bangladesh operated by National Liberation Front of Tripura (NLFT), United Liberation Front of Assam (ULFA) and National Democratic Front of Bodoland (NDFM). There are also reports that ULFA has several lucrative income generating projects in Bangladesh to sustain its insurgency activities in India. Illegal Migration: The flow of migrants across Bangladesh boundary due to unstable condition in Bangladesh has also caused tension between the two countries. Large influx of such migrants across the boundary has posed serious socio-economic-political problems for the people of Indian states bordering Bangladesh viz, Tripura, Mizoram, Assam, Meghalaya and West Bengal. India sought to check problem of refugees by erecting barbed wire fence along the border which was greatly resented by Bangladesh. Therefore, India decided to construct a road along the 2,200 km Indo-Bangladesh Border, 150 yards from the demarcation line to check infiltration of unauthorised persons into India. India facilitated the repatriation of Bangladeshi Chakma refugees from camps in Tripura. All of whom have returned. Water Dispute : In 1975, India completed the Farakka Barrage across the Ganga. As a lower riparian state Bangladesh was vitally concerned and the assassination of Mujibur Rehman in August that year during a Coup made matters worse. The dispute continued there after with no proper settlement. With the formation of the Awami League government in June 1996, fresh impetus had been given to Indo-Bangladesh relations. In 1996, Indo-Bangladesh water treaty was signed on the Farakka barrage. This accord was an improvement upon the 1975 Farakka Accord. According to this treaty, India is supposed to allow at least 35,000 cusecs of water to flow into Bangladesh. But according to critics, it hardly reaches above 25,000 cusecs. Critics have also questioned the rush and secrecy that featured the settlement. Begum Khaleda, shortly after assuming office told a visiting Indian emissary that the treaty needs to be adjusted and revised, to ensure a fair and equitable share of water to Bangladesh, especially during the dry season. Border Disputes: Border tensions between India and Bangladesh are not new. India and Bangladesh share a land border of 4,096 km and a maritime border of 180 km. The non-demarcation of a 6.5 km land border along the Comilla — Tripura makes the border question unresolved. India's reluctance to resolve this issue is attributed to the concerns of the Hindus living in the lands likely to go to Bangladesh after demarcation. Sharing River Water: Water dispute is one of the major problems between the two countries. Sharing of the water on a permanent basis is a major thrust of Bangladesh. India and Bangladesh share 54 common rivers and have an agreement on the sharing of waters of river Ganga during lean season (January 1-May 31). Signed on December 12, 1996, the Ganga Waters Treaty is based on principles of equity, fairness and no harm to either side, and continues to work satisfactorily. The two countries have a bilateral Joint Rivers Commission (JRC) that was established in June 1972 to maintain liaison between the two countries to maximize benefits from common river systems, formulation of flood control works, formulation of proposals on advance flood warnings, flood forecasting and cyclone warning, as also study of flood control and irrigation projects.
Technical Cooperation
On January 29 2012, NTPC and BPDB signed an agreement to set up a Joint Venture for the establishment of a 1320MW coal-based power plant in Bagerhat district, Khulna at an estimated cost of $1.5 billion and is expected to be commissioned by 2016. Scholarships and training programmes under ITEC, TCS of Colombo Plan, ICCR, AYUSH, Commonwealth, SAARC and IOR-ARC scholarships/ fellowship schemes are being offered to Bangladesh nationals. India offers 100 slots under ITEC and 35 slots under Technical Cooperation Scheme of Colombo Plan every year to Bangladesh.
Cultural Exchanges
Given the shared history and commonality of language, cultural exchanges form an important bond of friendship between the people of two countries. Special emphasis has been laid on promotion of exchanges in the fields of music, theatre, art, painting, books, etc. A bilateral Cultural Exchange Programme (CEP) 2009-2012 provides the framework for such exchanges.
Recent Indo-Bangladesh Maritime Delimitation Award
Recently, UN tribunal has awarded Bangladesh nearly four-fifths of an area sprawling over 25,000 sq km (9,700 sq miles) in the Bay of Bengal, ending a dispute over a sea border with India that has ruffled ties between the neighbours for more than three decades. The verdict, binding on both countries, opens the way for Bangladesh to explore for oil and gas in the Bay of Bengal, the site of important energy reserves.
When It All Started?
The award brings to an end an arbitration process Bangladesh kicked off in 2009 under the U.N. Convention on the Law of the Sea, over disputes with Myanmar and India. The Myanmar dispute was settled in 2012 after arbitration at the International Tribunal on the Law of the Sea in Hamburg. Bangladesh finally won more than 118,813 square km of waters comprising territorial sea and an exclusive economic zone extending out to 200 nautical miles.
Analysis Of Award And Prospects Of Relationships
On July 7 this year, a panel of five jurists of the Permanent Court of Arbitration delivered the long-awaited award concerning the maritime delimitation of Bangladesh and India. Bangladesh/India cements the boundary of the four maritime zones that the U.N. Convention on the Law of Sea (UNCLOS) entitles states to: the territorial sea, the exclusive economic zone (EEZ), the 'inner' continental shelf extending up to 200 nautical miles from the coasts of the states as well as the 'outer' continental shelf extending beyond 200 nautical miles from the coasts of the states. The award is undoubtedly historic but raises more questions than delivers answers. To quickly recapitulate, under the UNCLOS, the territorial sea of adjoining coasts (like those of India and Bangladesh) must be delimited using an equidistance line drawn from each coast. However, no guidelines are provided for the delimitation of the continental shelf or EEZ. The only caveat provided by treaty is that the delimitation conforms to 'equity'. Prior delimitation awards have generated a three-step analysis for dividing the continental shelf and EEZ. The first step is the establishment of a provisional equidistance line between the states, the second, consideration of relevant circumstances for the adjustment of this line and, finally, an ex post facto correction of any disproportionality in the final result. The Bangladesh/India tribunal contributes to greater certainty in EEZ and inner continental shelf delimitation by explicitly stating that the three-step test now constitutes international law. Unfortunately, while reiterating emerging norms, the Tribunal also perpetuates their attendant disadvantages by entangling itself in the redundant rhetoric of 'equity'. The three-step test emerged from equitable considerations in the UNCLOS. Questions have already been raised about the value of the 'disproportionality' stage in the three-step test as it appears to be merely a synonym for equity. It is alleged that discretion to correct for 'disproportionality' adds unnecessary subjectivity to a test already predicated on personal discretion. Bangladesh/India complicates this further by subjecting the 'relevant circumstances' to equity considerations as well. The court is overtly cautious and is enlarging the scope for arbitral discretion in maritime delimitation.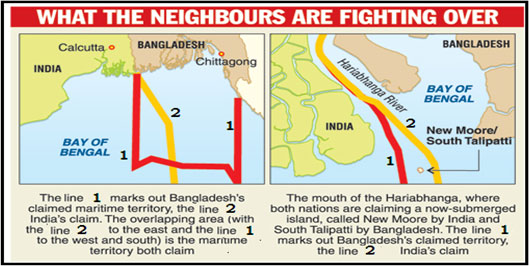 Outer Continental Shelf Rights
The UNCLOS provides for the extension of the continental shelf beyond 200 nautical miles where a natural prolongation of the continental shelf exists. The UNCLOS states that all outer continental shelf claims must be submitted to the Commission on the Limits of the Continental Shelf (CLCS) that is created by the UNCLOS itself whose recommendations are "final and binding." The Bangladesh/India tribunal acknowledges that claims forwarded by India and Bangladesh are pending before the CLCS but states that it has the authority to delimit these territories anyway. If the UNCLOS suggests that outer continental shelf rights can only arise from CLCS approval, can the Tribunal suo moto create a boundary where no right exists? It is unlikely that a Tribunal would have the necessary expertise to make this determination. Moreover, such a jurisdictional conflict might cast doubt on the finality of the award if the CLCS was to make recommendations contrary to the order. Perhaps it is these issues that caused the Nicaragua/Honduras tribunal in 2007 to steer clear of outer continental shelf delimitation. In the words of that tribunal: "Any claim of continental shelf beyond 200 miles must be in accordance with Article 76 of UNCLOS and reviewed by the Commission on the Limits of the Continental Shelf established thereunder". The Tribunal extends the three-step test discussed above to the delimitation of the outer continental shelf as well. In doing so, as a lesson for future arbitrations, the Tribunal makes efforts to first, prevent "excessive negative consequences" and second, distribute maritime entitlements in a "reasonable and mutually balanced" fashion. The difference between these considerations, that were specifically pointed out by the Tribunal, and concerns of 'equity' that are constantly reiterated remain obscure. However, Bangladesh/India hereby obliterates any vacuum in outer continental shelf delimitation by laying out a recommended methodology for its treatment. Also, the Bangladesh/India award creates a "grey area". This area is where India's 200 nautical mile EEZ and inner continental shelf overlaps with the outer continental shelf of Bangladesh, resulting in dual claims over a single zone. While India has claims over the subsoil as well as the water column above it, Bangladesh's claim is limited to the former. The Tribunal acknowledges the existence of overlapping obligations. Remarking that this is not unknown in the realm of maritime delimitation, the Tribunal hopes for "the creation of a cooperative arrangement," confident that this will "ensure that each is able to exercise its rights and perform duties within this area." In determining Bangladesh's maritime entitlements, the Tribunal settled on a series of reference spots on land called 'basepoints' from which the four maritime zones would be measured. Bangladesh's early claim was that its constantly changing coastline militates against the use of standard methods for its treatment. The Tribunal's response to Bangladesh is a reiteration of the established position in international law, that the future of a coastline is irrelevant.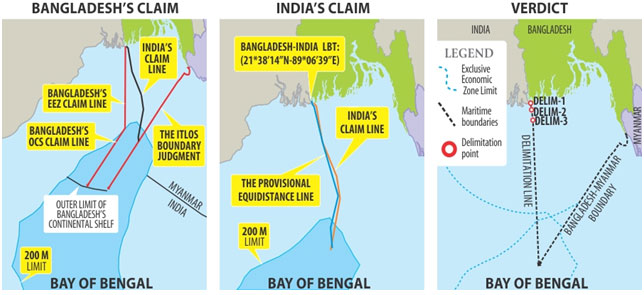 The Future
It is widely reported that the final award is a victory for Bangladesh and less so for India. However, the Indian government has stated that it will accept the award as binding. What the 'grey zone' portends makes for interesting speculation. Could this be a gateway to greater cooperation in South Asia, which fits in neatly with recent efforts to strengthen the role of SAARC or will 'grey zone' negotiations revive tensions? Bangladesh/India is a crucial landmark in the determination of the geographic and political contours of South Asia but it is only a beginning to the resolution of a long-standing problem.
Also read-