TABLE OF CONTENTS
A.

 GS1 Related


ART AND CULTURE
1. Venkaiah Naidu inaugurates 'World Peace' monument
ECOLOGY
1. 88 million-year-old isle and crater to be geoparks


B.

 GS2 Related


GOVERNANCE
1. Change in mindset fuelled Swachh success, says Modi
2. Rape survivor can't subvert trial


C.

 GS3 Related


SCIENCE AND TECHNOLOGY
1. Laser pioneers win Physics Nobel
ECONOMY
1. Govt. gives in to some demands


D.

 GS4 Related




E. 

Editorials


ECONOMY
1. Rescuing IL&FS (Covering the issue of defaults by the IL&FS)
2. A flight path with obstacles (India's drone use policy)
ECOLOGY AND ENVIRONMENT
1. Up in the air (Delhi's atmospheric Pollution)
POLITY AND GOVERNANCE
1. In the court of last resort (The National Register of Citizens)


F. 

Tidbits


1. Steel, construction attract rating push
2. World should move towards a single grid to share electricity, says Modi
3. Indians to be hit by U.K. immigration plan
4. Bangladesh delays relocation of Rohingya
5. In a first, 10 Odisha villages eradicate untouchability
6. Toilet-for-all: WHO calls for more investment
7. Odisha launches own food security scheme
8. Rajasthan govt. offers post-harvest benefits
9. Over 1.6 lakh held, only 141 sentenced so far
10. Tirupati bans plastic carry bags
11. India sends relief material to Indonesia
12. Support Dhaka on Rohingya crisis: Guterres


G. 

Prelims Fact


1. Champions of the Earth
2. Luxury Consumer Price Index
3. Sir Chhotu Ram (Ram Richpal)
H. UPSC Prelims Practice Questions
I. UPSC Mains Practice Questions 

1. Venkaiah Naidu inaugurates 'World Peace' monument
Vice-President M. Venkaiah Naidu inaugurated the world's largest dome at the Maharashtra Institute of Technology (MIT)'s World Peace University (MIT-WPU) campus at Loni Kalbhor on the 150th birth anniversary of Mahatma Gandhi.
The structure, called the 'World Peace Monument' dome, took nearly 13 years to be built.
At 160 ft. in diameter and 263 ft tall, it is larger in area than the dome at St. Peter's Basilica in Vatican City (which is 136 ft. in diameter and 448 ft. in height).
The dome is built atop the MIT World Peace Library and the World Peace Prayer Hall, which are named after the 13th century poet-saint and philosopher Dnyaneshwar — a pivotal figure of the Bhakti movement in Maharashtra.
Each of the 24 massive columns in the dome stands 63 feet tall. The prayer hall can accommodate 3,500 people and is embellished with portraits of more than 50 accomplished men globally.
Among the statues are: Gautam Buddha, Jesus Christ, Mahavir, Moses, Guru Nanak and Mahatma Gandhi; intellectual giants like Confucius, Adi Shankaracharya, Aristotle, Aryabhatta, Socrates, Plato, Galileo and Copernicus; philosopher-saints like Dnyaneshwara, Tukaram, Abdullah Shah Qadri (famous as Baba Bulleh Shah), Francis D'Assissi, Peter, Mother Teresa and Kabir; and scientists like Albert Einstein, Thomas Alva Edison, C.V. Raman, Jagadish Chandra Bose and Marie S. Curie.
Dnyaneshwar
Dnyaneshwar, also known as Dnyandev or Mauli (1275–1296) was a 13th-century Marathi saint, poet, philosopher and yogi of the Nath tradition whose Dnyaneshwari (a commentary on the Bhagavad Gita) and Amrutanubhav are considered to be milestones in Marathi literature.
Philosophy
Dnyaneshwar takes up the examination of being or Brahman.
He considers being to be the substratum of thought which enables thought and cognition.
Dnyaneshwar believes that reality is self–evident and does not require any proof.
He considers humility; non–injury in action, thought and words; forbearance in the face of adversity; dispassion towards sensory pleasures; purity of heart and mind; love of solitude and devotion towards one's Guru and God as virtues; and their corresponding moral opposites as vices.
Devotion to Guru occupies an important place.
Dnyaneshwar is in agreement with tradition; he believes that divine order and moral order are one and the same and are inherent in the universe itself.
He, therefore, recommends that all social institutions be protected and preserved in their totality.
However, when it comes to the institution of caste, his approach becomes more humanitarian and he advocates spiritual egalitarianism.
Works
Dnyaneshwari or Bhavarthdipika
Amrutanubhava or Anubhavamrita
Changdev Pasashti
Haripath
Abhangas
1. 88 million-year-old isle and crater to be geoparks
In a first, an ancient circular lake created by a meteorite strike in Maharashtra and a hexagonal mosaic of basaltic rocks in an island off Udupi are poised to become global geoparks, under a Geological Survey of India (GSI) plan.
Lonar Lake in Maharashtra and St. Mary's Island and Malpe beach in coastal Karnataka are the GSI's candidates for UNESCO Global Geopark Network status.
Global Geopark
The Geopark tag is akin to that of a 'World Heritage Site' for historical monuments that can bring India's famed geological features to the global stage.
UNESCO Global Geoparks are single, unified geographical areas where sites and landscapes of international geological significance are managed with a holistic concept of protection, education and sustainable development.
While a UNESCO Global Geopark must demonstrate geological heritage of international significance, the purpose of a UNESCO Global Geopark is to explore, develop and celebrate the links between that geological heritage and all other aspects of the area's natural, cultural and intangible heritages.
Their bottom-up approach of combining conservation with sustainable development while involving local communities is becoming increasingly popular.
At present, there are 140 UNESCO Global Geoparks in 38 countries.
UNESCO's work with geoparks began in 2001.
In 2004, 17 European and 8 Chinese geoparks came together at UNESCO headquarters in Paris to form the Global Geoparks Network (GGN) where national geological heritage initiatives contribute to and benefit from their membership of a global network of exchange and cooperation.
On 17 November 2015, the 195 Member States of UNESCO ratified the creation of a new label, the UNESCO Global Geoparks, during the 38th General Conference of the Organisation.
This expresses governmental recognition of the importance of managing outstanding geological sites and landscapes in a holistic manner.
The Organization supports Member States' efforts to establish UNESCO Global Geoparks all around the world, in close collaboration with the Global Geoparks Network.
An aspiring Global Geopark must have a dedicated website, a corporate identity, comprehensive management plan, protection plans, finance, and partnerships for it to be accepted.
In mid-August, GSI moved ahead with the plan, setting a follow-up time frame of 100 days.
Lonar lake
Lonar lake is the only known meteorite crater in basaltic rock and is world famous.
This lake, which lies in a basalt impact structure, is both saline and alkaline in nature.
The lake is a haven for a wide range of plant and animal life.
Resident and migratory birds such as black-winged stilts, brahminy ducks, grebes, shelducks (European migrants), shovellers, teals, herons, red-wattled lapwings, rollers or blue jays, baya weavers, parakeet hoopoes, larks, tailorbirds, magpies, robins and swallows are found on the lake.
Among reptiles, the monitor lizard is reported to be prominent.
The lake is also home to thousands of peafowls, chinkara and gazelles.
The area of 3.83Sq.km was declared as Lonar Wildlife Sanctuary by the government on 20 November 2015.
Lonar crater became a geo-heritage site in 1979.
It is relatively young geologically, at just 50,000 years old.
A meteorite estimated to weigh two-million-tonnes slammed into the Earth, creating a 1.83-km diameter crater where the lake formed.
It is distinguished by a near-perfect, circular ejecta blanket, which refers to earth thrown up during the collision, around it.
St. Mary's island
Mary's Islands, also known as Coconut Island and Thonsepar, are a set of four small islands in the Arabian Sea off the coast of Malpe in Udupi, Karnataka, India.
They are known for their distinctive geological formation of columnar basaltic lava.
Mary's Island, declared a national geo-heritage site in 1975, is estimated to be an 88-million-year-old formation that goes back to a time when Greater India broke away from Madagascar.
According to folk legend, in the year 1498, Vasco da Gama landed at St. Mary's Islands on his journey from Portugal, fixed a cross on the island and named one of these islands, O Padrão de Santa Maria, as a dedication to Mother Mary.
1. Change in mindset fuelled Swachh success, says Modi
People's participation, combined with public funding and partnerships, had been the key drivers in the Swachh Bharat Abhiyan's successful campaign against open defecation, Prime Minister Narendra Modi said.
More than 94% of rural households across the country have now been declared open defecation free in comparison to just 39% when the mission was launched four years ago.
The PM's deadline to eradicate open defecation in the country is Mahatma Gandhi's 150th birth anniversary on October 2, 2019.
Observations
India is taking the lead on the UN's Sustainable Development Goal on sanitation and was on course to fulfil its commitments 11 years early.
India has shown that with political will and commitment, it is possible to achieve ambitious targets quickly.
It is essential that we are ready to break taboos and speak out even on sensitive matters when lives are at stake.
Between swachhata (cleanliness) and swatantrata (independence), Gandhiji said he would give priority to swachhata.
Mindset change among the people is the first step and once a jan andolan had been started, it would have a domino effect on the country and the world.
Swachh Survekshan Grameen
The Ministry of Drinking Water and Sanitation (MDWS) undertakes "Swachh Survekshan Grameen" to provide national ranking of all districts of India on the basis quantitative and qualitative sanitation (Swachhata) parameters.
This ranking is be based on a comprehensive set of parameters including data from the SBM-G IMIS, district-level surveys of public places like schools, anganwadis, PHCs, haat bazaars, Panchayat and citizen's perception of Swachhata and their recommendations for improvement of the program.
As part of the strategy to monitor progress and reward excellence, awards were given to Haryana, which was declared the cleanest State in a 2018 survey of rural India, while Satara district in Maharashtra was declared the cleanest district.
2. Rape survivor can't subvert trial
The turning hostile of a rape survivor should not deter a court from continuing with the trial.
Observations
A criminal trial is but a quest for truth, a Bench of Justices Ranjan Gogoi, Naveen Sinha and K.M. Joseph declared in a judgment.
Justice Sinha observed that societal interest for rule of law, to bring the accused to book in the face of incontrovertible proof, is as important as the rights of the victims.
Neither the accused nor the victim can be permitted to subvert a criminal trial by stating falsehood and resort to contrivances, so as to make it the theatre of the absurd.
The court held that ideally the victim, now married, should face the law for lying in her testimony. But the court pardoned her, saying she was barely nine years old on the date of occurrence.
The occurrence had taken place 14 long years ago. She may have since been married and settled to a new life, all of which may possibly be jeopardized.
Background
The case dealt with a rape committed on a nine-year-old in Gujarat in 2004.
The case was registered six months after the incident.
The child had turned hostile during the trial.
She deposed that her injuries were due to a fall.
However, medical reports and physical examination of her clothes proved rape.
Significance
The judgment by Justice Sinha for the Bench tackled the age-old problem of rape victims turning hostile, leading to a high rate of acquittal.
Category: SCIENCE AND TECHNOLOGY
1. Laser pioneers win Physics Nobel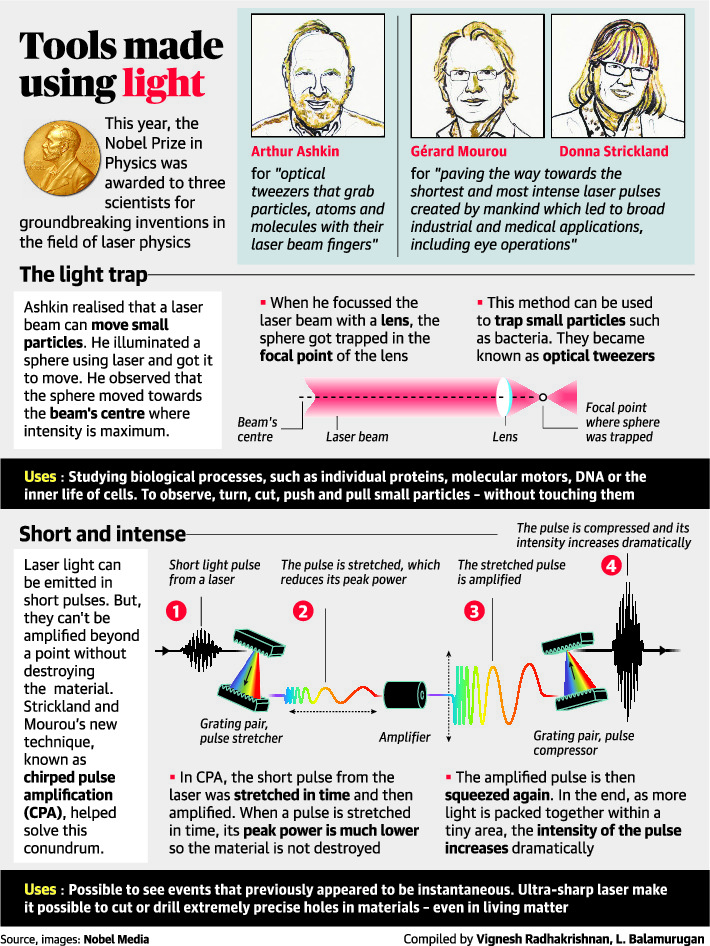 Three scientists have won the Nobel Physics Prize, including the first woman to receive the prestigious award in 55 years, for inventing optical lasers that have paved the way for advanced precision instruments used in corrective eye surgery.
Arthur Ashkin of the U.S. won one half of the nine million Swedish kronor (about $1.01 million) prize, while Gerard Mourou of France and Donna Strickland of Canada shared the other half.
Ashkin, who made his discovery while working at AT&T Bell Laboratories from 1952 to 1991, is the oldest winner of a Nobel prize, beating out American Leonid Hurwicz who was 90 when he won the 2007 Economics Prize.
Meanwhile Mr. Mourou, 74, and Ms. Strickland ,59, — only the third woman to win the Physics Prize — won for helping develop a method to generate ultra-short optical pulses, the shortest and most intense laser pulses ever created by mankind.
Their technique is now used in corrective eye surgery.
Mourou was also involved in building the Extreme Light Infrastructure (ELI) project and what is believed to be one of the world's most powerful lasers, the Apollon, in developments that researchers hope will one day help deal with nuclear waste, treating tumours and clearing debris in space.
Optical tweezers
Ashkin, 96, was honoured for his invention of "optical tweezers" that grab particles, atoms, viruses and other living cells with their laser beam fingers.
With this he was able to use the radiation pressure of light to move physical objects.
A major breakthrough came in 1987 when Mr. Ashkin used the tweezers to capture living bacteria without harming them.
Optical tweezers are scientific instruments that use a highly focused laser beam to provide an attractive or repulsive force, depending on the relative refractive index between particle and surrounding medium, to physically hold and move microscopic objects similar to tweezers.
1. Govt. gives in to some demands
As the thousands of protesting farmers affiliated to the Bharatiya Kisan Union (Tikait group) were prevented from entering Delhi in support of their demands, Minister of State for Agriculture Gajendra Singh Shekhawat said the Centre would consider reducing GST on farm equipment to 5%.
The farmers have demanded that farm equipment be exempt.
Farmers have complained of rising debt, increasing cost of pesticides and other expenses and demanded that the recommendations of the M.S. Swaminathan Commission be accepted.
While the Centre is prepared to cede ground on some of the demands, it is refusing to budge with regard to higher minimum support prices (MSP) and wants further discussion on issues such as loan waivers and has said that the C2+FL formula is economically unviable.
M.S. Swaminathan Commission
The government of India constituted the National Commission on Farmers (NCF) on November 18, 2004.
The NCF was chaired by Professor M.S. Swaminathan.
It submitted five reports to the government.
The reports had suggestions for "faster and more inclusive growth" for farmers as was envisaged in the Planning Commission's Approach to 11th Five Year Plan.
The fifth report was the most crucial as it contained suggestions for inclusive growth of farmers and agriculture sector.
NCF's Swaminathan Commission Report aimed at working out a system for food and nutrition security, sustainability in the farming system, enhancing quality and cost competitiveness of farm commodities and also to recommend measures for credit and other marketing related steps.
Dr Swaminathan had requested the government to implement the recommendations given in the report so that it could provide minimum support price for grains, safeguard the interest of small farmers and addressing the issue of increasing risk overtaking agriculture as a profession.
Observations
The Commission observed that farmers needed to have an assured access to and control over rightful basic resources. These basic resources include land, water, bioresources, credit and insurance, technology and knowledge management, and markets.
It observed that agriculture must be implemented in the concurrent list from the state list — hence putting it as a matter of concern for both the Union and the states.
Recommendations
One of the key reforms was land reforms. It was aimed to address the issue of access to and for both crops and livestock. The commission said that the inequality in landholdings in shown starkly in land ownership. It said that in 1991-92, the share of the bottom 50 per cent of the rural households in the country's total land ownership was only three per cent. The top 10 per cent owned as much as 54 per cent.
Land Reforms: Distribution of ceiling-surplus and waste lands; prevention of diversion of prime agricultural land and forest to corporate sector for non-agricultural use; to ensure grazing rights are provided and seasonal access is allowed in forests to tribals and pastoralists. It recommended access to common property resources. One main case was establishing a National Land Use Advisory Service. The purpose of this service would be to connect land usage decisions with ecological meteorological and marketing factors.
Irrigation Reforms: It recommended framing a set of reforms to provide farmers with "sustained and equitable" access to water for irrigation. Ensuring boost in water supply by rainwater harvesting, water level recharging by mandatory aquifers; Million Wells Recharge programme to be initiated targeted at private wells. To target increase in investment in irrigation sector under 11th five year plan.
Productivity Growth: NCF said that with the objective of achieving higher productivity growth, it recommended "Substantial increase in public investment in agriculture-related infrastructure particularly in irrigation, drainage, land development, water conservation, research development and road connectivity etc." It also recommended a national network of advanced soil testing labs with an aim to test areas for apt micronutrient levels.
Credit and Insurance: Expand outreach of formal credit system; reduce crop loan interest rates to 4%; provide moratorium on debt recovery; agricultural risk fund; kisan credit cards for women farmers; integrated credit-cum-crop-livestock human health insurance package; crop insurance across country for all crops with reduced premiums; sustainable livelihoods for the poor, investment in human development; institutional development services etc
Food Security: The commission recommended Implementation of a universal public distribution system; reorganising delivery of nutrition support programmes on a life-cycle basis with panchayat participation and that of local bodies; elimination of micronutrient deficiency induced hunger and food cum fortification; community food and water banks to be operated by women self-help groups; help small and marginal farmers; formulate national food guarantee act with features as food for work and employment guarantee programmes.
Prevention of Farmer Suicides: Providing affordable health insurance at primary healthcare centres in villages; national rural health mission to be extended to suicide hotspots on priority basis; state level farmers' commissions with representatives of farmers, restructuring of microfinance policies that may serve as a sort of livelihood finance; covering all crops by crop insurance; village to be the assessor and not the block, social security net that gives old age support with health insurance and aquifer recharge and rain water conservation; plans for decentralised water usage etc.
C2+FL formula
The Commission for Agricultural Costs and Prices (CACP) gives three definitions of production costs: A2, A2+FL and C2.
A2 costs basically cover all paid-out expenses, both in cash and in kind, incurred by farmers on seeds, fertilisers, chemicals, hired labour, fuel, irrigation, etc.
A2+FL cover actual paid-out costs plus an imputed value of unpaid family labour.
C2 costs are more comprehensive, accounting for the rentals and interest forgone on owned land and fixed capital assets respectively, on top of A2+FL.
Nothing here for today!!!
1. Rescuing IL&FS (Covering the issue of defaults by the IL&FS)
Note to the Students:
This editorial coverage is from an important topic which was covered on the 2nd October edition of The Hindu. Students are advised to go through this article as it has a relevance from the perspective of the GS-3 Paper (Indian Economy).
The News:
A series of defaults by the IL&FS holding company and group outfits beginning in August have set off a market-wide contagion.
Background:
Infrastructure Leasing & Financial Services Ltd. (IL&FS) was set up in 1987 by the legendary M.J. Pherwani (former chairman of Unit Trust of India, National Housing Bank, etc.) to finance and promote infrastructure projects in the country.

This holding company is now a financial behemoth with assets of over Rs. 1,15,000 crore and a  debt of Rs. 91,000 crore.

IL&FS Finance, which is a group company of the holding IL&FS company, defaulted in late August on a commercial paper repayment. This development was followed by a default by IL&FS on repayment of a Rs. 1,000 crore deposit to Small Industries Development Bank of India (SIDBI).

Pursuant to this, a series of defaults by the holding company and group outfits followed. These defaults ran into the weeks leading up to the annual general meeting of IL&FS on September 29.

Infrastructure Leasing & Financial Services Ltd. (IL&FS) is listed as "systemically important" by the Reserve Bank of India. The company has over Rs. 1,15,000 crore of assets and Rs. 91,000 crore of debt. Thus, it is too big to fail. This is further underlined by the fact that interlinkages between IL&FS and other financial sector entities such as banks, mutual funds and infrastructure players are too strong and the company would have taken them all down with it if it were allowed to fail.
A Note on IL&FS:
IL&FS is a holding company that operates through 169 other companies.

These 169 other companies are either subsidiaries, group companies or joint ventures with others. It has been in the past and is currently as well, associated with landmark projects.

A few among these projects include the tunnel under the Zoji La Pass, Delhi-Noida toll bridge, Gujarat International Finance Tec-City (GIFT) and a host of road, power, water and port projects.

Three of IL&FS'group companies are listed on the stock markets.

These group companies are IL&FS Investment Managers Ltd., IL&FS Engineering and Construction Company Ltd. and IL&FS Transportation Networks Ltd.

IL&FS was originally promoted by the Central Bank of India, Unit Trust of India and HDFC. Orix Corporation of Japan, Abu Dhabi Investment Authority, LIC and SBI joined in as co-promoters later.
How did this crisis take place?
Essentially, the company borrowed many times its equity. This figure is rumoured to be between 10-18 times its equity. This money was borrowed to fund its infrastructure projects, most of which bring in returns over 20-25 years.
To compound matters, IL&FS's borrowings were all repayable in the short to medium-term of roughly 8-10 years.
The chokepoint for IL&FS came from the fact that its projects were stalling and not being completed due to various reasons. These reasons ranged from:
statutory approvals not coming in

problems of land acquisition and

projects simply becoming unviable as it happened in the case of power plants.
Further, with returns from these projects not coming in, IL&FS was forced to borrow more. Lenders pulled the plug leading to trouble for IL&FS.
It is important to note that assets and receivables were exaggerated in the financial statements and the top managers took home large pay-outs and continued to pay dividends to shareholders despite the financial situation. An investigation has been ordered by the Serious Fraud Investigation Office.
Analysis:
Recently, the Centre moved to supersede the Board of Directors.

The decision to change the management has ushered in the appointment of experienced people, such as Uday Kotak, who has rich experience in the finance sector; G.C. Chaturvedi, former bureaucrat and non-executive chairman of ICICI Bank; and G.N. Bajpai, former chairman of the Securities and Exchange Board of India and the Life Insurance Corporation. It is believed that these appointments should lend confidence to lenders and investors.

The Centre has explicitly stated its intent, which is to "ensure that needed liquidity is arranged for IL&FS from the financial system".

By doing so, the Centre has sent out an unambiguous message to the markets that it will not allow the company to fail.

It is believed that any rescue plan for the company obviously had to begin with replacing the existing management that was responsible for mismanaging its affairs.

Currently, the problem appears to be one of liquidity and not solvency.

It is believed that this is a classic case of over-leveraging, and an asset-liability mismatch caused by funding projects of 20-25 years payback period with relatively short-term funds of 8-10 years.
Concluding Remarks:
In conclusion, there are some important questions that need to be answered.
If IL&FS was a systemically important company, how did its over-leveraging escape the notice of the Reserve Bank of India?

What did the periodic inspections of the company by RBI reveal? How did the developing situation pass the attention of shareholders? Did they look the other way since their dividends were serviced?

Finding answers to these questions is as important as rescuing IL&FS.

Finally, it is felt that there is a need for long-term finance sources for infrastructure projects.

Currently, the LIC and some insurance companies are the only domestic sources and they too do not lend beyond 10 to 12 years.

Thus, the Centre and the RBI should look at ways to deepen the debt markets where infrastructure players can borrow long-term.

Moreover, it also needs to be analysed as to how a company listed as "systemically important" managed to fly under the radar with misgovernance. It is important to note that the debt pile-up due to over-leveraging did not happen overnight.
2. A flight path with obstacles (India's drone use policy)
Indian Context:
With the publication of the drone regulations in late August 2018, the Ministry of Civil Aviation has attempted to give some structure to the development of drone infrastructure in India.
Drones are a technology platform which has wide-ranging applications from photography to agriculture, from infrastructure asset maintenance to insurance. Drones range in size from very small and those that can carry multiple kilograms of payload.
The Ministry of Civil Aviation has been working for several years to establish a world leading drone ecosystem in India.  To that end, it was necessary to develop global standard drone regulations that would permit, will appropriate safeguards, the commercial application of various drone technologies.
India's regulations separate drones into five categories. These categories are
nano,

micro,

small,

medium and

large.
There is very little regulation for flying a nano up to 50 metres height, except for not flying near airports, military sites or in segregated airspace.
A Long Procedure
For drones that fall under the

micro category

, operators have to start with the application for a

unique identification number (UIN)

for each drone. There is a long list of documentation including security clearances from the Ministry of Home Affairs (MHA) in several cases.

Once the UIN is obtained, operators get to move to the next step. They have to apply for an Unmanned Aircraft Operator Permit (UAOP). This implies more forms.

To compound matters, in the current system, even to fly a micro drone below 200 ft, users have to intimate the local police station 24 hours prior. (One application requires that it be submitted with seven copies.)

These provisions curb manufacturers of drones as well as technologists and researchers who have to test fly these drones frequently, often several times a day. The very structure of these regulations makes the possibility of a red tape-free flight very slim. There is also a chance that operators could be slapped easily with real and perceived violations.

Critics further point out that although the regulation provides a list of identified areas for testing and demonstration, the locations provided are so far from technology and development hubs that it is unclear how practical these will be. Although one must concede that flying drones in these areas comes with less paperwork.
International Perspective: Switzerland
"Agroscope"

, is the 'Swiss centre of excellence for agricultural research', in Nyon, Switzerland.

Here, agriculture scientists fly a drone to study nitrogen level in leaves, not for a farm as a whole, but for each individual plant.

The drone takes a large number of images, which after being fed into a computer model with data on a) soil condition, b) weather, c) time of the year and other information, helps analyse which plants are deficient in nitrogen.

This technique enables farmers to add corrective fertilizer only where necessary.

"Sensefly"

, which is a Swiss drone manufacturer, has customers around the world, whose use of drones have resulted in higher yield.

This higher yield has been

more than 10% in observed case studies

. Further, significantly lower usage of fertilizers and herbicides have been observed.
International Perspective: China and USA
China's drone economy, which includes both manufacturing and development will be worth $9 billion in 2020.

The U.S's commercial drone market is expected to be $2.05 billion by 2023 (According to Global Market Insights).

For India to compete against these giants, it already has a lot of catching up to do.

Filing a series of applications in multiple copies and waiting for various government departments to respond is not the best way to get started.
Concluding Remarks:
One must concede that the security and privacy risks of allowing drones to fly in an unregulated manner are high.

Importantly, it may be recalled that in August 2018, a drone was used in an attack on Venezuelan President Nicolás Maduro during a public meeting. This development underscores the threat that drones can cause.

India needs to figure out a more balanced manner of regulation.

The current rules are a start, but only in the sense that they free all drones from their previous illegality. The real impact of drones will be in the many applications they will be put to. Agriculture is just one such. They are likely to be the disaster prevention systems, rescue operation leaders, and even public transport providers in the not too distant future.

It is believed that missing out on working on these applications early enough will likely have serious repercussions to India's future competitiveness in the field.
Category: ECOLOGY AND ENVIRONMENT
1. Up in the air (Delhi's atmospheric Pollution)
Note to the Students:
This editorial coverage is from an important topic which was covered on the 2nd October edition of The Hindu. Students are advised to go through this article as it has a relevance from the perspective of the GS-3 Paper (Environment and Ecology).
Editorial Analysis:
For sometime now, the onset of the winter season has come to be associated with toxic atmospheric pollution in north India.

It is important to note that although road dust and pollution from heavy vehicles are primarily responsible for the noxious air that sets on Delhi and other urban centres, the burning of paddy stubble by farmers further compounds the issue.  

This practice is followed by farmers to clear their fields for the next crop, but this is considered to be responsible for 20% of the smog.
Government Initiatives:
To address this issue, and under directions from the Supreme Court-constituted Environment Pollution (Prevention and Control) Authority, or EPCA, the Centre is partnering with the states of Punjab, Haryana and Uttar Pradesh to provide farmers with a range of mechanised implements to clear their fields of paddy crop residue to prepare for sowing wheat.
Specifically, there is a 50% subsidy to farmers, and a 75% waiver to cooperative societies, agencies that rent out equipment, farmers' interest groups or gram panchayats to buy such machines.

Further, states have got nearly Rs. 650 crore to help farmers buy subsidised equipment such as Happy Seeder, paddy straw choppers and Zero Till Drill.

Moreover, the state of Punjab, which of the three States has the largest acreage under paddy, has a target of procuring 24,315 machines by October 15.

A task force, headed by the Principal Secretary to the Prime Minister and comprising Environment Ministry officials and Chief Secretaries of these States, have been meeting since January to prepare for the winter season.
Voices of Concern:
Certain reports suggest that many farmers, particularly those with land holdings of less than 5 acres, remain sceptical of the efficiency of these machines.

These farmers have concerns of whether or not these machines will affect productivity.

As a matter of fact, many farmers have told officials that they are worried that there could be damage to the soil.

Hence, it is believed that just making technological tools available may not be enough and that there needs to be proactive engagement to both persuade and reassure farmers.
Concluding Remarks:
Surprisingly, it was technology that contributed to the problem in the first place.

It was the rising cost of labour that prodded farmers to adopt mechanised equipment which, while efficient, left behind much longer stalks of paddy than what the traditional practice of removing them by hand did.

The current state of affairs: the greater availability of machines and the zero-tolerance policy, need to be seen as works in progress to derive lessons on how to refine the crop-clearing process in an ecologically sound manner.

There must also be a sense of proportion, as 80% of the atmospheric pollution in Delhi in winter draws from sources other than burning stubble.

Lastly, given Delhi's geography, low wind speeds and a spike in local pollution, which is caused largely from vehicles, biomass burning, firecrackers, etc, raise the particulate matter count dramatically during winter.

Thus, to be effective, the fight against pollution must necessarily be broad-based.
Category: POLITY AND GOVERNANCE
1. In the court of last resort (The National Register of Citizens)
Editorial Analysis:
In January 2018, a warning was issued by four judges of the

Supreme Court,

in an unprecedented press conference.

These judges objected to the manner in which the then Chief Justice of India was using his power to allocate cases to different benches of the Court.

One amongst these dissenting judges was Justice Ranjan Gogoi, who now takes oath as the new Chief Justice of India.
The National Register of Citizens (NRC) Case:
Between the years 2009 and 2012, public interest petitions were filed before the Supreme Court. These public interest petitions challenged Section 6A of the Citizenship Act, and also asked for the updating of the National Register of Citizens (NRC) for the State of Assam.

This was to be done in accordance with the Assam Accord.

Further, it was argued that this was urgently required to check illegal migration from across the border, and detect and deport non-citizens living in Assam.

In the beginning, the court only monitored the government's progress, asked for status reports, and prodded the administrative authorities.

However, the stance adopted by the Court, that of monitoring the government's progress changed, in late 2014.

Firstly, a bench of the court headed by Justice Gogoi directed the State Coordinator of the NRC to submit in a "sealed cover" a report indicating the "steps and measures" that he was taking to complete his work of updating of NRC.

Critics allege that this development suggested that the court was no longer content with mere oversight, but would direct both the modalities and the implementation.

Further, on December 17, 2014, a two-judge bench of the court, which was again presided over by Justice Gogoi, referred the constitutional challenge to a larger bench, but also passed a detailed order (authored by Justice R.F. Nariman) setting out a time schedule requiring the draft NRC to be completed by the end of January 2016.

Critics further assert that the bench of Justices Gogoi and Nariman then virtually took over the task of preparing the NRC.

They believe that there are three incidents which lend credence to this. These incidents are as follows:
Firstly, in the month of February 2017, the NRC Coordinator placed a "power point presentation" before the Court, which set out the "steps involved" (both present and future) in the preparation and upgradation of the NRC. The court did not make this public.
Subsequently, however, it was reported that the court had approved an entirely new method of ascertaining citizenship, known as the

"Family Tree Verification".

In the month of July the same year, the State Coordinator stated that on the basis of the Family Tree Method, 65,694 cases had been "discovered to be false". But as it was also reported, for instance not only did people from the hinterlands have little awareness about this method, but putting together a family tree (in the unique sense in which it is being used in this case) was a big challenge especially for women. Unfortunately, none of this was taken into account by the Court.
                   b) Secondly, it became increasingly clear that the time schedule was unrealistic. Extensions were requested, which the court granted grudgingly.




c) Finally, on the publication of the final draft NRC at the end of July 2018, around 4 million people had been left out.
The Gravity of the Situation:
It is important to note that depriving an individual of her citizenship is a very serious matter.

It is for this very reason that our Constitution envisages a detailed system of checks-and-balances. First, it is the Parliament that must pass a law.

Moreover, the executive, which is best acquainted with the facts and circumstances on the ground, must implement it. And finally, courts review legislative and executive action for constitutional compliance.

Critics believe that the current practice deprives the individual of a vital, constitutional remedy.




An important question arises:

Where is the individual to go if she wants to challenge the contents of the reports filed in sealed cover?

They further allege that such an exercise in which the court decides, in secret consultation with the State Coordinator, undermines both open justice, and judicial review. The executive court has set itself up as the first and final tribunal, without appeal or recourse.
1. Steel, construction attract rating push
The proportion of upgrades to downgrades (credit ratio) given by ratings agency Crisil stood at 1.68 in the first half of fiscal 2019, compared with 1.88 times and 1.45 times in the first and second halves of fiscal 2018, respectively.
There were 685 upgrades and 408 downgrades in the first half of fiscal 2019.
For the first time in 5 years, the credit ratio for investment-linked sectors, at 2.15 times, is higher than the overall credit ratio.
Sectors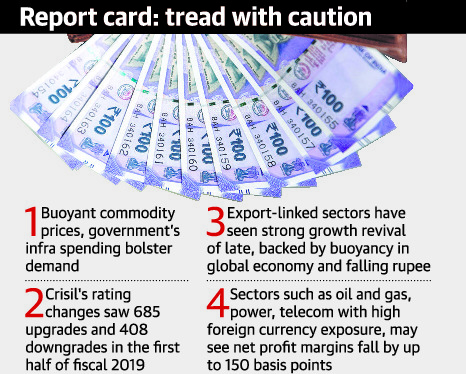 The uptick could be seen in sectors such as steel, construction and industrial machinery that benefited not only from buoyant commodity prices, but also the government's infrastructure spending, amid a lag in private investments.
For domestic consumption-linked sectors, the demand growth drivers remain strong, but rising interest rates could act as a mild dampener.
Export-linked sectors have seen strong growth revival in recent months backed by buoyancy in the global economy and a sliding rupee.
Red flags
But, all is not well as India Inc. faces a volatile rupee, rising interest rates and a rising risk of global tariff disputes turning into full-blown trade wars.
Crisil's analysis of about 2,500 firms in its portfolio that have foreign currency exposure shows that the impact of the recent rupee volatility on profitability will be modest.
The top 10 sectors with high foreign currency exposure, including oil and gas, power and telecom, will see net profit margins eroding this fiscal by up to 150 basis points.
Meanwhile, ICRA's rating actions this fiscal point to an increase in the downward rating pressure on investment grade entities.
This is reflected in the rating drift of investment grade entities turning negative in first half of FY19 for the first time since FY14, as well as the rise in the rate of downgrades.
2. World should move towards a single grid to share electricity, says Modi
3. Indians to be hit by U.K. immigration plan
Indian citizens and other non-EU citizens will have the same immigration rights as EU citizens in the U.K., under a system that will give priority to high skilled workers.
India
The system is already extremely restrictive for workers from India and this is going to make it even more so.
The government also said it would introduce a swift system of e-gate visa checks for tourists and visitors coming to the country for short- stay business trips from all low risk countries. It is unlikely that India would be included in this list.
When Britain explained its reasons for excluding India from an easing of visa documentation requirements for foreign students earlier this year, it pointed to risk assessments of different countries when it came to their risk of overstaying, suggesting India continues to be considered a high risk country in Britain.
Brexit
During the 2016 Brexit referendum campaign, some politicians courted voters from the South Asian diaspora with promises that Brexit — by enabling Britain to restrict the rights of EU citizens to travel to the U.K. — could provide the government with the capacity to ease rules for those from non-EU countries.
Other concerns
Britain will end freedom of movement once and for all which is a fundamental principle of the EU, and which allows its citizens to look for a job in other member countries, work there without a permit, reside there and stay on even after employment has ended.
Successful applicants would be able to bring their immediate family only if they were sponsored by future employers, thereby increasing the potential costs of businesses and putting further obstacles in the way of people being able to bring their families to the U.K. Under the existing system, employees are able to bring family members with them if they meet certain criteria, including crossing a certain salary threshold.
The problem of divided families — with children and spouses stuck abroad because the main earner's salary didn't meet a certain threshold — was only likely to get worse, while new challenges would be brought into the mix.
Many questions remain as to what the salary threshold for those coming to the U.K. was going to be. If companies have to sponsor the whole family, will it have to be much higher than it is now?
Will employers now make a distinction between the types of people who they would be willing to hire — whether they are married or whether they have children?
Significance
It will be a skills-based system where it is workers' skills that matter, not where they come from.
It will be a system that looks across the globe and attracts the people with the skills they need.
4. Bangladesh delays relocation of Rohingya
Bangladesh has delayed the planned relocation of a part of the Rohingya refugees from Myanmar to an islet in the Bay of Bengal.
The Bangladesh Navy has been building a facility to house the population that was displaced from the Rakhine province of Myanmar following a violent campaign by the country's military.
Prime Minister Sheikh Hasina was expected to inaugurate the facility on October 3.
Once completed, the facility is likely to accommodate more than a lakh Rohingya refugees.
Concerns
The Bhashan Char facility has been criticised by human rights groups as it is known to be flood-prone and hazardous.
The islet is of recent origin and falls in the way of powerful storms that visit Bangladesh during the pre-monsoon season.
It is cut off from the mainland.
More importantly, Rohingya community leaders are not convinced about the relocation of the government.
5. In a first, 10 Odisha villages eradicate untouchability
As a tribute to Mahatma Gandhi, 10 villages in seven panchayats in the Daringbadi block of Odisha's Kandhamal district have declared their habitats untouchability-free.
In the gramsabha meetings of the seven panchayats, resolutions relating to complete eradication of untouchability by pallisabha (smaller village or hamlet councils) in these 10 villages were approved.
This path-breaking decision could be taken up by these villages, inhabited mostly by tribals and Scheduled Castes, due to a month-long effort by social organisations Jagruti and Antaranga, of Kandhamal.
6. Toilet-for-all: WHO calls for more investment
The world will not reach the goal of universal sanitation coverage – where every person has access to toilets – by 2030 unless countries make comprehensive policy shifts and invest more funds, the World Health Organization (WHO) warned as it launched the first global guidelines on sanitation and health.
In a release, the WHO said that by adopting its new guidelines, countries can significantly reduce diarrhoeal deaths due to unsafe water and poor sanitation and hygiene.
For every US $1 invested in sanitation, the WHO estimates a nearly six-fold return as measured by lower health costs, increased productivity and fewer premature deaths.
Sanitation is a fundamental foundation of human health and development and underpins the core mission of WHO and ministries of health worldwide.
WHO's Sanitation and Health Guidelines are essential to securing health and well-being for everyone, everywhere.
Concerns
Worldwide, 2.3 billion people lack basic sanitation (with almost half of them forced to defecate in the open). They are among the 4.5 billion without access to safely managed sanitation services – in other words a toilet connected to a sewer or pit or septic tank that treats human waste.
Without proper access, millions of people the world over are deprived of the dignity, safety and convenience of a decent toilet.
Poor sanitation is a major factor in transmission of neglected tropical diseases.
Cause and effect
The WHO developed the new guidelines on sanitation and health because current sanitation programmes are not achieving anticipated health gains and there is a lack of authoritative health-based guidance on sanitation.
7. Odisha launches own food security scheme
The Naveen Patnaik government launched its own food security scheme on the occasion of Gandhi Jayanti, benefiting 25 lakh people who were left out of the National Food Security Act.
The State government had decided to launch its own food security scheme after the Centre did not respond to its request to add additional beneficiaries under the NFSA.
He said that sufficient and nutritious food is a basic need and prerequisite for a healthy Odisha, as a part of their resolve to eradicate hunger in Odisha.
The beneficiaries will get 5 kg of rice per person per month at the rate of Re.1 per kg.
The State government will spend Rs.443.5 crore per annum to support the scheme and Rs.221.75 crore in the current financial year.
8. Rajasthan govt. offers post-harvest benefits
After giving partial crop loan waiver through the Cooperative Department, the BJP government in Rajasthan has offered post-harvest benefits to farmers in the horticulture sector before the State Assembly election due in December this year.
The package will comprise subsidy for the activities such as cold storage, packaging and grading.
The Horticulture Department has invited proposals for subsidy-based ventures under an integrated post-harvest management scheme.
Significance
The subsidy would enable the farmers to build pack houses and storage units at their agricultural fields.
The subsidy will facilitate creation of a robust infrastructure for cold storage, transport, cleaning, marketing, packaging, grading and export of farm produces, enabling the farmers to get remunerative prices.
9. Over 1.6 lakh held, only 141 sentenced so far
More than 1.6 lakh people have been arrested in Bihar under the prohibition and excise law enacted in 2016, but only 141 of them have been sentenced to date.
More than 1.33 lakh violation of prohibition cases have been registered at different police stations of the State since April 5, 2016, when the ban on liquor was imposed by the government. Around 10,000 people are lodged in different jails in the State in connection with these cases.
Caste status
The State government had recently asked officials to review details of those arrested under the prohibition law and to ascertain their caste status.
It had earlier been reported that most of the people arrested under the liquor law were from the Scheduled Castes and Extremely Backward Class.
10. Tirupati bans plastic carry bags
After a month-long awareness drives, rallies and workshops, the much-awaited ban on plastic carry bags came into force in the temple city on Gandhi Jayanti day.
Andhra Pradesh had banned plastic bags less than the stipulated 40 micron thickness but Tirupati put its best foot forward to shun such bags of all sizes.
The other items banned are disposable plastic-coated paper plates, thermocol plates, containers and dishes, water bottles less than holding capacity of 500 ml and packaging covers less than 51 micron thickness.
Though considered a major milestone in ensuring a clean and green city, the authorities are perplexed how to ensure adherence and retailers are worried over the piled up stock on their shelves, while denizens are anxious over the quantum of fine in case of violation.
Manufacturers will be fined if found violating the ban.
11. India sends relief material to Indonesia
The Indian Air Force and the Navy have launched efforts to deliver relief material to the tsunami-hit Indonesia.
Besides bricks and other relief material normally carried, they have on board 30,000 litres of bottled drinking water, 1,500 litres of packaged juices, 500 litres of milk, 700 kg of biscuits and 20 tents.
12. Support Dhaka on Rohingya crisis: Guterres
India must support Bangladesh in dealing with the Rohingya crisis and put pressure on Myanmar for their return, Antonio Guterres, on his first official visit to India as the United Nations Secretary-General, said.
Making a strong pitch for India to play a bigger role according to its capacity on the problems of nearly a million refugees who fled violence to live in camps in Cox's Bazaar in Bangladesh, Mr. Guterres said the violence they faced from Myanmar security forces was unacceptable.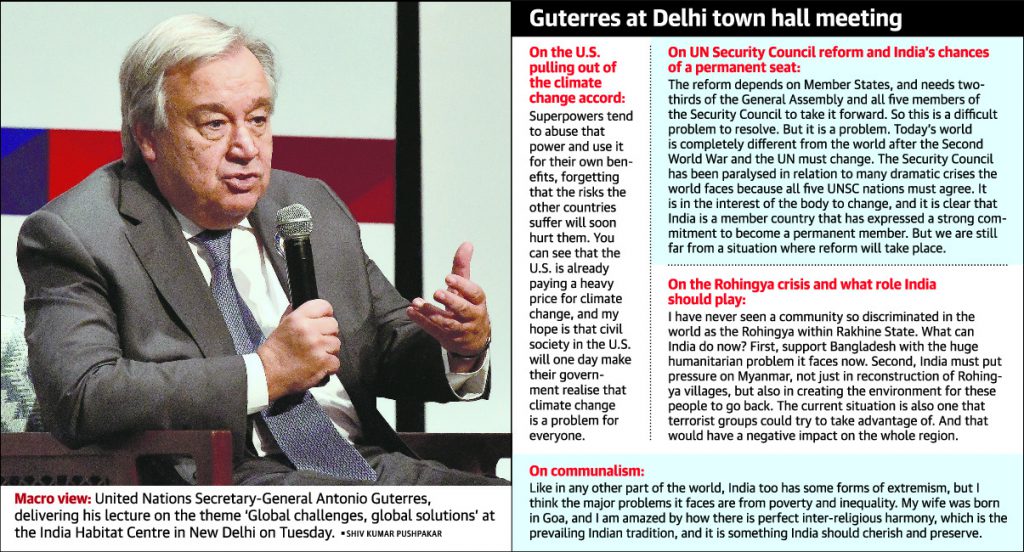 What can India do now?
First, support Bangladesh with the huge humanitarian problem it faces now.
Second, India must put pressure on Myanmar, not just in reconstruction of Rohingya villages, but in creating the environment for these people to go back.
Concerns
Guterres warned that terror groups trying to recruit Rohingya refugees could threaten the region, including India.
Discrimination and unresolved problems facilitate the aims of terrorist groups.
Other observations
He described India as a fundamental pillar of multilateralism.
Asked about the process of reform in the United Nations Security Council, Mr. Guterres spoke of India's role in leading a new multilateral architecture for the world, and its work in countering terrorism.
However, he said the world was still far from taking up India's appeal for a permanent seat.
He praised India's diversity, and called for its inter-religious harmony to be preserved and cherished.
Criticising the U.S. for backing out of its commitments in the UN Convention on Climate Change (UNFCC) while countries like India led the battle on climate change and renewable energy efforts, Mr. Guterres said superpowers abuse their power against other countries, and warned that the U.S. too would face the negative impact of global warming.
The United Nations Environment Programme (UN Environment) established Champions of the Earth in 2005 as an annual awards programme to recognize outstanding environmental leaders from the public and private sectors, and from civil society.
In 2017, the program was expanded to include Young Champions of the Earth – a forward looking prize for talented innovators, 18 to 30, who demonstrate outstanding potential to create positive environmental impact.
Champions of the Earth recognizes laureates in the following categories:
Lifetime Achievement
Policy Leadership
Action and Inspiration
Entrepreneurial Vision
Science and Innovation
Prime Minister Narendra Modi has been awarded for Policy Leadership.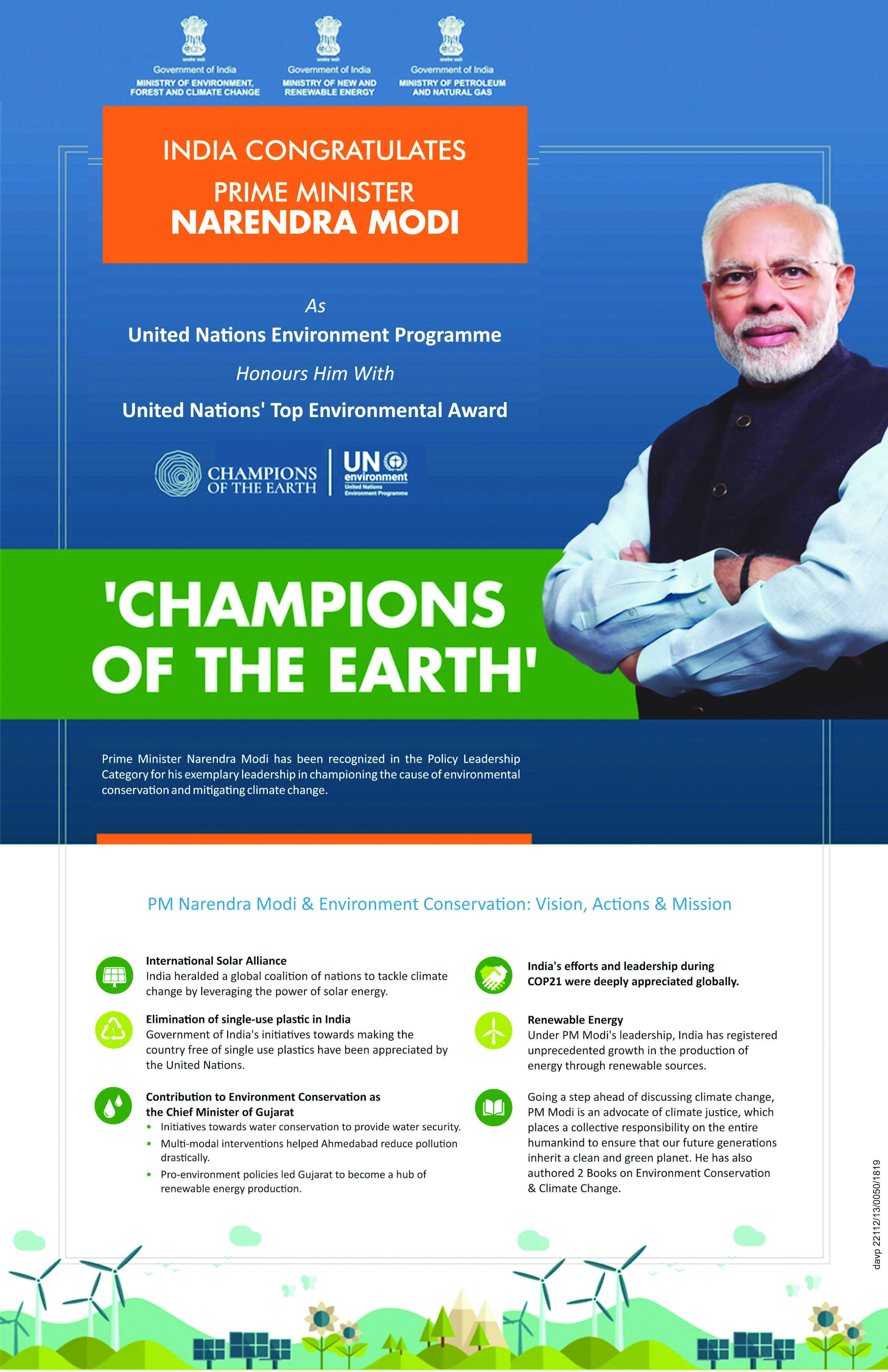 2. Luxury Consumer Price Index
The Luxury CPI, released by Hurun each year, aims to measure the price changes of a predetermined basket of goods and services undertaken by China's high-net-worth individuals (HNWI).
The index covers consumption activities of wealthy Chinese in the following 11 categories: real estate, health, education, luxury tourism, wedding, watches & jewelry, accessories & beauty products, cruises & private jets, lifestyle, liquors & cigarettes and auto.
It will be introduced in India soon.
3. Sir Chhotu Ram (Ram Richpal)
Ram Richpal was a prominent politician in British India's Punjab Province, an ideologue of the peasants of pre-Indepenence India, who belonged to the peasants of Jat community and could transform peasantry in an unprecedented fashion in Indian sub-continent he could champion the interest of much oppressed peasants.
For this feat, he was knighted in 1937.
On political front, he was a co-founder of the National Unionist Party which ruled all the time Panjab Province in pre-Indepenent India and kept Congress and Muslim League at bay.
He studied the Bhagavad Gita and was very much influenced by its philosophy. There are many instances, which represent his value for education and compassion for the poor. A substantial portion of his salary as minister was set aside for scholarships and stipends for economically poor but bright students.
The enactment of two agrarian laws was primarily due to his contribution. These were the Punjab Relief Indebtedness Act of 1934 and the Punjab Debtor's Protection Act of 1936, which emancipated the peasants from the clutches of the moneylenders and restored the right of land to the tiller.
He was awarded the title of 'Rao Bahadur' (a title of honour bestowed during British rule in India to individuals for their service to the Empire).
H. Practice Questions for UPSC Prelims Exam
Question 1. Article 338 finds mention of National Commission for Scheduled Castes. 
Consider the following statements regarding that:
President has to appoint the members of the Commission.

The Commission is empowered to regulate its own procedure.
Choose the correct option:
i) only
ii) only
Both i) and ii)
None of the above
See
Question 2. Which of the following statement/s is /are incorrect?
Prime Minister, after consultation with Governor of the concerned state, has to notify the Scheduled castes/tribes.

Parliament is empowered to modify the list of Scheduled castes/tribes.
Options:
i) only
ii) only
Both i) and ii)
None
See
Question 3. Consider the following statements with respect to the Indian National Center
for Ocean Information Services (INCOIS):
It is an autonomous organization.
It is under the Ministry of Earth Sciences.
INCOIS is mandated to provide the best possible ocean information and advisory services to society, industry, government agencies, and the scientific community.
Which of the above statement/s is/are incorrect?
i) only
ii) only
Both i) and ii)
None of the above
See
Question 4. Which of the following statement/s is/are incorrect with respect to the Defence 
Acquisition Council?
Prime Minister is the Chairman of DAC.

It gives in-principle approval of 15 Year Long-Term Integrated Perspective Plan for Defence Forces.

It is responsible for the issues relating to Single vendor clearance.

None of the above
See
I. Practice Questions for UPSC Mains Exam
Public participation is the key to good governance. In light of this statement, analyze the achievements of Swachh Bharat Abhiyan.

Discuss the issues related to agriculture in India. Suggest measures to contain the agrarian distress.
Also, check previous Daily News Analysis
"Proper Current Affairs preparation is the key to success in the UPSC- Civil Services Examination. We have now launched a comprehensive 'Current Affairs Webinar'. Limited seats available. Click here to Know More."
Enroll for India's Largest All-India Test Series