TABLE OF CONTENTS
A.

 GS1 Related


INDIAN SOCIETY
1. Skin bank richer by 85 donations, 1,500 pledges


B.

 GS2 Related


INTERNATIONAL RELATIONS
1. India, Russia sign S-400 missile deal after summit


C.

 GS3 Related


ECONOMY
1. RBI leaves key rate unchanged
HEALTH
1. Centre slams rumours, says polio drops are safe


D.

 GS4 Related




E. 

Editorials


ECONOMY
1. Avoiding the currency basket case
SCIENCE AND TECHNOLOGY
1. Augmenting life (Nobel prize winners)


F. 

Tidbits




G. 

Prelims Fact


1. Nobel for Congolese doctor, Yazidi activist
H. UPSC Prelims Practice Questions
I. UPSC Mains Practice Questions 

1. Skin bank richer by 85 donations, 1,500 pledges
Context
With organ donation picking up in the Karnataka, awareness on the concept of skin donation is also catching up. The State's first skin bank set up in the government-run Victoria Hospital has had 85 donations ever since its inception in March 2016. Donated skin has been used for grafting in nearly 40 patients, with skin damage due to burns.
The skin bank is a boon for patients as there is no blood-group matching required in skin grafting. Anyone over 18 years, who does not have skin disease or infections can donate
Earlier, despite counselling, relatives of patients who breathe their last in Victoria Hospital (where the bank is located), were not ready to come forward. "Now, we are glad that people call us when there is a death in the family and say they are interested in donating skin. This apart, we have received over 1,500 pledges so far," the doctor added.
Back to Basics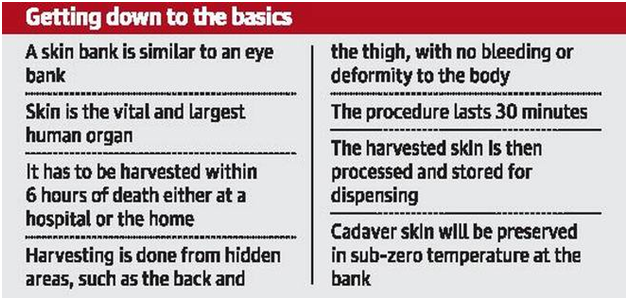 National Organ and Tissue Transplant Organization (NOTTO) National Organ and Tissue Transplant Organization (NOTTO) is a National level organization set up under Directorate General of Health Services, Ministry of Health and Family Welfare (MoHFW). National Network division of NOTTO would function as apex centre for All India activities of coordination and networking for procurement and distribution of Organs and Tissues and registry of Organs and Tissues Donation and Transplantation in the country.
It has following two divisions:
National Human Organ and Tissue Removal and Storage Network
National Biomaterial Centre.  
What does the law say?
Going by the rule book, allocation of organs to recipients on the waiting list is based on criteria that include the date of registration and the medical condition of the recipient.
The wealth, race or gender of a person on the waiting list has no bearing on when and whether a person will receive a donated organ.
The Transplantation of Human Organs Act of 1994 makes it illegal to buy or sell human organs in India.
The shortage of organs is virtually a universal problem but India lags behind much of the rest of the world. It is not that there aren't enough organs to transplant. Nearly every person who dies naturally, or in an accident, is a potential donor. There is a wide gap between patients who need transplants and the organs that are available in India.
Category: INTERNATIONAL RELATIONS
1. India, Russia sign S-400 missile deal after summit
Context
India and Russia on Friday concluded the contract for five S-400 'Triumf' missile systems, one of the biggest defence deals in recent times, after the annual summit between Prime Minister Narendra Modi and Russian President Vladimir Putin.
The announcement of the deal, which could attract sanctions from the United States, was made in a joint statement issued by both sides. "The sides welcomed the conclusion of the contract for the supply of the S-400 long range surface to air missile to India," said the statement.
However, the two sides failed to conclude two other major deals, for stealth frigates and assault rifles, that were reportedly ready, as officials said further negotiations were needed.
The U.S. has warned the deal would invoke sanctions under the Countering America's Adversaries Through Sanctions Act (CAATSA) law, which penalises defence purchases from Russia, Iran and North Korea, as soon as the first payment is made, unless President Donald Trump grants a "waiver."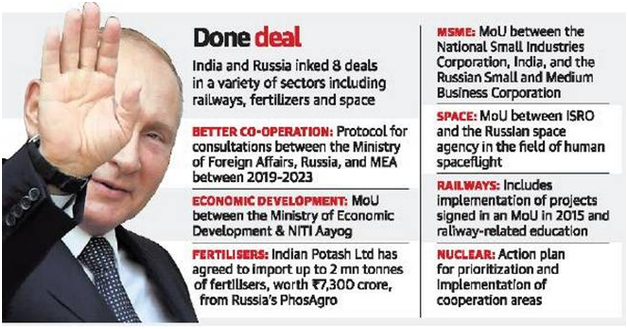 What is S-400?
It is an air defence missile system that can take down enemies' aircraft in the sky from the surface itself.
The S-400 is known as Russia's most advanced long-range surface-to-air missile defence system, capable of destroying destroying hostile strategic bombers, jets, missiles and drones at a range of 380-km.
The S-400 is an upgraded version of the S-300 systems. The missile system, manufactured by Almaz-Antey, has been in service in Russia since 2007.
Why does India want S-400?
In the words of Air Force Chief BS Dhanoa, S-400 would be like a "booster shot" in the Indian Air Force's (IAF) arm.
India needs to be well-equipped against neighboring threats. Pakistan has over 20 fighter squadrons, with upgraded F-16s, and inducting J-17 from China in large numbers. China has 1,700 fighters, including 800 4-Gen fighters.
Whereas, a shortfall of over fighter squadrons has severely affected IAF's efforts to pose a challenge to the enemies
"No country is facing the kind of grave threat that India is confronted with. Intentions of our adversaries can change overnight. We need to match force level of our adversaries," IAF Chief Dhanoa said at a press conference this week.
Strategic autonomy
An increasingly-assertive US has been punishing countries doing 'significant' deals with Iran or Russia with sanctions. Going ahead with the 'significant' defence deals will also be a message about India's 'strategic autonomy' despite its dependence on both US and Russia.
What is stopping India from making the deal?
The threat that the United States of America might exercise sanctions on India for trading with Russia
The US administration is required under a domestic law, Countering America's Adversaries through Sanctions Act or CAATSA to impose sanctions on any country that has "significant transactions" with Iran, North Korea or Russia.
The Act primarily deals with sanctions on Russian interests such as its oil and gas industry, defence and security sector, and financial institutions, in the backdrop of its military intervention in Ukraine and its alleged meddling in the 2016 US Presidential elections.
In September, a senior administration official told reporters that purchase of major military system like multi-billion S-400 missile defense system would be considered as a "significant transaction and thus has a potential" for CAATSA sanctions.
Which countries have it?
China was the first foreign buyer to seal a government-to-government deal with Russia in 2014 to procure the lethal missile system and Moscow has already started delivery of an undisclosed number of the S-400 missile systems to Beijing.
Last year Moscow signed a contract to sell the systems to Turkey, raising criticism from Ankara's NATO allies, notably Washington, which has threatened to block delivery of its F-35 stealth aircraft to Turkey.
1. RBI leaves key rate unchanged
Ahead of the festival season, consumers have been spared the burden of another increase in their EMIs (equated monthly instalments), thanks to the Reserve Bank of India holding its key rate unchanged at 6.5% in its policy review announced on Friday.
But RBI's decision seems to indicate it was more worried over liquidity and hardening of bond yields than inflation. It lowered its forecast for consumer inflation.
"The depreciation of the rupee has been in some respects moderate in comparison to several other EME [emerging market] peers," Urjit Patel, RBI Governor, said.
Back to Basics
CRR, Repo rate, reverse repo rate
Cash reserve ratio is the amount of funds that the banks have to keep with the RBI. If the central bank decides to increase the CRR, the available amount with the banks comes down.
The RBI uses the CRR to drain out the excessive money from the system. Scheduled banks are required to maintain with the RBI an average cash balance, the amount of which shall not be less than 4% of the total of the net demand and time liabilities.
Reverse repo rate is the rate at which the RBI borrows money from commercial banks. The rate at which the RBI lends money to commercial banks is known as repo rate.It is an instrument of monetary policy. Whenever banks have any shortage of funds they can borrow money from the RBI.
Statutory liquidity ratio(SLR) is the term used for reserve requirement that the commercial banks in India require to maintain in the form of gold, government approved securities before providing credit to the customers.
1. Centre slams rumours, says polio drops are safe
Context
Rubbishing rumours being spread asking parents not to give polio drops to children up to 5 years as some virus has been found in them, the Union Health Ministry has cautioned the public not to give credence to them.
"Polio vaccines are absolutely safe and have saved millions of children from the disabling effects of polio. All parents must get their children vaccinated against polio to provide them protection," said the release.
India in consultation with WHO has taken all measures to ensure that all vaccines used under the programme are totally safe and effective, it said.
India is polio-free but since cases are still occurring in a few neighbouring countries, it needs to maintain population immunity.
Basics of Polio
Poliomyelitis is commonly known as Polio. It is an infectious disease caused by the poliovirus. It is highly contagious disease and attacks the nervous system. Young children below 5 years of age are more prone to be attacked by this virus.
The virus is transmitted by person-to-person through the following ways – 1) Through the fecal-oral route. 2) By contaminated water or food.
This virus primarily grows and multiplies in the intestine, from where it can attack the nervous system and will cause polio and paralysis on an advanced level.
Types of Polio
There are three types of polio infections:
Subclinical: This type of polio does not experience any symptoms as this does not affect the central nervous system – the brain and spinal cord. 95 percent of polio cases identifies are usually subclinical.
Non-paralytic: This type of polio does affect the central nervous system but does not result in paralysis.
Paralytic: This is the most serious and rarest form of polio as it results in full or partial paralysis in the patient.
What is Poliomyelitis?
Poliomyelitis in nothing but the scientific term or synonym of the disease Polio. In very rare cases it causes muscle weakness resulting in an inability to move or paralysis. Poliovirus can spread from person to person or by food or water containing human feces and less commonly from infected saliva.
Nothing here for today!!!
1. Avoiding the currency basket case
Note to the Students:
This is an analysis-based article on the the idea of a possible internationalisation of the rupee. The article is in support of the idea of internationalisation of the rupee.  

UPSC aspirants would benefit from these points as they can use much of this content to present answers on the topic in case it is asked in the UPSC Mains Examination, be it as a part of the General Studies- III paper or the Essay paper.
Besides many narratives, this article also touches upon the idea of 'Rupee Depreciation'. We at BYJUs have covered a detailed topic on 'Rupee Depreciation' as part of our YouTube video release series. Students are advised to go through the below link:

Editorial Analysis:
Historical Perspective:
Pre-Independence Experience
The Indian rupee was once a multilateral currency.

The usage of the Indian rupee was prevalent across the Indian Ocean in places as varied as Java, Borneo, Macau, Muscat, Basra and Zanzibar.

Further. even the historic dhow trade ensured that the Gulf had a familiarity with the rupee for over five centuries, with Oman utilising the 'Gulf rupee' till 1970.

Even during the days of colonial rule there are certain important points to take note of.
For example: The accession of George V to the throne in 1911, which enshrined his rule of the British Raj, led to the issuance of a new rupee coin.
The colonial rupee leveraged the Mughal rupee's popularity, and was further facilitated by trading communities, migration and the Raj's hegemony.

Historical events such as the annexation of Sindh, Ceylon and Burma further encouraged the primacy of the rupee in these areas.

Meanwhile, a number of Indian merchant communities had established themselves in such regions, aiding in its convertibility.
Post-Independence Experience
Dubai and other Gulf states were using RBI-minted Gulf rupees until 1966.

Further, between the 1950s and 1970s, gold smuggling was rampant on the Konkan coast, with a number of Gulf businesses buying gold cheaper in the Gulf in rupees and smuggling it to India.

It was the devaluation of the Indian rupee in 1966, after the 1965 war with Pakistan, that such nations switched to their own currencies. Currently, only Nepal and Bhutan regularly conduct bilateral trade with India in rupees.
Problems Concerning Rupee Valuation:
The rupee's valuation is often of concern.

The value of the rupee itself has varied over the years too.

The rupee was never equal to the U.S. dollar.

In 1947, the rupee-dollar rate was at Rs. 3.30. The aforementioned devaluation in 1966 raised it to Rs. 7.50, reaching Rs. 32.4 by 1995.

This decline which we see of the Indian Rupee has occured due to a variety of factors: 1. Wars with Pakistan and China




2. The adoption of Five Year Plans requiring foreign loans




3. Political instability and the




4. Oil Price Shock of 1973




5. It is important to note that of late, the rupee has been declining given higher oil prices and FII outflows from stocks and bonds.




6. The ongoing U.S.-China trade war, Iran sanctions and further upward movement in oil prices will continue to test the rupee's valuation.
Role of the Reserve Bank of India and the Ministry of Finance
The Reserve Bank of India and the Ministry of Finance do have a number of options for stabilisation.
These include the following:
overtly intervening in the forex market,

selling non-resident Indian bonds (as last done in 2013) and

conducting a sovereign bond issuance
The Way Forward:
The rupee's dependency on the U.S. dollar must be reduced.

In order to achieve this. India should consider formalising the rupee payment mechanism with friendly countries.

These friendly countries include those such as Russia, with a focus on reducing its overall current account deficit.

Apart from this, India must continue to guard against fiscal profligacy.

It is important to note that Industrial growth should be a priority. This is further illustrated by the fact that without having goods to sell, rupee swaps (for example  with Iran) would be difficult to institutionalise.

Further, a lower rupee is a recipe for a higher import burden, spiralling eventually into a currency crisis.

Apart from this, the formalisation of the Indian economy, by deterring black money transactions in the rupee, is also much needed.
India's black money strategy should consider four pillars. These pillars are:
It should encourage tax rate rationalisation,

Reform the vulnerable sectors,

Support a cashless economy and

Create effective and credible deterrence.
Further, tax rate rationalisation, with lower tax rates as an end goal, would increase the tax base and increase compliance with tax returns.

Even administrative agreements with countries like the U.K. and Switzerland which can offer mutual tax sharing should be encouraged.

Further, from a structural perspective, it is important to create a remittance database, detailing company transfers out and NGO transfers into India, which all reports to the Financial Intelligence Unit (FIU).

Also, the Direct Tax Administration's Directorate of Criminal Investigation should be provided the right IT training, infrastructure and funding to become an effective deterrent, while the audit cycles for income tax, service tax and excise tax departments should be aligned.

These would help the Large Taxpayer Unit (LTU) become more effective, thereby increasing the scope of simultaneous scrutiny and examination.
Concluding Remarks:
Lastly, the internationalisation of the rupee is a worthwhile goal to aim for.

India has examples from the neighbourhood where, in China for example, the yuan is increasingly being positioned for an alternative reserve currency.

This is being done through a variety of multilateral trades, institutions.

These include the Belt and Road Initiative, the Asian Infrastructure Investment Bank, etc. as well as swaps.

Currently, the Indian rupee remains woefully behind in internalisation.
Lesson India can learn from the Chinese:
China campaigned hard for the inclusion of its currency in IMF's benchmark currency basket in 2015.

The RBI, meanwhile, has adopted a gradualist approach.

This gradualist approach has allowed companies to raise rupee debt offshore, thereby enabling the creation of "masala bonds" and allowing foreigners to invest in rupee debt onshore.

The rupee has transformed from a largely non-convertible pegged currency before 1991 to a managed float currency today. Unfortunately, the rupee is currently not even in the top 10 traded currencies.

It is important to note that there is no magic wand to making the rupee appreciate.

However, institutional resistance against rupee convertibility should be overturned.
Category: SCIENCE AND TECHNOLOGY
1. Augmenting life (Nobel prize winners)
Note to the Students:
This article lends perspective to this year's science Nobel prize winners. The article draws our attention towards having a relook at evolution, and also at gender parity.
Editorial Analysis:
A Brief Note on the 2018 Nobel Prize in Chemistry:
Three scientists shared this year's Nobel Prize in Chemistry.

The 2018 Nobel Laureates in Chemistry have taken control of evolution and used it for purposes that bring the greatest benefit to humankind.

This year's Nobel Laureates in Chemistry have been inspired by the power of evolution and used the same principles, i.e. genetic change and selection to develop proteins that solve mankind's chemical problems.
Important Applications:
Enzymes produced through directed evolution are used to manufacture everything from biofuels to pharmaceuticals.

Antibodies evolved using a method called

phage display

can combat autoimmune diseases and in some cases cure metastatic cancer.
Contribution from each Scientist:
Frances H. Arnold

, an American who was given one-half of the prize, used 'directed evolution' to synthesise variants of naturally occurring enzymes, which could be used to manufacture biofuels and pharmaceuticals.

The other half of the prize went to

George P. Smith,

also of the U.S., and

Sir Gregory P. Winter

, from the U.K., who evolved antibodies to combat autoimmune diseases and even metastatic cancer through a process called phage display.
These prizes reaffirm the importance of the concept of evolution in our understanding of life as among the most profound of forces we are exposed to.
Note on the Physiology and Medicine Prize:
The Physiology and Medicine prize has gone to the American

James P. Allison

and

Tasuku Honjo

, from Japan.

These scientists have shown how different strategies can inhibit the metaphorical 'brakes' acting on the immune system and thereby unleash the system's power on cancer cells to curb their proliferation.
These immunologists have enhanced the power of the body's immune system to go beyond its natural capacity.
Note on the Physics Prize:
Arthur Ashkin,

from the U.S., has been awarded one-half of the Physics prize.

His work now enables us to individually hold, study and manipulate tiny bacteria and viruses using 'optical tweezers'.

It is important to note that in many laboratories,

optical tweezers are used to study and manipulate subcellular structures such as DNA and little molecular motors.
What is Optical holography?
Optical holography is a method for storage and displaying a three-dimensional image of an object.

In Optical holography, thousands of optical tweezers can operate together on, say, blood, to separate damaged blood cells from healthy ones. This

could be a treatment process for malaria.
Work on Ultra-Short pulses of laser light:
Gérard Mourou, from France, and Donna Strickland, from Canada, who share the other half of the Physics prize, have been honoured for their methods to generate

ultra-short pulses of laser light.

The work, published in 1985, went into Ms. Strickland's PhD thesis and soon revolutionised the field. Among its uses are in Lasik surgery in ophthalmology, and in making surgical stents.
Concluding Remarks:
More recently, attosecond lasers have even made it possible to observe individual electrons.
What is an attosecond?  
An attosecond is a millionth of a picosecond, or 10−18 of a second. Light travels 0.3 nanometers in an attosecond, which is roughly the spacing between atoms in a solid.
In conclusion,

the prize-winners have drawn upon the fundamental forces in science and reached out beyond human physical limitations.

From a gender parity perspective, it is important to note that two of the six laureates – Donna Strickland and Frances Arnold – are women.

They are only the third and fifth women Nobel laureates in Physics and Chemistry, respectively, since the inception of the Nobel prizes.

This statistic gives reason for the community of scientists to introspect over what makes an enabling environment for women to practise science in.
Nothing here for today!!!
1. Nobel for Congolese doctor, Yazidi activist
Context
The Congolese gynaecologist, Denis Mukwege, who has treated thousands of rape victims, and Nadia Murad, the Iraqi Yazidi, who was sold into sex slavery by Isis, have been jointly awarded the 2018 Nobel peace prize.
Details of the issue
The committee said: "They have both put their own personal security at risk by courageously combating war crimes and securing justice for victims."
The committee said they had both "helped to give greater visibility to war-time sexual violence". The joint award comes a decade since the UN security council adopted Resolution 1820 (2008), which determined that the use of sexual violence as a weapon of war and armed conflict constitutes both a war crime and a threat to international peace and security.
Murad is the second youngest Nobel Prize laureate after Malala Yousafzai.
"For myself, I think of my mother, who was murdered by Daesh (IS)," she said in a statement to Reuters.
Murad was 21 in 2014 when IS militants attacked her village in northern Iraq. The militants killed those who refused to convert to Islam, including six of her brothers and her mother.
Along with many other young women in her village, she was taken into captivity by the militants, and sold repeatedly for sex as part of IS's slave trade. She escaped with the help of a Sunni Muslim family in Mosul, and became an advocate for the rights of her community around the world.
Facts for Prelims – Nobel Prize
1896 → Dynamite inventor Alfred Nobel (Sweden) died.
Left fund to give awards in 5 categories → Physics, Chemistry, Medicine, Literature, and Peace
Later 6th Category added → Economics funded by Bank of Sweden exclusively
Started in 1901, Maximum 3 persons can be awarded in each category
A person must be alive to be nominated
Nobel prize recipients are called laureates
Actual medals are given on December 10, the anniversary of Alfred Nobel's death
Get medal, diploma, and 8-million Swedish kroner ~ $1.1 million
Peace Prize is awarded in Oslo, Norway
Other prizes are awarded in Stockholm, Sweden
H. Practice Questions for UPSC Prelims Exam
Question 1. Which of the following also acts as a mechanism for government lending?
CRR

Repo rate

Reverse repo rate

SLR
Select the correct answer using the codes given below:
1 and 3 only
1, 2 and 4 only
1 and 4 only
4 only
See
Question 2. Consider the following statements:
Health is in Union List.

The right to life provided under Art. 21 of the Constitution of India have been used time and again to demand access to health care.
Which of the above statement/s is/are correct?
1 only
2 only
Both 1 and 2
Neither 1 nor 2
See
Question 3. With reference to "Prevention of Corruption Bill, 2018", recently in news, which of 
the following statement(s) is/are correct?
It criminalizes bribe giving as well as bribe taking.
It defines a corrupt public official as any public servant who tries to obtain or accept from any person an "undue advantage with the intention to perform or cause performance of public duty improperly or dishonestly."
Select the correct answer using the code given below:
1 only
2 only
Both 1 and 2
Neither 1 nor 2
See
I. Practice Questions for UPSC Mains Exam
State the three basic values, universal in nature, in the context of civil services and bring out their importance. (150 words)
Distinguish between "Code of ethics" and "Code of conduct" with suitable examples. (150 words)
Also, check previous Daily News Analysis
"Proper Current Affairs preparation is the key to success in the UPSC- Civil Services Examination. We have now launched a comprehensive 'Current Affairs Webinar'. Limited seats available. Click here to Know More."
Enroll for India's Largest All-India Test Series