TABLE OF CONTENTS
A.

 GS1 Related




B.

 GS2 Related


POLITY
1. CJI Misra names Gogoi as successor
2. Custodial death: SC raps Maharashtra police
GOVERNANCE
1. IT giant Google and Election Commission
HEALTH ISSUES
1. State panels to track hip implant patients
SOCIAL ISSUES
1. Youth more likely to choose protests over vote
INTERNATIONAL RELATIONS
1. Haqqani's death won't impact network
2. Labour adopts in full IHRA's definition of anti-Semitism


C.

 GS3 Related


ENVIRONMENT
1. GM mustard trials may get nod soon
INTERNAL SECURITY
1. Two IM men convicted in Hyderabad twin blasts case
2. SC rejects Purohit's plea for probe
ECONOMY
1. FPI outflow concerns preposterous: SEBI
2. Progress seen in RCEP: India
3. Rupee breaches 71.50 versus $
4. Taxes on jet fuel choking airlines: IATA


D.

 GS4 Related




E. 

Editorials


HEALTH
1. 'Drugs are not sweets' – Faulty hip prosthetics by Johnson & Johnson
ENVIRONMENT AND ECOLOGY
1. Addressing soil loss – Kerala and Kodagu Floods
INTERNATIONAL RELATIONS
1. Routes to Afghanistan: on 2+2 talks


F. 

Tidbits




G. 

Prelims Fact


H. UPSC Prelims Practice Questions
I. UPSC Mains Practice Questions 

Nothing here for today!!!
1. CJI Misra names Gogoi as successor
Chief Justice of India Dipak Misra recommended Justice Ranjan Gogeoi as his successor and the 46th Chief Justice of India.
Law Ministry sources confirmed the receipt of the recommendation letter of the Chief Justice.
If the government approves the recommendation, Justice Gogoi would have a tenure as Chief Justice of India of about 13 months, from October 3, 2018 till his retirement on November 17, 2019.
Chief Justice Misra has followed convention by recommending the next senior most Supreme Court judge, Justice Gogoi, as his successor.
Justice Gogoi, born on November 18, 1954, is a native of Assam.
He joined the Bar in 1978 and practised mainly in the Gauhati High Court.
He was appointed as permanent judge of the High Court on February 28, 2001.
He was transferred to the Punjab and Haryana High Court on September 9, 2010 and appointed its Chief Justice in February 2011. He was elevated to the Supreme Court on April 23, 2012.
He would be the first CJI from the north-eastern region. He is the son of Keshab Chandra Gogoi, a former Assam Chief Minister during the Indian National Congress regime in 1982.
Justice Gogoi was one of the four most senior Supreme Court judges who held the January 12 press conference bringing up the issue of selective assignment of sensitive cases by recent CJIs to certain judges in the Supreme Court.
Chief Justice Misra subsequently published a subject-wise roster of cases assigned to judges. In various judgments, one of them by a Constitution Bench led by Chief Justice Misra himself, the Supreme Court went on to declare the CJI the 'master of roster'.In a recent lecture, Justice Gogoi said the country needs independent journalists and "noisy judges".
He is heading the Bench monitoring the sensitive Assam NRC case.
The Benches led by Justice Gogoi have dealt largely with the issue of corruption in politics and public life. In fact, he has led the Bench which ordered the Centre to set up special courts to "exclusively" try MPs and MLAs as a means to de-criminalise politics.
His Bench is also monitoring the progress made by the government in the appointment of anti-corruption ombudsman Lokpal.
Justice Gogoi authored the judgement in the rape and murder of 23-year-old Soumya in Kerala. The judgment commuted the death penalty of convict Govindaswamy to life imprisonment.
The fallout of the judgement saw unprecedented scenes when former Supreme Court judge, Justice Markandey Katju, who had criticised the verdict in his blog, was challenged by Justice Gogoi's Bench to come to the Supreme Court and prove his criticism right.
The stormy hearing ended with Justice Katju being issued contempt of court notice.
Among the important cases heard by a Bench led by Justice Gogoi are the appeals filed by the Rajiv Gandhi assassination case convicts for remission of their life sentences.
About Custodial torture
Custodial torture ranging from assault of various types to death by the police for extortion of confessions and imputation of evidence are not uncommon.
Such a method of investigation and detection of a crime, in the backdrop of expanding idea of 'humane' administration of criminal justice, not only disregards human rights of an individual and thereby undermines his dignity but also exposes him to unwarranted violence and torture by those who are expected to 'protect' him.
Status in 2017
A total of 894 deaths in judicial custody — and 74 deaths in police custody — have been recorded in India in 2017.
Uttar Pradesh leads the chart of deaths in judicial custody by a significant margin, with 204 deaths recorded in the period between 1 January, 2017 and 2 August, 2017. The state was followed by Punjab with 76 deaths and Bihar with 64 deaths.
Uttar Pradesh, however, has a history of consistently topping the charts of judicial custody deaths in the country.
State-wise distribution of deaths in judicial custody recorded in 2017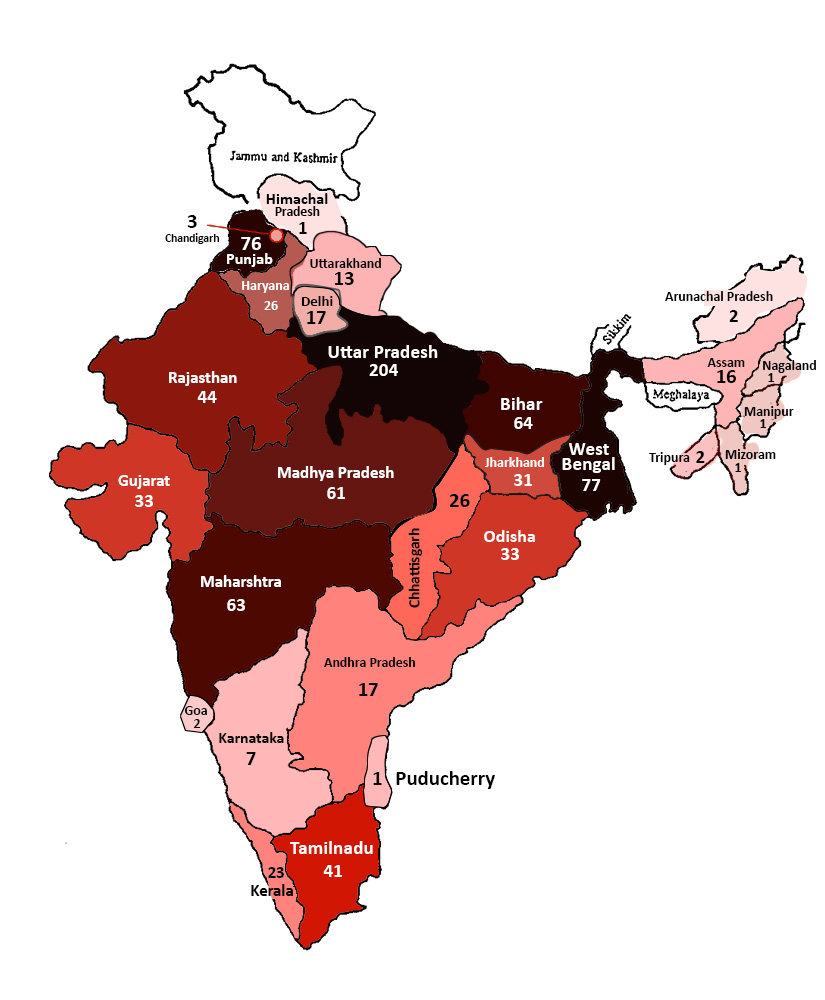 Of the 74 deaths in police custody in 2017, Maharashtra leads the tables with 16 deaths recorded until 2 August, 2017. Telangana comes a distant second with 7 deaths, while Karnataka recorded a third-highest 5 deaths in police custody this year.
In news
In a message to the Maharashtra police, the Supreme Court observed that the police should realise that in a democracy the means to achieve crime control is as important as the end itself.
"With great power comes great responsibility," the top court wrote in bold letters at the head of its 35-page judgment.
A Bench of Justices N.V. Ramana and Mohan M. Shantanagoudar said it was time for the police force to realise and accept what it calls the 'concept of democratic policing'.
The Bench increased the prison sentence of the accused Maharashtra police officers from three years to seven years in a case of custodial torture where a man died in a police station cell in 1993. The court reminded the police that "be you ever so high, the law is always above you."
It reminded the Maharashtra police that their motto is 'Sadrakshnāya Khalanīghrahanāya (Sanskrit for "To protect good and to punish evil"), which needs to be respected.
"Those who are called upon to administer the criminal law, must bear in mind that they have a duty not merely to the individual accused before them, but also to the state and to the community at large," Justice Ramana wrote for the Bench.
1. IT giant Google and Election Commission
With poll season round the corner, Google, which controls the lion's share of the digital advertising market, will soon be helping the Election Commission (EC) keep tabs on online political advertising.
The tech giant will develop a mechanism that will not only ensure pre-certification of political advertisements but also enable it to share with the authority details of the expenditure incurred on its platforms.
Chief Election Commissioner O.P. Rawat said a Google representative met a committee set up to explore possible modifications in Section 126 (election silence) and other provisions of the Representation of the People Act, 1951, in view of the expansion and diversity of media platforms.
At the meeting, the representative told the Commission that the company would keep track of political advertisements and ensure that they were pre-certified by the EC's Media Certification and Monitoring Committees.
This would entail Google asking prospective clients, whenever an order is placed, whether they have been pre-certified.
The Commission is the nodal body for pre-certification of advertisements of a political nature, released by either an individual or an organisation.
Google has also assured the committee that it would set up a mechanism for sharing information on the cost of the political advertisements. This would be of use to Returning Officers when it comes to calculating the election expenditure of individual candidates.
As soon as someone is declared a candidate for any election, all the money spent by the person for campaigning gets added as election expenditure. The Commission also asks the candidates to declare their official social media accounts.
Facebook tools
The EC's committee had earlier held meetings with Facebook, which has also agreed to develop tools for removing any content pertaining to election matters during the 48-hour period when the 'prohibition protocol' is in place.
It is working on ways to check fake news and share details of expenditure on poll-related advertisements.
1. State panels to track hip implant patients
Central Drugs Standard Control Organisation (CDSCO)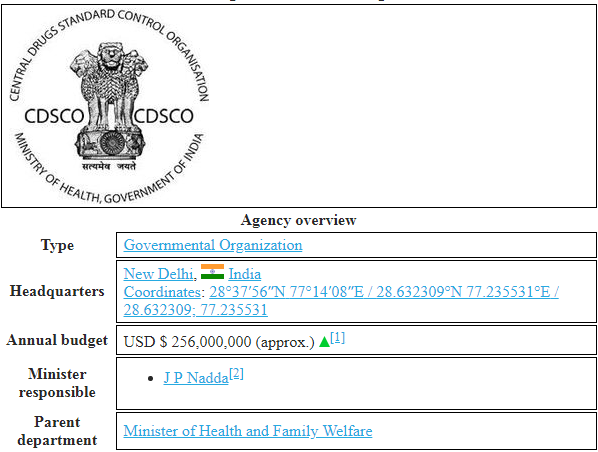 The Central Drugs Standard Control Organization(CDSCO) is the national regulatory body for Indian pharmaceuticals and medical devices, and serves parallel function to the European Medicines Agency of the European Union, the PMDA of Japan, the Food and Drug Administration of the United States and the Medicines and Healthcare products Regulatory Agency of the United Kingdom.
Within the CDSCO, the Drug Controller General of India (DCGI) regulates pharmaceutical and medical devices, under the gamut of Ministry of Health and Family Welfare.
The DCGI is advised by the Drug Technical Advisory Board (DTAB) and the Drug Consultative Committee (DCC).
It is divided into zonal offices which do pre-licensing and post-licensing inspections, post-market surveillance, and recalls when needed.
Hip implant
Hip replacement is a surgical procedure in which the hipjoint is replaced by a prosthetic implant , that is, a hip prosthesis.
Hip replacement surgery can be performed as a total replacement or a hemi (half) replacement. Such joint replacement orthopaedic surgery is generally conducted to relieve arthritis pain or in some hip fractures.
A total hip replacement (total hip arthroplasty) consists of replacing both the acetabulum and the femoral head while hemiarthroplasty generally only replaces the femoral head.
Hip replacement is currently one of the most common orthopaedic operations, though patient satisfaction short- and long-term varies widely. 
Johnson & Johnson's (J&J) Articular Surface Replacement (ASR) hip implant manufactured by its subsidiary DePuy Orthopaedics was recalled globally in 2010 after reports of it leaching metals and causing severe pain, fluid accumulation, and metal poisoning in patients.
However, till date, only 1,080 patients have reached out to the ASR helpline set up by the pharma company for guidance on revision surgeries and reimbursement process, and 275 have undergone revision surgeries.
In 2011, the Maharashtra Food and Drug Administration (FDA) first initiated action against the pharmaceutical giant by registering an FIR at the Mahim police station in Mumbai and also alerting the DCGI.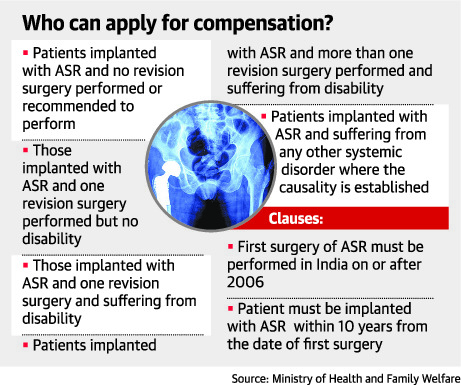 The Ministry of Health and Family Welfare has said that State-level committees consisting of two orthopaedic surgeons or physical medical rehabilitation experts and one radiologist from government hospital, a representative from the Central Drugs Standard Control Organisation (CDSCO) and drug controller of respective States should be formed to identify patients who have received the faulty hip implant by pharmaceutical giant Johnson & Johnson.
The notification said States should advertise widely to reach out to the patients.
The committee of the Ministry which submitted its report recently] has recommended, among other things, the constitution of Central Expert Committee and Regional Expert Committees for determining the exact quantum of compensation after taking into account the minimum amount of ₹20 lakh.
The compensation will be further calculated based on other factors such as the degree of disability and loss of wages.
Patients can now reach out directly to the committees.
1. Youth more likely to choose protests over vote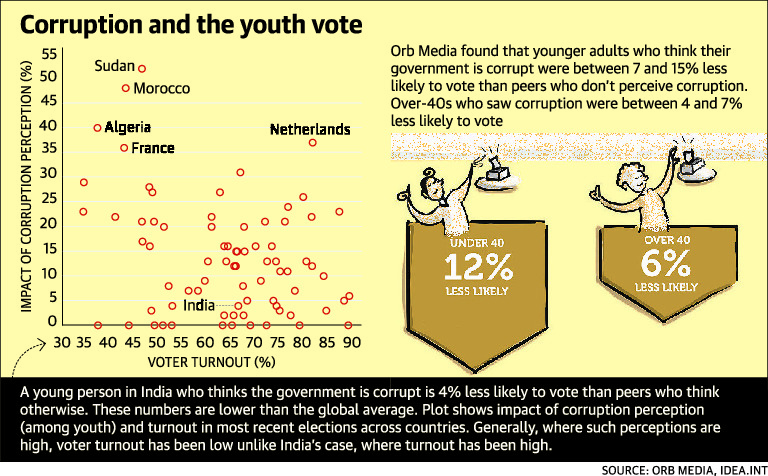 A survey across 128 countries found more young adults, who are interested in politics, rejecting formal political engagement for street activism
But in a contest where both major presidential candidates claimed to represent change, would Zimbabwe's alienated youth participate? Around the world, fewer are willing to get involved.
A growing number of younger adults, who say they are interested in politics, are nevertheless rejecting formal political engagement in favour of street protest, an Orb Media analysis of data from 9,79,000 people in 128 countries found.
Demographic divide
Adults under 40 are between 9% and 17% more likely to take part in demonstrations than those older than 40 — a marked increase from the early 2000s, when under-40s were only 3% more likely to protest.
Youth have always voted in lower numbers. But while surveys show that democracy remains the most desired form of government, fewer young people take part as volunteers or party members.
Other modes of influence, from street demonstrations to digital campaigns, are increasingly prominent. The gap is widening. As more youth choose informal politics, more older adults avoid protest.
Networked movements
There are different reasons for this ambivalence. Many activists prefer networked, horizontal movements to top-down legacy organisations. Another factor is the exclusion of new voices.
(Just 2% of the world's parliamentarians are younger than 30.) Many see mainstream politics as morally compromised.
Younger adults prefer the anti-establishment.
In Poland's 2015 elections, many leftist youth decided not to vote for the lesser evil, and to oppose the system in general.
In Bangladesh last month, protesting students were attacked by police and ruling party activists when thousands blocked traffic to demand road safety after two teens were killed by a speeding bus in Dhaka, the capital.
Youth-led street movements have toppled leaders in Slovakia, Guatemala, Tunisia and Egypt. In each, the establishment reasserted itself.
Two-thirds of non-voters in the 2016 U.S. election were younger than 50. Only one-third of youth approve of Donald Trump as president. The gap is obvious.
Entry barriers
But formal parties must adjust to younger citizens who expect to be heard before reaching middle age. Joining the system isn't always easy.
Generational chauvinism — known as "adulterismo" in Nicaragua — cuts across continents.
Zimbabweans born after white-minority rule was overthrown in 1980 are called "Born Free. It sort of says that you did not fight for the liberation of the country, so your opinion doesn't really matter. Born Frees felt trapped under an ageing, corrupt elite.
Corruption also depresses the youth vote. In Zimbabwe, youth who perceived corruption were 21% less likely to vote, according to 2016 data.
Orb Media's analysis found that, worldwide, under-40s who think their government is corrupt were 7% to 15% less likely to vote than peers who don't perceive corruption. Over-40s who saw corruption were only 4% to 7% less likely to vote.
But a galvanising candidate or issue can still captivate.
The line between formal and informal has always been permeable. The street and the Internet can't help but influence policy.
In the U.S., survivors of a school shooting that killed 17 children in Parkland, Florida, are working to boost first-time voters in the November congressional elections. Time will tell if they succeed.
Days after Zimbabwe's election, some streets were still littered with rifle shells and blood stains.
Category: INTERNATIONAL RELATIONS
1. Haqqani's death won't impact network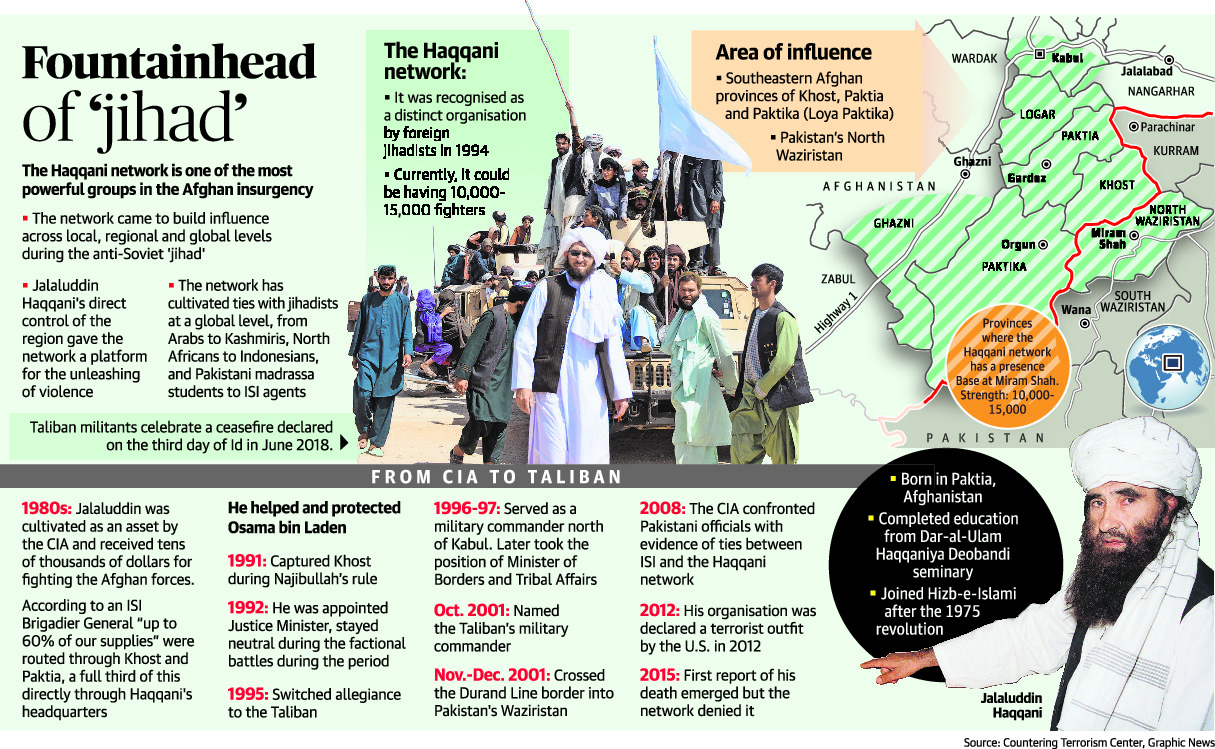 His role in the group in recent years was ideological rather than practical, says Afghan official.
Afghan Defence Ministry spokesman Mohammad Radmanish said Jalaluddin Haqqani's death was not expected to mean any major change for the Haqqani Network. "Operationally, his death will not have an impact on the group," he said, adding that Haqqani's role in recent years was ideological rather than practical.
Jalaluddin, whose network is known for its heavy use of suicide bombers against Afghan civilians, security forces, and U.S.-led NATO troops, was a key figure in entrenching jihad in the conflict-ridden region over the past 40 years.
His group is at the heart of regional tensions, with Washington and Kabul long suspecting the Haqqanis of having links to Pakistan's shadowy military establishment.
Born in Afghanistan
Jalaluddin, believed to have been born in Afghanistan before migrating to Pakistan's tribal areas, first came to prominence as an Afghan mujahideen commander fighting the Soviet occupation in the 1980s with the help of the U.S. and Pakistan.
He became a Minister in the Taliban regime which took power in Afghanistan in 1996 — one of the only major mujahideen leaders to join the group — and was close to its late founder Mullah Omar.
But after the U.S. invasion of Afghanistan in 2001 toppled the regime, he pulled back from the public eye, making only a handful of appearances in later years as the fearsome reputation of the Haqqani network began to grow.
He had been bedridden for years and had already passed the leadership to his son Sirajuddin, who is also the Taliban's deputy leader. Jalaluddin "was from among the great distinguished Jihadi personalities of this era", the Taliban said in a statement posted on Twitter.
The Haqqani family confirmed the patriarch's death in a WhatsApp message to journalists. It was not clear where or when he died.
Died earlier?
A security official in Kabul said Afghan intelligence services believed that Haqqani had , in fact, died some three years ago.
The official said the announcement of the death should be seen in connection with increased pressure from the United States on Pakistan over U.S. accusations Pakistan is not doing enough to defeat militant groups on its territory.
2. Labour adopts in full IHRA's definition of anti-Semitism
The ruling body of Britain's main Opposition Labour Party agreed on Tuesday to adopt in full an international definition of anti-Semitism for its code of conduct, after a bitter row that reignited internal criticism of leftist leader Jeremy Corbyn.
Labour's National Executive Committee (NEC) agreed that in dealing with anti-Jewish abuse, it would use the definition and examples drawn up by the International Holocaust Remembrance Alliance (IHRA). Critics had argued that certain IHRA examples could curb legitimate criticism of the state of Israel.
The debate fed into a months-long row over anti-Semitism in the party, in which MPs and Jewish groups have repeatedly accused Mr. Corbyn of failing to clamp down on the problem. The Labour leader, a veteran pro-Palestinian campaigner, has also been forced to defend his own behaviour in recent months, including from criticism from Israeli Prime Minister Benjamin Netanyahu.
"The NEC has today adopted all of the IHRA examples of anti-Semitism, in addition to the IHRA definition which Labour adopted in 2016," a Labour spokesman said. They were adopted "alongside a statement which ensures this will not in any way undermine freedom of expression on Israel or the rights of Palestinians".
In March, British Jewish leaders wrote a joint letter claiming "enough is enough" over anti-Semitism within Labour, and protests were held outside Parliament.
1. GM mustard trials may get nod soon
About GM Mustard
Genetically modified mustard- Dhara Mustard Hybrid (DMH -11)
DMH -11 is transgenic mustard had been developed by a team of scientists Centre for Genetic Manipulation of Crop Plants at Delhi University led by former Vice-Chancellor Deepak Pental under Government sponsored project.
It is genetically modified variety of Herbicide Tolerant (HT) mustard. It was created by using "barnase/barstar" technology for genetic modification by adding genes from soil bacterium that makes mustard self-pollinating plant. DMH -11 contains three genes viz.
Bar gene, Barnase and Barstar sourced from soil bacterium. The bar gene had made plant resistant to herbicide named Basta.
About Genetic Engineering Appraisal Committee (GEAC)
GEAC is apex body under Ministry of Environment, Forests and Climate Change for regulating manufacturing, use, import, export and storage of hazardous micro-organisms or genetically engineered organisms (GMOs) and cells in the country.
It is also responsible for giving technical approval of proposals relating to release of GMOs and products including experimental field trials. However, Environment Minister gives final approval for GMOs.
In news
The environment ministry is set to convene this month a special meeting of the Genetic Engineering Appraisal Committee (GEAC) to decide on field-trial approvals for the controversial transgenic mustard developed by the University of Delhi's Centre for Genetic Manipulation of Crop Plants (CGMCP), according to a person familiar with the developments.
The CGMCP had earlier applied to grow transgenic mustard (DMH-11) in plots in Delhi and Punjab to test the plant's effects on honeybees after the GEAC, which had initially cleared the GM crop for commercial cultivation, backtracked and demanded more tests and additional data on honeybees and other pollinators and on soil microbial diversity.
The GEAC, the apex regulator of transgenic products, had in July put a decision on proposed field trials on hold after some members objected to the use of "unapproved pesticides/herbicides" in the project proposal, according to a record of the meeting made public this week.
The CGMCP team had proposed to use endosulfan — a banned pesticide — as part of their experiment.
The trial protocols had also been submitted just three days before the GEAC meeting and some members had voiced objections over the lack of time to examine the field safety protocol.
The field safety protocol specifies what measures can be undertaken in case of a pest attack. Mustard is usually sown in October and typically takes three months to mature.
In March, the GEAC had sought more tests for GM mustard in the wake of a chorus of objections to the transgenic crop and following Union Environment Minister Harsh Vardhan's intervention in the matter.
Environmentalists, farmer groups and some scientists argue that transgenic mustard poses several environmental and health risks.
Among these is a contention that it contains a foreign gene from another species, that tests so far have failed to show any appreciable gains in yield over traditional varieties and that it could, if commercially approved, make farmers growing the GM crop dependent on glyphosate — a weedicide that has been linked to cancer.
1. Two IM men convicted in Hyderabad twin blasts case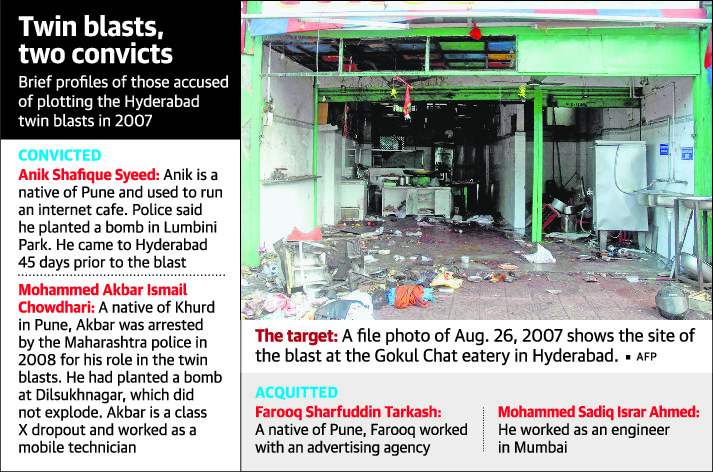 About Indian Mujahideen 
The Indian Mujahideen is an Islamic terrorist group led by Abdul Subhan Qureshi.
The Indian Mujahideen was declared a terrorist organisation on 4 June 2010 and banned by the Government of India. On 22 October 2010, New Zealand declared it a terrorist organisation.
In September 2011, the United States officially placed the Indian Mujahideen on its list of foreign terrorist organisations, with the State Department acknowledging that the group had engaged in several terrorist attacks in India and had regional aspirations with the ultimate aim of creating an "Islamic caliphate" across South Asia.
The group was banned by the United Kingdom as it aimed at creating an Islamic state and implementing sharia law in India, by use of indiscriminate violence.
Investigators believe that Indian Mujahideen is one of many groups composed of lower-tier SIMI According to the Indian Intelligence Bureau, SIMI took new titles because the top leadership of SIMI have been detained and would be available for interrogation.
The change in names is believed to signal a change in tactics as SIMI-affiliated militants attempt to garner more support from India's Muslim community rather than be seen as a group consisting of foreigners.
Two days after the 13 May 2008 Jaipur bombings, the extremist group sent an e-mail to Indian media in which they claimed responsibility for the attacks and said they would "demolish the faiths (all religions apart from Islam) of the infidels of India."
The biggest and boldest attack to date by the group was the 2008 Ahmedabad serial blasts, where it gained national notoriety with a casualty count towards 50.
According to Indian sources, four top Indian Mujahideen (IM) operatives – Riyaz Bhatkal, Iqbal Bhatkal, Amir Raza Khan and Fayyaz Kagzi – have been carrying out attacks in India under the auspices of the Pakistani spy agency ISI, which has been sheltering them in Pakistan.
IM has been responsible for serial blasts in Delhi in 2005, the Mumbai train attacks in 2006, attacks on Uttar Pradesh courts in 2007, serial attacks in Jaipur and Ahmedabad in 2008, and in Mumbai again in 2011, a year in which IM was particularly active. Despite its high-profile attacks,  IM remains a shadowy presence. It has about 50 members on the run, say Indian intelligence sources.
Its members maintain absolute operational secrecy, shunning phone conversations and using only coded emails. They use religious pilgrimages to Saudi Arabia as a pretext to hold planning meetings there with collaborators who fly in from Pakistan.
Indian Mujahideen, also known as Indian Mujahidin is an active group formed c. 2007.
In news
Two Indian Mujahideen (IM) members among seven accused in the 2007 twin bombing case were convicted by a special court inside the Cherlapally Central Prison here.
Forty-four persons were killed and 68 injured in the blasts at Lumbini Park and Gokul Chat Bhandar on August 25, 2007.
Anik Shafique Syeed and Mohammed Akbar Ismail Chowdhari — both from Pune and close associates of IM founder Riyaz Bhatkal — were pronounced guilty by Judge T. Srinivas Rao of the Second Additional Metropolitan Sessions Court. Two other accused — Farooq Sharfuddin Tarkash and Mohammed Sadiq Israr Ahmed Shaik — were acquitted for lack of evidence. All four hail from Maharashtra.
Three other accused — Riyaz Bhatkal, Iqbal Bhatkal and Amir Reza Khan — are absconding and believed to be in Pakistan.
The quantum of punishment, as also the judgment on Tarik Anjum, accused of harbouring the perpetrators in New Delhi and other places, will be pronounced, said Special Public Prosecutor Challa Seshu Reddy, who represented the counter-intelligence wing of the Telangana police that probed the case.
Judge Srinivas Rao convicted Syeed and Chowdhari under Sections 302 (murder), 120B (criminal conspiracy), 307 (attempt to murder) and other relevant provisions of the IPC and other sections of the Explosive Substances Act and the Unlawful Activities (Prevention) Act (UAPA) in three cases.
While Anik [Syeed] planted a bomb in Lumbini park, Riyaz [Bhatkal] and Akbar [Chowdhari] placed the explosives at Gokul Chat and Dilsuknagar, the prosecution said.
The prosecution has decided to seek capital punishment. The detailed judgment is likely to be available in 2-3 days, said Mr. Reddy.
Political parties welcomed the verdict, though both the BJP and the Congress called for fast-track courts to deal with such cases.
Victims of the blasts sought capital punishment for the convicts. Chander Nayak, a victims who lost an eye in the blast, said he was disappointed with the acquittal of two accused and demanded that the State government appeal against the decision in the High Court.
Anjaiah, who lost his daughter and two close relatives, also wanted the death penalty.
The four Indian Mujahideen operatives who faced trial were arrested by Maharashtra police's AntiTerrorism Squad in October 2008. Deven Bharti, Addl. CP (Crime), Mumbai wrote to Hyderabad Commissioner of Police stating that the four had revealed their involvement in the Hyderabad blasts and asked the city police to follow up.
In February 2009, the then DSP of the Organisation for Counter Terrorist Operations (OCTOPUS), V.N.V. Satyanarayana, approached Mumbai police and brought the accused to city. They were taken into police custody and interrogated.
The case was later transferred to the Counter Intelligence Cell of State police who had filed three separate chargesheets against the accused. The acquitted persons are involved in other cases in Pune and Mumbai, Mr. Reddy said.
The trial in the case started in October 2016. Over 160 witnesses were examined. August 25 was the 11th anniversary of the twin blasts.
Though Special public prosecutor K Surender maintained that Sayeed and Akbar were operatives of Indian Mujahideen, they were not found guilty under Section 20 of UAPA (member of terrorist gang or organisation), Gandham Gurumurthy, defence counsel, said.
2. SC rejects Purohit's plea for probe
The 2006 Malegaon bombings were a series of bomb blasts that took place on 8 September 2006 in Malegaon, a town in the Nashik district of the Indian state of Maharashtra, 290 km northeast of Mumbai.
The Maharashtra Anti-Terrorism Squad (ATS) initially blamed the bombings on the Students Islamic Movement of India (SIMI), but a chargesheet filed in 2013 put the blame on the Hindu extremist group Abhinav Bharat.
On 25 April 2016, the court found the initial ATS charges to be fabricated and released the nine Muslims previously arrested
The explosions – which resulted in at least 38 fatalities and 125 injuries – took place in a Muslim cemetery, adjacent to a mosque, at around 13:15 local time after Friday prayers on the holy day of Shab e Bara'at.
Most of the blast victims were Muslim pilgrims. Security forces spoke of "two bombs attached to bicycles," but other reports indicated that three devices had exploded.
A stampede ensued after the devices exploded. A curfew was imposed in the town and state paramilitary forces were deployed in sensitive areas to prevent unrest.
The Supreme Court refused to entertain a petition filed by Malegaon blast case accused Lt. Col. Shrikant Purohit for a judicial investigation into his "abduction, illegal detention and torture" by Anti-Terrorism Squad officers in 2008 in connection with the case.
A Bench of Justices Ranjan Gogoi, Navin Sinha and K.M. Joseph decided it was "not appropriate" for the Supreme Court to consider this petition and permitted him to approach the trial court with his plea.
Purohit, represented by senior advocate Harish Salve, repeatedly urged the Bench to record a line in its order that his client was at liberty to approach the trial court.
Purohit alleged that he was framed in the Malegaon blast as the face of "Hindu terror" for the personal political gains of some key persons in the earlier UPA 2 government.
Six people were killed and nearly 100 injured when a bomb strapped to a motorcycle went off at Malegaon, a town in Nashik district of Maharashtra, on September 29, 2008.
Purohit submitted in his petition that he was a "highly decorated officer" and had eliminated terror networks through a "well-built and organised source input network."
"However, the government of that day, for personal political gains, had demolished the source network that was developed meticulously by the petitioner and other Intelligence officers of the Army and jeopardised the security of the nation," the petition said.
He said that he had been in prison for nine years before his release on bail by the Supreme Court.
Calling himself a "nationalist, honest officer," Mr. Purohit referred to recent media interviews given by former Joint Secretary, Home Ministry, R.V.S. Mani, on his book The Hindu Terror: Insider account of Ministry of Home Affairs 2006-2010.
Purohit said Mr. Mani has "revealed information indicating that the petitioner has been framed by some factions in the previous government, for political reasons including introducing a face of terror under the guise of saffron terror."
He said he was whisked away by the Anti-Terrorism Squad officers as soon as he reached Mumbai, kept in an undisclosed place in Khandala (between Mumbai and Pune) and tortured for eight days.
1. FPI outflow concerns preposterous: SEBI
A day after an association of foreign funds warned of a potential outflow of $75 billion from the Indian equity markets over a circular issued by the Securities and Exchange Board of India (SEBI) in April, policymakers brushed aside the concerns with the capital market watchdog terming the claims "preposterous and highly irresponsible.
It is preposterous and highly irresponsible to claim that $75 billion of Foreign Portfolio Investment (FPI) will move out of the country because of SEBI's circular issued in April 2018.
Later in the day, Subhash Chandra Garg, Secretary, Department of Economic Affairs, said that the issue was not so complex and that non-resident Indians (NRIs) were allowed to invest directly in the Indian markets.
NRIs are permitted to invest in Indian securities. There is a limit of 5% up to which NRIs can invest in a single security.
When NRIs try to manage funds from others through fund management and register as an FPI ,that is where this issue comes up. So, if some NRI is a beneficial owner, then that has been defined. If you have an economic interest as well as you manage, that is not permissible.
On April 10, SEBI issued a circular stating that entities such as NRIs, Persons of Indian Origin (PIO) and Overseas Citizens of India (OCI) cannot be beneficial owners (BOs) of any FPI.
It further stated that FPIs that do not comply with the framework would be given six months to either change their structure or wind up their positions in India. Last month, SEBI extended the deadline to December 31 to comply with the new norms.
The circular is creating an impression that all NRIs and resident fund managers managing funds are facilitating tainted monies without any empirical study or evidence.
The core issue is the definition of Beneficial Ownership and its use on placing investment restrictions.
If that issue is not resolved in a time bound manner, the affected FPIs will have to take requisite actions that may include liquidation and naturally it will have impact on the market and on FPI flows into India.
It is also to be recognised that the circular is causing an existential crisis for NRI (including foreign nationals who are OCI/PIO) fund managers and resident fund managers who have invested huge time and resources in attracting foreign investment into India.
2. Progress seen in RCEP: India
Regional Comprehensive Economic Partnership (RCEP)
Regional Comprehensive Economic Partnership (RCEP) is a proposed free trade agreement (FTA) between the ten member states of the Association of Southeast Asian Nations (ASEAN) (Brunei, Cambodia, Indonesia, Laos, Malaysia, Myanmar, the Philippines, Singapore, Thailand, Vietnam) and the six Asia-Pacific states with which ASEAN has existing free trade agreements (Australia, China, India, Japan, South Korea and New Zealand).
It is reported that a broad agreement is likely to be reached in November 2018.
RCEP negotiations were formally launched in November 2012 at the ASEAN Summit in Cambodia. The free trade agreement is scheduled and expected to be signed in November 2018 during the ASEAN Summit and Related Summit in Singapore, after the first RCEP summit was held on 14 November 2017 in Manila, Philippines.
RCEP is viewed as an alternative to the Trans-Pacific Partnership (TPP), a proposed trade agreement which includes several Asian and American nations but excludes China and India.
Commerce and Industry Minister Suresh Prabhu said that the negotiations for the Regional Comprehensive Economic Partnership (RCEP) would not end in 2018, but would spill over to 2019, even as officials said there was a breakthrough in understanding India's concerns at the meeting in Singapore on August 30-31.
The 16-nation group accepted some key demands from India: on differential tariff regimes for different country groups like China, and in allowing a 20-year implementation period of the agreement.
The RCEP negotiations will not end in 2018 that has been agreed at the level of the leaders.
But it will go on in 2019 as well and a package of substantial deliverables" would be agreed to in November this year, but not the preferential trade agreement, which has been negotiated for more than six years.
Earlier reports had indicated that India would face a stark choice between agreeing to end RCEP negotiations by a deadline at the end of 2018, or to step back from the negotiations, while other countries including the 10 ASEAN nations, China, Australia, New Zealand, Japan and South Korea, went on.
Another key area where India scored, according to officials, was in establishing a linkage between services and goods negotiations, given that some countries were not as welcoming of allowing movement of labour.
Separate negotiations
Of the 16 countries that have been negotiating for the RCEP, India does not have Free Trade Agreements with three countries — Australia, New Zealand and China, for which negotiations will now be separately held, in a bilateral pairing mechanism.
3. Rupee breaches 71.50 versus $
The rupee weakened for the fifth consecutive session as it breached the 71.50 per dollar mark on concerns over worsening macroeconomic parameters amid rising in oil prices.
After closing at 71.21 a dollar on Monday, the currency opened marginally lower at 71.24 a dollar and weakened to hit a new low during the end of the trading session. The rupee closed at 71.58 a dollar, which was a record closing low.
The rupee, which has depreciated by 11.5% so far, is the worst performing currency in Asia this year. The yield on 10-year benchmark government bond inched up 6 bps to close at 8.06%.
With the Reserve of India (RBI) not seen intervening aggressively to curb the rupee fall, there is speculation about interest rate hikes to halt the depreciation.
RBI intervention is very less despite the fact that forex reserves are around $400 billion. There are talks of out-of-the-monetary-policy interest rate hike by the RBI and issuance of NRI bond issue to raise dollar money.
The rupee has depreciated over 6% since June, that is, when the central bank started raising interest rates.A report by State Bank of India (SBI) said the rupee could depreciate further as RBI was worried over the cost of intervention.
Sterilisation costs
Sterilisation dollar purchases are sterilised through open market sale of government bonds by the RBI comes with associated costs. These costs arise because the RBI, in lieu of sterilising, substitutes higher yielding government securities with lower yielding foreign securities.
Given the inefficacy of sterilised intervention, we believe RBI may be thus following a relatively hands off policy in forex market for now and hence the recent penchant for rupee to depreciate at a much faster rate.
4. Taxes on jet fuel choking airlines: IATA
Taxes on jet fuel in India along with lack of competition for fuel suppliers at airports is strangling the lifeblood from the airlines, International Air Transport Association (IATA) Director General and CEO Alexander de Juniac said.
IATA also expressed concerns over the Goods and Services Tax (GST) imposed on international flight tickets. Such a levy weakens India's competitiveness by raising the cost of connectivity.
At present, 5% GST is levied on economy class tickets and 12% on business class tickets for international travel. The recent spurt in fuel prices has led to industry players reiterating the additional burden imposed on Indian players, who also have to pay extra taxes on ATF.
Fuel accounts for about 24.2% of an airline's average cost structure. In India, it is 34%, making India's carriers particularly sensitive in this area. All airlines are already suffering from the rise in fuel prices and India's regulatory and tax framework around fuel hits airlines serving this market harder.
Nothing here for today!!!
1. 'Drugs are not sweets' – Faulty hip prosthetics by Johnson & Johnson
Context:
An expert committee report on faulty hip prosthetics sold by a subsidiary of the U.S. firm Johnson & Johnson has revealed incriminating details about its negligence in dealing with Indian patients. It indicated that the company has suppressed key facts on the harmful effects of the company's "faulty" hip replacement systems, withdrawn globally after complications required many patients to undergo revision surgery.
The medical device has debilitated a number of patients, and leaving them with excruciating pain, disability and, in some alleged cases, even death.
How is hip replacement done?
The hip joint consists of a ball and a socket, which are covered with cartilage and surrounded by a lubricating membrane to protect against wear. In total hip replacement, all components are replaced with prosthetic components. While a metal stem is placed into the hollow centre of the thighbone (femur), the prosthetic ball, socket and cartilage can be made of strong plastic, metal or ceramics. The commonest hip implants are metal on polythene, and ceramic on polythene.
What is the issue with the current system?
The hip replacement that was being used are metal on metal, with cobalt, chromium and molybdenum as major constituents. Called ASR (Articular Surface Replacement) XL Acetabular System and ASR Hip Resurfacing System, these were being manufactured and sold for several years by Deputy International Limited (DePuy), UK, a subsidiary of Johnson & Johnson. Metal was being used as it reported a lower rate of wear and a wide range of motion.
When the prosthetic ball and socket rub against each other, it causes wear. If the implant is metal on metal, this can sometimes releases metallic debris into the bloodstream. This can lead to complications, sometimes requiring revision surgery. 
To what extent has it happened in India?
The company got the licence to import the device in 2006 to India
By the time it was recalled worldwide, an estimated 4,700 ASR implants had been done in the country.
Amid concerns worldwide, the Health Ministry set up an expert committee in 2017 to examine issues arising out of faulty ASR implants in India. The committee reviewed action taken by the company to replace faulty ASR implants, and reviewed compensation provided to those who had suffered.
Findings of the Committee:
More than 3,600 of the 4,700 patients could not be traced. The committee sent letters to 101, of whom 22 responded.
The committee concluded that not only did patients undergo revision after first surgery, but in some cases, more than one revision surgeries have been performed.
Some of the patients had reported that they had to undergo excoriating pain during all these and more particularly after the implant.
Many patients reported general fatigue or local issues such pseudo tumour, pain walking, metallosis (increase in Cobalt and Chromium levels, Asthenozoospermia (reduced sperm motility), cyst in kidney, claudication pain.
Some of them informed that they are still having difficulty in carrying out their routine activities and are confined to bed.
The cost of revision surgery was reimbursed either by the company or the insurance firms.
Recommendations of the Committee:
The company should be made liable to pay at least Rs 20 lakh to each patient with such complications, and the reimbursement programme be extended until August 2025.
A central expert committee and a regional expert committee should be constituted by the Ministry for evaluation of patients' claims in respect of disability and suffering caused due to use of faulty ASR.
The regional committee will determine whether there is permanent disability, and whether such disability has affected or will affect the patient's earning capacity, and then submit its report to the central expert committee.
The central expert committee will determine the quantum of compensation. The patient should be given compensation on the basis of suffering on "account of monetary loss due to wages and other loss" and percentage of disability.
It has recommended that the maximum amount be at par with the maximum granted for clinical trial-related death and permanent disability as per rules and guidelines of the Drug Controller General of India.
Provisions for compensation should be included in Medical Device Rules if any serious adverse event or death is caused due to the sole use of a medical device.
Health assessment of patients should be reported once a year till 2025 and compliance report periodically.
An independent registry should be established for tracking usage of high-risk medical devices.
How have other countries addressed issues relating to ASR?
Australia:
Australia, which had approved the product in 2004, was the first to take regulatory action against it.
In 2007 the System was associated with a higher-than-average replacement rate.
In 2009, ASR was removed from the Australian market, By 2016, ASR had the highest revision rate for any hip implant used in Australia.
USA:
In the US, in 2014 found that the ASR had the highest all-cause revision among resurfacing brands.
It recommended continued clinical surveillance and laboratory monitoring of patients.
Way forward:
The patient should be given compensation on the basis of suffering on "account of monetary loss due to wages and other loss" and percentage of disability. It is to be noted that reimbursement is not the same as compensating a patient for the pain, suffering, disability and loss of work.
The learning is the importance of a materio-vigilance programme to track adverse events of medical devices. India established one in 2015.
But if a programme along the lines of Australia's National Joint Replacement Registry had existed in 2006, perhaps Indian patients would have received help sooner.
Even today, eight years after the recall, the Indian government seems to be still deliberating on the issue. With an unknown number of implant recipients still unaware that they could have received a faulty device, time for deliberation is past. The authorities must show that when private corporations fail to protect patient interests, they will be held accountable.
Category: ENVIRONMENT AND ECOLOGY
1. Addressing soil loss – Kerala and Kodagu Floods
Issue:
Floods often wash away rich, weathered soil and the gradual loss of soil productivity can have a lasting impact on the local economy. The rehabilitation programmes often fail to consider this loss.
In the case of Kerala and Kodagu, the undulation and force of the water would have led to severe soil and land erosion.
Impact of floods on soil:
Flooding impacts the nutrient levels in the soil. Flooding and long periods of waterlogging result in the depletion of nutrients.
Floods also result in denitrification of the soil.
When the upland soils are under water for days or weeks it causes oxygen depletion, or reducing conditions, which may in turn affect the chemistry of the soil-water system and, consequently, soil aggregation.
Loss of soil aggregation impacts agriculture by decreasing soil quality and crop production.
Surface crusting is an issue after flooded soils dry out. 
Details:
Soil degradation due to flooding is a serious concern.
A 2014 review of soil degradation in India by multiple institutions shows that an estimated 14 million hectares suffer soil degradation due to flooding annually.
The impact of floods on soil was also studied in detail following the 2009 floods in North Karnataka. Researchers from the National Bureau of Soil Survey and Land Use Planning (NBSS&LUP) and other institutes estimate that 13 flood-hit districts lost 287 million tonnes of top soil and soil nutrients across 10.75 million hectares of farmland.
Under market prices, the replacement of nutrients such as nitrates, phosphates and iron would have cost Rs.1,625 crore, while another Rs.853 crore would have been spent on replenishing organic material lost. To recover and replace would take a "considerable" amount of time, and a steadfast programme of recovery, they noted.
Nine years later, there is no comprehensive scheme for recovery, and the effect of the floods is still visible on the ground.
A soil profile of a few affected districts, done under the State's integrated watershed scheme, shows large swathes of these areas having "shallow or very shallow" soil depth, organic carbon deficiency, and low productivity of land.
Are all floods bad for the Soil?
Not all floods are bad for the soil, as seen in the frequently occurring floods along the banks of the Ganga, Kosi, Brahmaputra and other rivers taking birth in the Himalayas.
There, the gushing river emanating from the mountains carries with it loosened alluvial soil, and not only washes over farmlands, but also replenishes flood plains with fertile soil.
However, in south and central India, floods wash away rich, weathered soil, which are deposited in reservoirs or as sand bars along the river bed or in the sea.
Way forward:
While roads and houses will be rebuilt, and crop losses compensated partially through insurance, the gradual loss of soil productivity must also be taken care of. Any rehabilitation programme must consider the lost soil.
Category: INTERNATIONAL RELATIONS
1. Routes to Afghanistan: on 2+2 talks
What is 2+2 Dialogue?
It is a dialogue mechanism that would include defence and foreign ministers of the two countries. It is similar to India-Japan 2+2 dialogue format between foreign and defence secretaries and ministers of the two countries. It replaces earlier India – Japan 2+2 dialogue format between foreign and defence secretaries and ministers of the two countries. It restores earlier India-US Strategic and Commercial Dialogue.
Introduction:
Afghanistan has been one of the longest fought battles for USA to establish peace and bring stability in the region. But with the assent of Trump as President of USA things have also changed as peace process is not easy to come by.
The Taliban has created an atmosphere of violence with increase in violence set of coordinated assaults around Afghanistan even rejecting an offer of a three-month ceasefire by President Ashraf Ghani.
U.S. Special Forces and the Afghan National Defence and Security Forces were not able to neutralize the strong hold of Taliban beyond 150 km from the center of Kabul.
But with repeated interventions by US air force Taliban did suffer casualties, so did the Afghan Army.
 Impact of Taliban Assault:
The impact of the Taliban assault in Ghazni and other cities including the deadly bombing of a Kabul school, was three-fold:
It cast serious doubt on any U.S. plans to draw down troops as Mr. Trump may have envisioned.
The June Id ceasefire did not result in an outcome. This was despite six months of concerted American punitive actions on Islamabad, the Pakistan establishment is not shutting down support for Taliban fighters.
Ghani even accused Pakistan of treating the terrorists in hospitals close to the Afghan-Pakistan border, while his Ministry of Defence said Pakistani fighters, including from the Lashkar-e-Toiba were among the insurgents. Pakistan denied the charges.
The violence this year has also put 2018 on course to be the deadliest year for Afghan civilians, with an average of nine people killed every day, according to UN data.
Kabul's security structure has seen a series of sackings and resignations in the aftermath.
National Security Adviser has been replaced by Afghanistan's Ambassador to the U.S. The Defence Minister, Interior Minister, head of the National Directorate of Security and deputy chief of the National Security Council all tendered their resignations, over differences with Mr. Ghani's working; he hasn't accepted them.
The developments, along with the faltering peace process, will make the task of holding parliamentary elections due in October, as well as presidential elections in April 2019, much more challenging.
The approach of USA in reference to Russia, China and Iran, has been even more perplexing.
With the constant Pressure from USA a possible talks with Taliban on the table initiated by Russia was also disturbed as Mr Ghani backed off.
However, the U.S. has itself entered into direct engagement with the same delegation led by "political chief" Sher Mohammad Abbas Stanikzai, a UN-sanctioned former Minister in the Taliban government, when Ms. Wells went to Qatar, making U.S. disavowal of the Moscow process seem more discourteous than principled.
The Iran angle:
The Trump administration's collision course with Iran is another hurdle to realising its South Asia policy.
Iran is a neighbour to both Afghanistan and Pakistan, and any action against Tehran will have consequences on the region.
The new American push to sanction and isolate Iran will undoubtedly shift the focus from the task of resolving the situation in Afghanistan.

This mirrors earlier U.S. offensive actions — in Iraq in 2003, Libya in 2011, Syria in 2014 — each of which took its eye off the ball in Afghanistan.

Iran is also an alternative route for landlocked Afghanistan's trade routes to the sea, which ties in with India's desire to circumvent Pakistan by developing the Chabahar port.

In fact, if the US was in good terms with Iran, it may have benefited from access to the alternative supply lines to U.S. soldiers in Afghanistan.
Insisting on India cutting off ties with Iran, will only jeopardise this route, and affect Iran's desire to assist with the access.
Role of India:
To begin with, it is necessary that the Indian government spells out clearly its policy towards talks with the Taliban.
India would also have to become party, hypothetically, to any future agreement that brings the Taliban into a power-sharing arrangement in Kabul.
The government must carefully study the implications of that departure from past policy.
India must focus on assisting Afghanistan in every manner possible to ensure that the country's elections are as peaceful and participative as possible.
On the military front as well, India must move quickly to provide helicopters as well as engineering/tech support for Afghan hardware.
India's development assistance has been the source of its considerable influence and goodwill among Afghan citizens, and this is not the time to make cuts.

The outlay for 2017-18 was far lower than its commitment in 2015-2016. Officials say this is because major projects, such as the Salma Dam and Parliament building in Kabul, that began in 2008-09, have now been completed.
While the current crop of Small Development Projects launched in 2016, encompassing drinking water plans for several cities including Kabul, supply of buses, construction of low-cost housing, and assistance in health and education are important, India's regional status demands more.
Conclusion:
The Indian government must realise that its consistent undermining of the South Asian Association for Regional Cooperation (SAARC) because of problems with Pakistan is also weakening Afghanistan's engagement with the subcontinent, which India had worked hard to foster.
The conversations at the 2+2 meet must take into account not just India's role in Mr. Trump's South Asia policy but its own role in its neighbourhood.
Nothing here for today!
Nothing here for today!
H. Practice Questions for UPSC Prelims Exam
Question 1. Consider the following statements:
The Central Drugs Standard Control Organization(CDSCO) is the national regulatory body for Indian pharmaceuticals and medical devices

CDSCO is under the administrative control of Ministry of Health and Family Welfare.
Which of the above statements are correct?
1 only
2 only
Both 1 and 2
Neither 1 nor 2
See
Question 2. Consider the following statements:
Genetically modified mustard is also known as Dhara Mustard Hybrid (DMH 11).

DMH 11 is genetically modified variety of Herbicide Tolerant (HT) mustard.
Which of the above statements are correct?
1 only
2 only
Both 1 and 2
Neither 1 nor 2
See
Question 3. Consider the following statements about GEAC - Genetic Engineering Appraisal 
Committee:
GEAC is apex body under Ministry of Environment, Forests and Climate Change for regulating manufacturing, use, import, export and storage of hazardous micro-organisms or genetically engineered organisms (GMOs).

GEAC is also responsible for giving technical approval of proposals relating to release of GMOs and products including experimental field trials.
Which of the above statements are correct?
1 only
2 only
Both 1 and 2
Neither 1 nor 2
See
Question 4. Consider the following statements about Regional Comprehensive Economic
Partnership (RCEP):
Regional Comprehensive Economic Partnership (RCEP) is a proposed free trade agreement (FTA) between the ten member states of the Association of Southeast Asian Nations (ASEAN) and the six Asia-Pacific states ((Australia, China, India, Japan, South Korea and New Zealand).

RCEP is viewed as an alternative to the Trans-Pacific Partnership (TPP).
Which of the following statement/s is/are correct?
1 and 2 only
2 and 3 only
1 and 3 only
All of the above
See
I. Practice Questions for UPSC Mains Exam
Soil degradation due to flooding is a serious concern. A 2014 review of soil degradation in India by multiple institutions shows that an estimated 14 million hectares suffer soil degradation due to flooding annually. Comment.

The Indian government must realize that its consistent undermining of the South Asian Association for Regional Cooperation (SAARC) because of problems with Pakistan is also weakening Afghanistan's engagement with the subcontinent, which India had worked hard to foster. Discuss.
Also, check previous Daily News Analysis
"Proper Current Affairs preparation is the key to success in the UPSC- Civil Services Examination. We have now launched a comprehensive 'Current Affairs Webinar'. Limited seats available. Click here to Know More."
Enroll for India's Largest All-India Test Series