TABLE OF CONTENTS
A.

 GS1 Related




B.

 GS2 Related


POLITY
1. SC decriminalises homosexuality
INTERNATIONAL RELATIONS
1. India signs landmark defence pact with U.S.
2. North Korea's Kim sets denuclearisation timeline
3. Data could be a thorny issue in Indo-U.S. ties
GOVERNANCE
1. CSIR team aces miles to fetch Kerala water


C.

 GS3 Related


ENVIRONMENT
1. EVs, CNG vehicles don't need permits
ECONOMY
1. Plantation sector may have suffered Rs 5,000-cr. loss due to floods: UPASI


D.

 GS4 Related




E. 

Editorials


GOVERNANCE
1. Is Punjab's proposed blasphemy law retrograde? – On introduction of IPC Section 295AA
POLITY
1. Sexual equality affirmed – On decriminalisation of Section 377 of IPC
HEALTH
1. Ending tuberculosis (TB)
INTERNATIONAL RELATIONS
1. For a world free of chemical weapons - On the Chemical Weapons Convention Act of 2000


F. 

Tidbits




G. 

Prelims Fact


H. UPSC Prelims Practice Questions
I. UPSC Mains Practice Questions 

Nothing here for today!!!
1. SC decriminalises homosexuality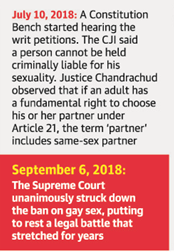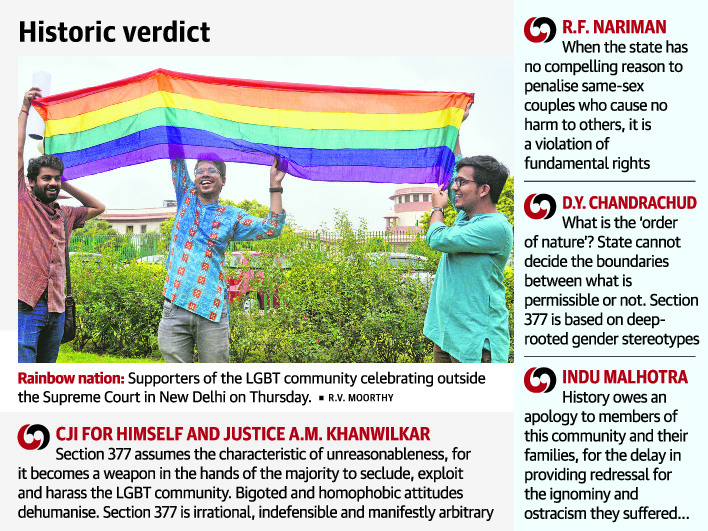 In a landmark judgment, a five-judge Constitution Bench of the Supreme Court decriminalised homosexuality, with a prayer to the LGBTQ community (Lesbian, Gay, Bisexual, Transgender and Queer) to forgive history for subjecting it to brutal suppression.
The Bench, led by Chief Justice of India Dipak Misra, unanimously held that criminalisation of private consensual sexual conduct between adults of the same sex under Section 377 of the Indian Penal Code was clearly unconstitutional.
The court, however, held that the Section would apply to "unnatural" sexual acts like bestiality. Sexual act without consent continues to be a crime under Section 377.
About Bestiality
Zoophilia is a paraphilia involving a sexual fixation on non-human animals. 
Bestiality is cross-species sexual activity between human and non-human animals. The terms are often used interchangeably, but some researchers make a distinction between the attraction (zoophilia) and the act (bestiality).
Although sex with animals is not outlawed in some countries, in most countries, bestiality is illegal under animal abuse laws or laws dealing with buggery or crimes against nature.
 A self-correction
In four concurring opinions, the Constitution Bench declared the 156-year-old "tyranny" of Section 377 "irrational, indefensible and manifestly arbitrary." Section 377 thus far punished homosexuality with 10 years of imprisonment.
Section 377 discriminated against a minority based solely on their sexual orientation.
It violated the right of the LGBTQ community to "equal citizenship and equal protection of laws." The court held that bodily autonomy was individualistic. Choice of a partner was part of the fundamental right to privacy.
The court set aside its 2013 judgment in the Suresh Koushal case. Legal experts said this was a much-needed self-correction of a past judicial wrong committed against the community.
Experts said the Constitution Bench verdict would become the foundation for members of the community to seek individual rights.
Govt. should have taken a stand on Section 377: judge
The "neutral" position of the Centre on the legality of Section 377 IPC, which criminalised homosexuality, did not sit well with the Supreme Court.
Instead of washing its hands of and leaving it to the "wisdom of the court", Justice D.Y. Chandrachud said the government should have taken a "categorical" stand one way or the other.
The ambivalence of the government does not obviate the necessity for a judgment on the issues raised, he wrote.
Whether the government has a position or not, the court must plainly do its duty to the LGBTQ community and the Indian Constitution. The challenge to the constitutional validity of Section 377 must squarely be addressed.
'Neutrality slammed'
The government's neutrality was slammed, especially in the light of the fact that "Section 377 creates a class of criminals, consisting of individuals who engage in consensual sexual activity."
"It typecasts LGBTQ individuals as sex-offenders, categorising their consensual conduct on par with sexual offences like rape and child molestation. Section 377 not only criminalises acts (consensual sexual conduct between adults) which should not constitute crime, but also stigmatises and condemns LGBTQ individuals in society," Justice Chandrachud said.
The observations against the government keeping mum came in the background of the "silence and secrecy" that accompanies the "institutional discrimination faced by the LGBTQ community in health care.
Social stigma
Noting that the stigma attached by health providers, employers and other service providers to the community contributes to the increased sexual risk behaviour and encourage escalation of the incidence of HIV/AIDS.
MSM and transgender persons do not approach State health care providers for fear of being prosecuted for engaging in criminalised intercourse.
"There exist serious obstacles to effective HIV prevention and treatment as discrimination and harassment can hinder access to HIV and sexual health services and prevention programmes," Justice Chandrachud pointed out.
To safeguard the health of persons who are at the greatest risk of HIV infection, it is imperative that access is granted to effective HIV prevention, treatment services and commodities such as clean needles, syringes, condoms and lubricants.
"A needle or a condom can only be considered a concrete representation of the entitlements of vulnerable groups: the fundamental human rights of dignity, autonomy and freedom from ill-treatment, along with the right to the highest attainable standard of physical and mental health, without regard to sexuality or legal status," Justice Chandrachud said.
CJI: community needed the rainbow of hope
The 2013 Supreme Court judgment in the Suresh Koushal case had upheld Section 377 and set aside the reprieve won by the LGBTQ community when the Delhi High Court in 2009 decriminalised homosexuality. It had cast the community back into the shadows as "unconvicted felons."
The five-judge Constitution Bench declared that once a nine-judge Bench had declared privacy to be a part of the fundamental right to life, nothing could stop the court from upholding bodily autonomy and sexual orientation as a fundamental right too.
Chief Justice Dipak Misra, in his separate opinion shared with Justice A.M. Khanwilkar, held that the LGBTQ community possessed equal rights as any other citizen.
Any societal repression of their innate and biological sexual orientation was against the fundamental right to free expression. Homosexuality was their order of nature.
Chief Justice Misra said the community needed the rainbow of hope for the sake of humanity. It should be allowed to live with dignity and without pretence about its identity. This verdict should be the beginning of a journey towards greater dignity, equality and liberty, he said.
Justice Rohinton F. Nariman, in his separate opinion, held that homosexuals had a fundamental right to live with dignity. They were entitled to be treated as human beings and should be allowed to imbibe the spirit of fraternity.
Justice Nariman embraced the Yogyakarta Principles, which recognise freedom of sexual orientation and gender identity as part of human rights.
Justice Chandrachud said medical science should stop being a party to the stigmatisation of homosexuals by "trying to cure something that is not even a disease." Medical professionals and counsellors should tweak their own attitude. Stigmatisation seriously affected members of the community.
Justice D.Y. Chandrachud pointed out that variations in sexual orientation had become a reason for blackmail on the Internet. Quoting Lenoard Cohen, he described how "shadows of a receding past" still controlled the quest of LGBTQ community for fulfilment.
Not unique to humans, says SC
Justice D.Y. Chandrachud said homosexuality is documented in 1,500 species and is not unique to humans.
The judge, with this single observation, dispelled the prejudice that homosexuality is against the order of nature.
Justice Chandrachud quoted from an article he read which said that homosexual behaviour existed in all species except those that never have sex at all, such as sea urchins and aphis.
Chief Justice of India Dipak Misra also wrote, "What nature gives is natural. That is called nature within."
The Chief Justice quoted German thinker Johann Wolfgang von Goethe, who said, "I am what I am, so take me as I am."
Justice Chandrachud compared same-sex love to those of couples who married outside their caste, religion and faith, at enormous personal risk. The judge located the struggle of citizens belonging to sexual minorities in the larger history of the struggles against various forms of social subordination.
Thus, he observed, the limits imposed by structures such as gender, caste, class, religion and community made the "right to love" not just a separate battle for LGBTQ individuals, but a battle for all.
U.P. tops in cases booked under Section 377
Uttar Pradesh had the highest number of cases, a whopping 999, registered under Section 377 of the Indian Penal Code during 2016, figures for which are available now.
Kerala came second with 207 cases that fell under the category of"unnatural offences. Delhi followed with 182 cases, statistics of the National Crime Records Bureau reveals.
According to the police sources, 2,187 cases were registered invoking Section 377 across the country in 2017. The number for Kerala was 198 during the year.
The current year has seen as many has 126 cases being registered till July. The sources say around 10% of the incidents booked under the Section may pertain to sexual intercourse among consenting adults, which the apex court has now decriminalised.
Section 377 is an essential element in cases charged under the Protection of Children from Sexual Offences (POCSO) Act.
Sources in the State's higher judiciary said though the apex court has decriminalised Section 377, it could be a long road to freedom for those who have been booked under it.
They would have to move the appropriate superior courts, as the law does not allow a court to review its own decision. That right is vested with the superior courts.
With the latest apex court verdict, a magistrate shall no longer take cognizance of such cases. If cognizance has already been taken, the accused can exercise their right to get themselves discharged before framing of charges.
Those who have been convicted and are now undergoing imprisonment can approach the superior courts concerned for setting aside the judgment.
Bigoted attitudes dehumanise transgenders
The very existence of Section 377 IPC, criminalising transgenders, stigmatised an already oppressed and discriminated class of people, Chief Justice Dipak Misra, who headed the Constitution Bench decriminalising homosexuality, wrote.
Bigoted and homophobic attitudes dehumanise transgenders by denying them their dignity, personhood and above all, their basic human rights.
"To change the societal bias and root out the weed, it is the foremost duty of each one of us to stand up and speak up against the slightest form of discrimination against transgenders that we come across. Let us move from darkness to light, from bigotry to tolerance and from the winter of mere survival to the spring of life — as the herald of a New India — to a more inclusive society," the Chief Justice wrote in an opinion shared by Justice A.M. Khanwilkar on the Bench.
Stigma, oppression and prejudice against the transgender community have to be eradicated.
"Transgenders have to progress from their narrow claustrophobic spaces of mere survival, hiding in there with their isolation and fears, to enjoying the richness of living," Chief Justice Misra observed.
The community should be allowed to walk out of the shadows in order to fully realise their potential.
The community should get equal opportunity in all walks of life, Chief Justice Misra said.
No more seen as 'mental illness'
Justice Rohinton Nariman on the Constitution Bench said the stigma of 'mental illness' attached to homosexuality has gone for good.
As proof, Justice Nariman pointed to the recent parliamentary re-enactment of the Mental Healthcare Act of 2017.
Justice Nariman said the definition of 'mental illness' in the Act "throws to the winds all earlier misconceptions of mental illness, including the fact that same-sex couples who indulge in anal sex are persons with mental illness."
"The present definition of mental illness in the 2017 Parliamentary statute makes it clear that homosexuality is not considered to be a mental illness. This is a major advance in our law which has been recognised by Parliament itself," Justice Nariman observed, in his separate opinion for the five-judge Constitution Bench led by Chief Justice of India Dipak Misra.
Justice Nariman said, "Mental illness shall not be determined on the basis of non-conformity with moral, social, cultural, work or political values or religious beliefs prevailing in a person's community."
The judge urged the Centre to take all measures to ensure that the Bench's judgment is given wide publicity through the public media, which includes television, radio, print and online media at regular intervals.
Speaking for the Constitution Bench, Justice Nariman said the government should initiate programmes to reduce and finally eliminate the stigma against homosexuality.
1. India signs landmark defence pact with U.S.
About COMCASA
It is one of the three foundational defence pacts that needs to be signed by a country in order to obtain high-tech military hardware from the US. Before COMCASA, India had signed only one of these agreements – Logistics Exchange Memorandum of Agreement (LEMOA) – in 2016.
The two countries are yet to begin talks on the third agreement – Basic Exchange and Cooperation Agreement for Geo-spatial Cooperation (BECA).
The agreement will give Indian military access to function on high-end secured and encrypted communication equipment which are installed on American platforms obtained by Indian Armed Forces. These platforms include C-130 J, C-17, P-8I aircraft, and Apache and Chinook helicopters.
The act is usually known as the Communication and Information on Security Memorandum of Agreement (CISMOA). But, it was changed to COMCASA to signify its India-specific alterations.
It will also provide a legal framework for the transfer of encrypted communication security equipment from the US to India. It is believed to be safer and more secure than the system that India uses right now. "Signing of Communications Compatibility and Security Agreement (COMCASA) will enable India to access advanced technologies from USA," Defence Minister Nirmala Sitharaman said while addressing the media.
The agreement was pending for almost ten years. One of the major reasons for this was the fear that India may compromise its operational independence.
Critics had also pointed out that the agreement could jeopardise India's established military ties with Russia and access to their weapons systems.
The agreement is also of political significance with the general elections scheduled to take place next year. In 2016, the BJP government had to face a lot of criticism from the opposition parties for signing LEMOA.
These agreements and Donald Trump administration's decision to give India STA-1 status (Strategic Trade Authorization-1) shows the country's importance in the US strategic calculus.
In news
India and the United States sealed the landmark Communications Compatibility and Security Agreement (COMCASA) that will lead to a new generation of bilateral military partnership.
Apart from the agreement that was signed at the end of the inaugural India-U.S. '2+2' Ministerial Dialogue, both sides called on Pakistan to stop terrorist strikes on "other countries" and urged for maritime freedom in the Indo-Pacific region.
S. Secretary of State Michael R. Pompeo and Secretary of Defence James N. Mattis led the American delegation, and the Indian team was headed by their counterparts Sushma Swaraj and Nirmala Sitharaman.
Defence systems
They welcomed the signing of a Communications Compatibility and Security Agreement that will facilitate access to advanced defence systems and enable India to optimally utilise its existing U.S.-origin platforms.
With Communications Compatibility and Security Agreement (COMCASA), India has concluded three of the four foundational agreements with the U.S. that had been planned for years.
India has already signed two of them — General Security Of Military Information Agreement (GSOMIA) in 2002 and the Logistics Exchange Memorandum of Agreement (LEMOA) in 2016.
The COMCASA will allow the U.S. to transfer specialised equipment for encrypted communications for U.S.-origin platforms like C-17, C-130 and P-8I aircraft. It comes into force immediately and is valid for 10 years.
Sources said a person-in-charge will be specially designated in the U.S. Central Command for coordination between India and the U.S. on this.
Officials said the government had negotiated an India-specific agreement and "specific additional provisions" had been incorporated in the text to safeguard security and national interests.
The text of COMCASA is confidential. Data acquired through such systems cannot be disclosed or transferred to any person or entity without India's consent. Both countries will implement the agreement in a manner consistent with the national security interests of the other.
India and the U.S. will also hold a first-ever tri-service joint exercise on the east coast of India in 2019, Defence Minister Nirmala Sitharaman announced.
Role for private sector
Sitharaman and Secretary of Defence James N. Mattis also announced their readiness to begin negotiations on an Industrial Security Annex (ISA) that would allow Indian private sector to collaborate with the U.S. defence industry.
The GSOMIA allows sharing of classified information from the U.S. government and American companies with the Indian government and defence Public Sector Undertakings (PSUs) but not with Indian private companies.
To further defence innovation, a Memorandum of Intent was signed between the U.S. Defense Innovation Unit (DIU) and the Indian Defence Innovation Organization – Innovation for Defence Excellence (DIO-iDEX), which will look into joint projects for co-production and co-development projects through the Defense Technology and Trade Initiative (DTTI).
Ahead of the 10th anniversary of the 26/11 terror strikes in Mumbai, India and the U.S. resolved to combat international terrorism and asked Pakistan to bring those responsible for recent acts of terrorism against India to justice.
2. North Korea's Kim sets denuclearisation timeline
About Denuclearisation
Nuclear disarmament is the act of reducing or eliminating nuclear weapons. It can also be the end state of a nuclear-weapons-free world, in which nuclear weapons are completely eliminated.
The term denuclearization is also used to describe the process leading to complete nuclear disarmament
The Joint Declaration of the Denuclearization of the Korean Peninsula was an agreed action item between South Korea and North Korea signed on January 20, 1992. The declaration never entered into force.
The declaration read in part as follows:
Desiring to eliminate the danger of nuclear war through denuclearization of the Korean peninsula
The South and the North shall not test, manufacture, produce, receive, possess, store, deploy or use nuclear weapons.
The South and the North shall use nuclear energy solely for peaceful purposes.
The South and the North shall not possess nuclear reprocessing and uranium enrichment facilities.
The South and the North, in order to verify the denuclearization of the Korean peninsula, shall conduct inspection of the objects selected by the other side and agreed upon between the two sides, in accordance with procedures and methods to be determined by the South-North Joint Nuclear Control Commission.
The South and the North, in order to implement this joint declaration, shall establish and operate a South-North joint Nuclear Control Commission within one month of the effectuation of this joint declaration.
This Joint Declaration shall enter into force as of the day the two sides exchange appropriate instruments following the completion of their respective procedures for bringing it into effect.
In news
North Korea's Kim Jong-un has given his first timeline for denuclearisation, aiming for the end of U.S. President Donald Trump's first term, Seoul officials said, prompting thanks from Mr. Trump, who said they would "get it done together".
Kim and South Korean President Moon Jae-in will also meet in Pyongyang on September 18-20 for a third summit and discuss "practical measures" towards denuclearisation.
The summit could provide renewed momentum to talks over denuclearisation between North Korea and the U.S., after Mr. Trump cancelled a visit to Pyongyang by Secretary of State Mike Pompeo last month citing lack of progress.
Kim told South Korean officials that his faith in Mr. Trump was unchanged and that he wanted denuclearisation and an end to hostile relations with the U.S. before Mr. Trump's first term in office ends in early 2021, said Mr. Chung.
In previous, failed talks, North Korea has said it could consider giving up its nuclear programme if the U.S. provided security guarantees by removing troops from South Korea and withdrawing its so-called nuclear umbrella of deterrence from the South and Japan.
Pompeo, visiting New Delhi, declined to discuss the next steps in talks with Pyongyang but said there was a long road ahead in the denuclearisation process.
3. Data could be a thorny issue in Indo-U.S. ties
India's recent move to compel technology and payments firms to store data within the country is likely to turn into a more contentious issue for commercial ties between India and the U.S. than American firms' usual complaints about the difficulty of doing business here, said Anand Mahindra, chairman of Mahindra group.
Stressing that thorny issues on the commerce and business front were damaging the Indo-U.S. relationship.
U.S. businesses' usual plaint was about the need for a level-playing field in India. This is not a problem that Americans face alone. Indian businesses face them too.
The good news is the Prime Minister is focussed on the ease of doing business and wants to get the country into the top 50 ranks in the World Bank index.
There are going to be some new problems that will come up. Reserve Bank of India has issued a circular recently talking about payments banks needing to store data in India. some of the largest U.S. companies are going to have problems with that.
U.S.-India Business Council summit
The U.S.-India Business Council (USIBC) was formed in 1975 as a business advocacy organization to enlighten and encourage the private sectors of both India and United States to enhance investment flows.
The organization serves as a direct link between business and Government leaders, resulting in increased trade and investment to strengthen ties between the two nations.
While acknowledging that the issue of corporate control over data, privacy and data storage locations was a global problem, the Mahindra group chief said that India had a lot to lose if the noise levels around this issue soared.
India's skill development programme had intent, but was floundering because it lacked an alignment with the job creation needs of a country where business is not trusted easily.
India had historically not trusted businesses. Though the years after liberalisation had altered this to some extent, the perception that businesses were crooked had not yet gone away.
1. CSIR team aces miles to fetch Kerala water
A seven-member team led by Sanjay D.Patil, senior scientist, from the Central Salt and Marine Chemical Research Institute (CSMCRI) under the Council of Scientific and Industrial Research (CSIR) in Gujarat's Bhav Nagar has travelled 3,000 km by road to supply potable water to flood-hit villages in central Kerala.
It took less than six hours for the CSMCRI team to leave Bhav Nagar in response to an SOS sent.
Sivankutty Nair, technical officer in the CSIR unit in Thiruvananthapuram, is co-ordinating the flood relief activities of the Gujarat team that has been camping at Parumala since August 25.
The CSMCRI developed a mobile Reverse Osmosis (RO) plant 10 years ago, at an estimated cost of Rs 1 crore, for supplying drinking water to natural calamity-hit areas.
The unit fitted to a bus can produce 3,000 litres of potable water an hour at an operating cost of just 60 paise a litre, said Mr. Sanjay Patil.
The Kerala Water Authority has arranged to supply the treated water in affected areas of Pandanad, Mannar, Parumala, Budhanur and Panayannarkavu, where drinking water scarcity is at its worst.
All wells in these villages have been inundated and it may take weeks to clean and sanitise them.
1. EVs, CNG vehicles don't need permits
About EVs and Hybrids
An electric vehicle, also called an EV, uses one or more electric motors or traction motors for propulsion.
An electric vehicle may be powered through a collector system by electricity from off-vehicle sources, or may be self-contained with a battery, solar panels or an electric generator to convert fuel to electricity. 
EVs include, but are not limited to, road and rail vehicles, surface and underwater vessels, electric aircraft and electric spacecraft.
An electric car is one that runs on, and is 'charged up' with, electric power. Petrol or diesel is never used to refuel an electric car. The electricity that powers an electric car is stored in batteries before being used by electric motors to drive the car's wheels; the addition of an fossil fuel engine would make it a hybrid.
Hybrid cars, meanwhile, have electric elements to their powertrains but cannot be considered 'electric cars' due to the presence of a petrol engine. This has caused some confusion recently, not least because certain manufacturers are very keen to describe as "electric" a car which still burns fossil fuels to move; misleading at best, and deceptive at worst.
In news
Road Transport and Highways Minister Nitin Gadkari said that no permits would be required for vehicles running on alternative fuel, including CNG, ethanol and EVs, a move that is expected to boost the demand for such vehicles in the country.
It has been decided to exempt electric vehicles as well as vehicles, including auto-rickshaws, buses, taxis, that run on alternative fuel like ethanol, bio-diesel, CNG, methanol and bio-fuel, from permit requirements.However this would not extend to mild hybrids or hybrid vehicles.
The Minister added that with the GST on EVs at 12%, there was'nt any further need for subsidy. In our country, we can't subsidise individual vehicles.
The government, he said, was also mulling converting two-wheelers into taxis in non-metros, while encouraging the auto industry to use waterways for logistics to trim costs and lower pollution.
Speed governors
Gadkari also said the government would soon "abolish" the requirement of speed governors.
Meanwhile, in an earlier session, the industry put forth its demand for speedy infrastructure development and better roads, while reiterating the need for a long-term regulatory and policy roadmap for the sector to plan investments better.
SIAM president Abhay Firodia pointed out that policies changed in an ad hoc manner created uncertainty in the industry, and called for a 10-year policy roadmap for the sector.
Pointing out that all decisions were taken in consultation with the industry, Abhay Dhamle, Secretary, Road Transport and Highways Ministry, at a later session, said a joint working group had already been formed to create such a roadmap.
Minister for Heavy Industries and Enterprises Anant Geete said that the government was with the industry and "will do whatever we can do to help the industry grow." Assuring that government would address the auto industry's concerns, he said the industry must adapt to new technologies.
1. Plantation sector may have suffered Rs 5,000-cr. loss due to floods: UPASI
The plantation sector in the south, including tea, coffee, rubber, cardamom and pepper, is estimated to have suffered a Rs.5,000-crore crop loss due to the recent floods in Kerala, Karnataka and Tamil Nadu.
These are the early estimates made by the United Planters Association of South India (UPASI) and the extent of the damage is unprecedented.
Losses may widen
In some cases, substantial area under cultivation has been lost to landslips, he said. The losses include those of field crops and stocks in warehouses and they may increase due to attacks from pests and fungi in the coming months.
In respect of tea, a crop loss ranging between 41 and 64% is being feared for August alone at a time when adverse weather conditions had already battered production since June. There was hardly any sunlight on the tea bushes till August.
The coffee-producing regions of Kodagu, Hassan and Chikmagalur in Karnataka, accounting for 70 % of the country's crop, were ravaged by rains causing berry dropping, according to an UPASI report.
The Coffee Board had estimated a crop loss of about 82,000 tonne (annual output of 6.9 lakh tonne in 2017-18). The loss is the highest in Karnataka followed by Kerala and Tamil Nadu, the board said. The crop loss in respect of rubber is estimated at about 1.25 lakh tonne (out of an annual average output of 9 lakh tonne).
In respect of spices, pepper vines and cardamom plants had been badly affected. Almost 50% of the average annual pepper output of 55,000 tonne may be lost, said UPASI.
Nothing here for today!!!
1. Is Punjab's proposed blasphemy law retrograde? – On introduction of IPC Section 295AA
Context:
The Punjab Cabinet has decided to introduce in the Indian Penal Code (IPC) a new Section (295AA) which states, "Whoever causes injury, damage or sacrilege to Sri Guru Granth Sahib, Srimad Bhagwad Gita, Holy Quran and Holy Bible with the intention to hurt the religious feelings of the people, shall be punishable with imprisonment for life."
Issue:
Damage to holy books can attract a mandatory life sentence in Punjab, while other insults can attract up to three years. In other words insulting a god or Prophet would land you in jail, but burning or defacing a holy book would land you in prison for life.
The question is whether this extraordinary penalty is necessary when, throughout India, Section 295A of the IPC already provides for imprisonment up to three years for "deliberate and malicious acts intended to outrage religious feelings".
Background:
In 2016, amendments were passed by the Punjab assembly specifically aimed at curbing acts of sacrilege targeting the Guru Granth Sahib. The Centre had then returned the Bills, saying that protecting the holy book of only one religion would make it discriminatory and anti-secular.
The earlier Bill was introduced by the Shiromani Akali Dal government following allegations of desecration of the holy book.
The current proposal is a slightly expanded form of amendments passed by the Punjab Assembly in 2016.
The History of Criminal Blasphemy:
Mahashay Rajpal, the publisher of a book, Rangila Rasul (The Colourful Prophet), was sought to be prosecuted under Section 153A, as the book allegedly caused disharmony between communities. Rajpal was granted leave to appeal to the Lahore High Court because Section 153A then did not cover criticism of religious figures. As the book did not specifically cause enmity or hatred between religious communities, it did not violate Section 153A was the logic that weighed with the court.
Thereupon, the Indian Muslim community demanded a law against insult to religious feelings.
The British government enacted Section 295(A) in 1927.
As a member of the Viceroy's Council, Muhammad Ali Jinnah warned, "I thoroughly endorse the principle that while this measure should aim at those undesirable persons who indulge in wanton vilification or attack upon the religion of any particular class or upon the founders and prophets of a religion, we must also secure this very important and fundamental principle that those who are engaged in historical works, those who are engaged in bona fide and honest criticism of a religion, shall be protected." Rajpal was later acquitted by the Lahore High Court, but was subsequently stabbed to death by a Muslim carpenter.
Is there a need for a new law?
Arguments FOR  the introduction of Section 295 AA:
The anti-blasphemy law was scripted as a response to, and not an expression of, religious intolerance. It is not for the appeasement of masses.
Punjab has never seen a communal riot even once since 1947. Thus interpret the anti-blasphemy law as intolerant is to argue from the wrong end of logic.
It is an effort to send a strong message that in order to preserve democratic freedoms, it is necessary to ensure that these acts are not used as an excuse to outrage the legitimate religious sensitivities of every class of people.
Section 295AA will put a firmer deterrent to instil some fear of the law in the minds of those miscreants.
Arguments AGAINST the introduction of Section 295AA:
Section 295-A of IPC itself encompasses the provision to protect religious books from damage, insult and sacrilege.
While upholding its constitutional validity in 1957, the Supreme Court had clarified that the section "punishes the aggravated form of insult to religion when it is perpetrated with the deliberate and malicious intention of outraging religious feelings".
It is true that one limb of any blasphemy law, is aimed at preserving public order; and miscreants can fan disorder and tension by malicious acts such as damaging or desecrating a holy text. This can be invoked to jail someone for three years. Providing for a life term for the same offence in relation to religious texts would be grossly disproportionate.
'Sacrilege' itself is a vague term, and would render the section too broad.
On legal grounds, the drafting of the Bill has received criticism for the imprecise manner in which sacrilege has been defined; it should have been clearly mentioned as physical desecration/sacrilege. Otherwise, even for writing a book or an article, or making a speech, or sketching a cartoon, or drawing a painting, a person can be erroneously accused of blasphemy notwithstanding the rights guaranteed by Articles 19 and 25 of the Constitution.
This could also set precedent for other State Governments.
There is a history of misuse of laws aimed to protect religious sentiments, and those that seek to punish persons who promote enmity between different groups. They have a chilling effect on free speech, and give a handle to anyone claiming to be outraged to pursue provoking prosecutions.
There have been cases of misuse of similar blasphemy provisions in Pakistan, where similar amendments to Section 295 of the Pakistan Penal Code have ended in several tragedies.
To criminalise blasphemy and sacrilege is to justify mob violence and private vengeance against the accused.
Conclusion:
History tells us that such laws and prosecutions rarely avert violence. On the other hand, they are more likely to attract violence and provide the perpetrator a justification for inflicting violence against those who are unfortunate enough to be accused of blasphemy. There is a case to read down Section 295-A and Section 153-A of the IPC that give scope to prosecute people in the name of protecting the feelings of a section of society. There is no case whatsoever to enhance jail terms.
1. Sexual equality affirmed – On decriminalisation of Section 377 of IPC
Context:
24 years after the first AIDS Bhedbhav Virodhi Andolan petition against Section 377 in 1994, the Supreme Court in its historic judgement decriminalised a part of the Section 377 of the Indian Penal Code that criminalises consensual gay sex, invoking Articles 14, 15, 19 and 21 of the Indian Constitution. Sexuality is now spoken as dignity, as mutual respect, as equality.
About Section 377
Section 377 of the Indian Penal Code dating back to 1861, introduced during the British rule of India (modelled on the Buggery Act of 1533) criminalized sexual activities "against the order of nature", including homosexual.
The section was read down with respect to sex between consenting adults by the Delhi High Court in July 2009.
That judgement was overturned by the Supreme Court of India (SC) on 11 December 2013 with the Court holding that amending or repealing section 377 should be a matter left to Parliament, not the judiciary.
On 6 February 2016, the final hearing of the curative petition submitted by the Naz Foundation and others came for hearing in the SC. The three-member bench headed by the then Chief Justice of India S. Thakur said that all the 8 curative petitions submitted will be reviewed afresh by a five-member constitutional bench.
On 24 August 2017 in a landmark judgment (also known as the Puttuswamy judgement), the SC had upheld the Right to Privacy as a fundamental right under the Constitution.
The SC also had called for equality and condemned discrimination, stated that the protection of sexual orientation lies at the core of the fundamental rights and that the rights of the LGBT population are real and founded on constitutional doctrine.
The Puttuswamy judgement is believed to have implications for section 377 as consensual sexual acts in private can no longer be overseen by law.
In January 2018, a three-member SC bench heard a petition filed by five people asking the SC to revisit the Naz Foundation judgment. The case was referred to a larger bench and help was sought from the Union government.
On 10 July 2018, a five-member constitutional bench of the SC commenced hearing of the pleas challenging the constitutionality of section 377.
Details:
The judgement is historic in the literal sense that it struck down a law imposed on India in the middle of the 19th century by a colonial power, leaving it in place for over a century and a half.
It is a 5-0 verdict, by the Constitution Bench.
The ruling is bound to have a ripple effect on its future in other erstwhile colonies, many of which are far richer than India but have a less vibrant civil society.
Positive impacts of the judgement:
The Kinsey Report on sexuality, though based on a narrow cultural base, had estimated that about 10% of a population is not exclusively heterosexual.
Accordingly, the lives of over 100 million Indians may have been freed by the Supreme Court. 
It was held that the 'order of nature' cannot be defined by the state. The state cannot define the boundaries between what is permissible and not, and that Sec 377 is based on deep rooted gender stereotypes.
Any societal repression of their innate and biological sexual orientation was against the fundamental right to free expression. Homosexuality is their order of nature.
The stigma of mental illness attached to homosexuality is gone for good. The Mental Healthcare Act, 2017, clears misconceptions, including that those indulging in anal sex are mentally ill.
The stigma attached by health providers, employers and other service providers to the community had contributed to the increased sexual risk behaviour will now vanish
MSM and transgender persons can now approach State health care providers without the fear of being prosecuted for engaging in criminalised intercourse.
Uniqueness of the victory:
There is a degree of uniqueness about this victory for India's LGBTQ community. First, it has been the outcome of a battle fought by its members. In the U.K., for instance, the decriminalisation of homosexuality came about by an Act of Parliament after the Labour Party had constituted a committee to look into the issue. So the freedom gained by the LGBTQ community in India is not something gifted to them. On the contrary, India's political parties had distanced themselves from their cause, no doubt fearing majoritarian backlash, revealing that they have no convictions of their own. Nor has there been much support from India's liberal intelligentsia.
Another feature is that the movement to get Section 377 of the Indian Penal Code struck down has not been so male dominated here, with a far greater presence of women than was historically the case in the West. Far from this being just a matter of political correctness, it has made the struggle for sexual equality in India more effective and joyous than it may have been.
Finally, the verdict has brushed aside religious opposition to the expansion of human rights. Not even in Catholic Ireland had the religious establishment attempted to stall gay rights as it has done in India. In 2013, a coalition of religious groups — Hindu, Muslim and Christian — came together to reinstate Section 377. And they succeeded. Since then Christian groups have persisted in their aim, but this time the Supreme Court did not entertain claims made in the name of religion. Secularism has thus been given a fresh lease of life in India.
Excerpts and quotes from the judgement:
By CJI Misra & Justice Khanwilkar: 
"The LGBT community has the same rights as any ordinary citizen. Respect for each other's rights, and others are supreme humanity. Criminalising gay sex is irrational and indefensible."
"Section377 is arbitrary. The LGBT community possesses rights like others. Majoritarian views and popular morality cannot dictate constitutional rights."
"Morality can't be social, has to be constitutional."
"Discrimination on the basis of sexual orientation is a violation of freedom of speech and expression."
"Ideals of individual autonomy must be preserved."
"Denial of self expression is like death."
"No one can escape who they are…No one can escape from their individualism. Society is now better for individualism. In the present case, our deliberations will be on various spectrums."
Chief Justice of India Dipak Misra's opinion lays emphasis on transformative constitutionalism, that is, treating the Constitution as a dynamic document that progressively realises various rights. In particular, he invokes the doctrine of non-retrogression, which means that once a right is recognised, it cannot be reversed. 
By Justice Nariman: 
Holds that homosexuality cannot be regarded as mental disorder, says Mental Healthcare Act has been discussed and even Parliament has recognised that homosexuality is not a mental disorder.
"Homosexuals have right to live with dignity."
By Justice Chandrachud: 
"Human sexuality cannot be confined to a binary."
"What is natural and what is unnatural? Who decides these questions?"
"Section 377 inflicts tragedy and anguish; it has to be remedied."
"We must, as a society, ask searching questions to the forms and symbols of injustice. Unless we do that, we risk becoming the cause and not just the inheritors of an unjust society."
By Justice Indu Malhotra: 
"History owes an apology to these people and their families. Homosexuality is part of human sexuality. They have the right of dignity and free of discrimination. Consensual sexual acts of adults are allowed for LGBT community."
The disease cannot be eliminated without universal access to affordable, quality diagnostics and drugs
Context:
On September 26, the UN General Assembly will, for the first time, address TB in a High-Level Meeting and likely release a Political Declaration, endorsed by all member nations, to galvanise investment and action to meet the global target of eliminating TB worldwide by 2035.
Tuberculosis:
Tuberculosis is usually caused by Mycobacterium tuberculosis or various other strains of mycobacterium. It is an infectious disease and is air borne.
It mostly affects the lungs but also can cause harm to other parts of the body.
There is also an increasing concern about multi-drug resistant TB (MDR-TB). MDR-TB develops in the host body when the availability of drug is insufficient to kill 100% of the bacteria due to the interruption in the course of antibiotic medicine. It is resistant to first line anti-TB drugs and is treated with second line anti-TB drugs, a combination of multiple medicines called SHREZ.
Extensively Drug-Resistant TB (XDR) develops when the concentration of TB in an area becomes extremely high that it becomes very difficult to control it. It is a condition where the strains are resistant to one or two medicines in the second line anti-TB drugs.
Owing to poor management of cases and further mutations, there is a resistance to both first line and second line anti-TB drugs which is called Total Drug Resistant TB (TDR).
Details:
After decades spent battling the scourge of tuberculosis (TB) in developing countries, 2018 might be the year that it is finally accorded the dignity it deserves.
But, much to the disappointment of global civil society, issues around access to diagnostics and drugs have been considerably diluted in the most recent draft of the Political Declaration.
Critical omissions:

The countries may avail of the various flexibilities under the Trade-Related Aspects of Intellectual Property Rights;
Countries may invoke the Doha Declaration to compulsorily license drugs for use in public health emergencies.
The option to de-link the pricing of new TB drugs from the costs incurred in their research and development.

The latest draft is a watered-down version of the original that actively committed to upholding access to affordable generics for all.
Each day, thousands of people with TB die, often because of inequitable access to quality diagnosis and treatment.
The rapid emergence of drug-resistant forms of TB (DR-TB) in many countries brings a fresh set of needs including new and comprehensive diagnostic tests and second-line TB drugs, and health systems trained anew to manage DR-TB.
The situation in India:
India has fought to retain its status as a maker and distributor of generic medicines, thereby protecting the right to health of people in developing countries.
Indian patent law contains important provisions that help protect and promote public health goals — for example

By overcoming bids by big pharma to evergreen patents of old drugs,
Through compulsorily licensing for certain drugs
By permitting pre- and post-grant opposition to patents to challenge unfair patenting practices by big pharma.

India not only accounts for a fifth of the world's TB burden, it also has the largest number of people living with multidrug-resistant TB.
In March, Prime Minister Narendra Modi said India would eliminate TB by 2025, ahead of the global targets. These targets cannot be achieved without access to affordable, quality diagnostics/ drugs.
Unless India assumes a leadership role to restore every possible option to protect universal access to TB drugs in the Political Declaration, 2018 may end up being just another brick in the wall.
Way Forward:
TB is, by and large, easily diagnosable and curable. It is unacceptable that it nevertheless remains the leading causes of death from any single infectious agent worldwide. For its elimination, which means reducing the number to one case per million people per year, would require universal, equitable access to affordable, quality TB diagnostics and treatment for anyone who needs it.
Category: INTERNATIONAL RELATIONS
1. For a world free of chemical weapons – On the Chemical Weapons Convention Act of 2000
Chemical Weapons Convention:
The Chemical Weapons Convention (CWC) is an arms control treaty that outlaws the production, stockpiling, and use of chemical weapons and their precursors.
The full name of the treaty is the Convention on the Prohibition of the Development, Production, Stockpiling and Use of Chemical Weapons and on their Destruction and it is administered by the Organisation for the Prohibition of Chemical Weapons (OPCW), an intergovernmental organization based in The Hague, The Netherlands.
The treaty was entered into in 1993 and came into force in 1997.
As of May 2018, 193 states have become parties to the CWC and accept its obligations.
Israel has signed but not ratified the agreement, while three other UN member states (Egypt, North Korea and South Sudan) have neither signed nor acceded to the treaty.
Most recently, the State of Palestine deposited its instrument of accession to the CWC on 17 May 2018. In September 2013 Syria acceded to the convention as part of an agreement for the destruction of Syria's chemical weapons.
Having ratified the Convention, India needed to make provisions for giving effect thereto and for matters connected therewith or incidental thereto. So, India enacted a Chemical Weapons Convention Act, 2000, which is applicable to citizens of India outside India and the associates, branches or subsidiaries, outside India of companies or bodies corporate, registered or incorporated in India.
What is the Chemical Weapons Convention Act of 2000?
The Chemical Weapons Convention Act was enacted in India 2000 to give effect to the Convention on the Prohibition of the Development, Production, Stockpiling and use of Chemical Weapons and on their Destruction signed by the government on January 14, 1993.
The Act defines chemical weapons and empowers the Centre to set up a National Authority to act as the "national focal point" for effective liaison with organizations and other state parties on matters relating to the Convention and for fulfilling the obligations of the country.
The Authority's functions include regulation and monitoring the development, production, processing, consumption, transfer or use of toxic chemicals or precursors as specified in the Convention, among others.
The Authority is also empowered to issue directions and even close down facilities which violate the Convention.
It can liaise with other countries to seek or give assistance and protection against the use of chemical weapons.
Definition of Chemical Weapons as per the Act:
The Act defines chemical weapons as toxic chemicals, including munitions and devices, specifically designed to cause death or other harm.
The definition includes in its ambit "any equipment" specifically designed for employing chemical weapons.
Significant amendments to the Act:
Section 19 of the Act gives full power of inspection of any person who is engaged in the production, processing, acquisition, consumption, transfer, import, export or use of any toxic chemical or discrete organic chemical.
Inspections extend to any place where any chemical weapon, old chemical weapon, or abandoned chemical weapon is located, or where a chemical weapon production facility exists.
The Act allows inspections teams to conduct "challenge inspections" of chemical facilities in the company of an Observer. An enforcement officer under the Act shall also accompany the team.
In 2010, the Act was amended to widen the scope of Section 9 to give the Centre power to appoint any of its own officers, other than those of the National Authority, as enforcement officers. Currently, the office of the Cabinet Secretariat is the National Authority.
Section 16 of the original Act contains provisions for restriction on transfer of any toxic chemical or precursor.
It provides that no person shall, three years after April 29, 1997, transfer to or receive from any person, who is not a citizen of a state party, toxic chemicals.
This has been amended to provide that no person shall transfer to, or receive from, a state which is not a party to the Convention any toxic chemicals.
Issues:
"The major attack" clause in the biological, as well as the chemical weapons convention, is an ambiguous term with no clear definition. 
In spite of the presence of this Act, Syria has been conducting operations related to Chemicals Ex: Sarin
Conclusion:
The framework, the structure, and the laws in this convention will have to be implemented in order to get away from the menace of use of Chemical Weapons. 
Nothing here for today!
Nothing here for today!
H. Practice Questions for UPSC Prelims Exam
Question 1. Consider the following statements:
Nuclear disarmament is the act of reducing or eliminating nuclear weapons.

The term denuclearization is also used to describe the process leading to complete nuclear disarmament.
Which of the above statements are correct?
1 only
2 only
Both 1 and 2
Neither 1 nor 2
See
Question 2. Consider the following statements:
An electric car is one that runs on, and is 'charged up' with, electric power. Petrol or diesel is sometimes used to refuel an electric car.

Hybrid cars have electric elements to their power trains but cannot be considered 'electric cars' due to the presence of a petrol engine.
Which of the above statements are correct?
1 only
2 only
Both 1 and 2
Neither 1 nor 2
See
Question 3. Consider the following statements:
Bestiality is a paraphilia involving a sexual fixation on non-human animals
Zoophilia is a  cross-species sexual activity between human and non-human animals.
Which of the above statements are correct?
1 only
2 only
Both 1 and 2
Neither 1 nor 2
See
Question 4. Consider the following statements:
COMCASA is one of the three foundational defence pacts that needs to be signed by a country in order to obtain high-tech military hardware from the US.
The COMCASA agreement will give Indian military access to function on high-end secured and encrypted communication equipment which are installed on American platforms obtained by Indian Armed Forces.
Which of the above statements are correct?
1 only
2 only
Both 1 and 2
Neither 1 nor 2
See
I. Practice Questions for UPSC Mains Exam
Is Punjab's proposed introduction of IPC Section 295AA(blasphemy law) retrograde. Critically analyze.
Sexuality is now spoken as dignity, as mutual respect, as equality. Discuss with respect to the recent SC verdict on decriminalizing homosexuality.
Also, check previous Daily News Analysis
"Proper Current Affairs preparation is the key to success in the UPSC- Civil Services Examination. We have now launched a comprehensive 'Current Affairs Webinar'. Limited seats available. Click here to Know More."
Enroll for India's Largest All-India Test Series