TABLE OF CONTENTS
A.

 GS1 Related


SOCIAL ISSUES
1. Nutrition guidelines approved by Niti Aayog
CULTURE
1. Vaishnava Jana To


B.

 GS2 Related


GOVERNANCE
1. Solar Mamas (Rural women solar engineers)
HEALTH
1. WHO says 34% Indians not active enough


C.

 GS3 Related


DISASTER MANAGEMENT
1. Accidental deaths: 25% of all in India are weather-related
SECURITY
1. Kangleipak Communist Party (KCP)
ECONOMY
1. Bogibeel Bridge- India longest road-rail bridge
2. West Bengal where infrastructure is crumbling
ENVIRONMENT
1. Eight avian species declared "extinct" in new study


D.

 GS4 Related




E. 

Editorials




F. 

Tidbits




G. 

Prelims Fact


1. Robat
2. Bonnethead Shark / Shovel Head
H. UPSC Prelims Practice Questions
I. UPSC Mains Practice Questions 

1. Nutrition guidelines approved by Niti Aayog
Context
The NITI Aayog has approved the supplementary nutrition guidelines, prepared by the Ministry for Women and Child Development, bypassing Minister for Women and Child Development Maneka Gandhi following intervention by the Prime Minister's Office (PMO)
The PMO had stepped in to end a more than yearlong stand-off between Ms. Gandhi and the Ministry's officials in the wake of sharp differences over the proposed norms.
Differences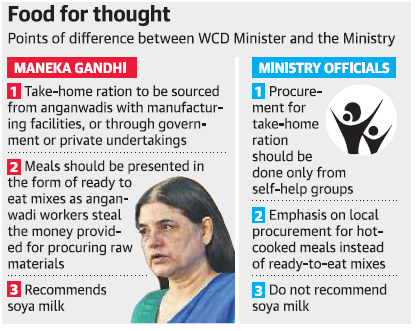 Concerns
The debate continues to haunt the government about the mode of implementation.
The Govt currently lacks the data about the quality of food with the different kinds of models that exist
There is no data systems about the quality of food, how people use it, and what people think about it
Conclusion
Lot of assumptions are being made within all quarters, but what we need to do is to look at what is actually happening on the ground.
1. Solar Mamas (Rural women solar engineers)
They are a group of nearly 30 rural women solar engineers from six African countries who have been trained under India's developmental support for harnessing solar energy.
The 'Solar Mamas', who come from across Africa, are trained at Barefoot college in Rajasthan's Tilonia village.
Functions Performed by them
They are trained to fabricate, install, use, repair and maintain solar lanterns and household solar lighting systems in their villages.
The women are also trained in solar electrification and other entrepreneurial skills such as bee-keeping and tailoring.
Under Government of India-supported programmes, the college in Rajasthan has been promoting and training rural women solar engineers from Africa in household solar lighting systems.
A barefoot women vocational training college in Zanzibar Islands of Tanzania and other countries in Africa has also been setup for imparting solar electrification skills and distributing solar kits.
They will replicate the model in their villages by installing solar lanterns and panels, and train the women in their communities for the electrification of their homes.
Barefoot College
The Barefoot College, established four decades ago, empowers marginalised women by training them to become solar engineers, artisans, dentists, broadcasters and doctors for their own villages.
The institution has so far trained over 15,000 women in various skills.
Training in solar energy applications is the Barefoot College's latest initiative. It was launched in 2005 and is now supported by the Ministry of External Affairs.
It caters to two groups of women — from India, and from Latin America, other parts of Asia, the Pacific Islands, and African countries.
Context
A group of 45 women from 10 countries, 'solar mamas' who learnt the skills needed for the fabrication of solar panels, lights and photovoltaic circuits in a six-month-long training programme, were felicitated at a 'graduation ceremony' at the Barefoot College.
1. WHO says 34% Indians not active enough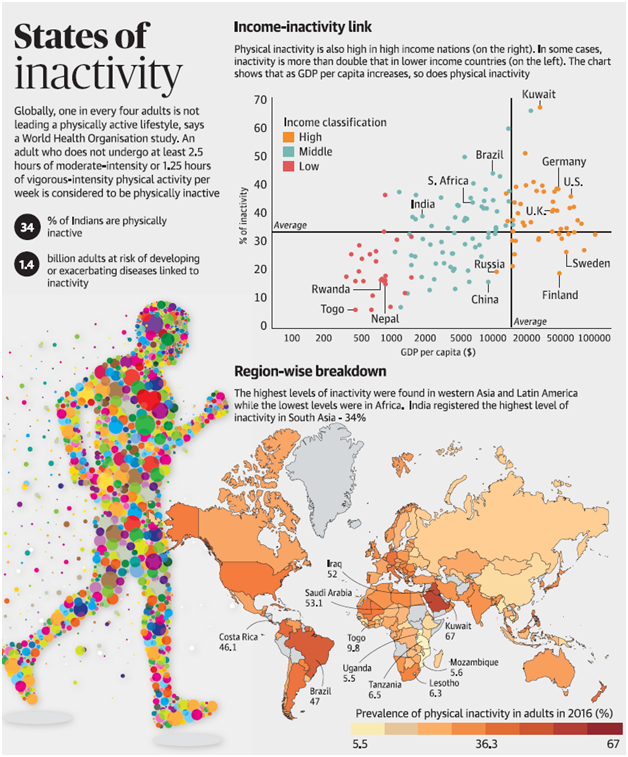 1. Accidental deaths: 25% of all in India are weather-related
1. Kangleipak Communist Party (KCP)
It was formed on April 13, 1980, under the leadership of Y. Ibohanbi.
It is named after the historical name of Manipur, i.e. Kangleipak, the KCP is more concerned with the preservation of Meitei culture and demands secession of Manipur from India.
Objectives
The main objective of KCP is to restore the independence of the erstwhile Manipur kingdom and to bring about an egalitarian society, which is to be achieved by uniting all ethnic-Mongoloid groups belonging to South-East of Himalayan region, liberating Manipur from the Indian rule, building up the strength of the working class and reviving the indigenous culture.
Funding
Like most other insurgent groups in the northeast, the KCP funds its activities through extortion of local villagers and businessmen.
Relations with other groups
The group is also said to have established some links with certain Maoist groups of Nepal
The group has expressed its willingness to cooperate and coordinate with the Communist Party of India-Maoist.
Context
Moirangthem Rana Pratap Rana alias Paikhomba member of banned terror outfit Kangleipak Communist Party— Peoples War Group arrested
He was wanted by the National Investigation Agency and a reward of ₹2lakh was announced on his arrest.
1. Bogibeel Bridge- India longest road-rail bridge
It is a combined road and rail bridge over the Brahmaputra River in Assam between Dhemaji district and Dibrugarh district.
Upon its expected completion at the end of 2018 the 4.94 km bridge, work on which was started in 2002, wpule be the longest rail-cum-road bridge in India.
Bogibeel is the fourth rail-road bridge on the Brahmaputra River in Assam.
Bogibeel Bridge connects the North and South banks of river Brahmaputra and is situated in the eastern region of Arunachal Pradesh and Assam.
The foundation stone for Bogibeel Bridge was laid down by former PM Atal Bihari Vajpayee in 2002.
Built at an estimated cost of Rs 4857 crore, the Bogibeel bridge is the second longest in Asia.
Construction
The bridge, which has been made making use of techniques from Sweden and Denmark, is much lighter when compared to bridges with riveted girders. The design too is similar to a bridge that connects Sweden and Denmark.
Significance
Due to its location, the bridge will be of strategic importance to India as it will significantly enhance India's ability to transport troops and supplies to its border with Tibet in Arunachal Pradesh
The bridge is located just over 20 km away from the Assam- Arunachal Pradesh border and is thus expected to act as an alternative to the Kolia Bhomora Setu, Tezpur in providing connectivity to nearly five million people residing in Upper Assam and Arunachal Pradesh.
Bogibeel bridge will save a lot of time both in terms of road and rail travel

As of now a train journey from Arunachal Pradesh to Assam's Dibrugarh means a detour of 500 kilometres via Guwahati. But, with the Bogibeel bridge, the train journey will be less than 100 kilometres!
2. West Bengal where infrastructure is crumbling
Context
Majerhat bridge, a key connector between south and southwestern Kolkata, collapsed, killing three persons and leaving more than 20 injured
Why are bridges falling?
Chief Minister Mamata Banerjee said 20 bridges in the city and its suburbs had outlived their life span
WB being a riverine State, it has hundreds of bridges, and many were built years ago, including some dating back to colonial times.

For instance, the iconic Howrah Bridge, which was opened to the public in 1943, faced a peculiar problem earlier in the decade when its pillars started corroding because of spitting by thousands of gutkha-chewing commuters. The steel structure was made stronger by fibre-casing by the Kolkata Port Trust.

The State government claims that documents relating to many bridges built before independence and during the previous governments are not available, and therefore the agency that is responsible for their maintenance cannot be located.
Tenders for repairing the bridge were brought out by the Public Works Department, but renovation was never taken up.
Vegetation, including trees are found to be growing, indicates that adequate measures for ensuring the safety of these structures have not been taken.
Who is responsible?
There are multiple agencies managing these structures: the Public Works Department, the Kolkata Metro Development Authority (KMDA), the Irrigation Department, the Kolkata Port Trust and the Railways.
This often means that no one party can be held accountable for the sorry state of affairs.
Another hurdle to repairs is that people have taken shelter under these structures and refuse to move.
What is the government doing?
The State government has set up bridge inspection and monitoring committees under the PWD, the Irrigation Department and the KMDA. These committees will be engaged in the safety audit of the bridges.
The State government has also banned the plying of heavy vehicles and 20-wheeler trucks on bridges and flyovers of the city.
The government has urged the Joka-BBD Bag metro project, being carried out in the vicinity of the Majerhat bridge, to suspend work till the inquiry committee, headed by the Chief Secretary, completes its investigation.
1. Eight avian species declared "extinct" in new study
Context
Scientists have declared eight species of birds to be extinct in what are being seen as the first avian extinctions of the 21st century
Which are these birds
The Spix's macaw, a type of parrot, was last sighted in the wild in 2000.
The Alagoas foliage-gleaner, a small forest bird, became extinct in 2011.
The cryptic treehunter has not been seen in the wild since 2007, when its forest home in Murici in north-eastern Brazil was destroyed and replaced with sugar cane plantations and pasture.
The fourth Brazillian species to go extinct is the Pernambuco pygmy-owl, a 15cm-tall owl that eats insects and hasn't been seen in the Brazilian state of Pernambuco since 2002.
The fifth South American species on the list is the glaucous macaw, once found in Argentina, Uruguay and Brazil before its palm grove habitat was destroyed to make space for farming.
Another non-South American species on the list is the poo-uli, or black-faced honeycreeper, which was found on the island of Maui in Hawaii but was last sighted in 2004.
Details
The study was conducted by non-profit "BirdLife International" and was published in the journal Biological Conservation.
Four out of the eight species declared extinct belong to Brazil.
Causes
Five of these new extinctions have occurred in South America and have been attributed by scientists to deforestation to make way for large-scale agriculture and industrial activities
Nothing here for today!!!
Nothing here for today!!!
Nothing here for today!
1. Robat
It is a fully autonomous, batlike terrestrial robot.
It can (akin to bats) use echolocation to move through a novel environment while mapping it solely based on sound.
Bats use echolocation to map novel environments while simultaneously navigating through them by emitting sound and extracting information from the echoes reflected from objects in their surroundings.
Robat has an ultrasonic speaker that mimics the mouth, producing frequency modulated chirps at a rate typically used by bats, as well as two ultrasonic microphones that mimicears.
The Robat could move autonomously through a novel outdoor environment and map it in real time using only sound. 'The growing use of autonomous robots has emphasised the need for new sensory approaches to facilitate tasks such as obstacle avoidance, object recognition and path planning.'
The study has been published in PLOS Computational Biology by Itamar Eliakim of Tel Aviv University, Israel, and his colleagues.
2. Bonnethead Shark / Shovel Head
IUCN: Least Concern
It is a very abundant, small hammerhead that is found in shallow estuaries and bays on the Atlantic and Pacific Ocean coasts of the Americas as well as in the Gulf of Mexico.
Context
The bonnethead shark, a small member of the hammerhead family, was long thought to be a strict carnivore that would occasionally ingest greens purely by accident but scientists say it follows an omnivorous diet in which seagrass plays a key nutritional role.
Details
This is the first species of shark ever to be shown to have an omnivorous digestive strategy.
Not all carnivores can digest plant material efficiently, but sharks fed with the seagrass-heavy diet all gained weight. Although sharks lack a secondary jaw that many herbivores use to chew plants, they have highly acidic stomachs which may aid digestion.
Bonnethead sharks are not only consuming copious amount of seagrass but they are actually capable of digesting and assimilating seagrass nutrients, making them clear omnivores
Seagrass can form up to 62% of the bonnethead diet, alongside their preferred meal of crustaceans and molluscs.
The animals were found to be as good at digesting fibre and organic matter as young green sea turtles — a species that transforms from eating an omnivorous diet in youth to committed vegetarianism in adulthood.
Seagrass Meadows
Growing in salty and brackish waters, seagrass meadows are the most widespread coastal ecosystem on Earth.
They help filter water and absorb excess carbon dioxide from the atmosphere.
They also provide a home and nurseries for thousands of fish and invertebrates.
H. Practice Questions for UPSC Prelims Exam
Question 1. Consider the following statements:
India is signatory to Chemical Weapons convention.

India has signed NPT.
Which of the above statements are correct?
1 only
2 only
Both 1 and 2
Neither 1 nor 2
See
Question 2. Idlib recently in news is in the region of
Afghanistan
Syria
Iran
Pakistan
See
Question 3. With reference to exercise kakadu
It is an annual exercise
It derives its name from an extinct bird
It is held in Australia
Which of the above statements are incorrect?
Only 1 and 2
Only 2 and 3
Only 1 and 3
All of the above
See
Question 4. Rapid Trident Military Exercises was conducted by
China
Ukraine
Japan
United Kingdom
See
I. Practice Questions for UPSC Mains Exam
Explain in details of RCEP's significance to India. What are the various challenges faced by India?

Self-Help Groups have not only empowered women, but have also brought about attitudinal change among all stakeholders towards women development.

What is evidence based Policy making? Explain how it can be adapted in India.
Also, check previous Daily News Analysis
"Proper Current Affairs preparation is the key to success in the UPSC- Civil Services Examination. We have now launched a comprehensive 'Current Affairs Webinar'. Limited seats available. Click here to Know More."
Enroll for India's Largest All-India Test Series