TABLE OF CONTENTS
A.

 GS1 Related


HISTORY
1. Marathwada Liberation Day/ Hyderabad Liberation Day


B.

 GS2 Related


POLITY
1. Salaries of Legislators Survey
HEALTH
1. SC allows sale of Saridon


C.

 GS3 Related


ECONOMY
1. Merger of Dena Bank, Vijaya Bank and Bank of Baroda
2. 'Future of Jobs' Report- World Economic Forum (WEF)
3. Jhum Cultivation
ENVIRONMENT
1. Fluoride contamination
SECURITY
1. Cyber University in Maharashtra
2. Comprehensive Integrated Border Management System (CIBMS)


D.

 GS4 Related




E. 

Editorials


INTERNATIONAL RELATIONS
1. Himalayan divide – on India – Nepal relations
ENVIRONMENT AND ECOLOGY
1. Saving rivers
POLITY
1. The progressive way – On Uniform Civil Code (UCC)


F. 

Tidbits


1. India's first woman IAS officer dead
2. Odd-even rule not applicable for two-wheelers says SC
3. Pakistan Denies Opening Afghan Trade Route for India


G. 

Prelims Fact


1. Satkosia Tiger Reserve
H. UPSC Prelims Practice Questions
I. UPSC Mains Practice Questions 

1. Marathwada Liberation Day/ Hyderabad Liberation Day
It is celebrated in Maharashtra on 17 September annually.
It marks the anniversary of Marathwada's integration with India when the Indian military, with help of local population, defeated the State of Hyderabad, overthrew the Nizam and merged Hyderabad into the Indian Union
Background
India got independence on August 15, 1947 but the Marathwada region was ruled by seventh Nizam of Hyderabad, Mir Osman Ali Khan.

His princely state included current Marathwada and Telangana regions

During the revolt Marathwada saw major uprisings against the Razakars of Nizam.

The main leaders of the revolt were Swami Ramanand Tirth, Govindbhai Shroff, Vijayendra Kabra and Ramanbhai Parikh and P H Patwardhan.

Amidst the unrest the Indian government launched a military operation named Operation Polo which it termed a "police action".
After one year, one month and two days that is on September 17, 1948, Marathwada was freed from the clutches of Nizam rule in police action, initiated by then Union Home minister Sardar Vallabbhai Patel and was merged within the Indian Republic.
During the Muktisangram (freedom movement), the people of Marathwada as well as those of Telangana and Karnataka made significant contribution against the Nizam rule and even laid their lives

Marathwada, Telangana and 4 districts of Karnataka were part of the former princely Hyderabad state.
1. Salaries of Legislators Survey
Context
The income analyses released by ADR and National Election Watch released shows Sitting MLAs across the country have an average annual income of Rs. 24.59 lakh
Details
MLAs from Karnataka topped the charts with an average of over Rs. 1 crore per annum,
MLAs from Chhattisgarh earn the lowest with their average annual income coming at Rs. 5.4 lakh
MLAs who have declared themselves to be illiterate have an average annual self-income of Rs. 9.31 lakh.
Nearly half of the MLAs have declared their profession as business or agriculture.
The study also revealed that the average income of men was more than double that of the women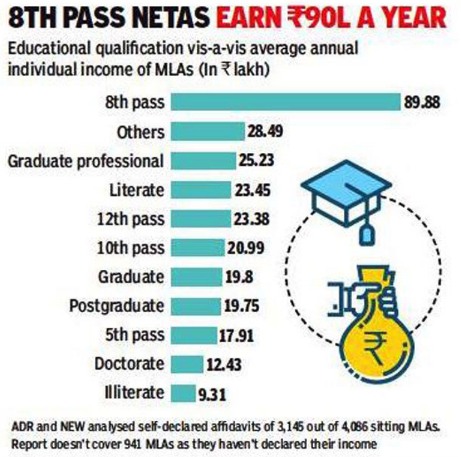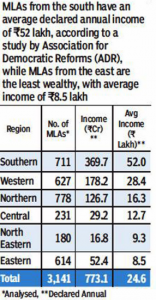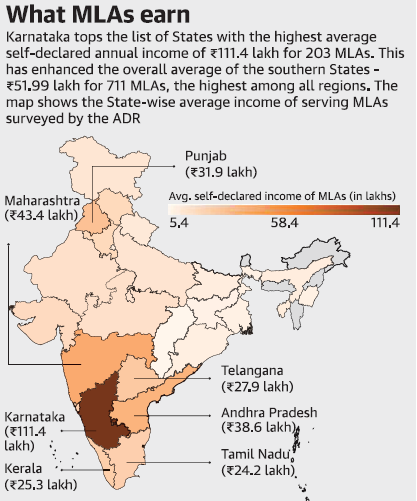 Recommendations
ADR said it should be mandatory for candidates to declare their annual income in their affidavit, whether or not they have filed their ITR returns.
It also called for a uniform categorisation of professions declared by the candidates
Candidates should declare the detailed amount of income from each source.
Context
Popular painkiller Saridon will be available in medical stores across the country, with the Supreme Court allowing the sale of the drug and three other banned Fixed Dose Combinations (FDCs) drugs Piriton and Dart.
The top court, however, did not grant any relief to the other medicines falling in the list of 328 FDC drugs which were banned by the Health Ministry.
Background
FDCs improve adherence, simplify therapy and maximise benefit for the patient due to the added effects of the multiple medicinal products given together.
Popular FDCs banned, included the painkiller Saridon, the skin cream Panderm, antibiotic Lupidiclox and combination diabetes drug Gluconorm PG.
Why had the government banned them?
The health ministry took this decision after the Drugs Technical Advisory Board recommended that "there is no therapeutic justification" for the ingredients contained in the banned FDC drugs and that these medicines "may involve risk to human beings".
So the Union Health Ministry banned the manufacture, sale or distribution of 328 varieties of FDC drugs for human consumption.
FDC is popular because
Instead of buying two, or more, separate medicines, a patient can buy just one FDC medicine to treat multiple illness symptoms, which typically works out easier.
Pharma companies, meanwhile invest more because it is far cheaper and quicker to combine existing active ingredients to make new products than to discover new medicines and manufacture them separately.
1. Merger of Dena Bank, Vijaya Bank and Bank of Baroda
Context
The Centre proposed the unification of state-owned Bank of Baroda, Dena Bank and Vijaya Bank to create India's third largest bank with a total business of more than ₹14.82 trillion as parts of reforms in the public sector banking segment.
Alternative Mechanism
It will oversee proposals of amalgamation of public sector banks.
After getting in-principle approval, the banks will take steps in accordance with the law and SEBI requirements.
The final scheme will be notified by the Central government in consultation with the Reserve Bank of India
The alternative mechanism will include a panel of ministers, whose members will be decided by the Prime Minister.
The merger will be based purely on commercial considerations.
Background
The proposal of fewer but stronger state-run lenders was originally mooted in 1991
Narasimhan report on banking reforms had recommended merger of public sector banks to make them stronger
It had envisaged a three-tier banking structure with three large banks with international presence at the top, eight to 10 national banks at tier two, and a large number of regional and local banks at the bottom.
Procedure for merger
Under the Bank Nationalisation Act 1969, there are provisions allowing such mergers. However, such decisions must be approved by Parliament.
Section 44A of Banking Regulation Act 1949 lays down the norms for voluntary mergers and "forced" mergers are done under Section 45 of the Act.
Details
The merged entity, comprising two relatively stronger banks and a weak one, will be the third-largest lender in India after State Bank of India and HDFC Bank Ltd
One of the core reasons behind the choice of these banks was perhaps the fact that all three use the same core banking system—Finacle from Infosys—making the task of merging the technology platforms and back-ends relatively easier.
The government has also moved to offload its majority stake in IDBI Bank to Life Insurance Corporation of India.
No employee will face any adverse service conditions after the amalgamation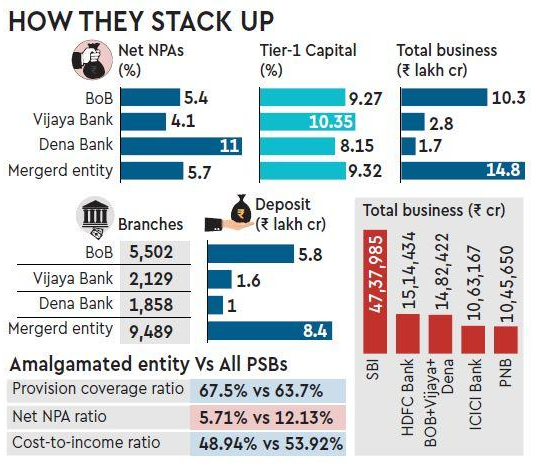 Why was the decision taken?
India aspiring to be the fastest growing economy has to be supported by stronger and globally competitive banks with increased choices to the stakeholders.
Dena Bank has been placed under the prompt corrective action framework (It is in a bad shape with higher NPAs, higher cost to income and falling profitability).

So the idea is to merge the weaker bank with stronger bank (BoB and Vijaya Bank) so that it would be a strong competitive bank with economies of scale.
The entity would also be positioned for substantial rise in customer base, market reach and operational efficiency.

The amalgamation is aimed at catering the massive credit requirements of the growing economy, and cutting costs as well as dependence on the government for capital infusion in the longer term.
What else can the Govt consider while apart from weak strong banking?
Merger Based on Geography

Corporation Bank and Canara Bank are known for a better network in the South while Punjab National Bank is more prominent in the North.
Merger of banks based on geography will result in lesser disruption in terms of rationalization of branches and people.

Merger to Create Niche Banks

In a new emerging banking model, there are already niche players like payment banks (retail payments), Small Finance Banks (doing micro loans ), full scale banks ( Axis or an HDFC Bank) and universal  banks (ICICI Bank or a Kotak Bank).
There is a space for creating certain niche entities like an SME focused bank or an MSME focused bank.
This can be achieved by merging few PSBS with a new mandate to cover a particular sector.
Similar Steps taken in the past
The Government had taken comparable step with the merger of the five associate banks of SBI.
The merger had resulted in a sharp jump in the combined entity's bad loans portfolio, crimping its profit.
Merits
It is expected to reduce the amount of capital it needs to pump into these lenders and help clean their balance sheets.
A bank merger helps institution scale up quickly and gain a large number of new customers instantly. Not only does an acquisition give your bank more capital to work with when it comes to lending and investments, but it also provides a broader geographic footprint in which to operate
Banks benefit from a merger or acquisition because of the increase in talent at leadership's disposal
Demerits
There is no evidence that merger of banks would strengthen the banks or make it more efficient.
Earlier examples also show that it could result in closure of branches, increase in bad loans, reduction of staff, reduction in business
One of the biggest challenges for the merger is likely to be human resources management

Even though they are public sector banks, each one have different culture. The approach and attitude is not to change quickly.
2. 'Future of Jobs' Report- World Economic Forum (WEF)
Context
"The Future of Jobs 2018" report by WEF predicts that the rise of robotics will result in machines performing more tasks on the job than humans by 2025. It also estimates that while that trend could displace 75 million jobs globally by 2022, it'll create 133 million new positions.
The report surveyed executives from different industries around the world, aiming to get a look at how new technologies, like artificial intelligence, will affect the global labor force.
Details
In 2018, humans performed an average of 71% of total task hours across the 12 industries spanning manufacturing, services and high tech.

By 2025, that will drop to just 48%, according to the WEF. Machines will perform the remaining 52%.

Globally, almost half of all companies expect automation to cut their full-time workforce in the next four years;

However, new jobs will still lead to a net gain in employment opportunities if sufficient reskilling is done.

In India, 54% of employees in these sectors will need reskilling by 2022

Of this 35% would need at least six months' worth of reskilling,
10% would need more than a year of training in order to meet the demands of the new economy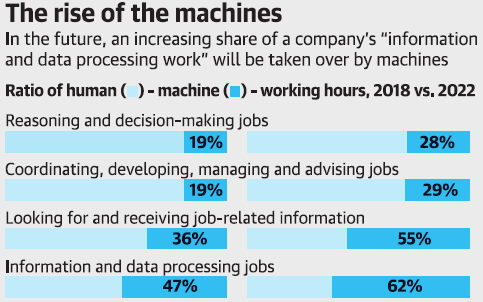 Significance
Roles that rely on human skills, like sales, marketing and scientific-based positions, will likely see an increase in demand.
The report calls on businesses and government leaders around the world to create a support system for their employees and ensure a smooth transition as the workforce evolves.
Concerns
They expect that some routine-based human-held positions will become non-essential in the future, like data entry or payroll clerks.
There could be risk of widening skill gaps, heightening inequality and raising polarisation if managed poorly.
Way Forward
WEF says reskilling and upskilling of employees as an urgent imperative.
Context
Niti Aayog has called for a mission mode approach for transforming shifting cultivation and it has also recommended that the Ministry of Agriculture should take up a "mission on shifting cultivation" to ensure inter-ministerial convergence.
This was in reference to the report titled, "Mission on shifting cultivation: towards a transformational approach".
Introduction
Shifting cultivation also referred to as jhum cultivation, is considered as an important mainstay of food production for a considerable population in northeast India in States like Arunachal Pradesh, Nagaland, Mizoram, Meghalaya, Tripura and Manipur.
Details
The publication notes that between 2000 and 2010, the land under shifting cultivation dropped by 70 %.
The report quotes data of the Indian Council of Forestry Research and Education published in Statistical Year Book-2014 by the Ministry of Statistics and Programme Implementation, which points out that from 35,142 sq km in 2000, the area under jhum cultivation dropped to 10,306 sq km in 2010.
The Wastelands Atlas Map shows a reduction in shifting cultivation in north-eastern States from 16,435.18 sq km to 8,771.62 sq km in two years.
MGNREGA has also had an impact on reducing dependency of people on shifting cultivation
Concerns Raised in the report
Central as well as State government departments of forests and environment, agriculture and allied departments often have divergent approaches towards shifting cultivation.

This creates confusion among grass-roots level workers and jhum farmers

The practice ensures food security it does not provide adequate cash for the families.
Earlier the cultivators returned to fallows after 10-12 years, now they are returning in three to five years. This has impact on the quality of the soil.
Recommendations
The document calls for policy coherence.

It said land for shifting cultivation should be recognised as "agricultural land" where farmers practise agro-forestry for the production of food rather than as forestland.

The publication suggested that shifting cultivation fallows must be legally perceived and categorised as 'regenerating fallows' and that credit facilities be extended to those who practise shifting cultivation.
The publication also addresses the issue of food and nutritional security of communities involved in jhum cultivation during transition and transformation by broadening the public distribution system (PDS) to ensure widespread access to cereals and other basic food items.

This can be done by enlisting well-established and well-performing SHG cluster federations already established in several of the NE States.
Context
School Children in Odisha's Nuapada district are facing the brunt of Flouride Contamination with potable water sources in as many as 54 schools and anganwadi premises testing for fluoride presence beyond permissible limits.
Details
Laboratory tests certified by the National Rural Drinking Water Programme under the Union Drinking Water and Sanitation Ministry found 5.25 mg per litre fluoride content in water sourced from a tube well in the school.
Consumption of water having fluoride content above 1.5 mg per litre is considered dangerous to health.
In 2018-19, drinking water sources in eight schools in Nayagarh, seven in Balangir and eight in Kalahandi districts were found to be fluoride contaminated.
Health Issues
Prolonged consumption of fluoride-contaminated water leads to dental and skeletal fluorosis.
Mottled Teeth and crippled backbone and limbs are manifestation of the disease.
Bones in children are in formation stage while fluoride tends to damage bones
Way forward
It is very important to make immediate alternative arrangement for safe drinking water for students.
1. Cyber University in Maharashtra
Context
The Maharashtra Government has taken the first step towards setting up a varsity dedicated to mitigating cyber threats. It has set aside 80 crore for the first round of its funding.
What was the need?
A 2015 skill gap analysis for Maharashtra by the consultancy firm KPMG had pointed to a gap of 1.5 crore professionals in 10 sectors. Of these, there was a greater shortfall in the IoT and Cyber Forensics sectors. The new varsity will bridge this skill gap
The current supply of cyber professionals in the country is about a lakh while the demand hovers around 30 lakh.
A cyber-attack is taking place every 10 minutes as opposed to 12 minutes previously. The varsity will remedy this.
Details
The new Cyber University will train 3,000 professionals to fight online space cyber-attacks, internet crimes, and conduct cyber forensics.
It will also impart training in 15 other Internet of Things (IoT) areas such as Data Analytics and Artificial Intelligence (AI).
The government will provide different levels of training and enable affiliated colleges to impart certification for the 15 courses. The State will also supply infrastructure for training and education.
Cost of courses
The varsity will provide for and prepare internet professionals on the lines of the Microsoft Certified Professional Program.
The courses will cost less than 5 lakh for courses in data analytics, cloud computing, blockchain, AI, cyber forensics and cyber investigations.
Background
Maharashtra is already in the process of setting up its version of the Indian Computer Emergency Response Team to ward off external cyber threats.
In 2016, the State had even appointed a consortium of M/s C-DAC (Centre for Development of Advanced Computing) and Railtel Corporation of India for the 838-crore project.
The consortium in its analysis used the same technology as GARUDA, India's national grid computing initiative, and the Graphics and Intelligence Based Script Technology.
GARUDA (Global Access to Resource Using Distributed Architecture)
GARUDA initiative is a collaboration of the Scientific, Engineering and Academic Community to carry-out research and experimentation on a nationwide grid of computational nodes, mass storage that aims to provide the distributed data and compute intensive High Performance Computing solutions for the 21st century.
It will deploy a distributed networked infrastructure for universities, research labs, industry and government throughout India.
Department of Information Technology (DIT) has funded the Center for Development of Advanced Computing (C-DAC) to deploy the nation-wide computational grid, GARUDA
It connects 45 institutions across 17 cities, with an aim to bring Grid computing to research labs, industries and academic institutions.
GARUDA is part of the National Knowledge Network (NKN), an initiative to build a high-speed national network backbone with reliable quality of service (QoS) and security.
2. Comprehensive Integrated Border Management System (CIBMS)
24x7x365 surveillance of the border through technology.
It has three main components:
New High-Tech Surveillance devices such as sensors, detectors, cameras, ground-based radar systems, micro-aerostats, lasers as well as existing equipment for round-the-clock surveillance of the international border;
An efficient and dedicated communication network including fibre optic cables and satellite communication for transmitting data gathered by these diverse high-tech surveillance and detection devices;
A command and control centre to which the data will be transmitted in order to apprise the senior commanders about the happenings on the ground and thus providing a composite picture of the international border.
Context
Union Home Minister Rajnath Singh inaugurated the first phase of hi-tech 'smart fencing' of 11 km stretch on the International Border (IB) in Jammu.
Details
CIBMS would provide for round-the-clock laser-guided surveillance of the borders.
The smart fencing project will initially be implemented to cover gaps in the physical fencing. Eventually, this technology will be implemented across the entire border,
The smart fencing is a web of surveillance, communication and data storage devices.

It will enable surveillance during difficult weather conditions and reduce the need for physical patrolling of the borders.
It will rely on thermal imaging, infra-red and laser-based intruder alarms to stop infiltration.
Nothing here for today!!!
Category: INTERNATIONAL RELATIONS
1. Himalayan divide – on India – Nepal relations
Context:
Despite confirming its participation in the BIMSTEC multilateral exercise in India, the Nepalese Army withdrew its contingent stating a 'political' decision.
Background:
BIMSTEC:
Bay of Bengal Initiative on Multi-Sectoral Technical and Economic Cooperation (BIMSTEC) is a sub-regional grouping involving seven countries in South Asia and South East Asia.
The BIMSTEC states are those which are on the shore or are adjacent to the Bay of Bengal and are dependent on it.
They are Thailand, Myanmar from South East Asia and Sri Lanka, Bhutan, Bangladesh, Nepal and India from South Asia.
The international organization was formed on 6th of June 1997, through the Bangkok declaration and is headquartered at Dhaka in Bangladesh.
Objectives of BIMSTEC:
Technological and economic cooperation among south Asian and south East Asian countries along the coast of the Bay of Bengal.
BIMSTEC is a sector driven cooperative organization and covers cooperation in sectors like communication, leather, textiles, transport, fisheries, human resource development, tourism, agriculture, investment, technology and commerce etc.
Currently, there are fourteen priority sectors and each member country voluntarily leads one or more sectors.
Counter terrorism & transnational crime and telecommunication & transport are dealt with by India.
The grouping is a bridge between South Asia and South East Asia and constitutes a reinforcement of relations between the seven countries.
It is of utmost significance to India as it is a major support in implementing its Act East Policy and the development of its ambitious 'Sagar Mala' project.
Issue:
Despite several attempts at a reset, ties between India and Nepal continue to be a cause for concern.
The disconnect between the two governments was most visible at the seven-nation BIMSTEC military exercises that recently concluded.
Officials in Prime Minister K.P. Oli's office said that they were upset with Prime Minister Narendra Modi's "unilateral" announcement of the multilateral exercises during the BIMSTEC summit on August 30-31, without having formally proposed it to the hosts.
India's explanation that it had broached the issue with BIMSTEC members directly did not seem to pacify Kathmandu
Sources say that the ruling party in Nepal, the Nepal Communist Party, is divided on the BIMSTEC military exercise, with many feeling that such a multilateral exercise will be seen as the formation of a military block. This will go against Nepal's history of not belonging to any such block.
Additionally, the contingent from Thailand also did not join the counter-terror exercises because of lack of adequate notice.
Nepal's decision to join China for a 12-day Mt Everest Friendship Exercise in Sichuan province, also focussed on anti-terrorism drills, drives the wedge in further.
Despite New Delhi signalling its discomfiture with the volume of Chinese investment in hydropower and infrastructure and transport projects, Nepal went ahead recently and finalised an ambitious connectivity proposal that will eventually link Kathmandu to Shigatse by rail; this will give Nepali goods access to Chinese sea-ports at Tianjin, Shenzhen, Lianyungang and Zhanjiang, and land ports in Lanzhou, Lhasa and Shigatse.
India is still blamed for the 2015 economic blockade against Nepal. It is also held responsible for attempts to destabilise Mr. Oli's previous tenure as Prime Minister during 2015-2016.
Way forward:
India and Nepal don't just share an open border; they have shared the deepest military links, with both countries traditionally awarding each other's Army chiefs the honorary rank of General. Such unique ties must not be undermined due to lack of communication.
New Delhi and Kathmandu must put an end to the unseemly controversy by renewing diplomatic efforts over the issue.
The larger geopolitical context of the discord over the military exercises must not be ignored.
New Delhi cannot turn a blind eye to the rebuffs, and must address them.
At such a time, the Army chief, General Bipin Rawat's statement on BIMSTEC, that "geography" will ensure that countries like Bhutan and Nepal "cannot delink themselves" from India, could have been avoided; such comments unnerve India's smaller neighbours and are misleading. Modern technology and connectivity projects could well take away geography's role as a guarantor of good relations.
Category: ENVIRONMENT AND ECOLOGY
Issue:
The finding of the Central Pollution Control Board (CPCB) that the number of critically polluted segments of India's rivers has risen to 351 from 302 two years ago is a strong indictment of the departments responsible for environmental protection.
Details:
The data shows that the plethora of laws enacted to regulate waste management and protect water quality are simply not working.
The study also highlights the failure of many national programmes run by the Centre for river conservation, preservation of wetlands, and water quality monitoring.
Tests of Ganga water indicate it has fared better in Uttar Pradesh. But the clean-up plan for the river has received dedicated Central funding of 3,696 crore over three and a half years, as compared to Rs. 351 crore given to 14 States to conserve 32 rivers.
A 2013 World Bank study estimated that environmental degradation is costing India at least $80 billion a year, of which losses to rivers form a significant part.
The failed efforts to control pollution are all too evident in Maharashtra, Gujarat and Assam, which account for one third of the degraded river segments.
Their problems are worsened by the poor infrastructure available in a large number of cities and towns located near rivers.
The deficit between sewerage available and the volume generated along the polluted stretches was estimated by the CPCB last year at 13,196 million litres a day.
Rapid urbanisation is widening the gap, since infrastructure planning is not keeping pace with growth in housing.
It is notable that these results come from a CPCB audit that was carried out at the instance of the National Green Tribunal.
What needs to be done?
Ideally, CPCB should be reporting more frequently on pollution, and carrying out intensive measures through State Pollution Control Boards to eliminate pollutants, starting with sewage and industrial effluents.
As a first step, the capacity of treatment plants along all rivers must be urgently expanded. Immediate plans should be made to expand the supply of treatment plants.
Managing sewage requires steady funding of treatment plants for all urban collection that discharge their waste into rivers, and also reliable power supply.
Priority must be accorded for the enforcement of laws by the SPCBs and Pollution Control Committees.
Sustained civil society pressure on governments is vital to ensure that this is done in a time-bound manner.
On the industrial side, the plan to bring all liquid effluent discharge from textile units and tanneries to zero has to be pursued vigorously, giving industries the assistance to help them choose the best technologies for the recovery of waste water for reuse.
The problem of increasing critical polluted segments of Indian Rivers is a problem of catastrophic dimensions. These measures are urgently needed to revive India's many dying rivers, protect its agriculture, and prevent serious harm to public health from contaminated water.
1. The progressive way – On Uniform Civil Code (UCC)
Context:
In a consultation paper released recently, the Law Commission of India has boldly said that a uniform civil code (UCC) is neither feasible nor necessary at this stage.
Background:
Uniform Civil Code:
A Uniform Civil Code means a common set of laws and regulations, governing individual matters for all citizens of the country, irrespective of religion. Now, different laws regulate these aspects for adherents of different religions. These laws are differentiated from public law and cover marriage, maintenance, inheritance, adoption and divorce. As things stand, there are different laws governing these aspects for different communities in India. Thus, the laws governing inheritance or divorce among Hindus would be different from those pertaining to Muslims or Christians and so on. The demand for a uniform civil code essentially means unifying all.
Article 44 of the Constitution, which is one of the Directive Principles of State Policy states that The State shall endeavour to secure for the citizens a uniform civil code throughout the territory of India.
Various Pronouncements with respect to Uniform Civil Code:
Even in the Constituent Assembly, there was division on the issue of putting a UCC in the fundamental rights chapter. The sub-committee on this was so sharply divided that the matter was eventually settled by vote. It finally held that the provision was outside the scope of fundamental rights and thus non-justiciable. We need to appreciate the distinction between justiciable and non-justiciable rights.
B.R. Ambedkar explicitly said in the Assembly, "No government can use its provisions in a way that would force the Muslims to revolt. If a government acts thus [imposing a common civil code], such a government would be insane in my opinion."
The Supreme Court has been advocating the enactment of a UCC, perhaps without fully appreciating the ground realities. For instance, Justice Vikramajit Sen in ABC v. State (2015) observed: "Our Directive Principles envision the existence of a uniform civil code, but this remains an unaddressed constitutional expectation." Here, the court was not dealing with some religious or personal law but with a statutory provision of the Guardians and Wards Act, 1890. Thus the reference to a UCC was unwarranted.
In Sarla Mudgal (2015), the Supreme Court made observations that those who stayed back after Partition knew that India believes in one nation and therefore no community can claim separate religious laws. Loyalty to the nation and uniformity in laws are not related to each other.
Arguments AGAINST the decision of the Law Commission:
The response comes as a shock to those in support of a "one nation, one law" tagline.
All Indian citizens are already equal before the court of law as the criminal laws and other civil laws (except personal laws) are same for all. With the implementation of Uniform Civil Code, all citizen will share the same set of personal laws. There will be no scope of politicization of issues of the discrimination or concessions or special privileges enjoyed by a particular community on the basis of their particular religious personal laws.
Fostering religious personal laws comes at a heavy cost. It perpetuates the "myth of State neutrality", whereas political leaders invariably interfere in religious affairs by pandering to religious leaders, suppressing dissent from minority groups within communities and securing their vote banks.
It is commonly observed that personal laws of almost all religions are discriminatory towards women. Men are usually granted upper preferential status in matters of succession and inheritance. Uniform civil code will bring both men and women at par.
Arguments IN FAVOUR of the decision of the Law Commission:
It is worth noting that in Article 44, the framers of the Constitution have used the term 'uniform' and not 'common' because 'common' means one and same in all circumstances whatsoever and 'uniform' means 'same in similar conditions'.
It is an erroneous perception that we have different personal laws because of religious diversity. As a matter of fact, the law differs from region to region. It seems the framers of the Constitution did not intend total uniformity in the sense of one law for the whole country because 'personal laws' were included in the Concurrent List, with power to legislate being given to Parliament and State Assemblies.
Preservation of legal diversity seems to be the reason of inclusion of Personal Law in the Concurrent list. The Law Commission has given due weightage to this diversity.
Enacting just laws is more desirable than tinkering with personal laws for the sake of 'uniformity'.
'Legal pluralism' and 'radical libertarianism' are well-recognised scholarly traditions. There is a consensus that the state is not the only source of law.
History has many instances of pluralistic legal systems where multiple sources of law existed.
Therefore, the Law Commission has rightly recognised the plurality of diverse personal laws and proposed internal reforms in personal laws to make them compatible with the constitutional provisions of equality and non-discrimination.
There are hopes that religious communities in general and Muslims in particular will now as a first step initiate meaningful dialogue on internal reforms in personal laws.
General myth about uniformity in laws:
IPC: It is a myth that we have uniform criminal laws. States have made amendments to the Indian Penal Code (IPC), 1860, and the Code of Criminal Procedure, 1973.
For example, Punjab recently introduced Section 295AA to the IPC — life term in all sacrilege cases.
Another myth is that Hindus are governed by one homogenous law after the enactment of the Hindu Code Bill. It is also true of Muslims and Christians.
Nagaland: The Constitution itself protects the local customs of Nagaland.
Goa: It is repeatedly mentioned that Goa already has a uniform code. But Hindus there are still governed by the Portuguese Family and Succession Laws. The reformed Hindu Law of 1955-56 is still not applicable to them.
In the case of Muslims, the Shariat Act 1937 has not been extended to Goa. Thus they are governed by Portuguese and Shastric Hindu law, and not by Muslim personal law. The Special Marriage Act (a progressive civil code) has not been extended to Goa.
Jammu and Kashmir: in J&K local Hindu law statutes do differ with the Central enactments. The Shariat Act is also not applicable and Muslims continue to be governed by customary law which is at variance with the Muslim personal law in the rest of the country.
Conclusion:
It is distressing the non-implementation of other Directive Principles which are far more important than the enactment of a uniform code is not being talked about. Ex: right to work, living wages, distribution of community resources to sub-serve the common good, avoidance of concentration of wealth in few hands and the protection of monuments.
Amendments to a community's personal law with a view to bringing about changes for its betterment is one thing; but to tinker with the enactment with the sole purpose of introducing 'uniformity' is quite another.
Just laws are far more important than uniform law. Piecemeal reforms should be the way forward.
1. India's first woman IAS officer dead
Context
India's first woman IAS officer after Independence, Anna Rajam Malhotra, who served in the Madras State under then Chief Minister C. Rajagopalachari and at the Central government, died in Mumbai
Details
Anna cracked her Civil Services examination back in 1950, and was requested by the panel to join either Foreign service or Central service despite her merit. However, Anna stood her ground and was given a secretarial post instead of district sub-collector by the then Chief Minister of Tamil Nadu.
Malhotra joined the civil services in 1951 and opted for the Madras cadre.
She became the first woman to hold a secretarial post in the Central government.
Work profile
She successfully executed the construction of India's first computerised port Nhava Sheva (Jawaharlal Nehru Port) in Mumbai as its chairperson.
She travelled with Indira Gandhi to eight States to understand the food production pattern despite her ankles being broken.
2. Odd-even rule not applicable for two-wheelers says SC
Context
The Supreme Court stayed the operation of the National Green Tribunal's 2017 order which had directed that odd-even vehicle rotation scheme is made applicable to two-wheelers.
A Bench led by Justice Madan B. Lokur also exempted women driving four-wheelers from the odd-even scheme.
Arguments against the rule of NGT
It would be impossible to accommodate people in public transport if the odd-even scheme is made applicable for two-wheelers.
3. Pakistan Denies Opening Afghan Trade Route for India
Context
Pakistan has refuted media reports that it has expressed readiness to talk on the restoration of the India-Afghanistan trade route using its land.
Details
Foreign Minister Shah Mahmood Qureshi said Pakistan has not agreed to consider Afghanistan-India trade through their land
The revelation is significant given the fact that Pakistan has not allowed Indian goods to be transported through its territory into Afghanistan.
It is a tiger reserve located in the Angul district of Odisha
The tiger reserve is located in the Eastern Highlands moist deciduous forests ecoregion.
It is located where the Mahanadi River passes through a 22 km long gorge in the Eastern Ghats.
Context
Experts of the Wildlife Institute of India (WII) the Royal Bengal tigress 'Sundari' will continue to stay in Satkosia Wildlife Sanctuary
The local people are demanding that the tigress be shifted from Satkosia Wildlife sanctuary alleging that it killed a woman.
H. Practice Questions for UPSC Prelims Exam
Question 1. With reference to Maluti Project:
It involves linking of Ancient temples across India.
It would enhance tourism in Rural India but also encourage cultural awareness.
Which of the above statements are incorrect?
1 only
2 only
Both 1 and 2
None of the above
See
Question 2. Jataka Stories is related to
Buddha attaining enlightenment
Previous births of Gautama Buddha in both human and animal form.
Buddha leaving his home, family and kingdom in search of truth
Teachings by Buddha
See
Question 3. Consider the following statements about Kanthasth:
It is an initiative of Ministry of Culture.
It is a computer software for translating all kinds of official files from English to Hindi.
 Which of the above statements are correct?
1 only
2 only
Both 1 and 2
None of the above
See
Question 4. Which of these are not included in the UNESCO's 'Intangible Heritage' list?
Kumbh Mela
Thathera
Yakshagana
Manipuri Sankirtana
See
I. Practice Questions for UPSC Mains Exam
Explain the significance of fire in Zoroastrianism.

Why is Laurie Baker called 'Gandhi of Indian architecture?

Krishnadeva Raya, the King of Vijayanagar, was not only an accomplished scholar himself but was also a great patron of learning and literature. Discuss.
Also, check previous Daily News Analysis
"Proper Current Affairs preparation is the key to success in the UPSC- Civil Services Examination. We have now launched a comprehensive 'Current Affairs Webinar'. Limited seats available. Click here to Know More."
Enroll for India's Largest All-India Test Series