TABLE OF CONTENTS
A.

 GS1 Related




B.

 GS2 Related


POLITY
1. Goa Congress moves to remove Speaker
GOVERNANCE
1. Ban on adoption by live-in partners lifted
2. Drinking water programme not effective in Odisha, observes CAG


C.

 GS3 Related


ECONOMY
1. Dual listing of masala bonds being explored
SCIENCE AND TECHNOLOGY
1. ISRO setting up launch pad for Gaganyaan mission


D.

 GS4 Related




E. 

Editorials


ECONOMY
1. Ravaged by a caterpillar
INTERNATIONAL RELATIONS
1. Seeking a managed exit


F. 

Tidbits


1. Markets hit the panic button over fear of fresh defaults
2. Fitch raises India growth forecast
3. Floor CPA cover for motor insurance hiked to ₹15 lakh
4. SEBI revises KYC norms for foreign portfolio investors
5. We're not tigers, says top court
6. Reinstated staff can't have back wages: SC
7. CAG busts Gujarat claim on ODF status
8. Bill to protect people from financial fraud
9. Inspect child care centres within 2 months: HC
10. India calls off New York meeting with Pakistan
11. Agencies to do eco-impact checks


G. 

Prelims Fact


1. 'Fat' traces confirm Dickinsonia to be world's earliest animals
H. UPSC Prelims Practice Questions
I. UPSC Mains Practice Questions 

Nothing here for today!!!
1. Goa Congress moves to remove Speaker
Congress MLAs in Goa have submitted a 14-day notice to the Goa State Legislature Secretary, preparatory to moving a motion for the removal of the Speaker, Pramod Sawant.
The notice comes while the House is not in session.
The notice moved by the Congress to remove the Speaker would facilitate a motion for floor test, but will come into operation only after the House is summoned.
An Assembly session to facilitate the floor test can only be summoned by the Governor on the advice of the Cabinet.
Article 179
It deals with the vacation and resignation of, and removal from, the offices of Speaker and Deputy Speaker of an assembly.
Article 179 (c) lays down that the Speaker may be removed from office by a resolution of the Assembly passed by a majority of all the then members of the Assembly (and not majority of the members present and voting).
A prior notice of 14 days is required to be given before such a resolution is moved in the House.
Tenth Schedule (Anti-Defection Law)
Tenth Schedule talks about the power of the Speaker to disqualify legislators for defection.
Issue
When the framers of the Constitution upheld that the Speaker could be removed only by a majority of all the then members of the Assembly, there was no Tenth Schedule in force.
During the 14 days' notice, whether the Speaker can disqualify legislators for defection or not is an important question.
The Arunachal Pradesh judgement (2016) clarified this issue and stated that the Speaker should first stand the test and then proceed.
The judgement
The judgment sets down as a legal principle that the Speaker cannot proceed to disqualify Members of the House if an intention to remove him has already been moved, and that he would have to first prove he still has the confidence of the majority of Members.
1. Ban on adoption by live-in partners lifted
Individuals in a live-in relationship will once again be able to adopt children from and within India after the country's nodal adoption agency decided to withdraw a circular issued earlier this year disallowing them from doing so.
The applications from prospective adoptive parents will be examined on a case-by-case basis now.
It will benefit both domestic and international applicants.
Background
The Child Adoption Regulatory Authority (CARA), a statutory body of Union Ministry of Women and Child Development, in a circular issued on May 31, barred applicants in a live-in relationship from adopting a child on the ground that the Authority would like the children to be placed only with a stable family and individuals in a live-in relationship cannot be considered as stable family.
The eligibility criteria under Adoption Regulations, 2017, permit single women to adopt a child of any gender, while single men can adopt only boys.
When a married couple seeks to adopt a child, it needs to give its consent for adoption and should be stable marriage for at least two years.
Applicants have to be physically, mentally and financially stable to raise a child.
Students can also go through Jan 15th 2017 PIB article on the issue.
2. Drinking water programme not effective in Odisha, observes CAG
The implementation of the National Rural Drinking Water Programme (NRDWP) has not been effective in Odisha as it has reached only 3.70% households against its target of covering 35% households by March 2017, a Comptroller and Auditor General of India (CAG) report stated.
The report
Digging of tube wells without conducting scientific survey had led to dry wells which deprived the habitations of drinking water and expenditure incurred on them became wasteful.
Therefore, the vision of providing safe drinking water to the people living in rural areas at all times could not be achieved in the State, it further read.
Inefficient fund management, instances of delay in the release of funds by the State government and low utilisation due to the slow pace of execution of works were also noticed.
The target fixed under strategic plan was largely not achieved and water quality monitoring and surveillance was inadequate, the report added.
Background
The Centre had launched the NRDWP on April 1, 2009, and the Odisha State Water and Sanitation Mission, under the Rural Development Department, implement the programme in the State.
National Rural Drinking Water Programme (NRDWP)
The National Rural Drinking Water Programme (NRDWP) is a Centrally Sponsored Scheme aimed at providing every person in rural India with adequate safe water for drinking, cooking and other domestic basic needs on a sustainable basis.
Safe water is to be readily and conveniently accessible at all times and in all situations and therefore, the scheme focuses on the creation of the infrastructure.
This has resulted in in the provision of significant additional resources to the sector and for the development of infrastructure and capacities for the successful operation of drinking water supply schemes in rural areas.
1. Dual listing of masala bonds being explored
Masala bonds could also be dual-listed (listing of any security on two or more different exchanges) in India under options being explored by the Stock Exchange Group and the National Stock Exchange of India.
The idea being explored is a potential precursor of further joint listings in the future, that could see foreign currency bonds in India also being able to list in London.
Significance
The dual listing would extend access to a wider base of global investors as well as domestic and regional investors.
Dual listing of masala bonds would enhance visibility, increase liquidity in secondary markets, and enhance efficiency of price discovery for masala bond issuers.
This would also reduce the cost of raising capital for all issuers and encourage the participation of a wider variety of issuers in the masala bond market.
Category: SCIENCE AND TECHNOLOGY
1. ISRO setting up launch pad for Gaganyaan mission
The Indian Space Research Organisation (ISRO) is setting up a third launch pad at Sriharikota to undertake the Gaganyaan manned space flight programme.
Why?
India had two launch pads currently, which are already full. A third launch pad is being set up for the human space flight.
Background
In the Independence Day address this year from the Red Fort, Prime Minister Narendra Modi had announced that an Indian will go to space by 2022: Gaganyaan mission.
Following this, ISRO has announced an ambitious roadmap to put a three-man Indian crew in a low earth orbit for 5-7 days by the 75th Independence Day.
Chandrayaan-1 was India's first lunar probe. It was launched by the Indian Space Research Organisation in October 2008 and operated until August 2009.
If India does launch the Gaganyaan mission, it will be the fourth nation to do so after the United States, Russia and China.
Gaganyaan
ISRO had begun work on the manned mission in 2004 and many of the critical technologies required for human spaceflight have already been validated through various tests — Space Capsule Recovery Experiment, Crew Module Atmospheric Re-Entry Experiment and Pad Abort Test.
The 'pad abort' test or Crew Escape System is an emergency escape measure that helps pull the crew away from the launch vehicle when a mission has to be aborted.
Space Capsule Recovery Experiment is intended to demonstrate the technology of an orbiting platform for performing experiments in micro gravity conditions.
Crew module Atmospheric Re-entry Experiment would be used as a platform for testing the re-entry technologies envisaged for Crew Module (payload) including validating the performance of parachute-based deceleration system.
SSLV
In addition, ISRO is scouting for a location on the western sea coast near Gujarat to set up another launch pad for Small Satellite Launch Vehicles (SSLV).
ISRO is developing the SSLV to offer affordable launch options for smaller satellites through Antrix, the space agency's commercial arm.
ISRO currently piggybacks smaller satellites on the PSLV and GSLV along with bigger satellites.
The SSLV is expected to reduce the launch time as well as cost less to launch small satellites, which are much in demand.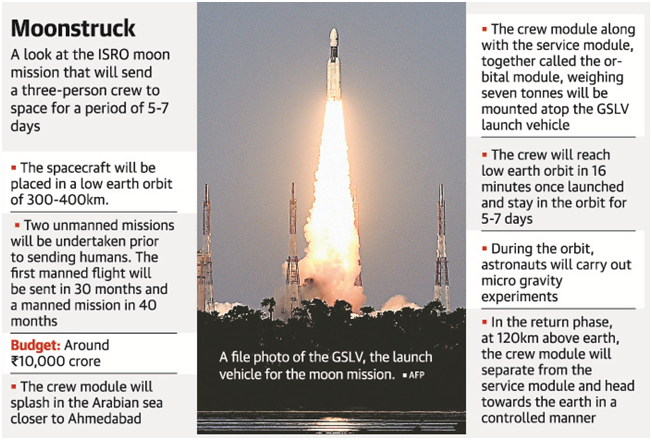 Nothing here for today!!!
Note to the Students:

From a UPSC point of view, this article discusses about a pest by the name, fall armyworm (Spodoptera frugiperda). This pest is known to cause crop damages, and thus can affect the agricultural economy. Keeping this in mind, the topic has a relevance from the GS Paper- III point of view under which, the topic 'Agriculture' would need to be covered as part of the larger subject area, namely, 'Indian Economy'.
Background:
A pest by the name, fall armyworm (Spodoptera frugiperda), which is a native of the Americas is in the news.

This pest was first seen in Asia five months ago.

The fall armyworm was also identified in Karnataka's Shivamogga district in May, 2018.  Since then, the pest has reached as far as West Bengal and Gujarat.
Analysis  
The fall armyworm is a small greenish-brown worm with dark lines along its length and an inverted 'Y' on its head.

Within days, the fall armyworm turns from a light feeder into a voracious eater that can wipe out farms. After pupation, adult moths emerge.
Previous Instances of Pests:
From a historical perspective, the earliest published reports of widespread destruction by the fall armyworm come from Georgia, U.S. in the 18th century.

In particular, the fall armyworm was known as a voracious pest. Though it preferred maize, it ate nearly 80 other plants. Even these days, when farmers have learnt to check damage with integrated pest management and genetically modified crops, the fall armyworm continues to be a major cereal pest in both North and South America.

There have been a few more precedents in the past. For example, in 2008, the papaya mealybug, which is a central American native, entered India and destroyed plantations in several States.

Further, in 2014, the tomato pinworm, or Tuta absoluta, which is a South American moth, was spotted in Karnataka. Within a span of a couple of years, it had reached Maharashtra, Gujarat, Delhi and other regions. In these areas, the tomato pinworm  caused widespread damage to tomato crop.

The fall armyworm hasn't spared Africa as well. In 2016, the pest turned up in the west African country of Nigeria. Currently, two years later, the pest has spread to 43 countries on the continent. Nearly 200 million people in the African continent depend on maize for nutrition, and they are all at risk.
How is this pest thriving?
There are several reasons attributed to as to why the armyworm is thriving. They are
a) it reproduces rapidly, and the continent's tropical and sub-tropical climates allow it to feed all year round. As a contrast to this they in frigid winter conditions.
The Threat:
It is important to note that such alien species which migrate to a new geography from their native lands can be a huge risk to both agriculture and wildlife.

These alien species could be insects, trees, weeds or viruses.

While, many of these species tend to die out in new environments, some become naturalised. An example of naturalised species include a few eucalyptus species in India. Naturalised aliens maintain their population and do not pose a great risk to biodiversity.

However, a small percentage of aliens, like for example, the

fall armyworm

, turn invasive, which means they spread uncontrollably.

It is the absence of natural predators from their original homes that allows them to disrupt ecosystems and cause massive economic losses.

From an economic standpoint, in 2016, a paper published in Nature Communications, titled 'Massive yet grossly underestimated global costs of invasive insects', calculated that such attacks cost the world around $70 billion a year.
Measures to counter the threat:
Quarantine System: The first line of defence is a quarantine system.  Under this system, the imports of grains and plants that can host such insects are inspected at shipping ports, airports and land border crossings.
In India, this responsibility lies with the Directorate of Plant Protection, Quarantine & Storage. The headquarters of the Directorate of Plant Protection, Quarantine & Storage lies  in Faridabad, Haryana.

However, many agriculture researchers say, the directorate is failing in its task of policing Indian borders. It is short-staffed and tied down by the lack of a strong legislation.

It is important to note that India's quarantine system is built around the Plant Quarantine (Regulation of Import into India) Order of 2003.

Further, this order, is notified under an Act known as The Destructive Insects and Pests Act of 1914. This Act is over a century old:
A Note on the Plant Quarantine (Regulation of Import into India) Order of 2003
Under the Plant Quarantine Order, grains or plant material can come to India only through notified points of entry.
These include 44 sea ports, 23 airports, 19 land frontier stations, as well as foreign post offices and container depots.
Imports at each of these points is to be inspected by officers from the Directorate of Plant Protection. However, this system isn't watertight.
A look at the problems:
The first problem is that the directorate lacks key experts at some of these ports.

Some quarantine stations do not have nematologists.


Nematologists are scientists who study roundworms

Some quarantine stations are also missing virologists.
Even when virologists are present, they may not have equipment such as ELISA testing kits for detecting viruses. Thus, this situation makes it likely that they will miss key pests.
d) Again, there  are also gaps in regulating the import of plant materials by individual passengers.
Specifically, under the Quarantine order, around 2 kg of cut flowers and dry fruits are exempt, but any seeds or larger quantities of flowers must be accompanied by a certificate declaring that they are free of pests and microbes. In case if they are not, then passengers arriving at international airports are required to declare them.
A look at the International Quarantine Procedures
An example that one can take here is that of the

Australian Quarantine and Inspection Service (AQIS)

. The AQIS for example, employs sniffer dogs to detect agricultural material on passengers.

It also has scanners that can detect organic material such as seeds in baggage.

Crucially, several Indian airports do not have this facility.

When such items are found, stringent penalties are necessary.

One can illustrate this further by coining an example from the year 2002, where Indian cricketers Harbhajan Singh and Saurav Ganguly paid fines of NZ $200 at Auckland airport in New Zealand for not declaring mud on their footwear.

India would do well to adopt some of these practices.
A relook at legislation?
It is believed that under present Indian legislation, we find a stumbling block for quarantine officers.

Further, since the Destructive Insects and Pests Act is subsidiary to the Customs Act, 1962, quarantine officers must wait for customs officers to flag suspicious goods before they can check them. Thus, in effect, quarantine officials do not have the power to search and seize in India.

It was in the year 2013, that after widespread recognition of the lapses in the current quarantine system, a new Bill, known as the Agricultural Biosecurity Bill was tabled in the Lok Sabha.
A Note on the Agricultural Biosecurity Bill
The Agricultural Biosecurity Bill borrowed from some of the most stringent quarantine regimes in the world, such as the U.S., Australia and New Zealand.

It is important to note that the U.S.'s Animal and Plant Health Inspection Service (APHIS) and AQIS are autonomous bodies. On the other hand, India's Directorate of Plant Protection, Quarantine and Storage comes under the Ministry of Agriculture.  

The Bill envisaged setting up a similar body like the APHIS and AQIS in India, called the Agricultural Biosafety Authority of India. Quarantine officers would have wider powers under this Bill. Further, the authority could even penalise States for not following its directions in controlling an invasive species outbreak.

Unfortunately, as of today, this Bill has lapsed.
In conclusion, it is hard to say whether a stronger quarantine system could have prevented the fall armyworm from entering India. This is because, no system can stop the entry of new species with cent per cent effectiveness.
However, the question is whether or not the risk of introduction is as low as possible.
Category: INTERNATIONAL RELATIONS
Context:
Afghanistan President Ashraf Ghani visited New Delhi on September 19, 2018 and was there on a day-long working visit.

This visit was a low-key visit.

The reason attributed to the low-key nature of the visit is the growing sense of uncertainty that prevails.

In the month of May, 2018, seven engineers working for KEC International went missing after being kidnapped. It is presumed that during this visit, Prime Minister Narendra Modi took up the issue of seven engineers with Mr. Ghani, and Mr. Ghani would have assured him about Kabul's sincere efforts to rescue them.

Although, during this visit, Pro-forma references to the Strategic Partnership and the New Development Partnership were made, but there were no new announcements.

During this visit, India reiterated its support for 'an Afghan-led, Afghan-owned and Afghan-controlled peace and reconciliation process' with the Taliban. .
Analysis:
It is important to note that even a year after U.S. President Donald Trump came out with his new Afghanistan policy, the stalemate continues to exist.  

Unfortunately, incidents of violence and civilian casualties keep going up.
The Geo-politics at work:
The U.S. had announced a policy in the year 2017. The objectives of this policy were to break the military stalemate on the ground by expanding both the presence and the role of the U.S. and NATO forces in Afghanistan.

However, operational constraints were witnessed. These constraints were eased after calling for surveillance and air support.  
Crucially, the Obama approach of announcing timelines for withdrawing U.S. troops from Afghanistan was replaced by a conditions-based approach.
Recently, the U.S. even announced that it was cancelling $300 million in military aid to Pakistan. However, it is clear that U.S.'s Pakistan policy, has once again failed to change Pakistan's behaviour.
A Conundrum the U.S. Faces
Historically, U.S.'s Pakistan policy has oscillated for 17 years between persuasion using pay-offs and punishing by withholding or cancelling pay-offs.

It is important to note that the Pakistani military and the ISI do not support the idea of a territorially united, peaceful and stable Afghanistan.

Having said this, the ISI is unlikely to support the idea of a complete Taliban takeover in Afghanistan. Crucially, the ISI prefers a controlled instability in Afghanistan where the Taliban enjoys some power but wants more as this keeps the group dependent on the ISI.

This is a bind which the U.S. is unable to get out of. As long as the U.S. maintains a significant military presence in Afghanistan, it remains dependent on communication and supply routes through Pakistan.

The U.S. is unable to take stronger measures such as
a) directly targeting the insurgent safe havens in Pakistan,
b) terminating its status as "a non-NATO ally",
c) sanctioning specific military officers or
d) considering placing Pakistan on the list of 'state sponsors of terrorism'.
In conclusion, the U.S.'s dependence provides the security establishment in Pakistan a degree of influence in Washington that has enabled it to receive over $33 billion over the last 17 years.

This has been witnessed, despite the ups and downs in the relationship between these two countries. In fact, the relationship between the U.S. and Pakistan can only be described as an unhappy marriage that neither side is able to terminate.
Concluding Remarks:
Currently, the U.S. appears to be seeking a managed exit.

In a departure from the norm, the U.S. opened direct talks with the Taliban around two months ago.

On seeing the past, we witness that the U.S. had refrained earlier from doing so. They earlier used to maintain that this would undermine the legitimacy of the Kabul government. Therefore, the U.S. had prodded Pakistan to deliver the Taliban to an 'Afghan-led and Afghan-owned' reconciliation process which did not happen.

Recently, even Russia entered the fray. Russia used the IS argument to open up direct talks with the Taliban more than a year ago.

With encouragement from the U.S., Uzbekistan has also entertained senior Taliban leaders in Tashkent. This was done so in an effort to persuade them to engage in talks with Kabul.

China on the other hand is concerned about its Uighur militants problem. In fact, China is planning to train and equip an Afghan brigade to be deployed in Badakshan even as it seeks Taliban help in securing its China-Pakistan Economic Corridor projects.

This has given the Taliban a new legitimacy- something being looked upon as something exactly what Pakistan had wanted.

With the emergence of the Islamic State, a distinction between good Taliban and bad Taliban is no longer necessary.

Finally, it is suggested that with so many different players pulling in different directions, peace will remain illusory in the region.  
1. Markets hit the panic button over fear of fresh defaults
Fitch Ratings has upped India's growth forecast for the current fiscal to 7.8% from 7.4% earlier, but flagged rising oil bill and higher interest rates as key concerns.
Fitch, in its Global Economic Outlook, said it expects inflation to rise to the upper end of the central bank's target band (4% plus-minus 2%) on relatively high demand-pull pressures and rupee depreciation.
3. Floor CPA cover for motor insurance hiked to ₹15 lakh
The minimum Compulsory Personal Accident (CPA) cover for owner-drivers under the motor insurance policy has been increased to ₹15 lakh.
The enhanced, mandatory cover that came into force with immediate effect will lead to a higher annual premium of ₹750 and follows a directive from insurance regulator IRDAI.
At present, the minimum cover for two-wheelers is ₹1 lakh for which annual premium is ₹50 while for private cars/commercial vehicles the minimum cover is ₹2 lakh for ₹100.
Background
The decision comes in the backdrop of a Madras High Court judgment as part of which IRDAI was directed to enhance CPA cover to at least ₹15 lakh.
The CPA cover is provided to owner-drivers while driving the vehicle, including mounting into/dismounting from or travelling in the insured vehicle as a co-driver.
Significance
It will ensure that those exposed to accident risk are adequately covered for any unfortunate event.
4. SEBI revises KYC norms for foreign portfolio investors
The Securities and Exchange Board of India (SEBI) has announced the revised guidelines for know your client (KYC) requirement for foreign portfolio investors (FPIs) allowing non-resident Indians (NRIs), resident Indians (RIs) and overseas citizens of India (OCIs) to be part of such FPIs investing in India.
Guidelines
Such NRIs, OCIs and RIs can be part of an FPI if their aggregate holding in such an overseas fund is less than 50% of the corpus of the fund.
Further, the individual share of such entities cannot exceed 25% in an FPI.
More importantly, the regulator has also laid down that FPIs can be controlled by investment managers that are owned or controlled by NRIs, OCIs or RIs.
Such, investment managers, however, need to be properly regulated in their home jurisdiction and also registered with the SEBI.
For category II and III FPIs from high risk jurisdictions, KYC review would be done annually.
Time to fulfil norms
Existing FPIs will be given two years' time — from the date the new regulations come into force — to fulfil the new eligibility criteria.
Also, in case of a temporary breach of the norms, the entity will get 90 days to comply with the regulations.
Meanwhile, FPIs will be subject to periodic review and any change in material information or disclosure would warrant such a review.
5. We're not tigers, says top court
States should not fear if a matter is pending before the Supreme Court as it is not a "man-eating tiger", the apex court has said.
The court's observation came when senior advocate Mukul Rohatgi, appearing for a private firm, argued that a petition filed against the company, alleging illegal mining in Andhra Pradesh, was aimed at pressuring the State government.
6. Reinstated staff can't have back wages: SC
An employee has no right to back wages merely because the court has set aside his dismissal and returned his old job, the Supreme Court held in a judgment.
Justice Sapre, for the Bench, held that it was necessary for the workman in such cases to plead and prove with the aid of evidence that after his dismissal from the service, he was not gainfully employed anywhere and had no earning to maintain himself or his family.
The employer is also entitled to prove that the employee was gainfully employed during the relevant period and hence not entitled to claim any back wages.
The court can deny back wages in its entirety or award it partially depending on the facts of each case.
Background
The court laid down the law while pronouncing judgment in the case of Phool Chand, who is now represented by his legal representatives, against the Rajasthan State Road Transport Corporation.
Chand, a driver, was dismissed from service after holding a departmental inquiry on the ground of dereliction of duties.
Both the labour court and the Rajasthan High Court set aside the driver's dismissal and directed the Corporation to pay him or his legal representatives full back wages.
The Rajasthan State Road Transport Corporation had first appealed to the Supreme Court seeking its direction.
7. CAG busts Gujarat claim on ODF status
In a report tabled in the Gujarat Assembly, the CAG has busted a highly propagated claim of the Gujarat government regarding making the State Open Defecation Free.
The CAG survey found 29% households without toilet in eight districts.
8. Bill to protect people from financial fraud
The Meghalaya Assembly has introduced the Meghalaya Protection of Interest of Depositors (in Financial Establishments) Bill, 2018, to protect the public from any fraudulent intention of financial institutions.
Why?
It has become necessary to have a strong law in the State in order to protect the interest of the depositors in financial institutions.
Some of these financial institutions are unauthorised and mobilising funds from the public/depositors with suspect or fraudulent intention.
9. Inspect child care centres within 2 months: HC
The Punjab and Haryana High Court has directed the commissions for protection of child rights in Punjab, Haryana and Chandigarh to prepare a list of all registered and unregistered child care institutions and get them inspected within two months and prepare a comprehensive status report with regard to the deficiencies, if any, noticed in the functioning of such institutions.
The reports shall be submitted to the principal secretaries of respective State governments and advisor to the UT Administration, Chandigarh, within two months.
The court order added that the State governments and Chandigarh (UT) shall be required to take immediate remedial measures and will take strict action.
Unregistered institutions and those with deficiencies would face strict action as all such registered institutions have to comply with the Juvenile Justice Act.
Background
Justice Surya Kant was hearing a petition filed by Bachpan Bachao Andolan, a movement campaigning for the rights of children.
10. India calls off New York meeting with Pakistan
India blamed Pakistan-based entities for killing of three special police officers in Kashmir and called off the planned meeting of Foreign Ministers in New York.
Why?
Apart from the killing of policemen and reported intimidation of serving policemen by militants in Kashmir, India took note of the postage stamps in memory of the slain militant Burhan Wani that were issued by Pakistan.
The decision to cancel the meeting between the two Ministers was taken after wider consultation in the MEA and with all stakeholders in the government.
Background
The sudden cancellation came a day after Delhi agreed to Pakistan Prime Minister Imran Khan's proposal for the talks and announced that a meeting between External Affairs Minister Sushma Swaraj and her Pakistani counterpart Shah Mahmood Qureshi would take place on the sidelines of the annual session of the UN General Assembly in the next few days.
The MEA stated that the decision to go ahead with the meeting in New York was taken because the proposal from Prime Minister Imran Khan had indicated a desire to discuss 'terrorism' with India.
New hotline
The Border Security Force (BSF) has opened a new hotline in New Delhi to communicate with the Pakistan Rangers.
It was set up after the BSF was unable to reach the Rangers through the hotline in Jammu on a June night when four BSF jawans were killed.
This year, 12 BSF soldiers have been killed along the International Border in Jammu, the highest number of deaths in five years.
11. Agencies to do eco-impact checks
The Central Government has proposed to introduce the concept of randomised third-party compliance monitoring of the environment clearance conditions through national-level reputed and competent government institutions to be empanelled by the Ministry.
Context
The Union Environment Ministry proposes to allow research organisations and accredited agencies to monitor if companies are complying with environmental conditions.
Background
India's environmental laws require project developers to submit themselves to the Environment Impact Assessment (EIA), under which an independent agency, commissioned by the project developer, ascertains the likely environmental impact of a proposed project.
The preparation of an environment impact assessment report and an environment management plan ensures that the adverse environmental impact of projects and activities are assessed and studied and mitigation measures are taken in the implementation of the project to avoid or minimise the adverse environmental impact.
Currently, depending on the size of projects, they are cleared or rejected — with accompanying caveats that must be adhered to — by the expert appraisal committees of the Central government and the States and the district environment impact assessment authorities.
Why?
The process obligates the project proponent to file a six-monthly compliance report, and regional offices of the Ministry are supposed to check whether industries are complying with these norms.
However, these offices are frequently understaffed; therefore, to ensure that the rules are complied with, the government has proposed to have institutions like the IITs and accredited expert organisations conduct the compliance monitoring.
Big shift
Independent observers describe the proposal as a "big shift" in how projects are appraised.
It is a big shift, but one that is outsourcing the monitoring to scientific institutions [some of them are already doing EIAs].
The core issue of the affected people being kept out of the monitoring and compliance paperwork is embedded in this proposal.
1. 'Fat' traces confirm Dickinsonia to be world's earliest animals
A strange fossil that looks a bit like a giant leaf, or a fingerprint the size of a coffee table, has intrigued scientists for decades.
Thousands of the fossils have been found over the past seven decades, revealing that it lived at the bottom of the ocean, without a mouth, intestines or anus, half a billion years ago.
Dickinsonia (earth's earliest known animal)
After digging one of the fossils off a cliff in Russia (near the White Sea in the northwest of Russia) and analysing its contents, researchers discovered molecules of cholesterol, a type of fat.
This confirms that the creature, known as Dickinsonia, is the earth's earliest known animal.
Dickinsonia contained rib-like segments the length of its oval-shaped body, which came in a variety of sizes and could grow as large as 4.6 feet.
The analysis showed the animals were abundant 558 million years ago, millions of years earlier than previously thought.
The creature was part of the Ediacara Biota that lived on the earth during a time when bacteria reigned, 542-635 million years ago.
Dickinsonia could be an ancestor of many forms of animal life today including worms and insects.
Edicarian Period
The Edicarian Period was about 20 million years prior to emergence of modern animal life — a period known as the Cambrian explosion.
H. Practice Questions for UPSC Prelims Exam
Question 1. Consider the following statements:
A State government has no jurisdiction to determine the question of citizenship.
Although, this function can be delegated by the Central government on a state.
Choose the correct option:
Only i) is correct

Only ii) is correct

Both are correct

Both are incorrect
See
Question 2. Consider the following statements regarding Right to Equality:
Socially and Educationally backward citizens or SCs or STs can get special treatment in
admission to educational institutions.
Educational institutions cover private, aided, unaided and minority institutions.
Choose the correct option:
Only i) is correct

Only ii) is correct

Both are correct

Both are incorrect
See
Question 3. Consider the following statements with regard to non-cooperation movement (NCM) 
and civil disobedience movement (CDM):
Muslim participation was higher in NCM as compared to CDM.

Participation of peasants, lower caste people and women was higher in CDM than NCM.

Indian National Congress was organisationally stronger during CDM.

Identify the incorrect statement/s:
None of the above
All the above
iii only
i only
See
Question 4. With reference to the food web, consider the following statements:
The same food resource is part of more than one chain.
A food web complexity decreases the chance of survival of the organisms in an Ecosystem by competition.
Select the correct answer using the codes given:
Only i

Only ii
Both i and ii
None of the above
See
I. Practice Questions for UPSC Mains Exam
Do you think that Indian Constitution is an example of acumen of constitutional assembly? Support your answer.

Many of the barriers  to women empowerment lie ingrained in cultural norms. Discuss.
Also, check previous Daily News Analysis
"Proper Current Affairs preparation is the key to success in the UPSC- Civil Services Examination. We have now launched a comprehensive 'Current Affairs Webinar'. Limited seats available. Click here to Know More."
Enroll for India's Largest All-India Test Series