Kurukshetra Magazine is a vital source of study material for the UPSC IAS exam. It is a monthly magazine that gives information about important government schemes and programmes in various sectors. Kurukshetra is an authentic source of information for the UPSC Exam. Here, we provide the Gist of Kurukshetra, exclusively for the IAS Exam.
TABLE OF CONTENTS
1. Promoting Household Food and Nutritional Security
2. Nutritional Management Framework for Rural India
3. Adequate Nutrition for Women and Children
4. Millets - Future Food

1. Promoting Household Food and Nutritional Security
Introduction: 
As per UN FAO, 'food and nutrition security' exist when all people at all times have physical, social and economic access to food, which is consumed in sufficient quantity and quality to meet their dietary needs and food preferences, and is supported by an environment of adequate sanitation, health services and care allowing for a healthy and active life. 
Pillars of Household Food and Nutrition Security:
Food Availability:

It focuses on ensuring an adequate and consistent supply of diverse food options.  

Food Access:

It includes factors such as affordability, physical access to markets, infrastructure for storage and transportation, and social safety nets.  

Food Utilisation:

This focuses on maximising the nutritional value of food and ensuring optimal health outcomes. 

Food Stability:

This refers to the ability of households to maintain access to food during shocks and crises.  

Governance and Policy:

It involves the development and implementation of coherent policies, strategies, and programmes that address all dimensions of food security.  

Empowerment and Capacity Building:

It plays a crucial role in enhancing household food and nutrition security. It can include training on sustainable farming practices, nutrition education, entrepreneurship, and leadership skills.
Methods to be Employed for Food and Nutritional Security:
Sustainable Practices:

This involves promoting sustainable farming practices that enhance agricultural productivity while minimising environmental impact.  

Diversification of Food Production:

This includes promoting traditional and underutilised crops, horticulture, agroforestry, and aquaculture.  

Access Inputs and Technologies:

This includes promoting the development and dissemination of improved crop varieties, resilient seeds, and appropriate technologies for smallholder farmers.  

Social Protection Programmes:

It includes implementing targeted social protection programmes to address immediate food needs and reduce vulnerability.  

Nutrition Education and Behaviour Change:

This implies promoting nutrition education and behaviour change communication to improve household dietary practices.  

Strengthening Health and Nutrition Services:

This refers to enhancing access to quality health and nutrition services, particularly for women, children, and vulnerable groups.  

Policy and Governance:

This comprises developing and implementing policies and governance frameworks that prioritise food and nutrition security.  

Research and Innovation:

It includes conducting research on climate-smart agriculture, nutrition-sensitive interventions, and sustainable food production Systems.  
Food & Nutritional Security and Sustainable Development Goals (SDGs):
Achieving household food and nutrition security in India is crucial for meeting the Sustainable Development Goals (SDGs).  
SDG 1: No Poverty –

Household food and nutrition security play a vital role in poverty reduction. By ensuring access to sufficient, nutritious food, vulnerable households can break the cycle of poverty.

SDG 2: Zero Hunger —

By ensuring that all individuals have access to nutritious food year-round, India can significantly reduce hunger and malnutrition.  

SDG 3: Good Health and Well-being —

Access to a diverse and nutritious diet is essential for improving health outcomes. 

SDG 5: Gender Equality —

Household food and nutrition security can help address gender inequalities.  

SDG 12: Responsible Consumption and Production —

By encouraging the production and consumption of diverse and locally grown foods, India can reduce food waste, conserve biodiversity, promote sustainable farming methods, and minimise the environmental impact of agriculture. 

SDG 13: Climate Action —

Household food and nutrition security strategies should be aligned with climate action goals.  

SDG 17: Partnerships for the Goals —

Achieving household food and nutrition security requires strong multi-stakeholder partnerships. 
Conclusion:
Promoting household food and nutrition security is a multifaceted endeavour that requires concerted efforts from various stakeholders. Through a range of governmental interventions such as food distribution, nutritional supplementation, agricultural support, and capacity building, these programmes strive to achieve sustainable development goals and ensure a healthier and more prosperous society.
2. Nutritional Management Framework for Rural India
Introduction: Food and nutrition constitute critical components for maintaining good health, enhancing productivity, and fostering socio-economic development. The Global Nutrition Report, published by the World Health Organization, states that nutrition holds a pivotal role within the 12 Sustainable Development Goals (SDGs) of the United Nations, underscoring its significance. 
Why Nutrition is Important?
Nutrition refers to the process of consuming food and converting it into sources of energy and other essentials required for life. 

Nutritional deficiency:

A shift in consumption patterns towards processed and snack foods from traditional, healthy, homemade diets has led to an increased incidence of nutritional deficiencies. 

Lifestyle disease:

Increased nutritional deficiencies along with chemical-based intensive agriculture, modern lifestyle and environmental pollution have contributed to a surge in lifestyle diseases such as obesity, high cholesterol, and diabetes.

Socio-economic impact:

Malnutrition and undernutrition are reported heavily in rural areas, tribal areas and urban slums and among people Below Poverty Line (BPL). 

Weakened immune systems and compromised health have resulted in reduced work output and diminished productivity among adults, as well as elevated child mortality rates.
Government Initiatives:
Integrated Child Development Services – Common Application Software (ICDS-CAS):

This system enabled the Anganwadi Workers (AWWs) to track health and nutritional services nationwide, enabling data-driven decisions at the grassroots level.

POSHAN Abhiyan: Launched in 2018, POSHAN Abhiyan focuses on enhancing nutritional outcomes for children, adolescents, women, and lactating mothers, with a particular emphasis on rural areas.

POSHAN Tracker:

Ministry of Women and Child Development (MWCD) has implemented POSHAN Tracker to track each beneficiary.  

National Nutrition Mission: A comprehensive nationwide programme to enhance the nutritional outcomes for pregnant women, lactating mothers and children by addressing undernutrition, malnutrition and low birth weight. 
National Institute of Nutrition:

 

It publishes the '

Nutrition Atlas'

which provides comprehensive data on the nutrition level at the national and state level. 

It developed the

'Nutrify India Now'

mobile app for assessing nutrients from consumed foods. 
Nutritional Management Framework for Rural India
The nutritional management framework should include all relevant stakeholders and make use of available technologies in creating a data-driven, outcome-oriented nutritional ecosystem.

The nutritional framework should address the four key categories; Children under 5 years, Pregnant and lactating women, Young women, and Adolescent women for holistically addressing nutrition issues. 

It should also ensure regular updation and monitoring of key nutritional targets, promote nutritional education programmes and capacity building of government functionaries. 
Challenges in Managing Nutrition in India:
Image: Challenges in Addressing Malnutrition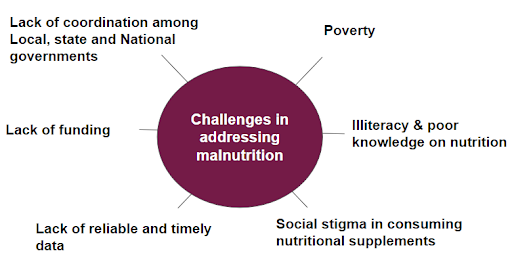 Way forward:  
A robust nutritional ecosystem can be established by engaging all stakeholders and building a robust digital infrastructure for effective implementation and monitoring of government initiatives. 

A continuous feedback loop should be created to make the policies data-driven and result-oriented to make government interventions meaningful.
3. Adequate Nutrition for Women and Children
Introduction:
Adequate nutrition is essential for women and children due to its direct impact on health, development, and overall well-being. The article emphasizes the importance of proper nutrition for women and children, the consequences of inadequate nutrition, the existing challenges, and the initiatives taken to address this issue.
Importance of Women's Nutrition:
Malnutrition leads to diseases, lower life expectancy, and maternal complications.

Maternal health impacts childbearing, child-rearing, and overall family welfare.

Inadequate nutrition in pregnancy leads to low birth weight, stillbirths, and maternal mortality.

Undernourished women become undernourished mothers, perpetuating intergenerational malnutrition.

Anaemia is prevalent among pregnant women, leading to higher maternal mortality.

Poor health reduces productivity, earning capacity, and the ability to care for families.
Challenges in Solving Women's Nutrition Problem::
Awareness Gap:

Lack of awareness about the importance of women's nutrition and its impact on maternal and child health.

Underweight or Obesity:

Many Indian women are either underweight or obese, posing risks during pregnancy.

Gender Bias:

Intra-household food distribution often favours men, neglecting women's nutritional needs.

Access to Services:

Unequal access to basic nutrition, health services, and education facilities, especially in rural areas.

Nutrition Education:

Inadequate dissemination of nutrition education across all age groups, genders, and social classes.

Implementation Hurdles:

Effective implementation of nutrition programs at the grassroots level faces obstacles.

Monitoring and Evaluation:

Difficulty in monitoring and evaluating the impact of nutrition interventions.
Initiatives for Solving Women's Nutrition Problem:
Poshan Abhiyan:

This flagship program by the Ministry of Women and Child Development aims to improve nutritional outcomes for children, pregnant women, and lactating mothers through various interventions.

Maternal Health and Nutrition Programs: Initiatives like Pradhan Mantri Matru Vandana Yojana (PMMVY) and Janani Suraksha Yojana (JSY) provide cash incentives and cost-free antenatal care services to pregnant women.
Prime Minister-Poshan Shakti Nirman (PM-POSHAN):

Formerly known as the Mid-day Meal Scheme, it provides nutritional support to primary education students.

Poshan Tracker:

A governance tool by the Ministry of Women and Child Development for transparently tracking nutrition service delivery and identifying malnutrition in children.

NITI Aayog's "Nourishing India":

This document focuses on preventing undernutrition, particularly in the first 1000 days of a child's life.

Integrated Child Development Services (ICDS):

Aim to improve the nutritional status of children below six years of age.

Scheme for Adolescent Girls (SAG):

Provides nutritional support, health check-ups, and education for adolescent girls aged 14-18 years.
Way Forward:
Impart comprehensive nutrition education to individuals regardless of age, gender, education, social class, or creed.

Adopt a holistic approach focusing on the needs of girls and women throughout their life cycle, especially during pregnancy and lactation. 

Integrate weight monitoring, nutrition counselling, anaemia prevention/treatment, and mental health screening into routine antenatal check-ups.

Empower women to prioritize their own nutritional needs, breaking the cycle of malnutrition.

Focus on macro- and micronutrient intake during early childhood. 
Conclusion: Addressing the nutritional needs of women and children through well-implemented programs is essential to break the cycle of malnutrition, ensuring healthier generations, and contributing to national development.
4. Millets – Future Food
Introduction: In a world grappling with pressing issues such as climate change, malnutrition, and poverty, an ancient yet highly resilient grain has emerged as a beacon of hope – millets. These small cereal grains, belonging to the Poaceae family, have garnered attention for their incredible nutritional value, environmental adaptability, and positive impact on various challenges. Often referred to as "Nutri-Cereals," millets are not just a food source; they are a solution to some of the most critical global issues.
A Resilient Crop with Climatic and Economic Significance: Millets, originally cultivated in Asia and Africa, have become a symbol of resilience in the face of climate variability. 
As the world grapples with

unpredictable weather patterns and water scarcity,

millets stand tall as a

drought-resistant crop that requires minimal water and thrives even in poor soil conditions. 

Their ability to

flourish in arid environments

makes them a vital food source for millions of smallholder dryland farmers in these regions.
Economically, millets play a significant role by offering farmers a sustainable alternative to traditional crops. 
With their

low water requirements and suitability for a range of soils and climates

, millets serve as a

smart risk management strategy for farmers.
By embracing millet cultivation, these farmers reduce their carbon footprint and contribute to a more resilient agricultural system, ultimately improving their livelihoods.
The Rise of Millets as Superfoods:
Millets are not just

staple crops

; they are

nutritional powerhouses

that have earned the label of

"superfoods."

 

The term "

Nutri-Cereals

" aptly describes their high nutritional content.

Varieties like sorghum, pearl millet, finger millet, and more offer impressive amounts of fibre, protein, vitamins, and minerals.

 

Their unique nutritional composition, including

high levels of iron and zinc, low glycemic index, and gluten-free nature

, make them an ideal addition to a balanced diet.

For instance,

finger millet boasts three times the calcium content found in milk,

making it a potent source of this essential mineral. 
Millets have the potential to help us achieve SDGs like SDG 2 (Zero Hunger), SDG 3 (Good Health and Well-being), SDG 12 (Sustainable Consumption and Production), and SDG 13 (Climate Action).
Addressing Iron Deficiency:
Recent research led by the International Crops Research Institute for the Semi-Arid Tropics (ICRISAT) highlighted that millet can significantly

improve haemoglobin and serum ferritin levels,

effectively reducing iron-deficiency anaemia. 
Government Efforts to Promote Millets:
The Government of India has launched a mission to cultivate millets, aiming to achieve nutritional security while following recommendations by NITI Aayog. This initiative includes

promoting biofortified millet varieties

and

integrating millets into various public delivery channels.

Under the

National Food Security Act,

state governments are advised to

procure millets at minimum support prices and distribute them through the public distribution system.

 

Additionally, India's National Nutrition Mission, POSHAN Abhiyaan,

has encouraged the inclusion of millets in programs like

Integrated Child Development Services and Mid-Day Meals.
Conclusion:
The year 2023 has been declared the 'International Year of Millet' by the United Nations following India's proposal. India will be using its G-20 presidentship to bring these nutri-cereals back to the dining table.