BROAD GUIDELINES FOR PRIVATE INVESTMENTS IN SETTING UP OF HOSPITALS IN TIER 2 AND TIER 3 CITIES SUBSEQUENT TO PMJAY
CONTEXT: Government of India has launched Pradhan Mantri Jan ArogyaYojana (PMJAY), a Centrally Sponsored Scheme, for providing hospitalisation cover of up to Rs.5 lac per family per year to over 10 crore poor and the deprived families in the empanelled hospitals throughout the country.
OBJECTIVE OF THE BROAD GUIDELINES:
 It is to improve the supply of healthcare services in the underserved areas to ensure maximum utilisation of the benefits under PMJAY and to improve the demand for quality healthcare services at affordable prices to the general public.
Hospital Models under the guidelines:
| | |
| --- | --- |
| | Doctor Owner (30 to 50 beds) |
| | Doctor Manager Partnership-Multispecialty (100 beds). |
| | Multispecialty (100beds or more) |
Interventions to incentivize private sector:

Land allotment
Facilitate various clearances with specific timelines
VGF for improving the financial viability and bankability of the project.

Roles and Responsibilities of various stakeholders

Private Sector: Build, design, finance, manage operate and maintain with quality standards. Take market risk and provide services at PMJAY rates.
Government: Earmark and provide sufficient unencumbered land on lease or through bidding, facilitate various permissions and clearances through special window with timelines, compulsory empanelment of the hospitals for PMJAY and other Government scheme, ensure timely payments for services, VGF up to 40% of the total cost of the project , provide gap funding up to 50% of tax on Capital cost, restoration of status of hospital as industry for getting benefit of VGF, etc.
---
CONFERENCE ON "M2M/ IOT ENABLING SMART INFRASTRUCTURE"
CONTEXT: There was a conference on machine to machine/Internet on things enabling smart infrastructure held in New Delhi
Who hosted it: Telecommunication Engineering Centre (TEC), New Delhi 
On this occasion, two technical reports prepared by TEC, titled "Recommendation for IoT/ M2M Security" and "Design and Planning Smart Cities with IoT/ICT" were released.
ABOUT:
The conference covered important topics such as IoT enabling Smart Infrastructure Verticals, different technologies and related use cases, Role of IoT in Smart Cities design and planning, various aspects related to Standardization in M2M/IoT, and Challenges in Security, Testing and Certification of Smart devices/equipment.
---
NATIONAL WORKSHOP ON AGRI EXPORT POLICY
CONTEXT: Minister of State for Commerce & Industry hosted a workshop on new agri export policy.
ABOUT:
This is the first time that an agri export policy has been formulated and it is comprehensive involving all related sectors like R&D, clusters, logistics and transportation. Workshops like these will help to identify bottlenecks, get feedback and suggestions to improve and overcome difficulties in the implementation of the policy.
THE VISION OF THE AGRI EXPORT POLICY:
To harness the export potential of Indian agriculture, through suitable policy instruments and make India a global power in agriculture and double farmers income by 2022.
THE OBJECTIVES OF THE AGRI EXPORT POLICY:
To double agricultural exports from present USD 30 billion to USD 60 billion by 2022 and reach USD 100 billion in the next few years.
To diversify export basket, destinations and boost high value and value-added agricultural exports including a focus on perishables,
To promote novel, indigenous, organic, ethnic and non-traditional agri products, institutional mechanism for pursuing market access, tackling barriers/SPS,
To strive to double India's share in world agri exports by integrating with GVC and enable farmers to get the benefit of export opportunities in overseas markets.
---
PRIVATE FM CHANNELS PERMITTED TO CARRY ALL INDIA RADIO NEWS
What is it?
Private FM Radio broadcasters would be permitted to broadcast All India Radio (AIR) News bulletins, in English/Hindi as per the list of bulletins given in News Schedule, subject to certain terms and conditions.
CONDITIONS FOR BROADCASTING:
The AIR News bulletins shall have to be carried in toto, in an unaltered form.
The commercials which are broadcast during news bulletins shall also have to be carried along with the news in toto.
Private FM Broadcasters will have to give due credit to AIR for sourcing their news.
The Private FM Broadcasters will have to carry AIR News bulletins either simultaneously or deferred live by not more than 30 minutes. In case of deferred live, an announcement should precede that it is a deferred live broadcast.
---
LOK SABHA PASSES "THE DNA TECHNOLOGY (USE AND APPLICATION) REGULATION BILL – 2019"
CONTEXT: The Bill has been formulated recognizing the need for regulation of the use and application of Deoxyribonucleic Acid (DNA) technology, for establishing the identity of missing persons, victims, offenders, under trials and unknown deceased persons.
The Bill will add value in empowering the criminal justice delivery system by enabling the application of DNA evidence, which is considered the gold standard in crime investigations.
PURPOSE OF THE BILL:
The purpose of this Bill is to expand the application of DNA-based forensic technologies to support and strengthen the justice delivery system of the country.
The utility of DNA based technologies for solving crimes, and to identify missing persons, is well recognized across the world.
By providing for the mandatory accreditation and regulation of DNA laboratories, the Bill seeks to ensure that with the proposed expanded use of this technology in this country, there is also the assurance that the DNA test results are reliable, and furthermore that the data remain protected from misuse or abuse in terms of the privacy rights of our citizens.
THE KEY COMPONENTS OF THIS BILL INCLUDE:
Establishment of a DNA Regulatory Board;
Accreditation of DNA laboratories undertaking DNA testing, analysing, etc.;
Establishment of the National and Regional DNA Data Banks, as envisaged in the Bill, will assist in forensic investigations.
This will aid in scientific up-gradation and streamlining of the DNA testing activities in the country with appropriate inputs from the DNA Regulatory Board which would be set up for the purpose.
INTERNATIONAL COMPARISON OF DNA LAW WITH DIFFERENT COUNTRIES: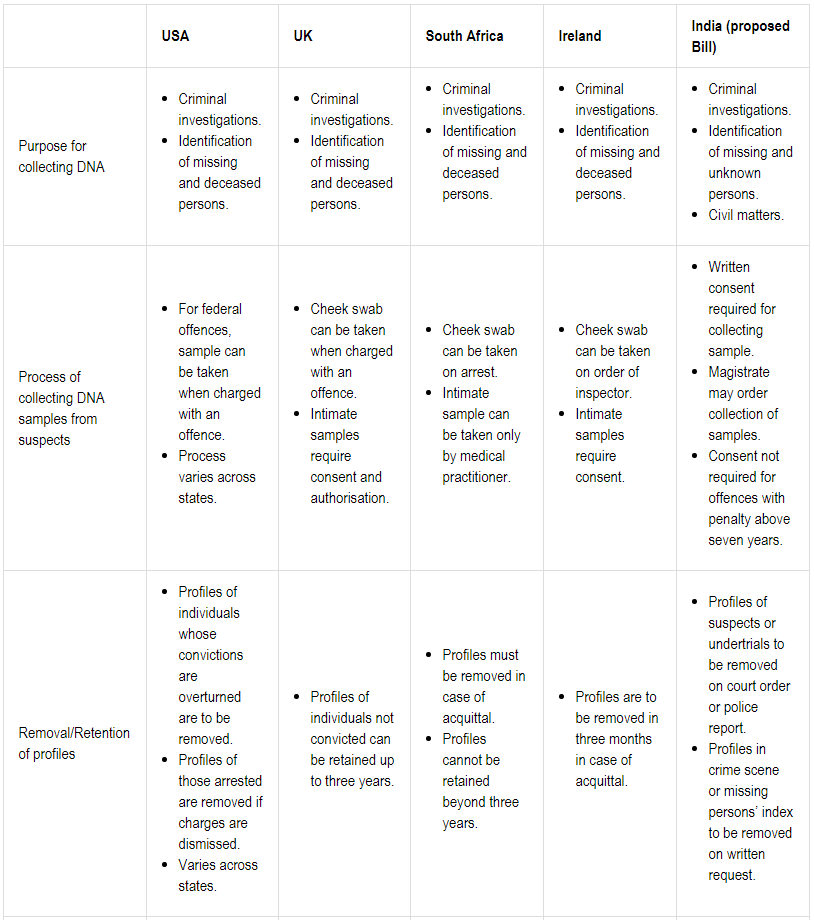 To ace UPSC current affairs section, read more PIB articles here.
Also see: