The World Intellectual Property Organisation or WIPO is a UN specialized agency created in 1967 to promote intellectual property (IP) protection and encourage creative activity all over the world. WIPO is basically a global forum for IP policy, services, information and cooperation. 
In this article, we'll discuss the importance of WIPO in terms of the IAS Exam. UPSC aspirants should know this topic with respect to International Relations and Economy from the UPSC Syllabus.
What is WIPO?
The World Intellectual Property Organisation or WIPO is a global body for the promotion and protection of Intellectual Property Rights (IPR). 
It acts as a global forum for IP Services.

WIPO is a self-funded agency of the United Nations.

With

192 members

, WIPO's motto is to encourage creative activity, to promote the protection of intellectual property throughout the world.

It is at present headed by Francis Gurry, who is its Director-General. WIPO is headquartered in

Geneva, Switzerland

.

WIPO has its origins in the United International Bureaux for the Protection of Intellectual Property (

BIRPI

), which was established in 1893.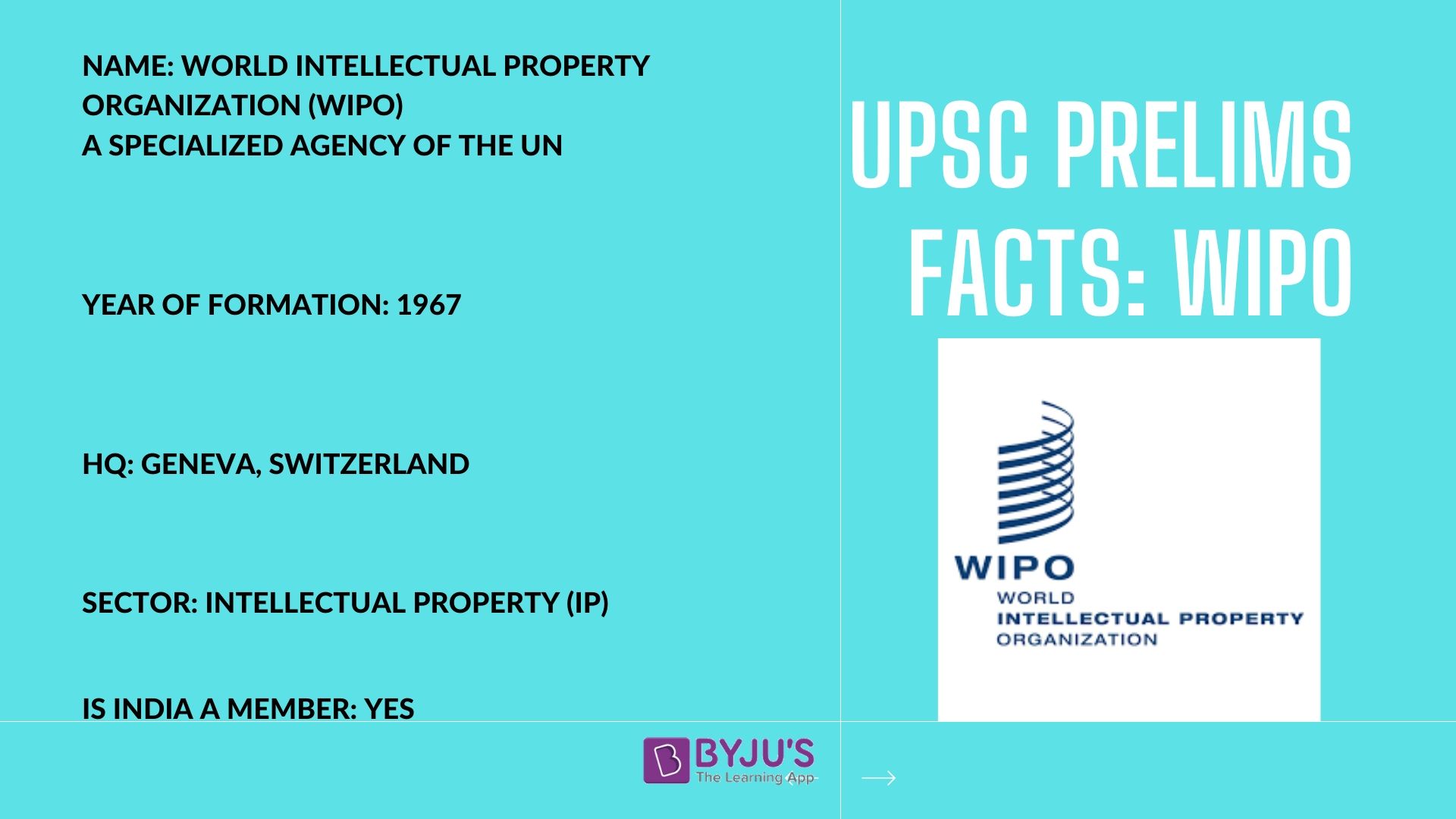 WIPO's Mandate
'WIPO is dedicated to developing a balanced and accessible international Intellectual Property (IP) system, which rewards creativity, stimulates innovation and contributes to economic development while safeguarding the public interest.'
Functions of WIPO 
The World Intellectual Property Organisation (WIPO) was established with the intent to perform the following functions:
To assist the development of campaigns that improve IP Protection all over the globe and keep the national legislations in harmony.

Signing international agreements related to Intellectual Property Rights (IPR) protection.

To implement administrative functions discussed by the Berne and Paris Unions.

To render legal and technical assistance in the field of IP.

To conduct research and publish its results as well as to collect and circulate information.

To ensure the work of services that facilitate the International Intellectual Property Protection.

To implement other appropriate and necessary actions.
To know more about Important Headquarters of International Organizations, check the linked article.
WIPO Treaties
Name of the Treaty
Description

WIPO Performance and Phonograms Treaty (WPPT)

WPPT deals with the rights of two types of beneficiaries, especially in the digital environment: For example:

Singers, Actors, Musicians, etc. (Performers)

Producers of Phonograms

Budapest Treaty

International Recognition of the Deposit of Microorganisms for the Purposes of Patent Procedure was the purpose of this treaty.

Madrid Protocol for the International Registration of Marks

The Protocol ensures the protection of a mark in many countries by securing an international registration that has an effect in all of the designated Contracting Parties.

Marrakesh Treaty to Facilitate Access to Published Works by Visually Impaired Persons and Persons with Print Disabilities

Marrakesh Treaty allowed copyright exceptions that facilitated the creation of accessible versions of books. It also provided copyrighted works for the visually impaired.

WIPO Copyright Treaty

It dealt with the protection of works and the rights of their authors in the digital environment.
WIPO and India
India joined the WIPO in 1975.
India is a part of the following WIPO Treaties:
IPO Convention (1975)

Paris Convention (1998)

Berne Convention (1928)

Patent Cooperation Treaty (1998)

Phonograms Convention (1975)

Nairobi Treaty (1983)

Nice Agreement (2019)
Locarno Agreement (2019)
Vienna Agreement (2019)
India acceded to all of the above treaties. India was the first country to ratify the Marrakesh Treaty.
India has jumped places in the Global Innovation Index (GII) in recent years. In the 2019 GII, India is ranked 52nd, which is a big leap from previous years.
Since 2011, India is the top-ranked innovative country in the Southern and Central Asia region.
India has been outperforming on innovation relative to its GDP per capita for eight years at a stretch.
On innovation quality, India ranks second among middle-income economies globally.
The Confederation of Indian Industry (CII) is a GII Knowledge Partner since 2009.
In India, the Ministry of Commerce and Industry deals with WIPO and related issues.
WIPO Publications
The Global Innovation Index (GII) is a global ranking for countries for success in and capacity for innovation.
It is published by the WIPO in association with Cornell University and graduate business school INSEAD.

The index ranks countries based on 80 indicators, ranging from intellectual property filing rates to Research and Development, online creativity, mobile application creation, computer software spending, education spending, scientific & technical publications and ease of starting a business.
Click here to get the List of Reports Published by International Organizations for UPSC.
World Intellectual Property Organisation (WIPO):- Download PDF Here
Read more about the Global Indices & India's Ranking in 2019 & 2018
Related Links: