International relations is a very important segment of the UPSC syllabus. In this series, we present an analysis of the most important international issues and developments that occurred over the past week relevant for the IAS exam. In this article, you can learn more about the G7 Summit 2022, BRICS Summit 2022, Shangri La Dialogue-2022 as well as the situation in the Congo of South Africa.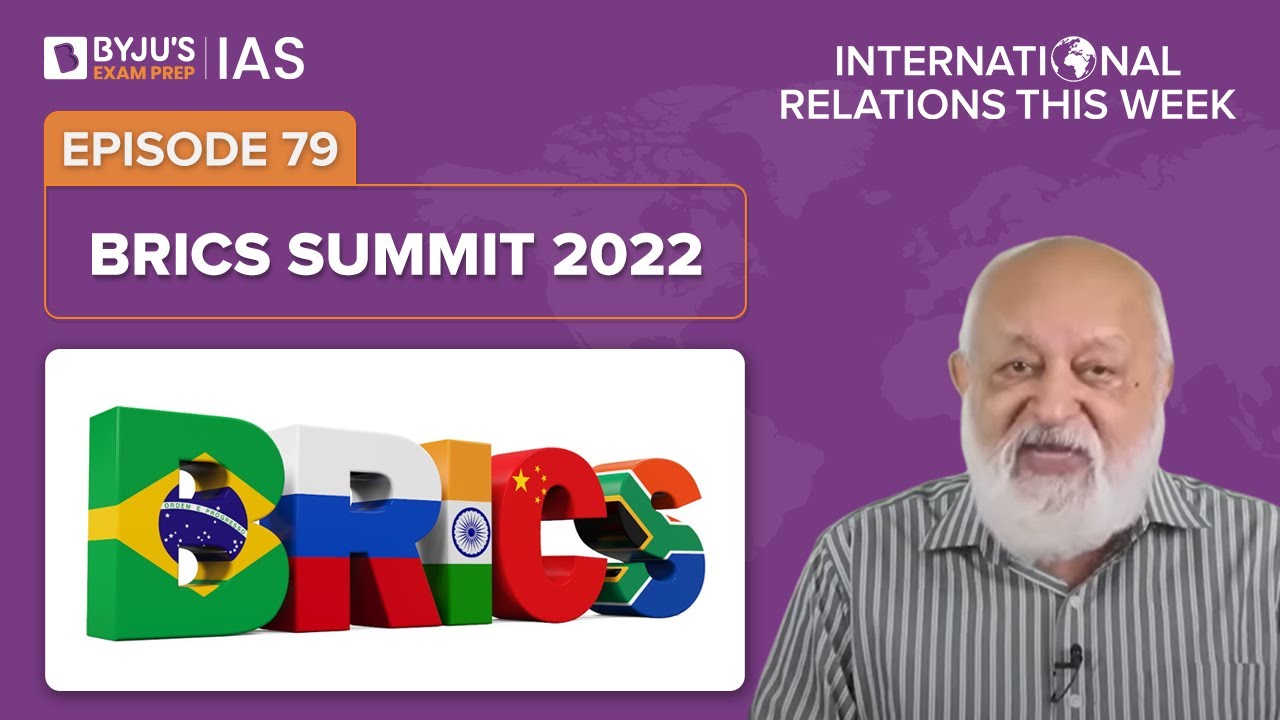 TABLE OF CONTENTS
1. G7 Summit 2022
2. BRICS Summit 2022
3. Shangri La Dialogue-2022
4. Trouble in South Africa
5. Development in neighbourhood: Sri Lanka and Bangladesh

The G7, originally G8, was set up in 1975 as an informal forum bringing together the leaders of the world's leading industrial nations. Russia was also a member but was ousted due to annexation of Crimea.They account for almost 46 per cent of global gross domestic product but only 10 percent of the world's population. G7 includes Canada, France, Germany, Italy, Japan, the United Kingdom, the United States and the European Union.This year summit was organized by Germany and next year presidency is with Japan
Issues with G7
European Union which has huge technological potential and a large economy but its decision making process cannot prescribe decisions on its members.

There are high growth rate economies, like India which is not included in it.

China which is the second largest economy of the world is also not part of it.

It represents only white population of the world.

Internal divisions and the rise of G20 has led to questioning of the importance of G7.
BRICS is the acronym referring to the grouping of five emerging countries namely  Brazil, Russia, India, China and South Africa.Since 2009, annual summits have been held by BRICS nations. This year's 14th BRICS summit was held by China on 23-24th june 2022.It represents a large segment of population, large potential of natural resources and emerging economies with growth rate.
India's position in BRICS is undermined by following reasons-
Similar positions of China and Russia 
Both are permanent veto wielding members of the United Nation Security Council rendering other members less important. Also, both are authoritarian regimes, in some ways committed to socialism, interpret international relations, international law and human rights in different ways.
Adversarial relationship between India and China
They are competitive in matters of model of governance or development . Also they are in direct conflict in Himalayan borders.
State of affairs in Brazil and South Africa
Brazil is in a state of constant flux even under the presidency of Luiz Inácio Lula da Silva, who was seen as socialist threat to Latin America. President Bolsanaro is also in controversy due to authoritarian inclinations, heretical behaviour, incompetencies in dealing with COVID, stance against environment protection, his support for putin on Ukraine issue. South Africa is in turmoil as it could not dislodge white capitalist supremacy and there is allegation of titanic corruption in all organs of government.
China, this year, invited 13 other countries to attend the BRICS summit which further raises concerns that China is using the forum to counter America's influence.
It is essentially a defense summit where ministers debate the most pressing security challenges.
It is almost two decades since the famous think tank International Institute of Strategic Studies launched this informal inter-governmental summit in Singapore. The idea was to organize a get together of top government officials,intellectuals, media persons etc to  discuss a broad range of ideas without any commitment.One important focus area is Indo-pacific. There was a hiatus from the past two years on account of corona-virus. India did not participate in the dialogue this year-
India did not want to take the stage with the USA, Japan, Australia etc in criticizing Russia for Ukraine war

India does not want to confront China especially after the Galwan valley face-off.
Reason for decreasing importance of Shangri-La dialogue
Due to the Ukraine-Russia war, Indo-Pacific concerns have taken a back seat.

With the coming up of AUKUS(

is a trilateral security pact between Australia, the United Kingdom, and the United States

)

grouping, Quad group which is indo-pacific based is marginalized.

The participants of the summit are varied in their agendas and power-potential.

China is increasing its foot-prints in South-Western micronations unhindered.
Still multilateral diplomacy seems to be the focus of all major actors on the world stage.Also, Shangri-la dialogue set the pitch for how countries will conduct themselves in other forums like BRICS that will follow it in June.
The misfortune of Africa is that it remains in perpetual turmoil but the world has become used to this bloodshed in its context. Even the silver lining in the form of South Africa is dealing with corruption scandals and lawlessness. 

It is becoming difficult to keep your eye on the crisis brewing in the heart of Africa in democratic republic of Congo. It has been almost half a century since Congo became independent of Belgium. It has faced many armed conflicts since independence.

These countries are rich in natural resources like diamonds, gold, oil , minerals etc and due to absence of a legitimate government which can control the exploitation of natural resources it leads to a situation of anarchy.
Also, although colonial governments have withdrawn, they have left behind blood sucking leeches in the form of MNCs who play dubious roles by encouraging corruption or encouraging mercenary violence. 
What is the present situation in Congo?
Congo is plagued by fighting of more than hundred armed groups for more than 25 years now. For example- Allied democratic forces, M23 , Mai Mai etc. There is also involvement of neighboring Rwanda and Uganda in supporting different armed groups.
5. Development in neighbourhood: Sri Lanka and Bangladesh
Sri Lanka:
Sri Lankans are suffering from months of medicine and food shortages and electricity blackouts.Inflation in the country is only second to Zimbabwe.Indian diplomacy should not be limited to only Jaffna or tamil community but the crisis does not seem to fade in at least next two years as Srilanka moves from door to door for aid.
Bangladesh
In May 2022, deadly floods hit northeastern India and Bangladesh. Over 9 million people in both countries have been affected, and around 150 have been killed.This highlights that while politics separates the two countries through international border but nature or ecosystem of both countries bring them together in dealing with calamity. Recently, Bangladesh built a bridge over the Padma river without any foreign funding and it is beneficial for India as it will reduce travel time from Kolkata to Dhaka.
Read more International Relations This Week articles in the link.
International Relations This Week: Episode 79:-Download PDF Here