In the art and culture section of the UPSC syllabus, various dance forms including the classicals forms are important for the IAS exam. Questions can be asked in the IAS prelims on the dance forms, their histories and other particulars. In this article, you can read all about one of the classical dances of Kerala, Mohiniyattam.
Mohiniyattam is one of two traditional dances of India that created and stay prevalent in the state of Kerala. The other established dance form from Kerala is Kathakali. Mohiniyattam move gets its name from the word Mohini – a legendary magician symbol of the Hindu god Vishnu, who enables the good to beat evil by conveying her female forces.
Mohiniyattam's underlying foundations, similar to all established Indian dances, are in the Natya Shastra – the old Hindu Sanskrit message on execution expressions. Notwithstanding, it takes after the Lasya style depicted in Natya Shastra, that is a move which is fragile, eros-filled and female. It is customarily a performance move performed by ladies after broad preparing. The collection of Mohiniyattam incorporates music in the Carnatic style, singing and acting a play through the move, where the recitation might be either by a different vocalist or the artist herself. The melody is normally in Malayalam-Sanskrit crossbreed called Manipravala.
The most punctual say of the word is found in the sixteenth-century legitimate content Vyavaharamala, however, the possible underlying foundations of the move are more established. The move was systematized in the eighteenth century, was derided as a Devadasi prostitution framework amid the colonial British Raj, restricted by a progression of laws from 1931 through 1938, a boycott that was challenged and mostly revoked in 1940. The socio-political clash, at last, prompted reestablished intrigue, recovery and recreation of Mohiniyattam by the general population of Kerala, especially the writer Vallathol Narayana Menon.
Mohiniyattam Costumes
The artist wears a white or greyish plain sari adorned with splendid brilliant or gold bound hued brocade weaved in its fringes complimented with a coordinating choli or blouse. A creased material having concentric brilliant or saffron shaded groups embellishes the front piece of the sari from the midsection. This adornment does not just give the artist a chance to play out her astounding footwork adaptably yet, in addition, features it, enabling the group of onlookers to watch it from a distance. She likewise wears a brilliant belt around her midsection. Gems decorate her head, hair, ears, neck, wrists and fingers.
Instruments and Music
Vocal music of this execution craftsmanship joins diverse rhythms and verses of a large number of the compositions performed in this dance form are in Manipravala that is a blend of Sanskrit and Malayalam dialect while the music style is Carnatic. Instruments played amid a Mohiniyattam exhibition for the most part involve Kuzhitalam or cymbals; Veena; Idakka, an hourglass-shaped drum; Mridangam, a barrel-formed drum with two heads; and flute.
Mohiniyattam Performing artist: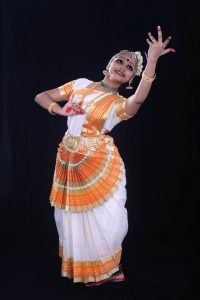 Get more notes on UPSC art and culture from the link below:
NCERT Notes: Art, Literature, Architecture And Culture Notes For UPSC
Also read: