The draft Bio-Medical Waste Rules were published in June 2015 inviting suggestions from the public. The suggestions/objections received were then examined by the Working Group of Ministry of Environment, Forest & Climate Change, and based on the recommendations of the Working Group, the Ministry has published the Bio-Medical Waste Management Rules, 2016.
Aspirants would find this article very helpful while preparing for the IAS Exam.
Aspirants should begin their preparation by solving
UPSC Previous Year Question Papers
now!!
To complement your preparation for the upcoming exam, check the following links:
(Note: In light of the above-notified rules, students should have an understanding of the important aspects of these rules both for UPSC preliminary and Main Examination)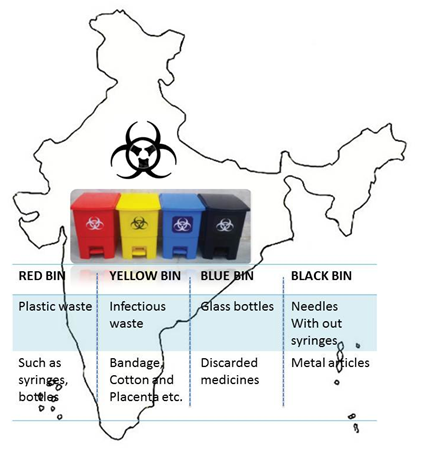 What is Bio-Medical Waste?
Biomedical waste comprises human & animal anatomical waste, treatment apparatus like needles, syringes, and other materials used in health care facilities in the process of treatment and research.
This waste is generated during diagnosis, treatment, or immunization in hospitals, nursing homes, pathological laboratories, blood banks, etc.
Latest Context related to Bio-Medical Waste
As per the figures from the Central Pollution Control Board (CPCB), approximately 146 Tons per day of incremental BMW is generated in the country due to diagnostic activities, treatment and quarantine of COVID-19 patients, approximately 616 Tons per day of Bio-Medical Waste (BMW) was generated in the country during 2019.
The National Green Tribunal (NGT) has directed various authorities to ensure compliance from the biomedical waste management facilities in the country.
The state pollution control boards and pollution control committees (SPCBs/ PCCs) have authorized 202 Common Bio-medical Waste Treatment and Disposal Facilities (CBWTFs) to collect and dispose of the BMW, including COVID-19 waste. Further, there are about 18,178 captive disposal facilities installed by individual HCFs for pre-treatment and/ or final treatment of the BMW.
Bio-Medical Waste Disposal – Importance
Scientific disposal of biomedical waste through segregation, collection, and treatment in an environmentally sound manner minimizes the adverse impact on health workers and the environment.
The quantum of waste generated in India is estimated to be 1-2 kg per bed per day in a hospital.
85% of the hospital waste is non-hazardous, 15% is infectious/hazardous.
Mixing of hazardous results in contamination and makes the entire waste hazardous.
There is a necessity to segregate and treat because
Improper disposal increases the risk of infection.
Encourages recycling of prohibited disposables and disposed drugs and
Develops resistant microorganisms
Bio-Medical Waste (BMW) Management Rules, 2016 – Salient Features
Bio-medical waste has been classified into 4 categories instead of 10 to improve the segregation of waste at source.
Phase-out the use of chlorinated plastic bags, gloves, and blood bags within two years.
The ambit of the rules has been expanded to include vaccination camps, blood donation camps, surgical camps, or any other healthcare activity.
Pre-treatment of the laboratory waste, microbiological waste, blood samples, and blood bags through disinfection or sterilization on-site in the manner as prescribed by WHO or NACO.
State Government to provide land for setting up common bio-medical waste treatment and disposal facilities.
No occupier shall establish an on-site treatment and disposal facility if a service of `common bio-medical waste treatment facility is available at a distance of seventy-five kilometer.
The new rules prescribe more stringent standards for an incinerator to reduce the emission of pollutants in the environment;
Inclusion of emissions limits for Dioxin and furans;
(Note: Students should read about dioxin and furans and must have a basic idea from UPSC preliminary exam point of view)
Establish a Bar-Code System for bags or containers containing bio-medical waste for disposal.
Provide training to all its health care workers and immunize all health workers regularly.
Will this Make a Big Difference to Clean India Mission?
Yes, the newly framed bio-medical waste management rules are expected to change the way India used to manage this waste earlier- How?
Under the new regime, the coverage has increased and also provides for pre-treatment of lab waste, blood samples, etc.
It mandates a bar code system for proper control and it has simplified categorization and authorization.
Most importantly it has a time target of two years to phase-out the use of chlorinated plastic bags, gloves, and blood bags.
The above details would help candidates prepare for UPSC 2022.
Related Links